Photos from Boston Comic Con 2014
Costumes this year included classic comic book superheroes, princesses from Frozen, and a new Boston Strong character. Plus: Sean Astin shared memories from the Lord of the Rings set, and Jason Momoa of Game of Thrones fame smooth-talked a fan in Dothraki.
---
On Saturday afternoon, as hundreds of costumed pop culture fanatics continued to filter through the Seaport World Trade Center in South Boston for Boston Comic Con 2014, popular cosplayers Ivy DoomKitty, Bethany Maddock, and BelleChere gathered an intimate-sized audience inside one of the convention center's ballrooms to discuss the struggles they had to overcome before mustering the courage to delve into the craft.
"I was terrified of what people would say," said Ivy DoomKitty, opening up about how her experience being made fun of in middle school transferred into her hesitation to try cosplay, her decision to finally give it a chance, and both the positive and negative feedback she received along the way.
Maddock and BelleChere, a local who led the pre-Boston Comic Con costume parade held at Faneuil Hall last week, also shared the negative criticism they've encountered about cosplaying, a significant portion of it concerning body image and transmitted online.
"It took a while to learn to let the water roll off your back," said BelleChere, encouraging the audience to learn to do the same and lauding the "Cosplay Is Not Consent" zero-tolerance harassment policy implemented at Boston Comic Con and publicized on signs throughout the convention center. "Rise above [the criticism], and know you're doing this for yourself."
In addition to body image, the "So They Say You Shouldn't Cosplay" panel touched on topics such as race, gender, age and disability, and elitism. "Color is not a costume," said Maddock, with an addendum by Ivy DoomKitty that cosplaying characters like Mystique or the Hulk allows for exceptions. And both Rule 63—which encourages genderbent cosplay—and "crossplay" are accepted in the community.
Meanwhile, the celebrity panels held throughout the three-day convention took on a lighter tone.
On Friday, Sean Astin, famous for his role as Samwise Gamgee in Lord of the Rings, shared memories of filming the fantasy trilogy, like the time director Peter Jackson acted out every actor involved in a fight scene, an on-set visit by Edmund Hillary, Elijah Wood's ability to fall asleep anywhere and anytime on set, and the overall positive experience of filming a "project of national significance" that captured everyone's imagination. When a fan asked Astin to recite a line from Lord of the Rings, Astin obliged.
Similarly, on Sunday, Jason Momoa of Game of Thrones fame summoned a fan to the front of auditorium and filled her request of speaking Dothraki, the language spoken by his character Khal Drogo. Attributing his dependence on coffee and unwillingness to take off his sunglasses that morning to a "night out in Southie," Momoa shared memories of filming his short-lived role on the HBO series and refused to answer questions about his speculated role as Aquaman in Batman vs. Superman. He did oblige fans' requests for him to flex his muscles, hug them, fist bump them, and call them his "sun and stars."
Other popular celebrity panelists at Comic Con included James Marsters from Buffy the Vampire Slayer and John Barrowman from Doctor Who. Boston Comic Con 2014 concluded on Sunday with the annual costume contest, which found winners with intricately crafted costumes made by cosplayers of all levels of experience.
Check out photos from Boston Comic Con 2014 below.
---
Boston Comic Con 2014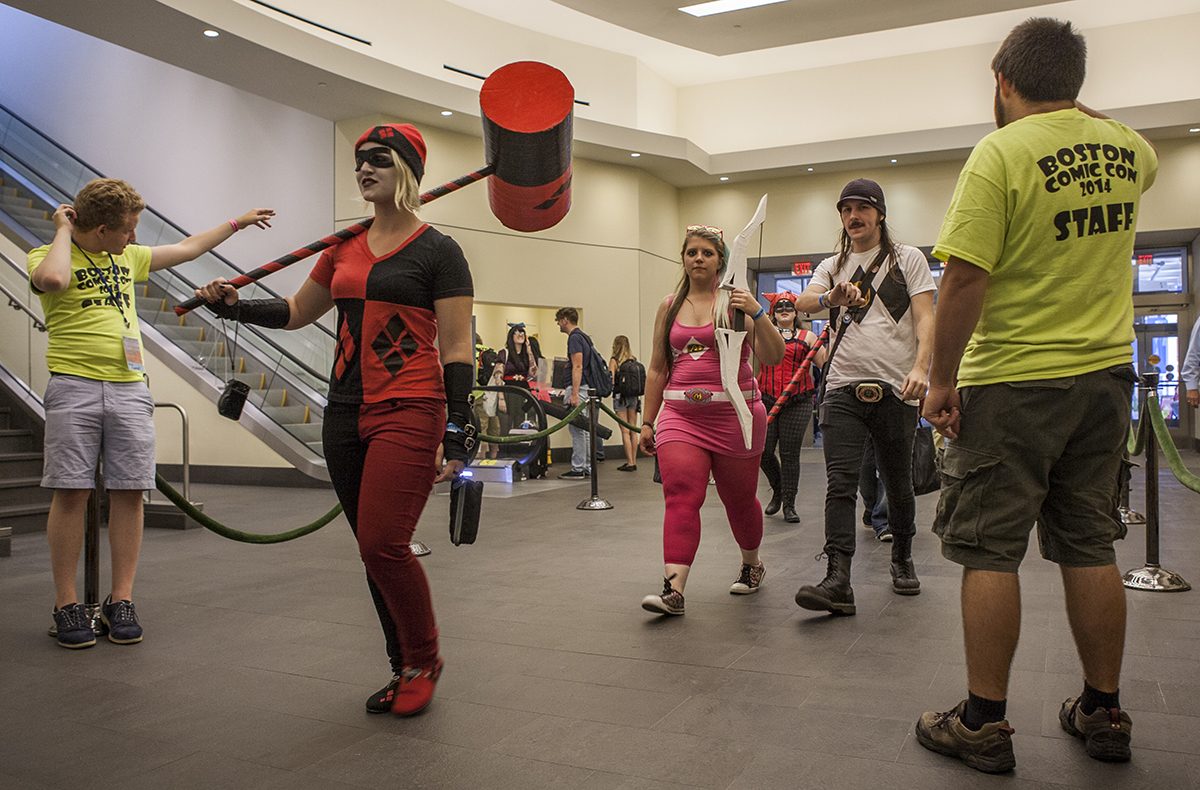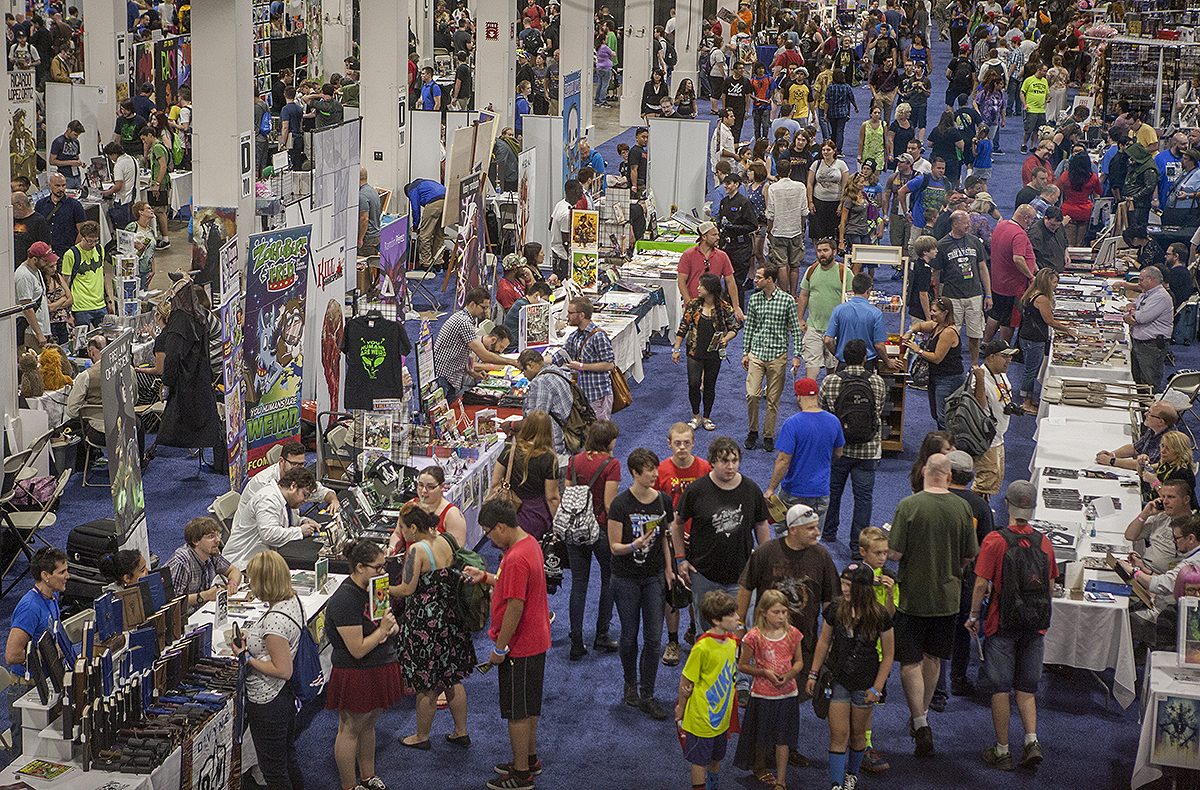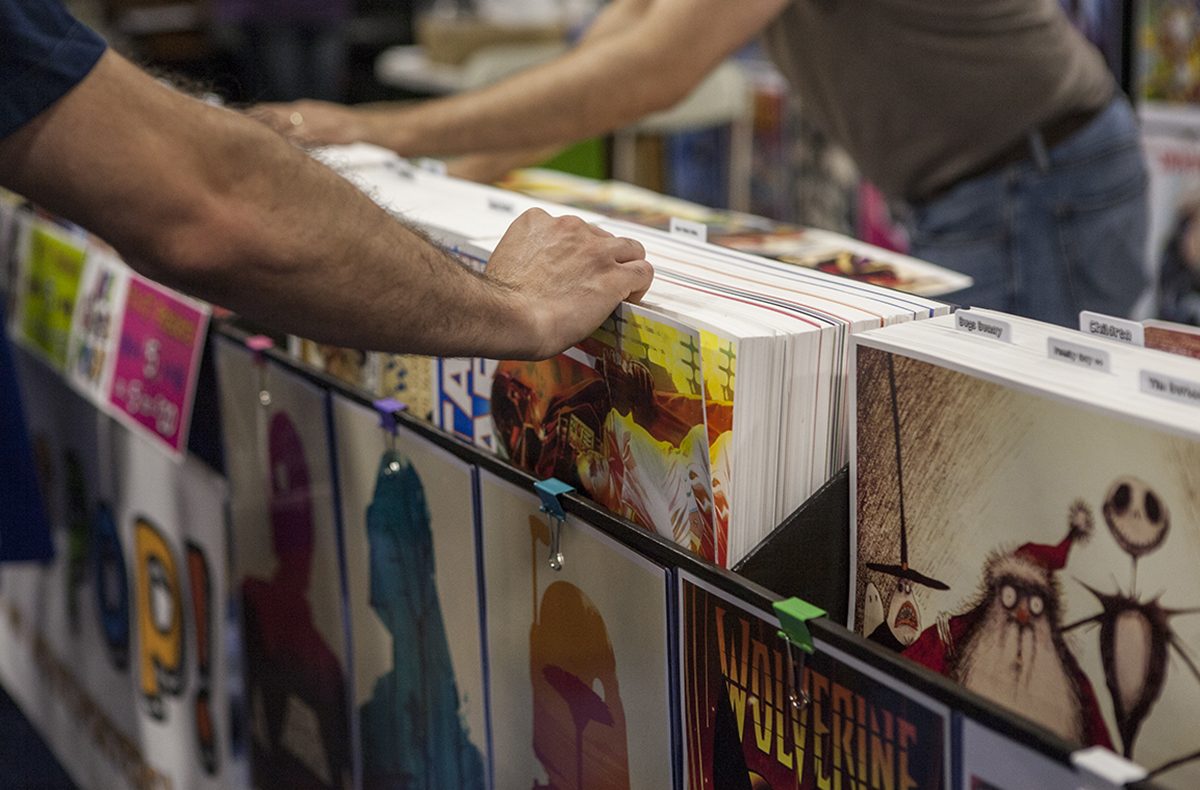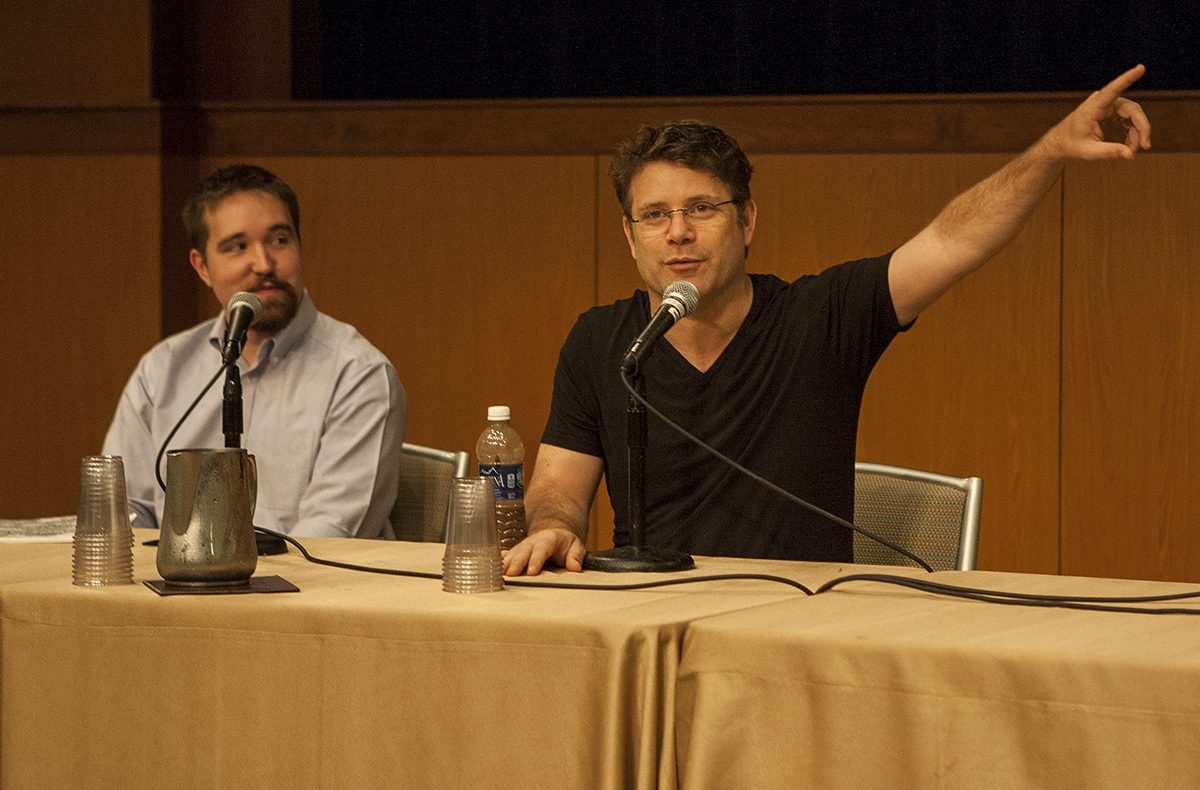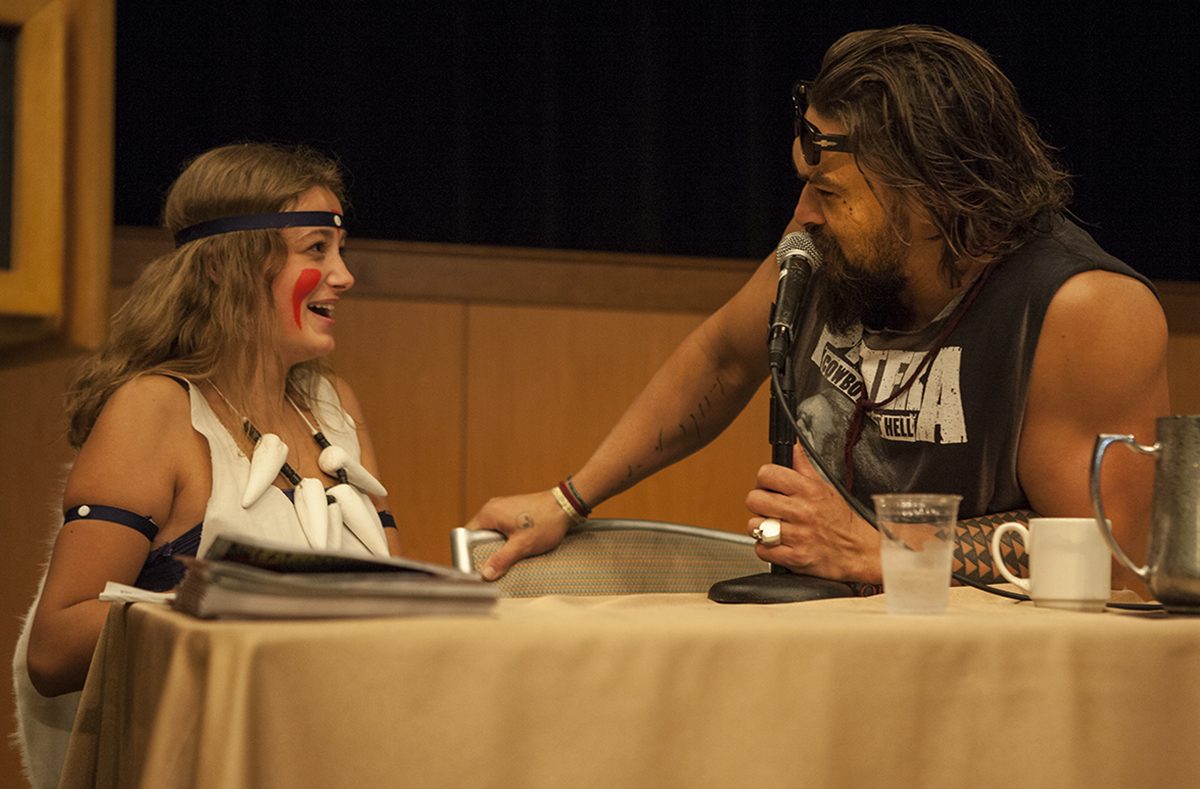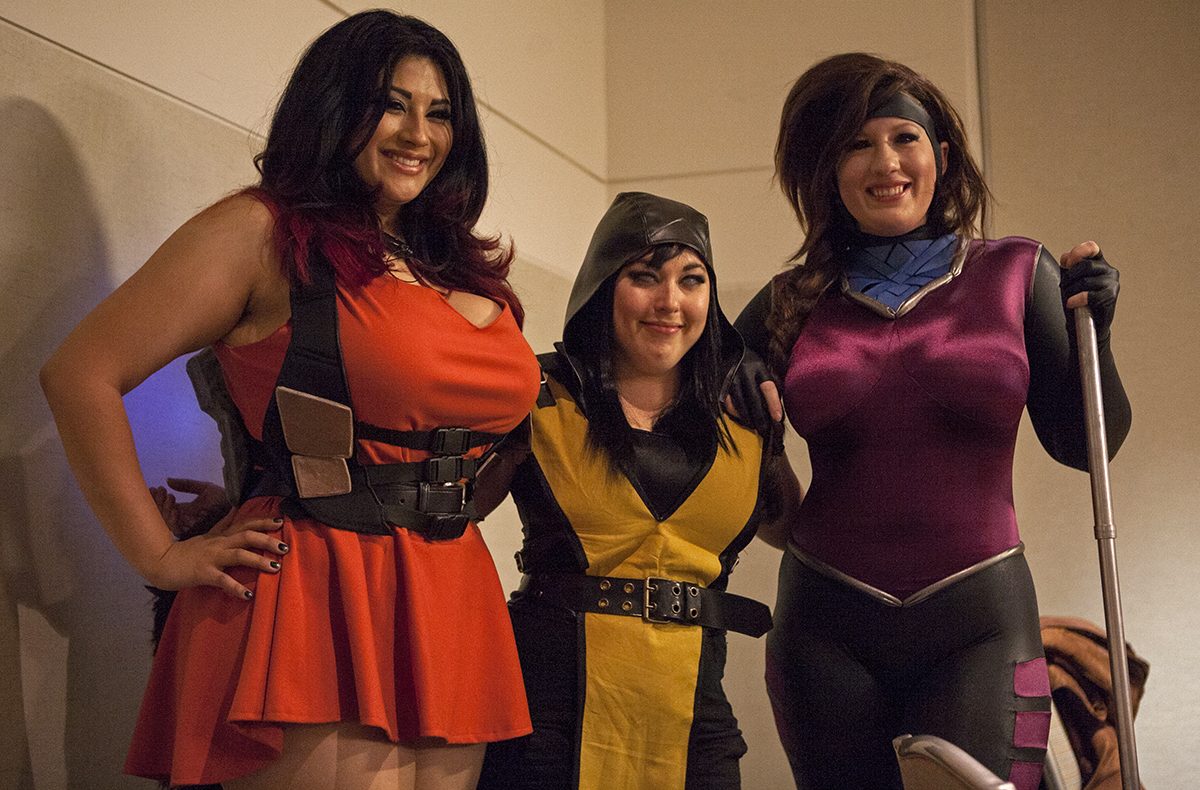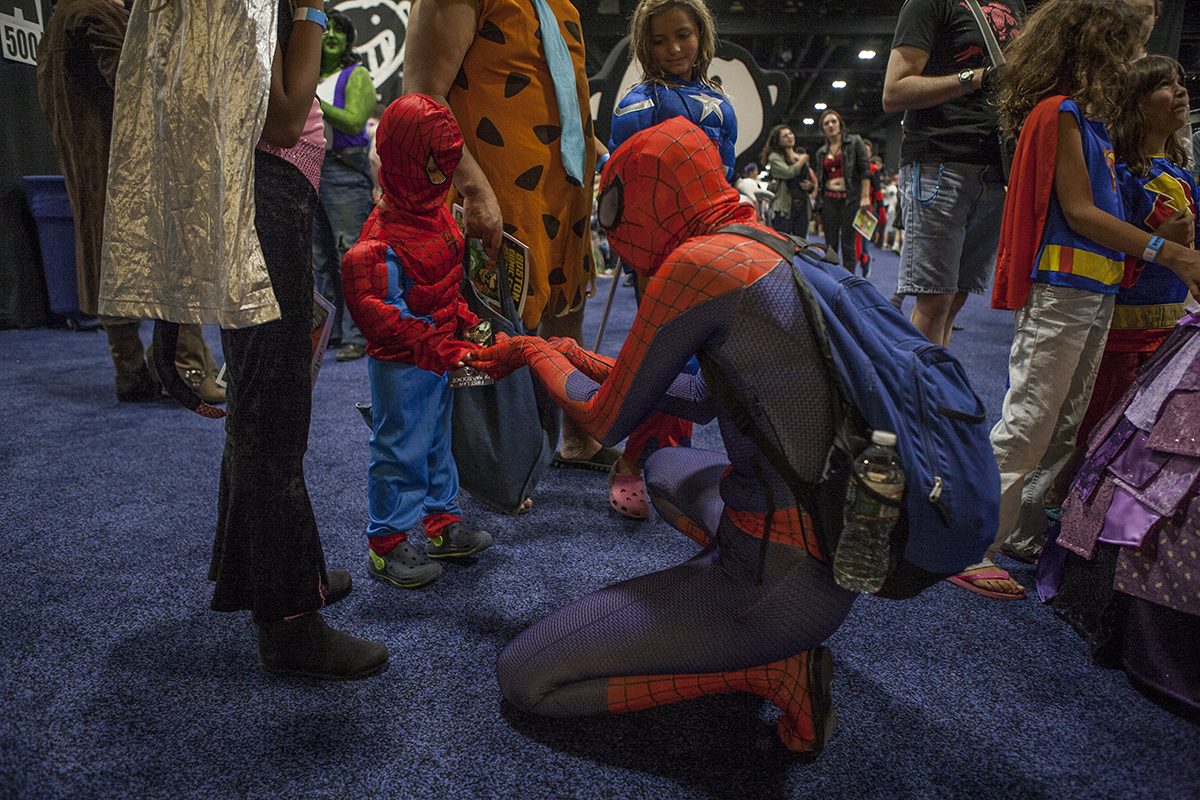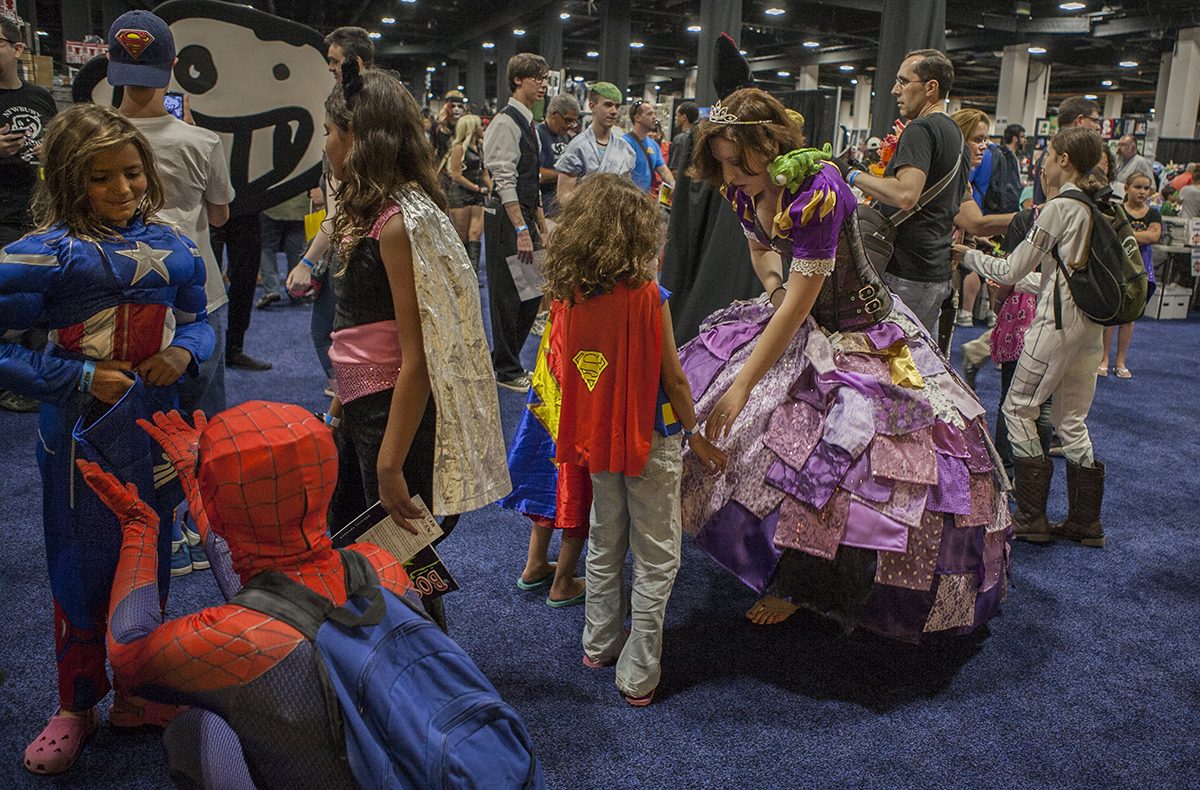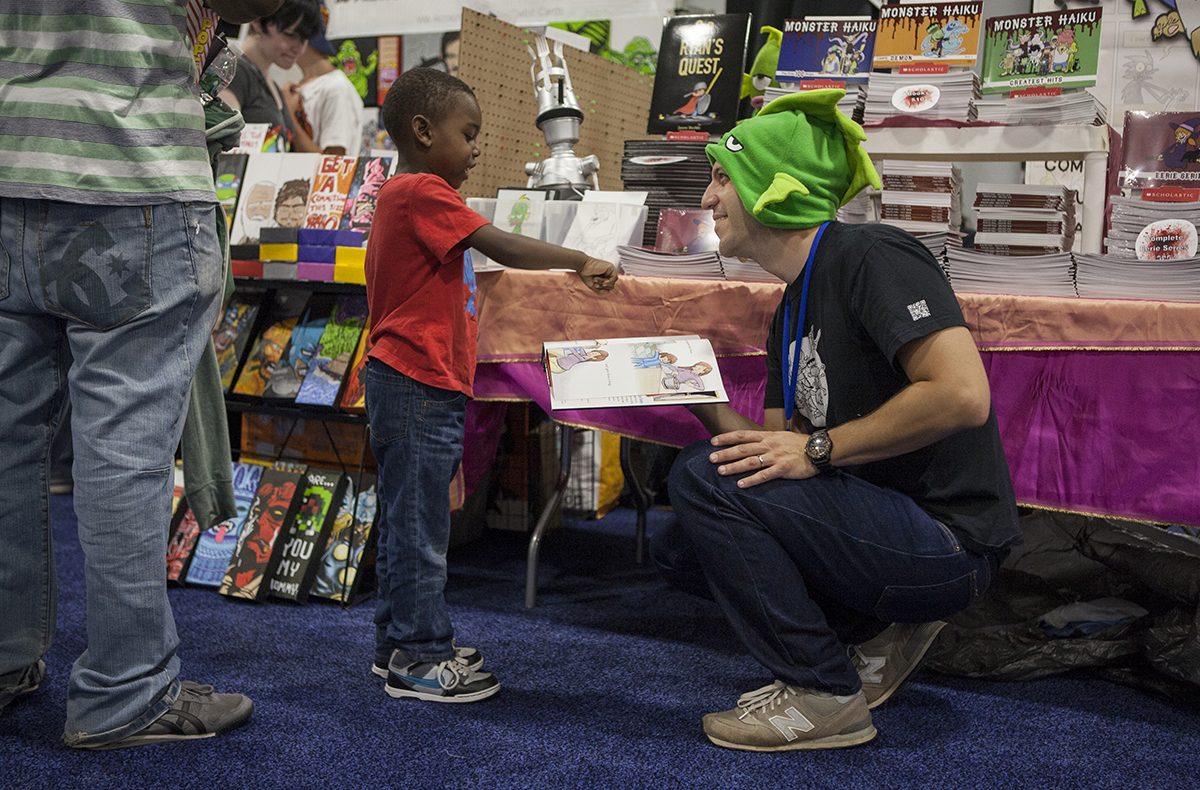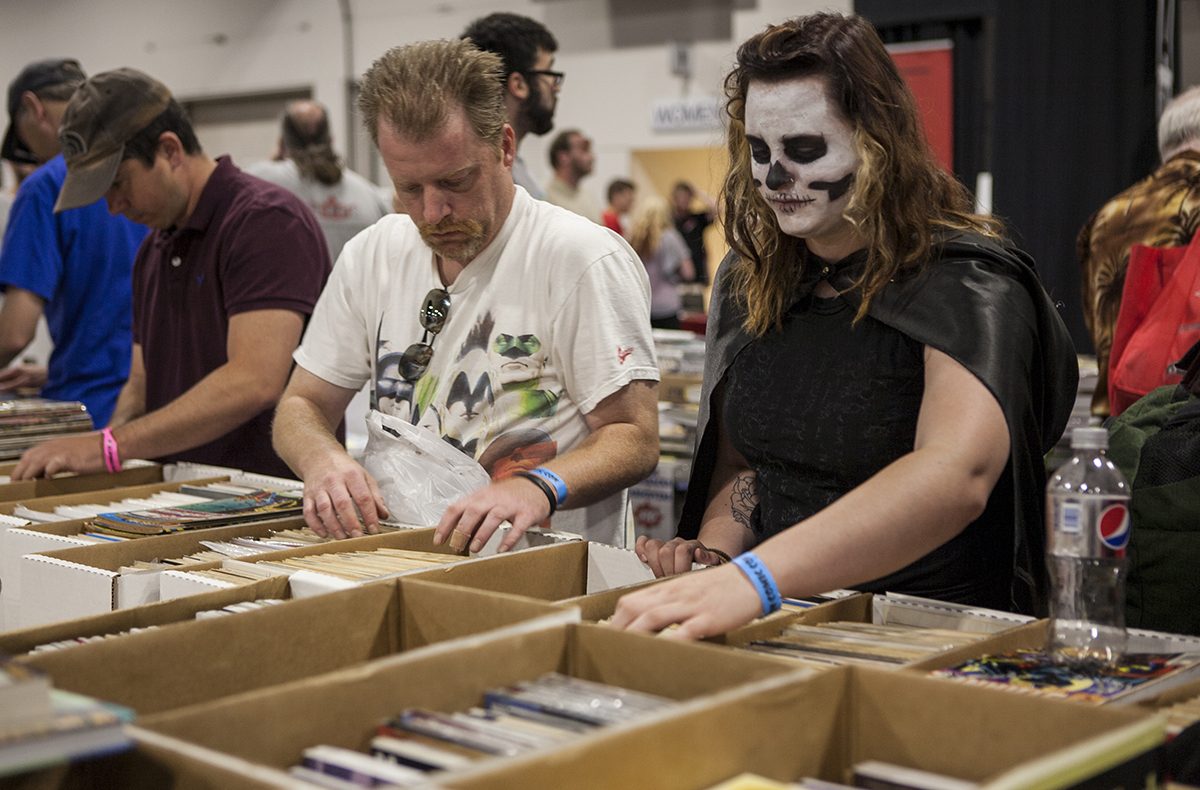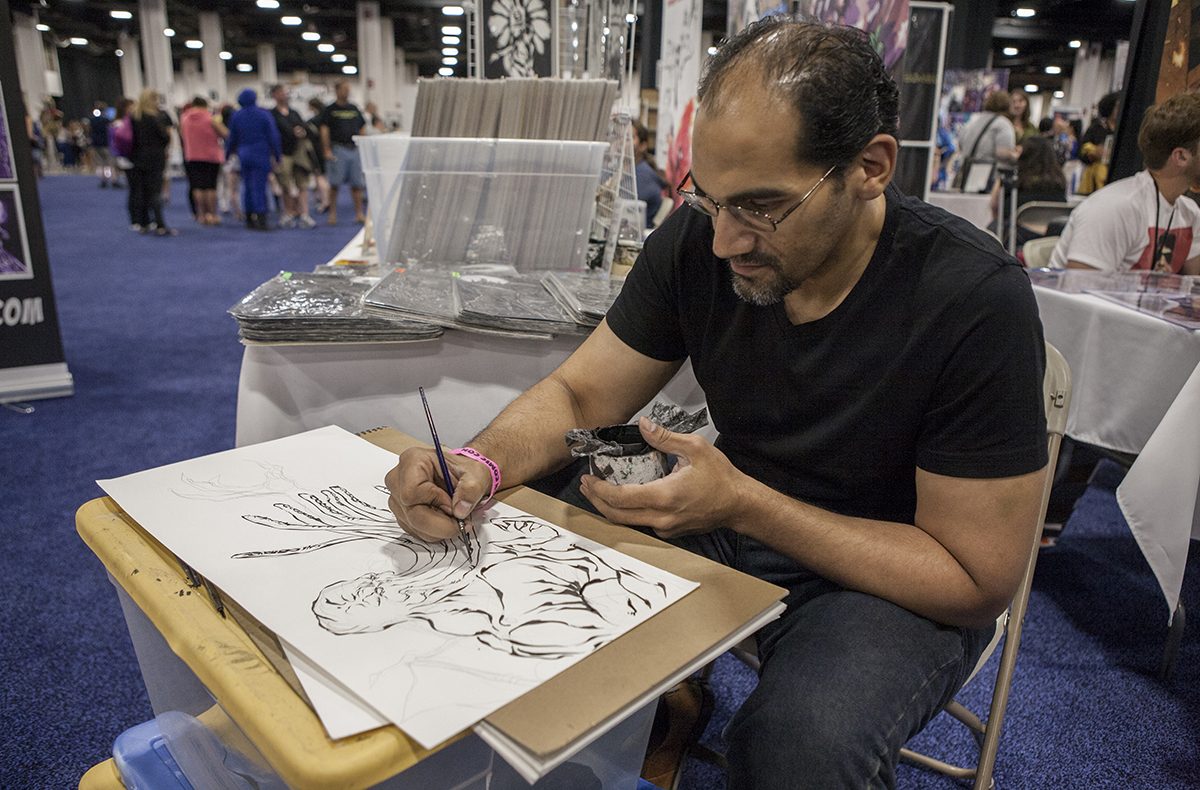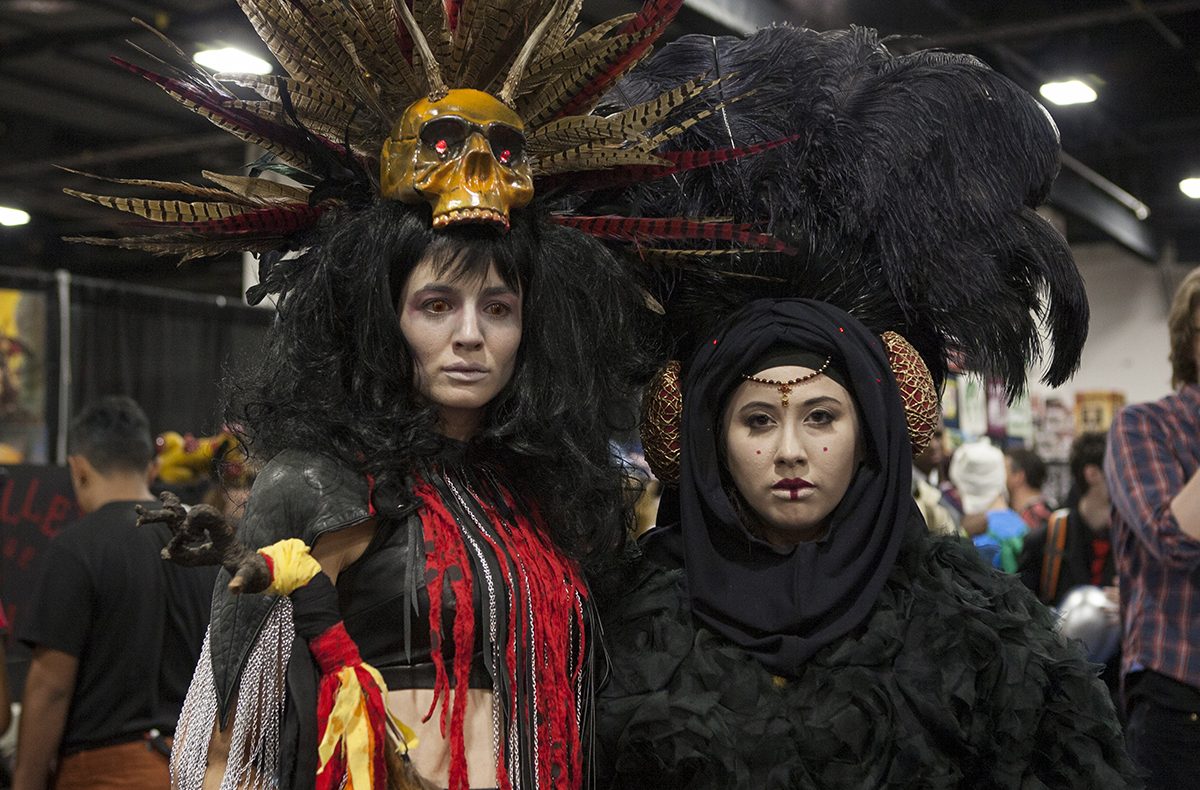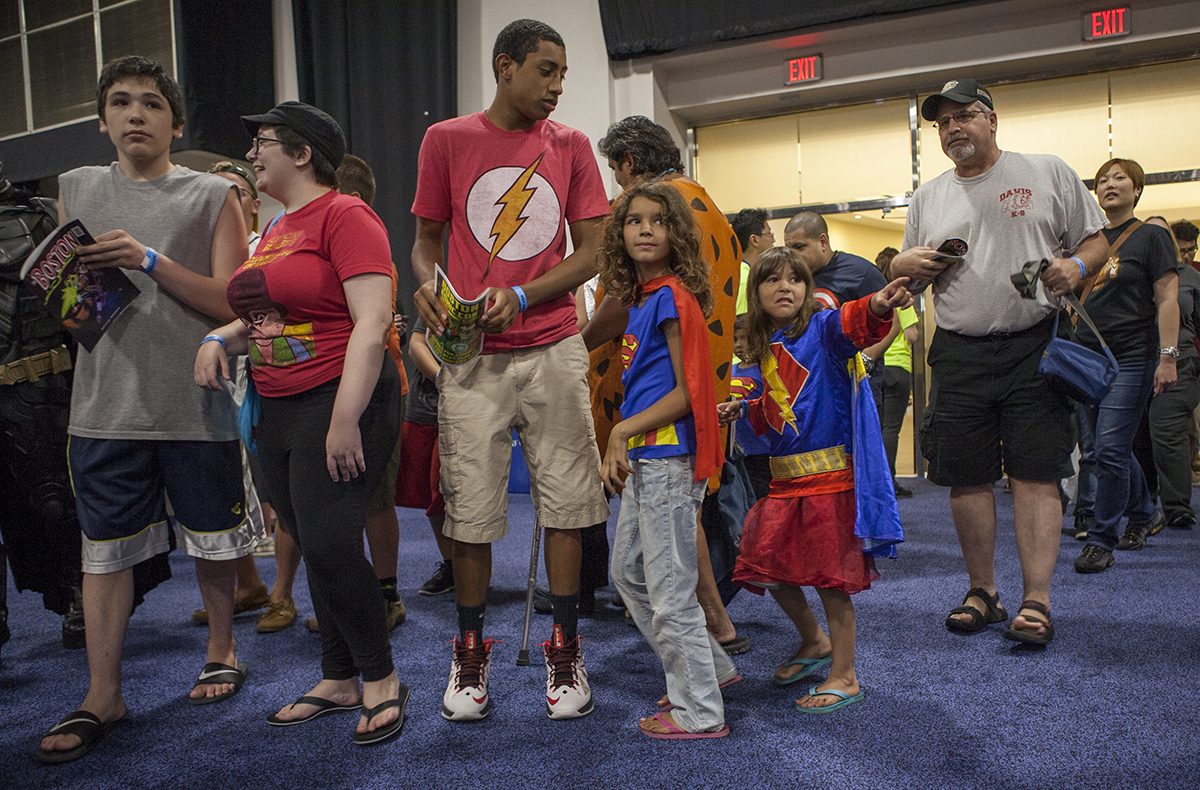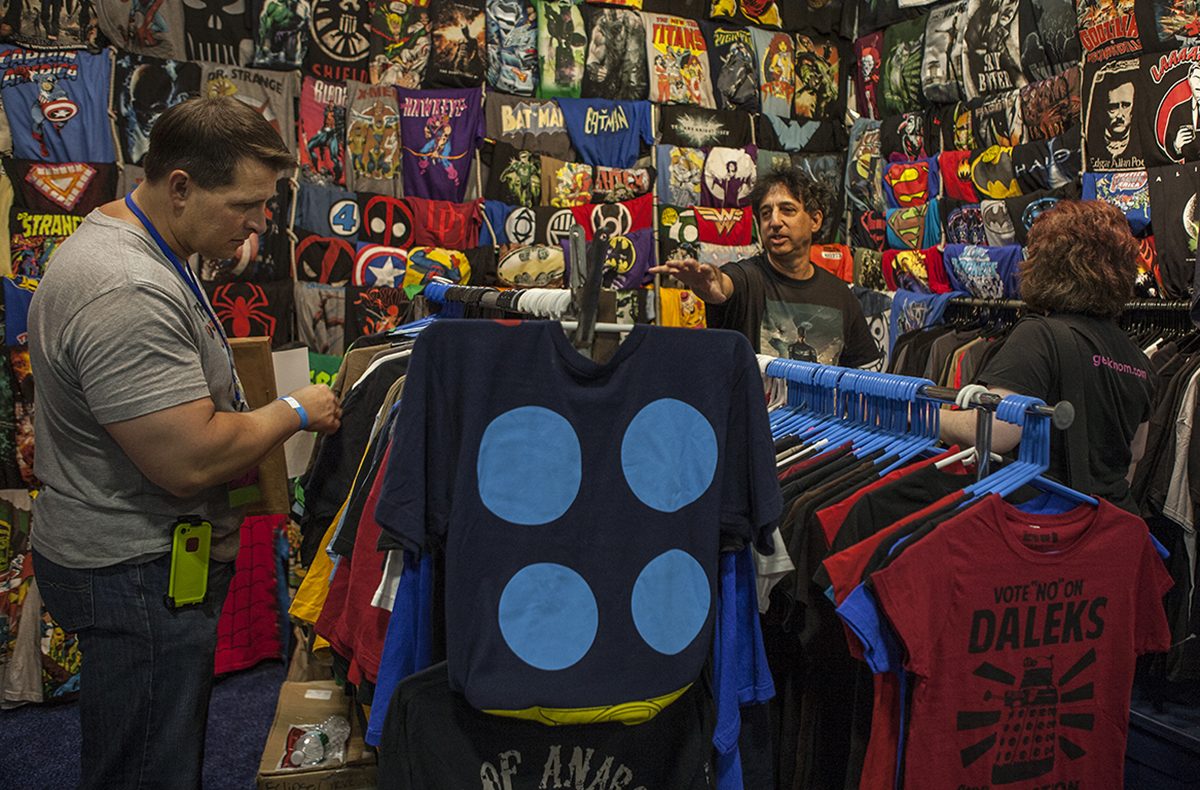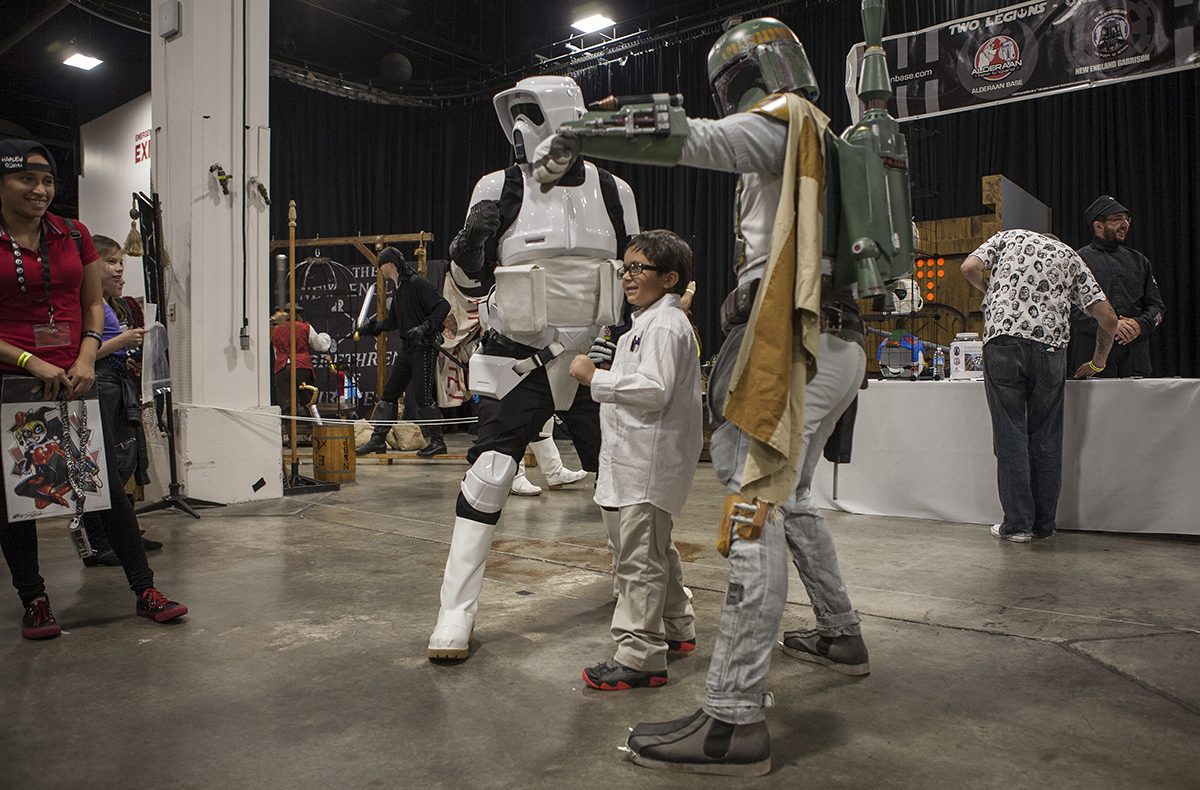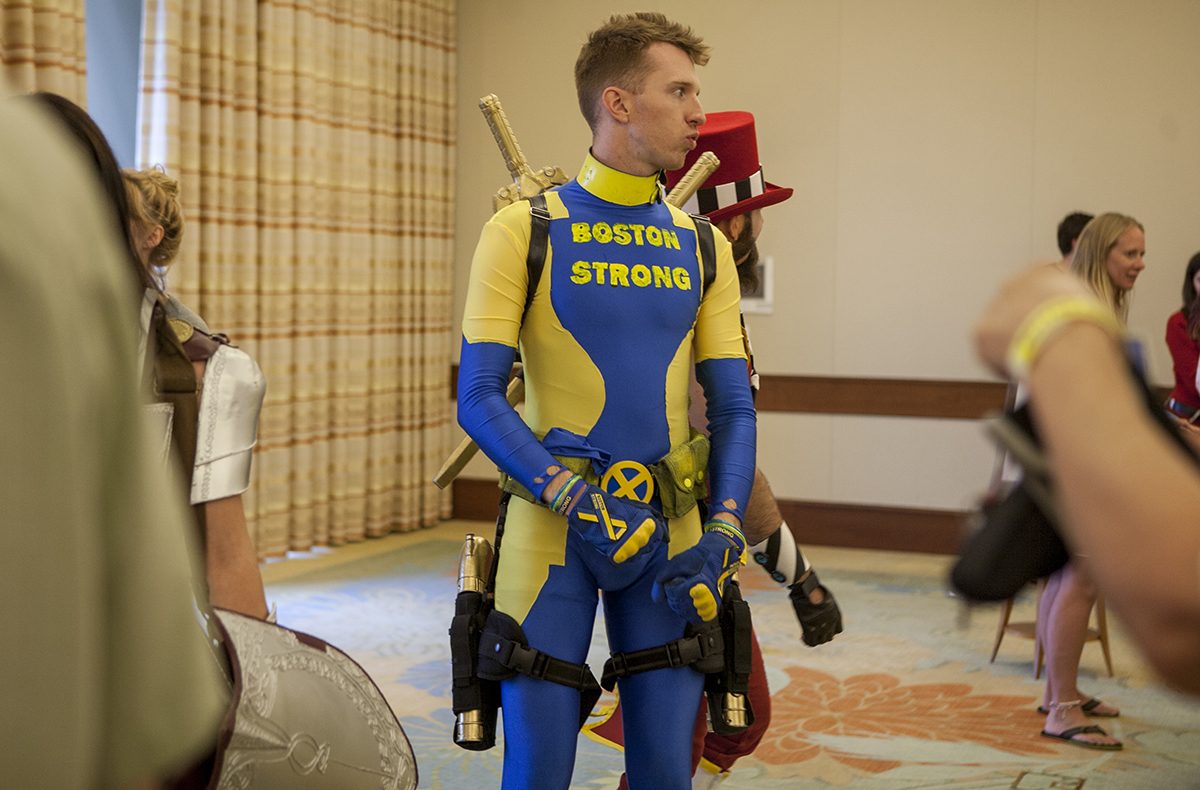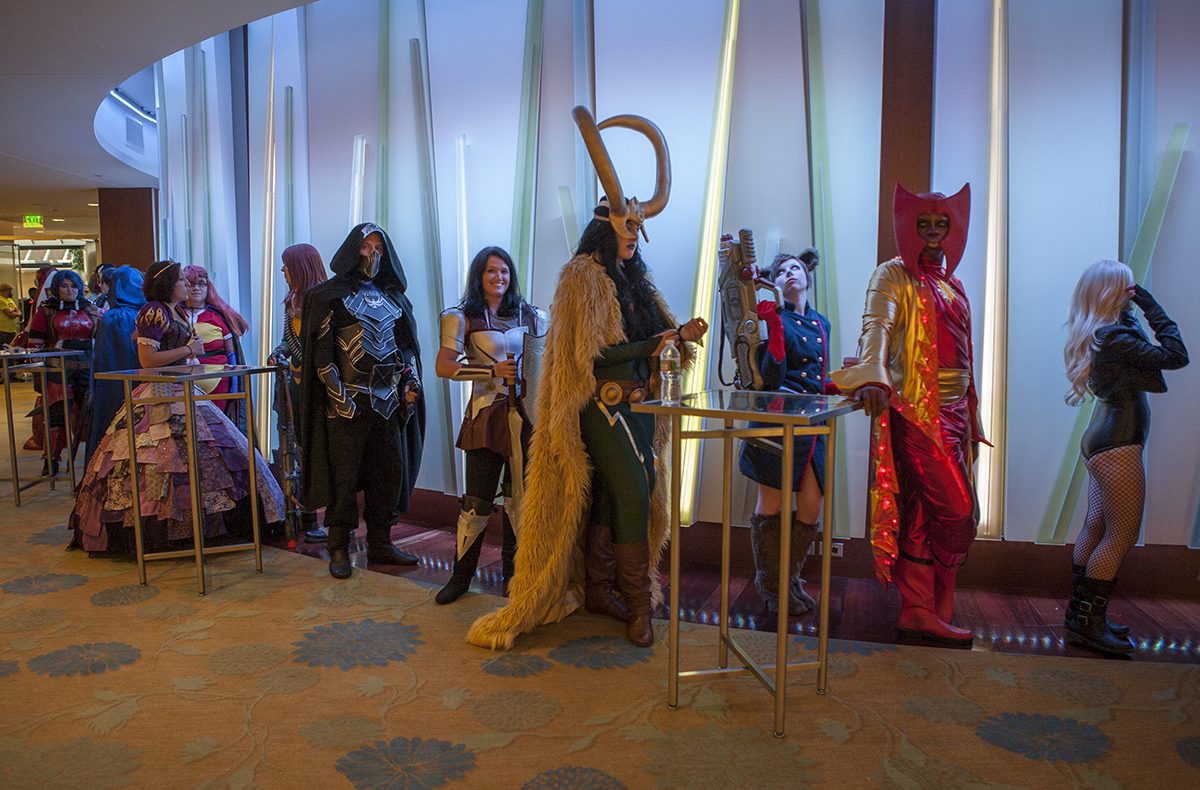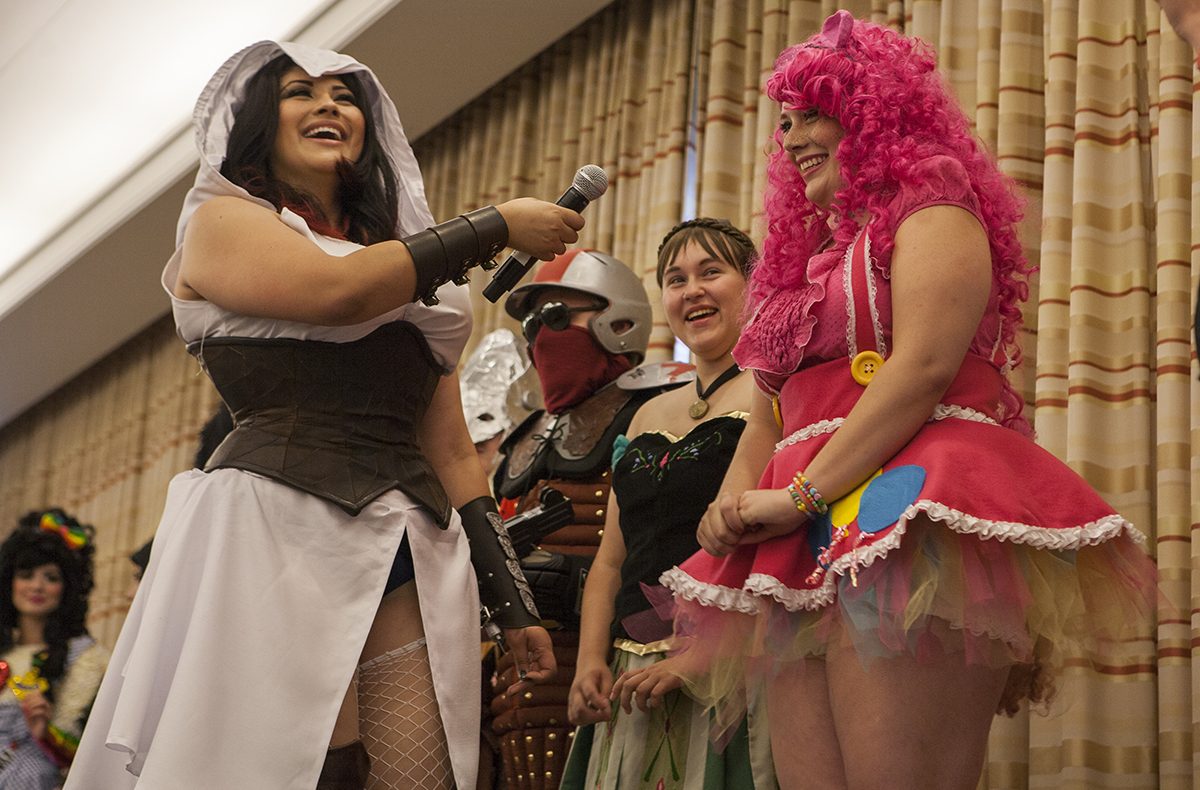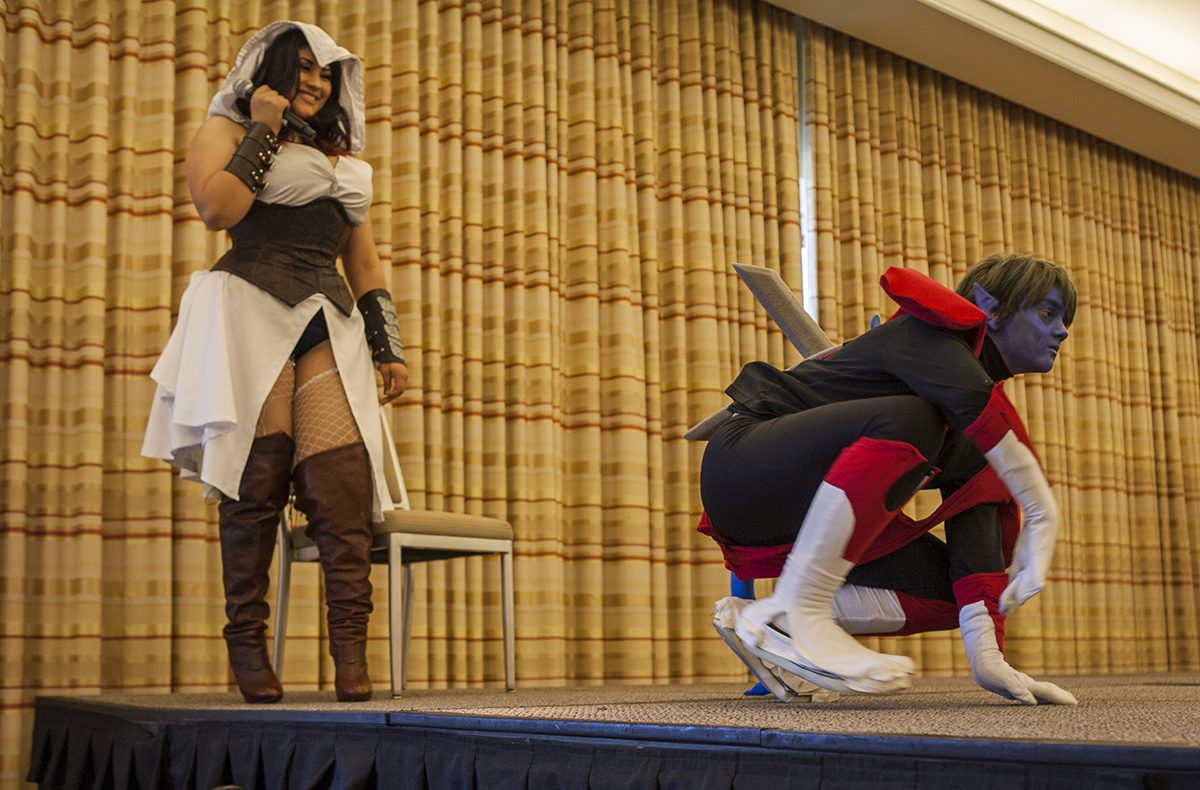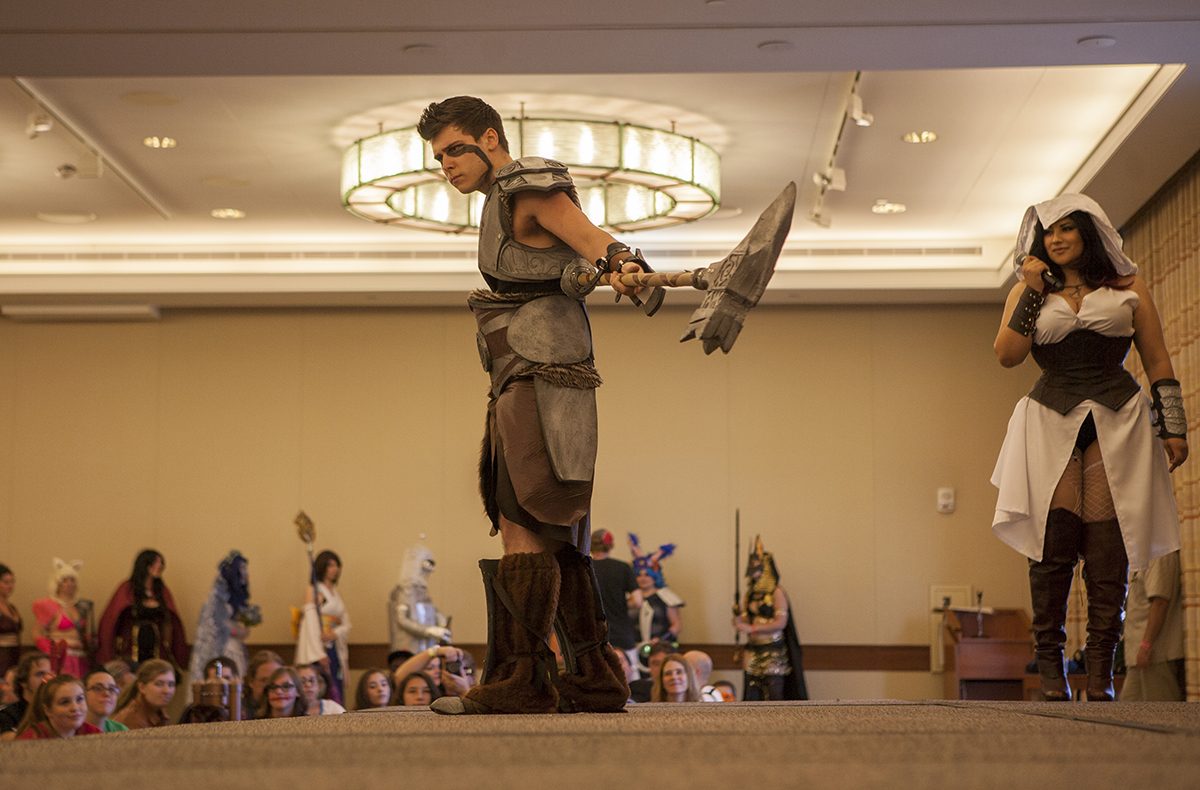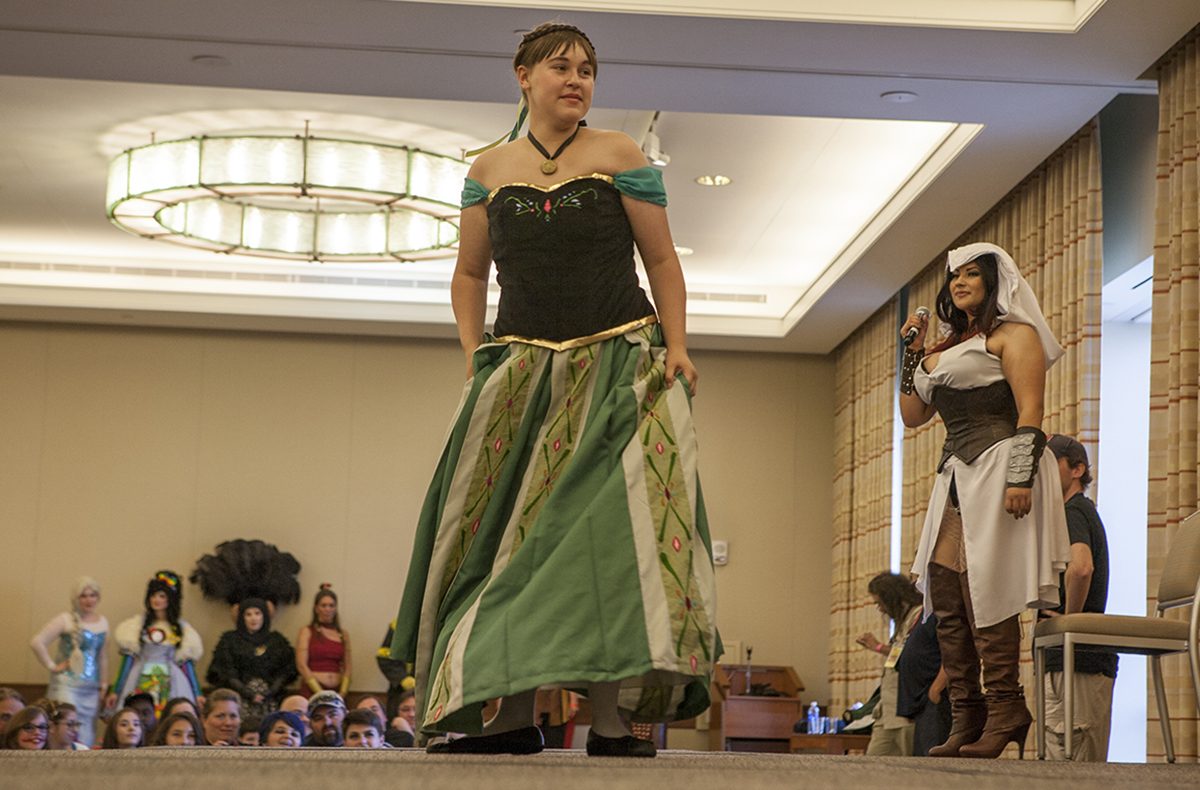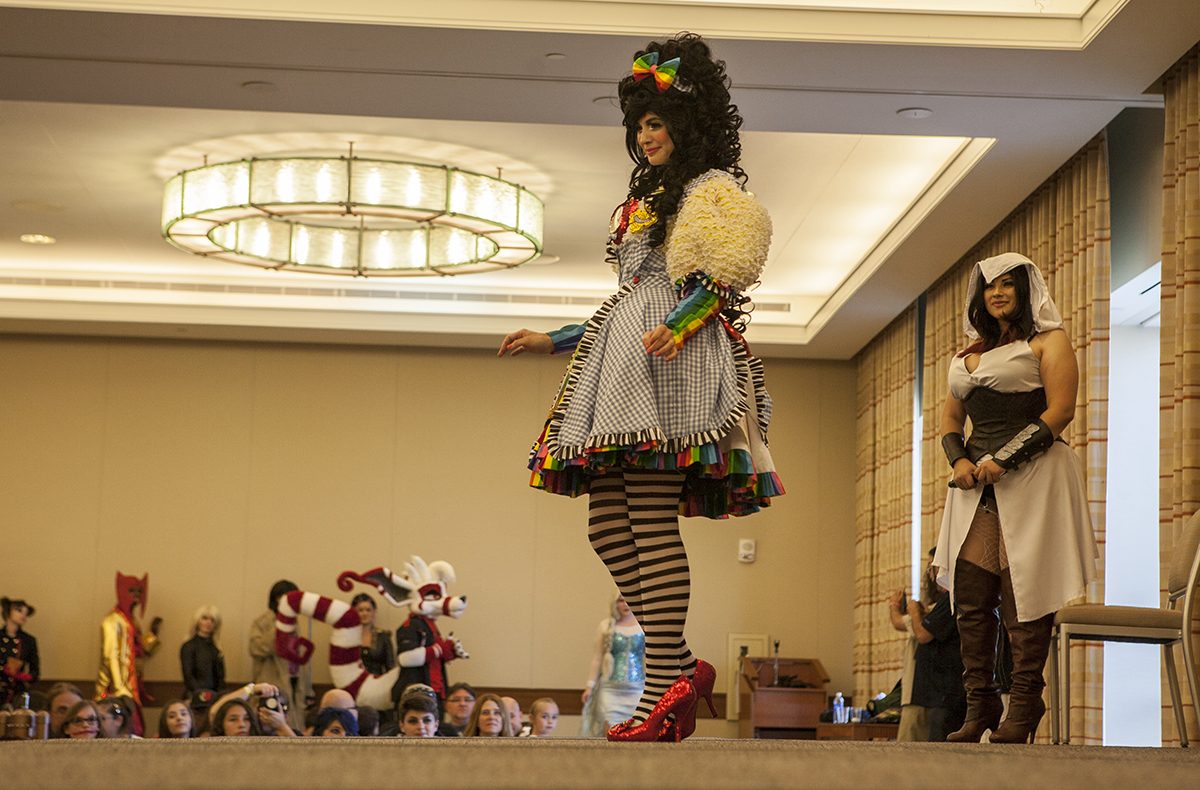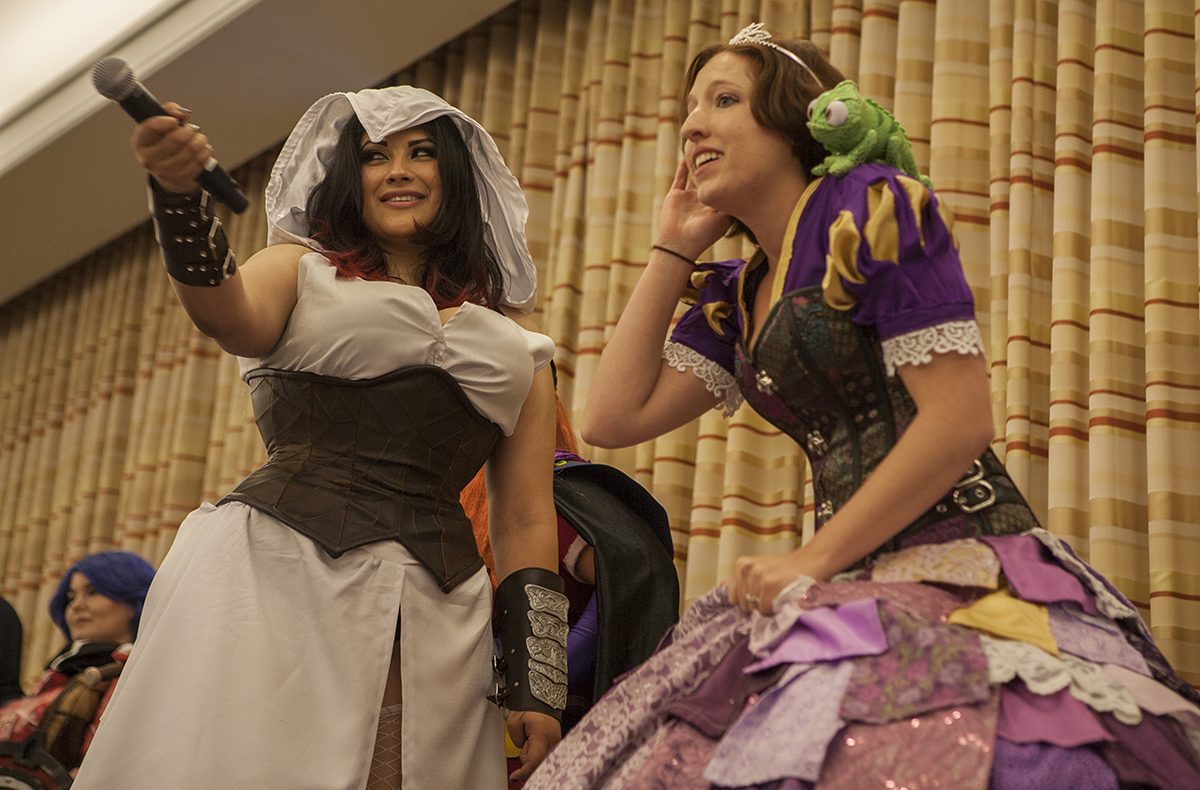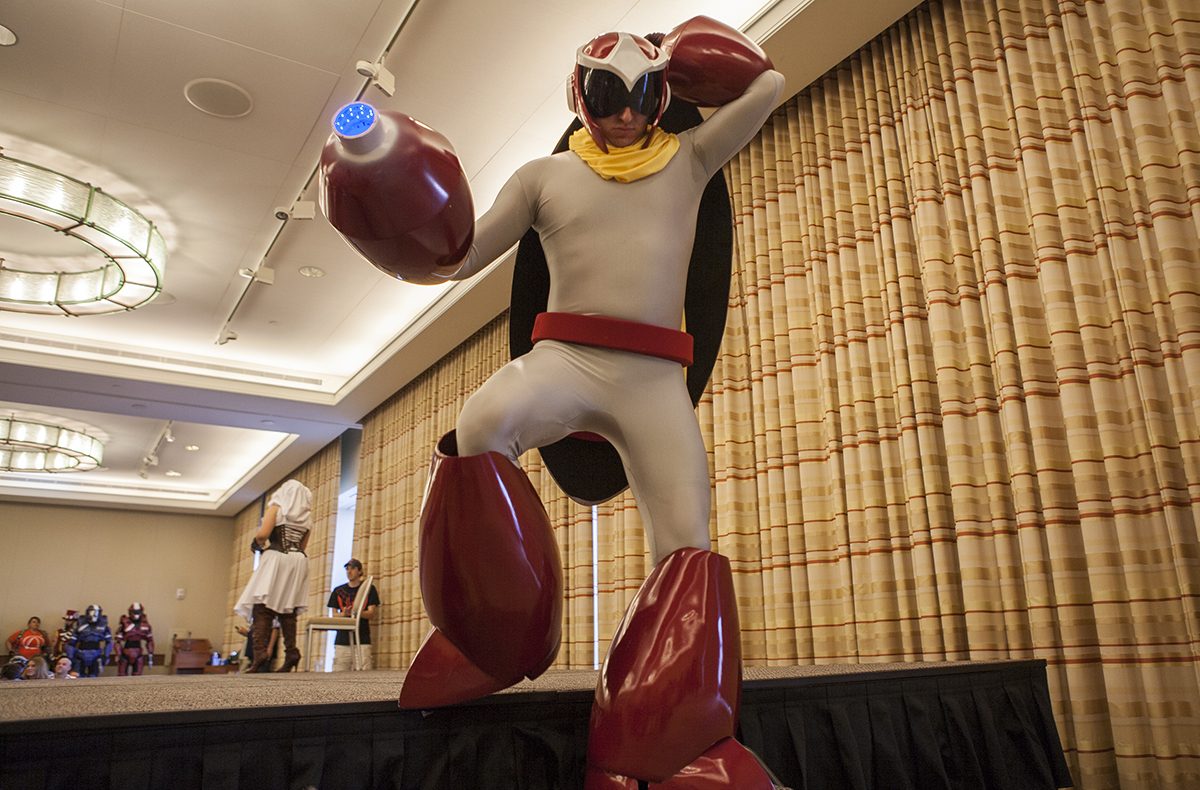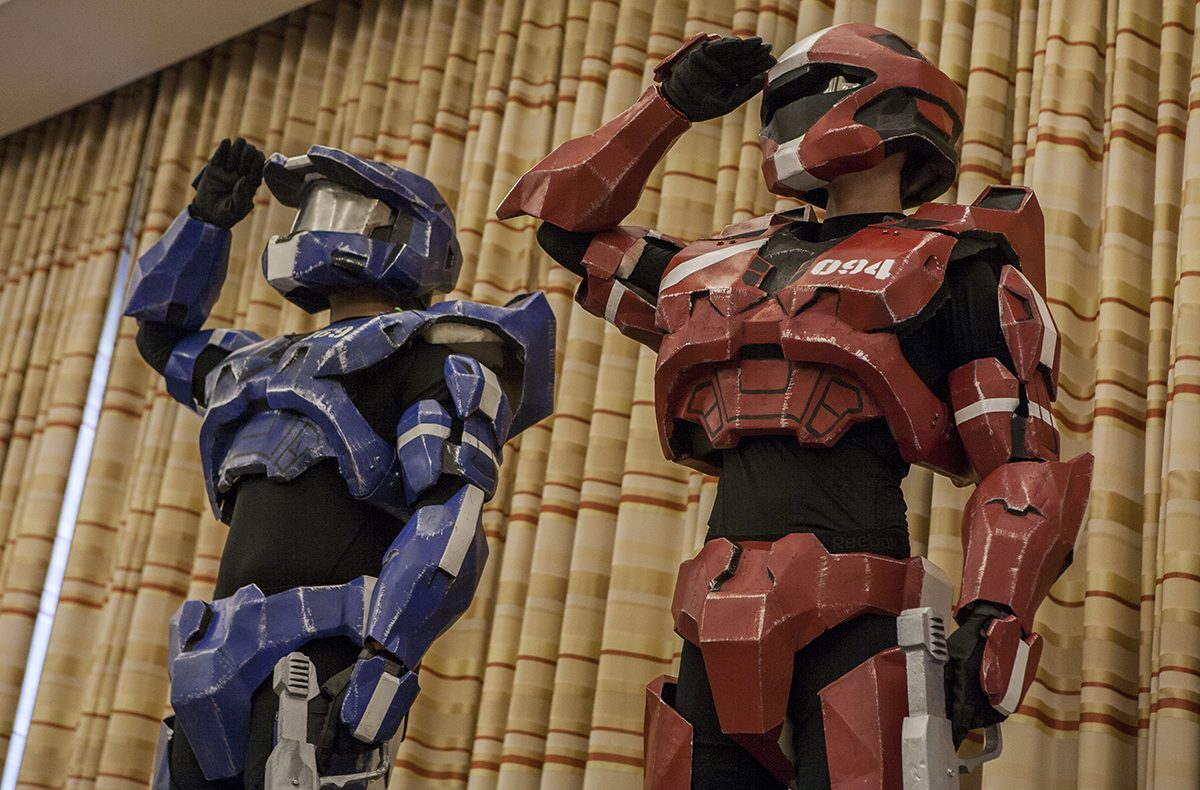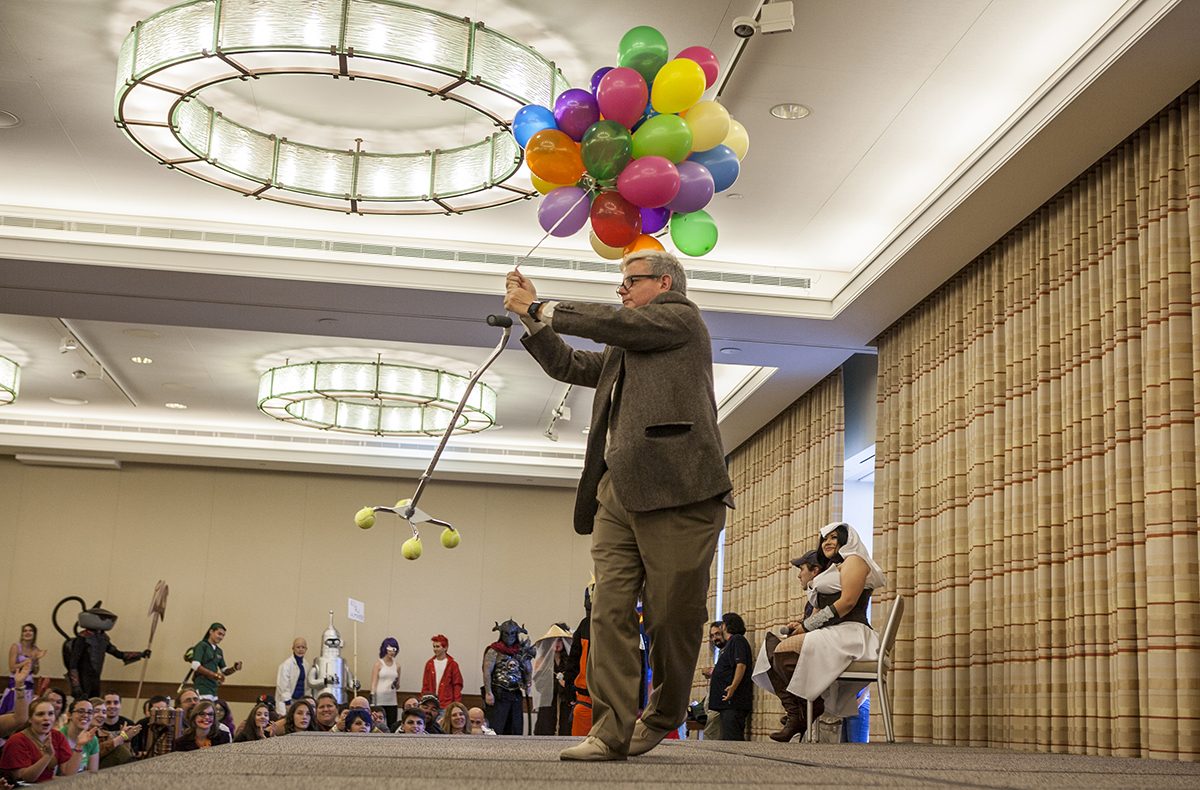 ---