Shinique Smith Talks New MFA Exhibit, Dewey Square Mural
The SMFA and Tufts alumna returns to Boston with "Bright Matter," a survey of 30 works—including 14 new ones—that incorporate found objects such as recycled garments, ribbons, coffee cup lids, and other trinkets. In September, she'll install a new mural at Dewey Square.
---
Growing up, Shinique Smith amused herself with objects found around her household in Baltimore, poring over encyclopedias, absorbing images from a book her uncle owned about the Hindu god Krishna, and drawing on empty toilet paper rolls to transform them into playthings.
"I've always been intrigued by stuff, by objects, [by] the feeling of when I was little, how you could take whatever was available around you and make it special," she says.
Now at 43 years old, Smith has cultivated her appreciation for found objects into an art form. On Saturday, the artist will debut 14 new works in a survey exhibition titled "Shinique Smith: Bright Matter" at the Museum of Fine Arts. Many of the featured paintings and sculptures incorporate recycled garments, ribbons, coffee cup lids, and other trinkets.
"To me, it's just an interesting visual problem and also conceptual problem—that things can maintain their identity as fabric or clothing or an object, but then come together with other elements and form this other compositional whole," Smith says.
---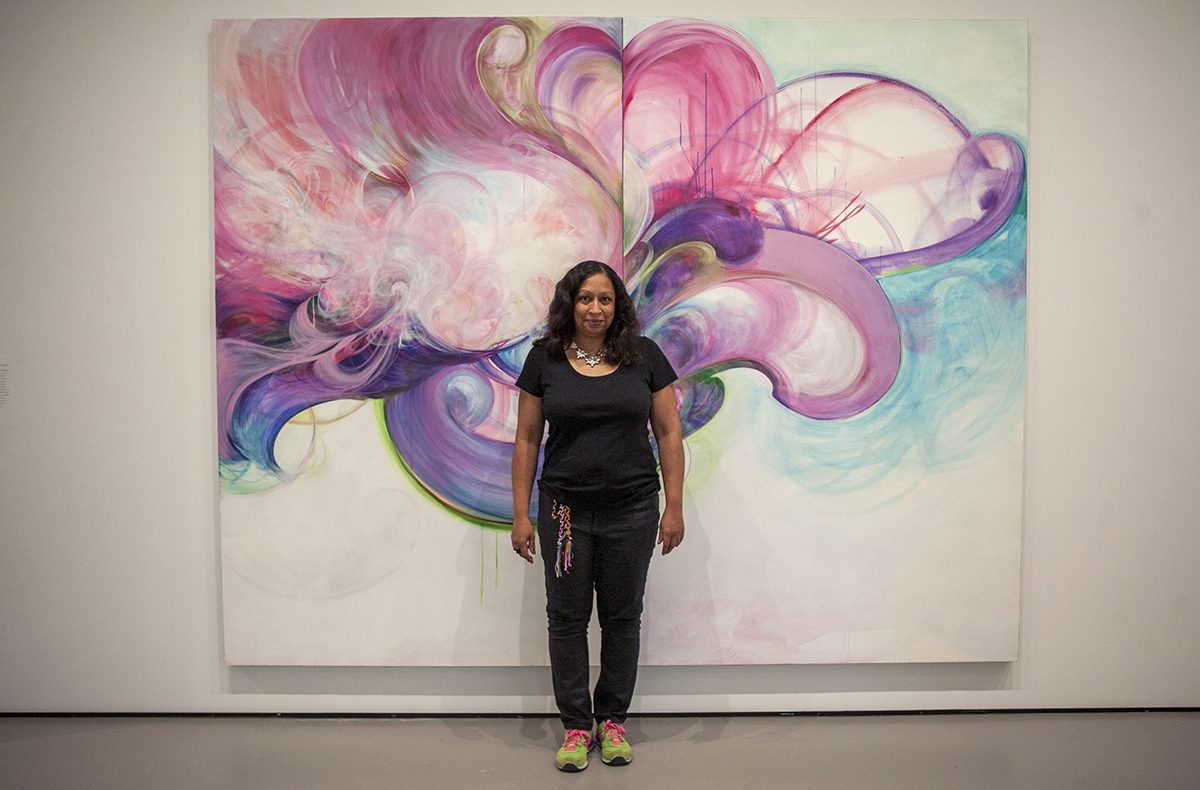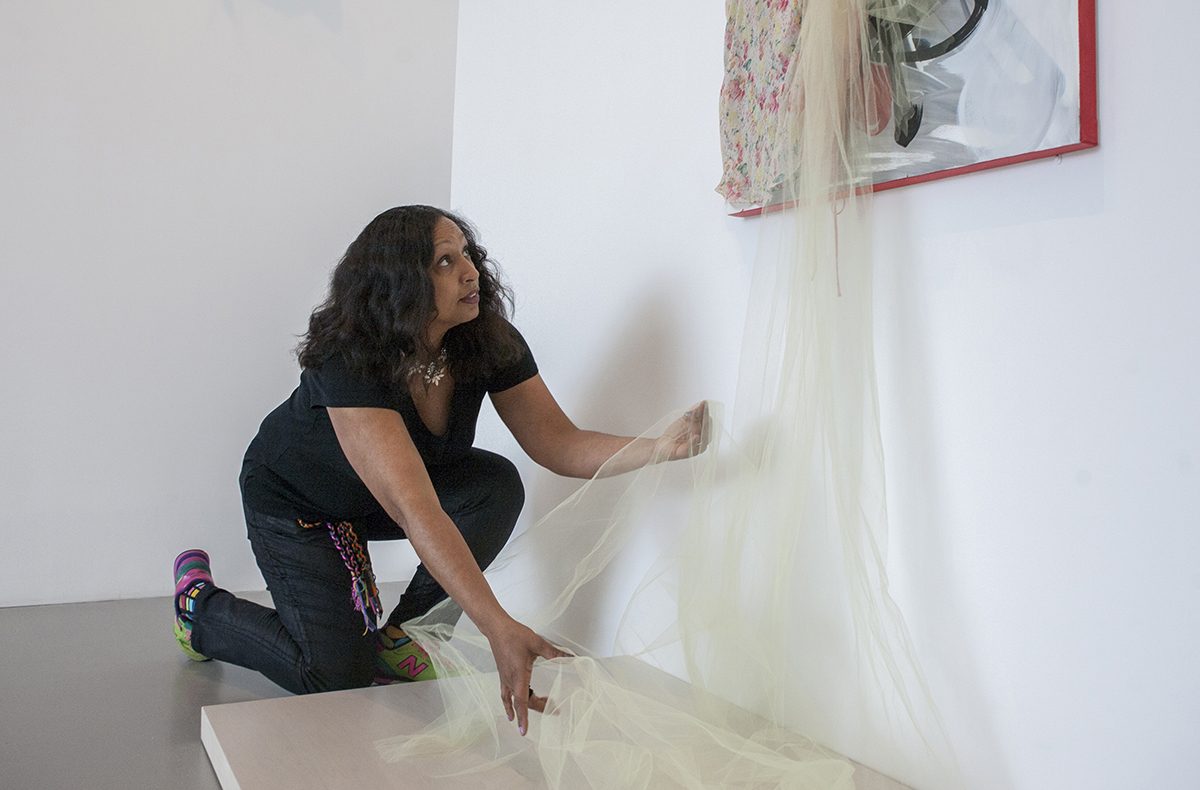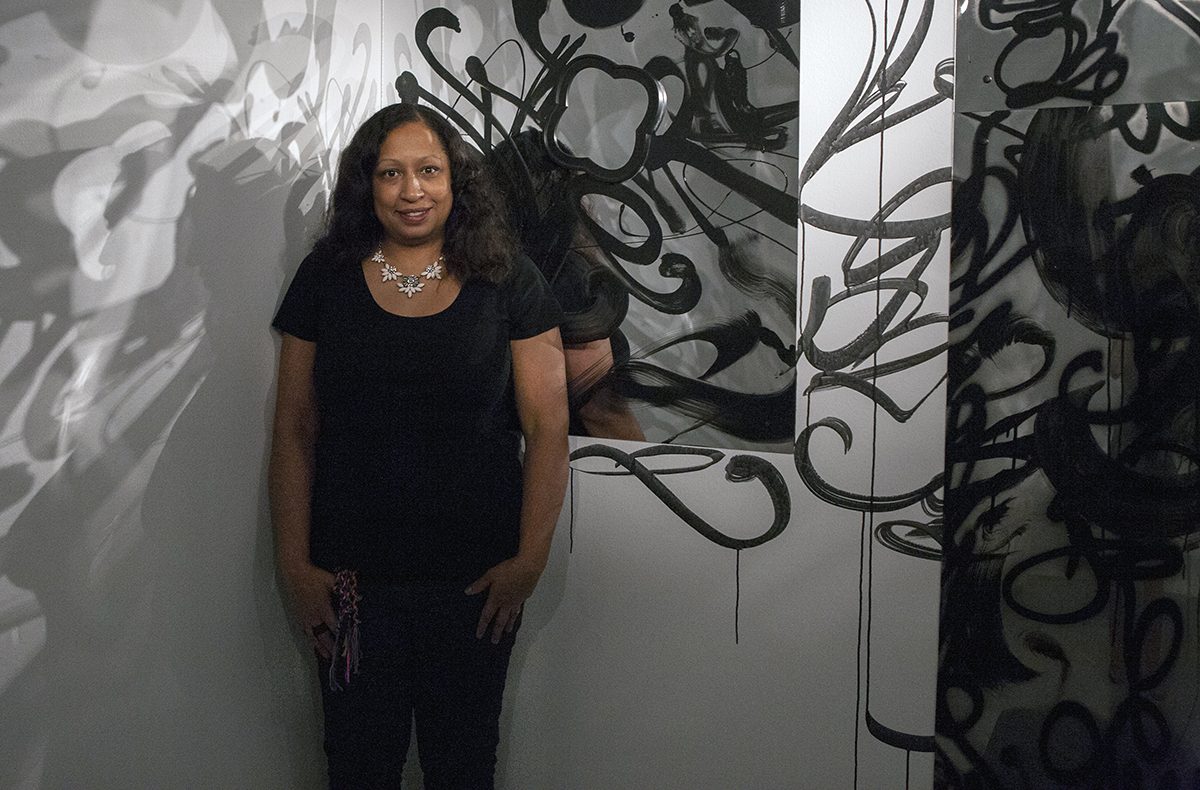 ---
Smith's use of discarded objects often pegs her work as a comment on American consumerism, and while the artist doesn't deny that it remains an underlying framework, she says that her understanding of it has changed over time. In 2007, she traveled to New Orleans to participate in a show under the direction of famed curator Dan Cameron, who had instructed the artists to create site-specific installations using found or bartered objects.
"It was right after Katrina, and no one had anything, so it made me question what this is really about," Smith says. "It's not solely about how much we have that we cast off. It's how these things that we don't have connect us as well. What we have, what we don't have, what we strive for, what we covet, what we create—all these little aspects that interconnect us."
There's harmonic convergence of objects in [Dewey Square]. It's at this very odd intersection of motion.
Although "Bright Matter" marks her first solo exhibition in New England, it also serves as a homecoming to Boston for Smith, an alumna of the School of Museum of Fine Arts and Tufts University. Nearly 15 years ago, while enrolled in a Masters of Arts in Teaching program offered by both schools, Smith taught full-time at the Boston Arts Academy, an experience she recalls as draining, but rewarding.
"I knew I wanted to work with teenagers because that's such a formative time. It influenced everything in this room, my time as a teenager," Smith says. She recalls watching her mother, a former fashion designer and fashion editor, creating garments, and painting graffiti with her high school boyfriend during the "golden moments" of the '80s in Baltimore, when "hip-hop and the tail end of punk were happening at the same time and crossing over."
Now, Smith hopes to reconnect with Boston's youth. On September 7, she will participate in the MFA's free community day celebrating director Malcolm Rogers' 20 years at the institution, leading family art-making sessions and presenting a performance artwork. Then, on September 8, she will begin installing a new mural at Dewey Square, replacing the current work by Matthew Ritchie with a version of her 2013 work "Seven Moons," slightly retooled for the architecture and environment of the Greenway.
---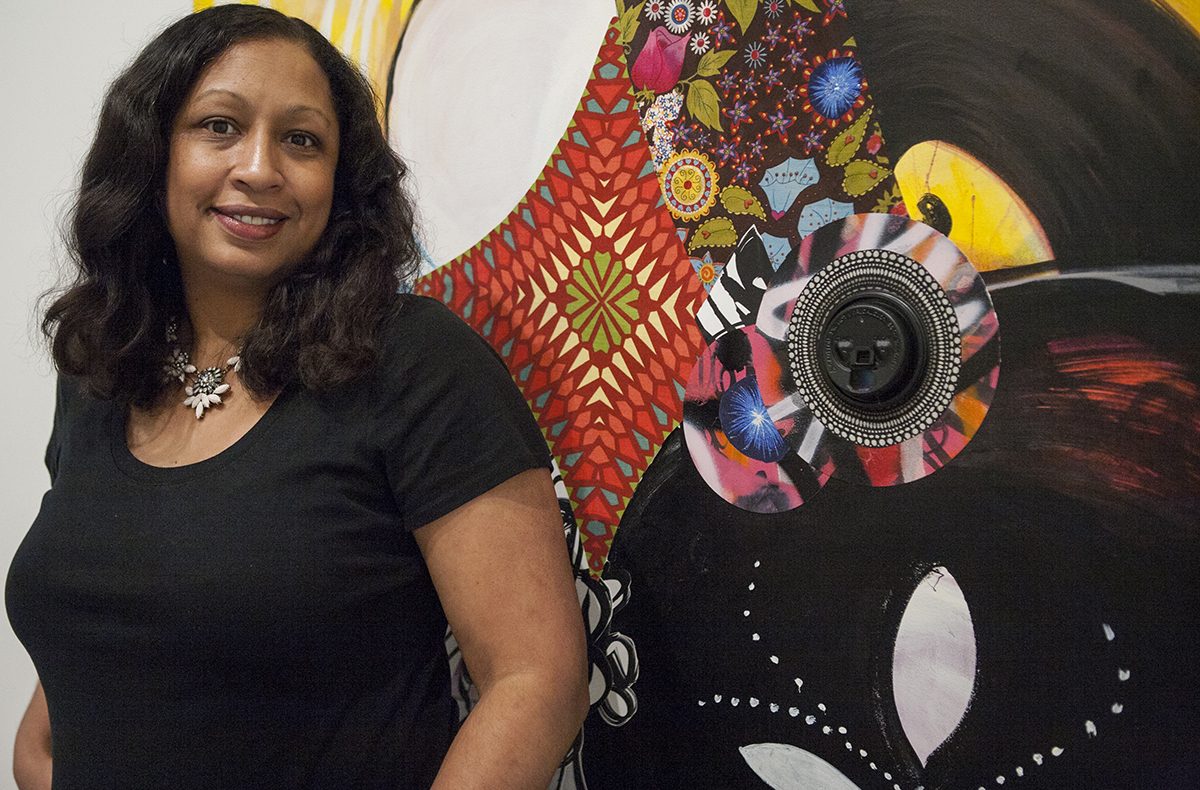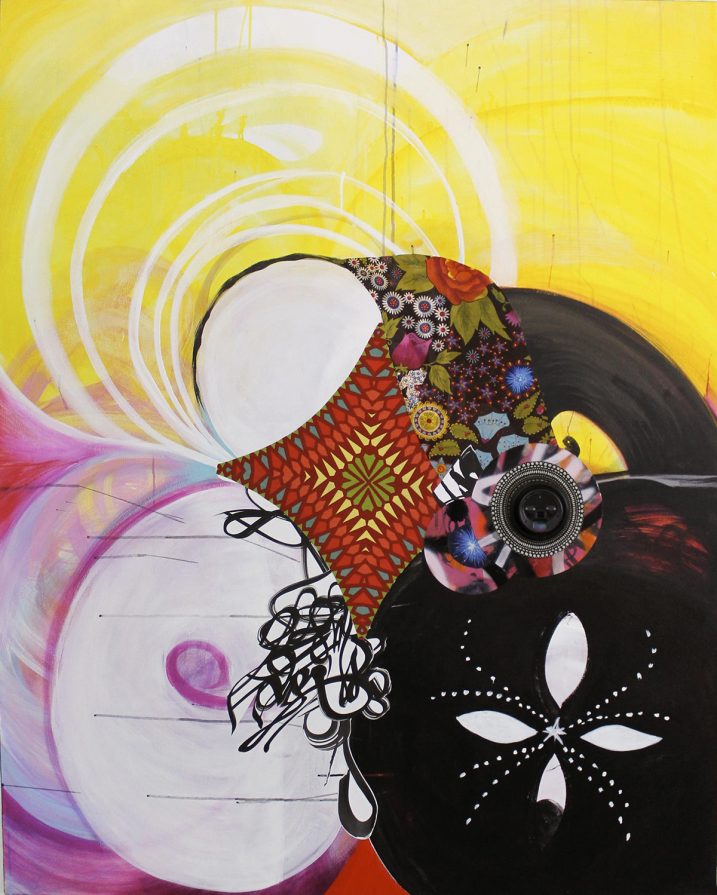 ---
"It was like an immediate reaction," Smith says of choosing the work, which shows multiple elements whose interactions remind her of the energy found at Dewey Square. "There's harmonic convergence of objects in that space. It's at this very odd intersection of motion and in the center of these buildings and the sky, and everything seems to be moving."
Considering the controversy that surrounded the first mural on the Greenway painted by Os Gemeos, people have asked Smith if she'd like for her mural to be a "crowd-pleaser."
"I didn't really like that terminology, but I do want people to have a feeling. My work isn't dour. If I myself go to a dour place, I try to work my way out of it through the work," she says. "People will always have reactions—that's why you make art. You can't please everyone. People can hate it, people can love it. I just do the best I can."
"Shinique Smith: Bright Matter" opens at the Museum of Fine Arts on August 23, and will remain on view until March 1, 2015. For more information about the exhibit and related performances, visit mfa.org.
---