The Trip to Bountiful Comes to Boston
We caught up with stars Cicely Tyson and Vanessa Williams before their Broadway hit comes to town November 20 through December 7.
---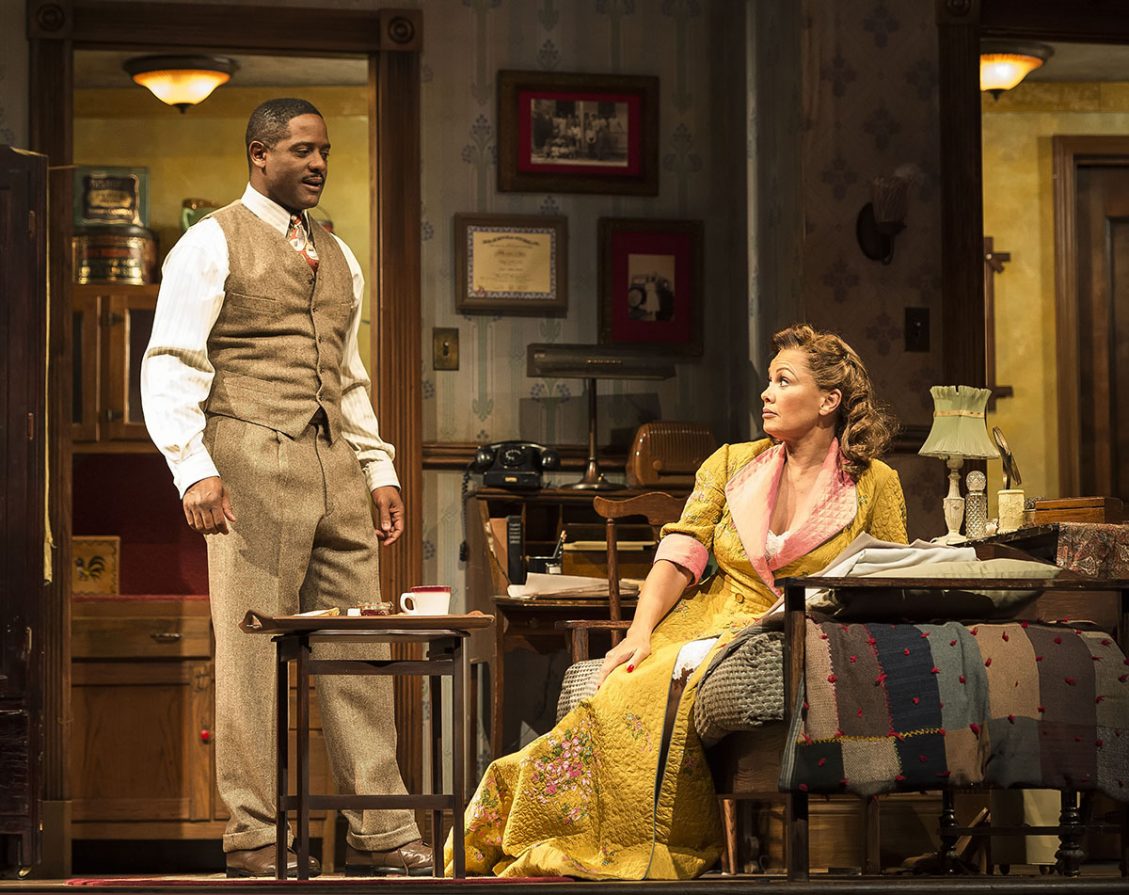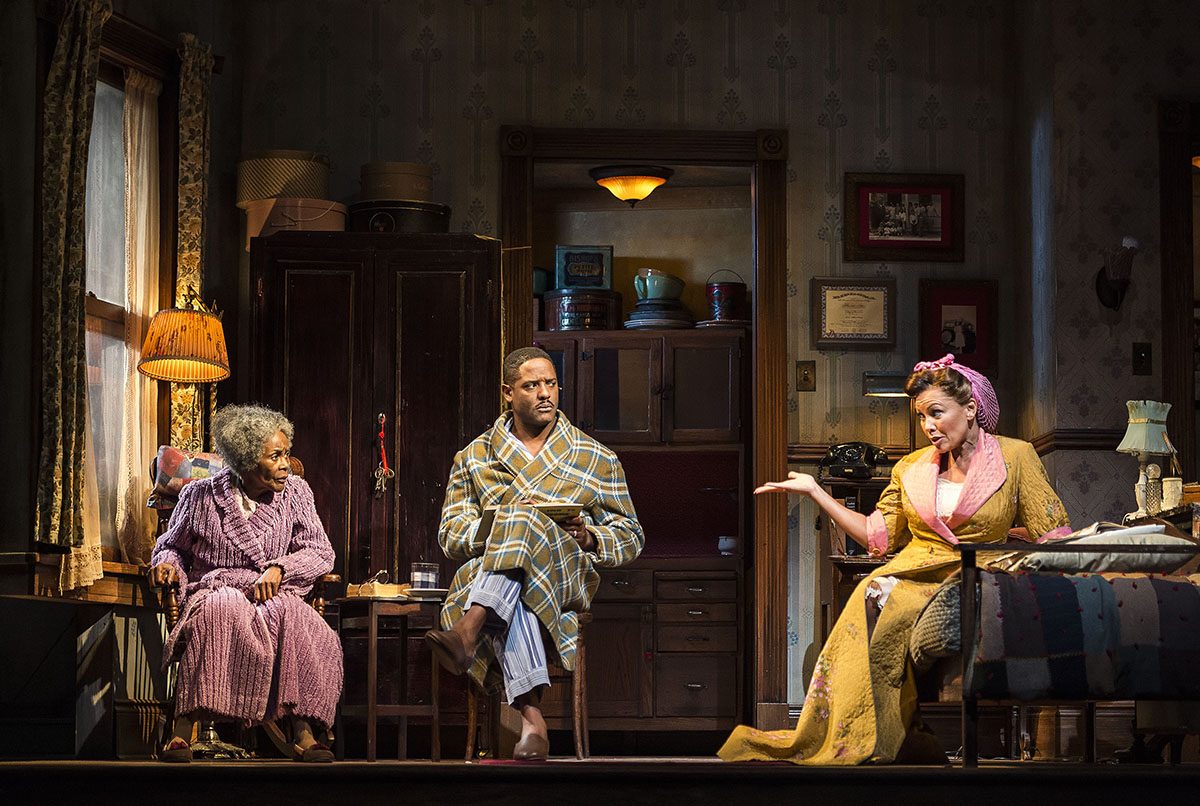 ---
Boston, are you ready for a trip to Bountiful? Because Carrie Watts sure is.
When you first meet the sassy strong-willed protagonist of The Trip to Bountiful—a Tony-nominated revival of Horton Foote's classic story of intergenerational conflict—Carrie Watts (played by Cicely Tyson, who won a Tony for the role) is an elderly woman living in a cramped Houston, Texas, apartment with her son, Ludie (Blair Underwood), and daughter-in-law, Jessie Mae (Vanessa Williams).
None are particularly crazy about the living situation, and while the brash Jessie Mae only wants to look forward, not back, her mother-in-law yearns for one final trip to her childhood home, a small rural town named Bountiful. Against Ludie and Jessie Mae's wishes, Carrie takes her pension check and embarks on a journey to Bountiful anyway.
The story and performances in The Trip to Bountiful are so moving that at one point during some shows on Broadway, the audience would start to sing along when Carrie performed the hymn "Blessed Assurance," an experience that couldn't have been more gratifying, Tyson said.
We caught up with Tyson and Williams this week to talk about their characters, favorites scenes, and what they hope audiences take away from watching The Trip to Bountiful, which runs November 20 through December 7 at Emerson's Cutler Majestic Theatre.
Why The Trip to Bountiful
In the 1985 film adaption, Carrie Watts was played by Geraldine Page, who won an Oscar for the role.
Tyson said, "I was so moved by her performance that I said to my agent, 'If you get me my Trip to Bountiful, I will retire. I'll just do that and get out of the business.' For 26 years I kept reminding him that I hadn't gotten it yet, and I was still waiting for it."
Then, who else but Hallie Foote, Horton Foote's daughter, would reach out to Tyson about The Trip to Bountiful. "And I fell off the chair," she said.
For Vanessa Williams, joining the play was also a no-brainer. "When they said Cicely Tyson—that was easy."
Favorite Scene
Tyson: "When my son becomes a man."
Williams: "One of the scenes that I think is very effective that was not in the TV movie [on Lifetime] is when Jessie Mae and Ludie talk about the fact that they can't have kids. Jessie Mae likes to move on and not talk about the past and bring it up, but in this particular scene, she brings it up because her best girlfriend Rosella just found out she can't have any kids, and it brings up a subject that hasn't been spoken about.
"That's when you get a chance to see Jessie Mae fragile, and it makes her character more well-rounded, because she's not just brittle, she's not just intense, she's not just a brat. She's a woman who's frustrated, who feels claustrophobic, living in a two-room apartment with her mother-in-law in the next room. She feels she has no freedom, and she escapes to the beauty parlor and the drugstore just to be able to get a break to feel like the woman she needs to feel like. In terms of unpredictability, that scene—which is toward the tail end of scene one of the first act—is probably my favorite."
What They Want People to Know
Jessie Mae has much to learn from her mother-in-law, and Tyson hopes that the story helps young people connect with their elders.
"My greatest hope and desire is that [young people who see the show] get some deeper understanding of elders, and that they, as a result of that, will respect them and what they have to offer, and recognize that what they have been through in their lives allow young people to be who they are today," Tyson said. "If you have an elder in your family, if you have a neighbor next door or in church, spend some time with them, because they—by the sheer longevity of their lives—have such wisdom to offer that it can be a roadmap for your life. It's a gift that I wish every young person could have."
Williams agreed, also noting that although there's plenty of nostalgia and emotion, The Trip to Bountiful isn't all tears and heartache.
"It is not a slow, dreary, melancholy, sentimental piece that will be so serious and so depressing. I think a lot of people were afraid because they assume she's going to die at the end, they assume that it's just going to be depressing and gloomy. But there's so much humor that's packed into this piece, and Cicely Tyson is such a comedian," Williams said. "It'll make you laugh and cry, and I think many people were not expecting it to be as funny as it actually is."
Pre-Show Routine
M&Ms, anyone? Williams said she usually sets up her dressing room the same way wherever she goes on tour. This includes a portable speaker to play music, makeup—which she does herself, rugs, a teapot, a stash of M&Ms, as well as flowers and cards from well-wishers.
What It's Like to Win a Tony
Tyson said it never, ever occurred to her that she'd win a Tony. "I turned to my associate and said, 'Do I have to go up there?' He escorted me, and I had nothing to say because, see, I think it's presumptuous to sit down and write a thank-you speech. It never occurred to me!"
The experience reminded her of a movie she did about Martin Luther King Jr.—a scene when King struggles to write a speech: "One of his coworkers says, 'I don't know why you're putting yourself through all this, you've done this a million times. Just open your mouth and let God speak for you.' So I put myself in that position! And that's what I did, and I didn't even hear the music to play me off."
Not bad for an off-the-cuff acceptance speech:
The Trip to Bountiful runs November 20 through December 7 at Cutler Majestic Theatre, 219 Tremont St., Boston, artsemerson.org.
---