If You Go by Copley Square This Weekend, Wish These Dogs a Happy Birthday
Catie and Carly Copley, undeniably the Fairmont Copley Plaza's most well-known employees, are turning another year older.
---
Catie Copley, a well-mannered black labrador and arguably the most famous dog in Boston, sits in the lobby of the Fairmont Copley Plaza hotel while a few guests stop to snap photos.
"You know, if you guys are here on Saturday, we're having a big birthday party," says Joe Fallon, a veteran concierge at the hotel and Catie Copley's owner.
"Here's my lab," says one guest, pulling out his phone to show Fallon a photo. "They could be sisters."
"Feel free to take one of her business cards on the desk right over there," says Fallon.
Catie Copley isn't your average dog—which is one way of saying that she has her own business cards and even an e-mail address. Catie has been working as a canine ambassador at the Copley Plaza for a decade. Last summer, another black lab named Carly Copley was brought on board as ambassador No. 2, and the duo will be celebrating their birthdays this Saturday at a party that's open to the public.
"Catie and Carly are here to greet guests and meet them in the lobby. Guests can take Catie and Carly out for walks, and they're kind of community liaisons as well," says Suzanne Wentz, the hotel's director of public relations. "They go to libraries and do book readings at schools. They're generally here just to make people feel at home and bring a smile to everyone's face."
Catie, who's turning 13, was originally trained to be a guide dog, but made a career switch when a veterinarian found minor problems with her eyesight. Since then, she's been winning over guests and passerby since 2004. Her "little sister" Carly, who's going on four years old, was rescued from the Animal Rescue League of Boston. She's training to take over when Catie retires.
While Catie lives with Fallon in Stoughton, Carly calls Easton her home, bunking with doorman Michael Eades, who's been with the hotel for 19 years. Both Fallon and Eades say they don't mind living in their dogs' shadows.
"Basically I'm her personal assistant," jokes Fallon, who says he gives out more of Catie's business cards than his own.
"You know, its funny, when I first started here, people always wanted to take pictures with the doormen. They still do once in a while, but ever since we got Catie and then Carly, the dogs have kind of taken priority," says Eades, "Which is fine—I'm not one to be in the limelight anyway. So I'll take a backseat to Carly any day."
---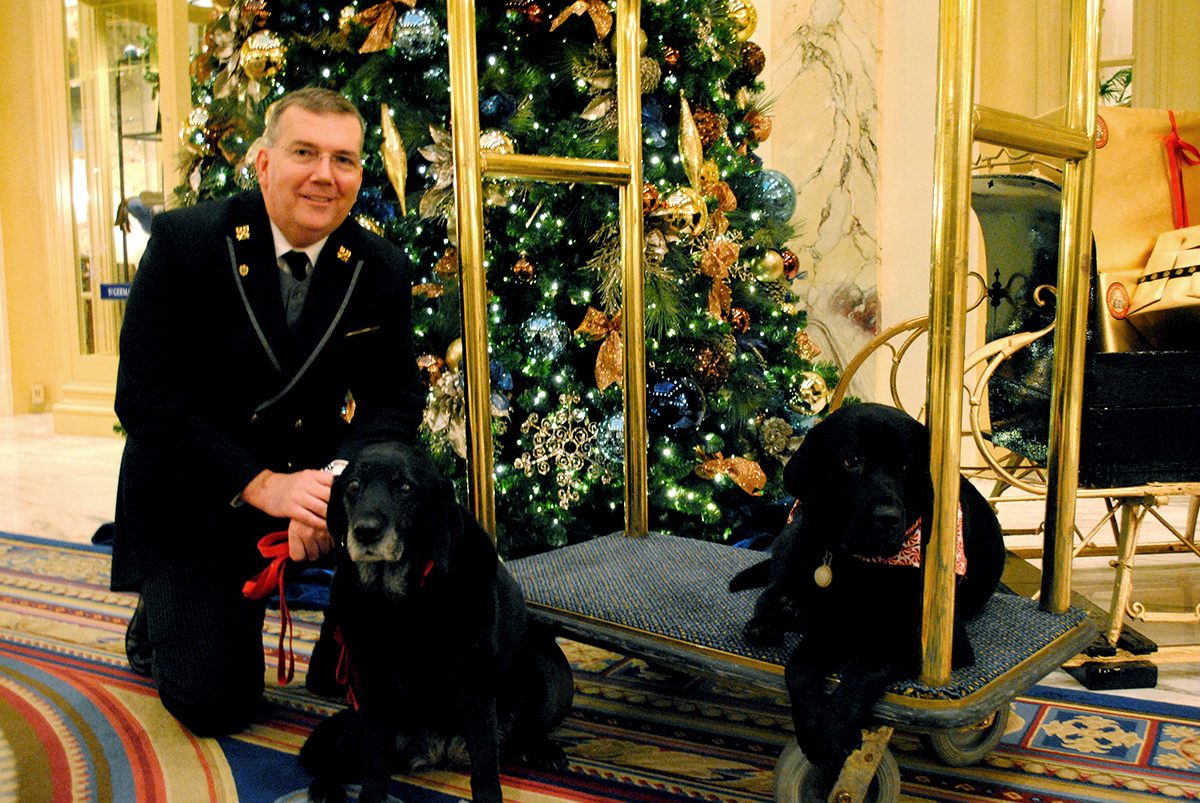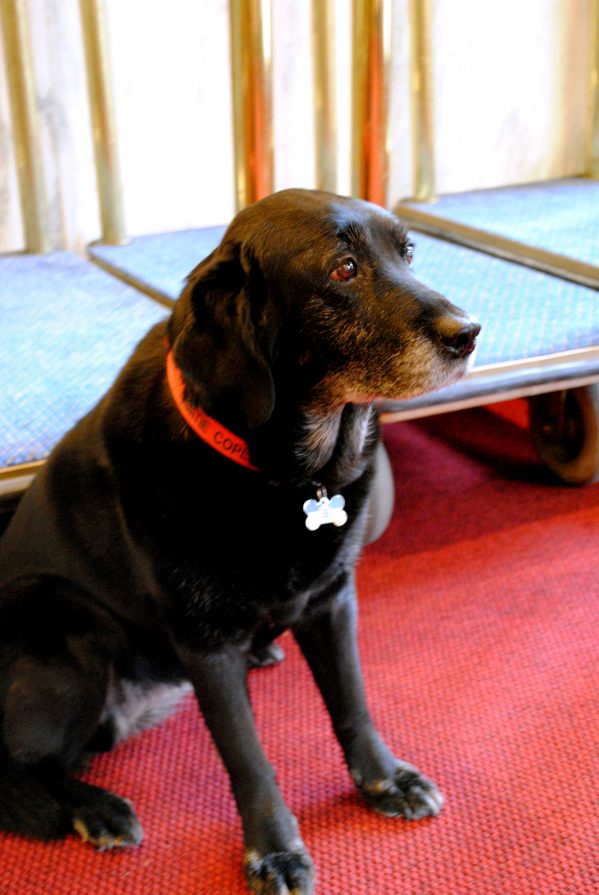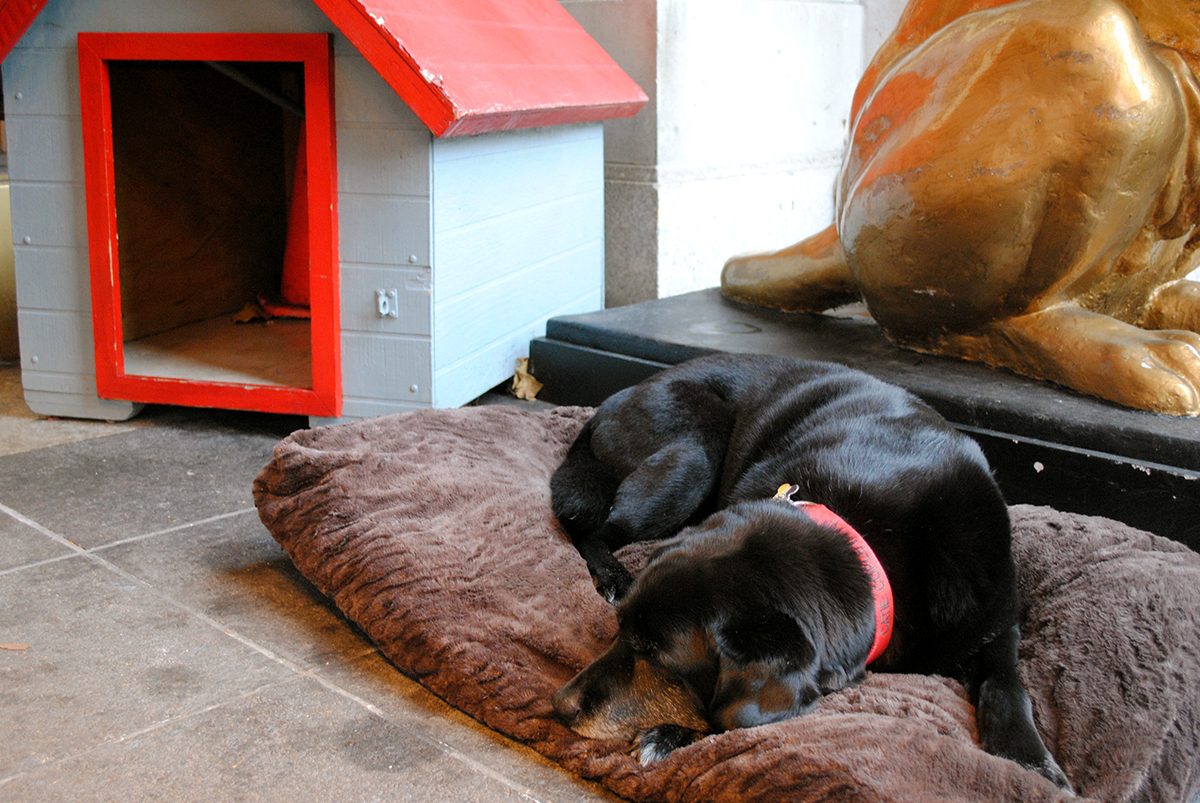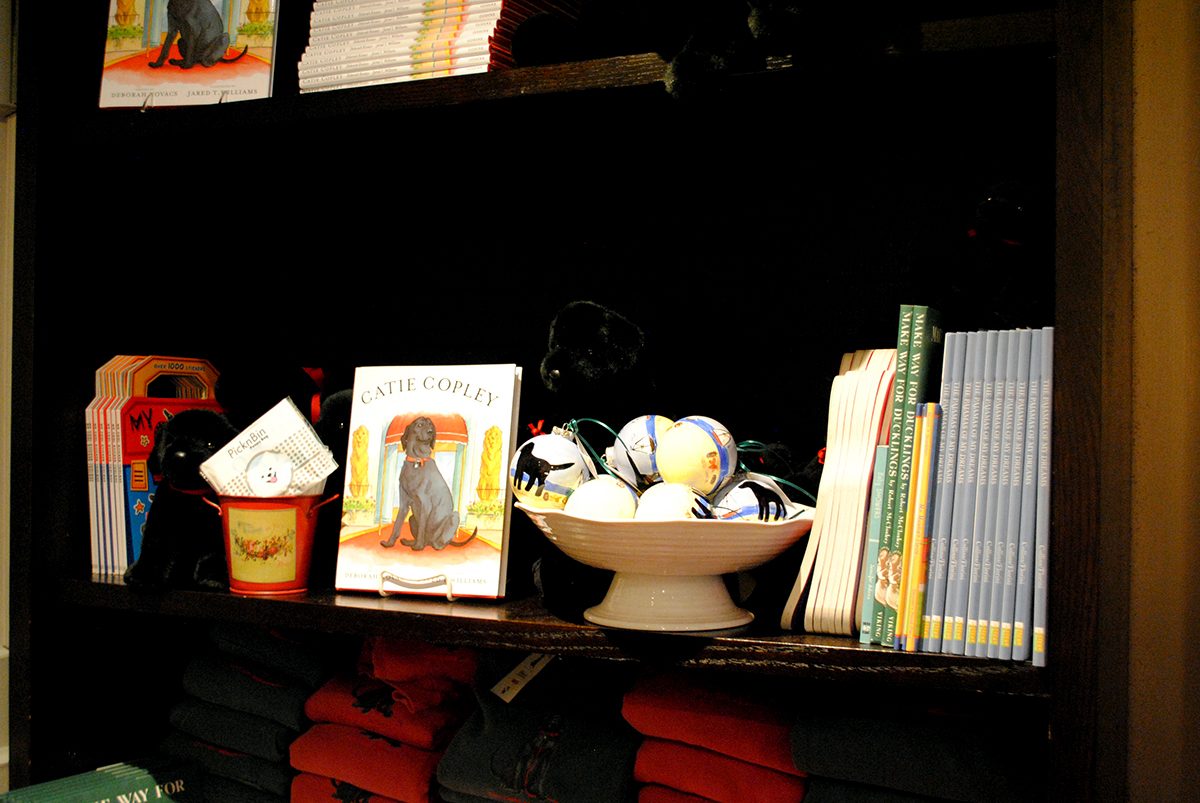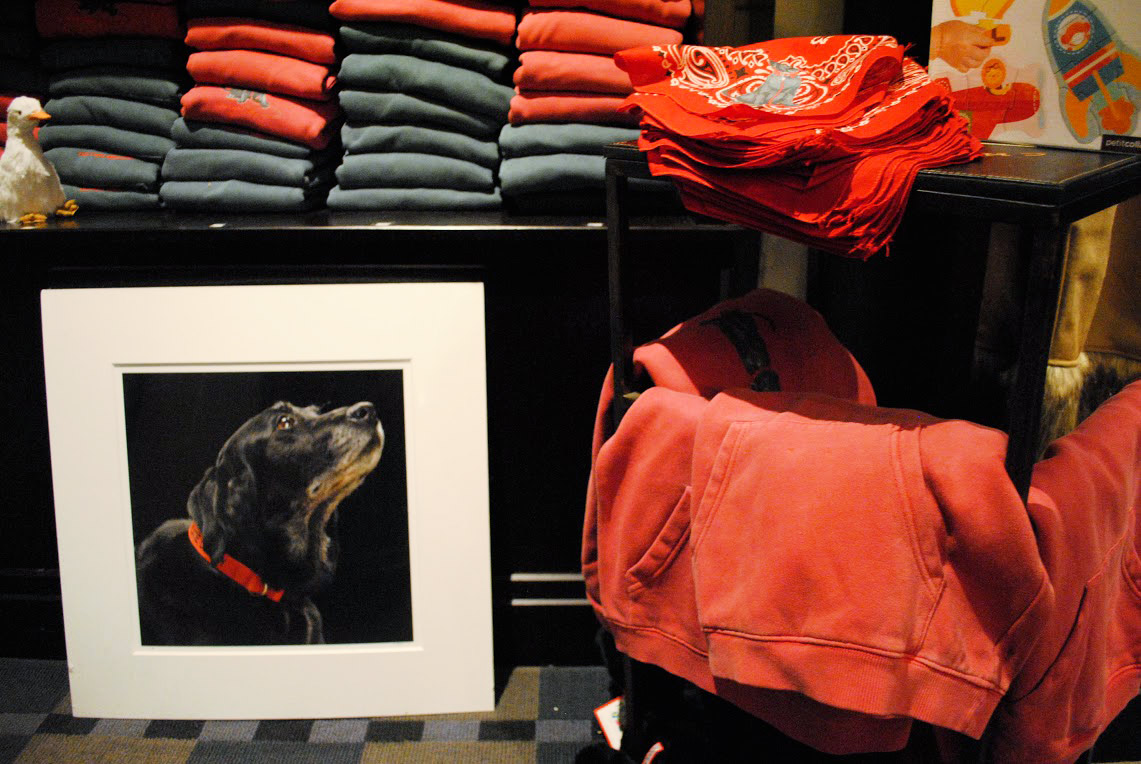 ---
Treats often are well-deserved, as both Catie and Carly put in eight-hour shifts each workday. Their job has its perks, however. They've met celebrities such as Paul Newman, Taylor Swift, Paul Pierce, Leonard Cohen, Elvis Costello, Doug Flutie, and Leonard Nemoy. Bernadette Peters especially looks forward to seeing Catie when she's in town.
When Catie isn't lounging among her plush toy look-a-likes in the gift shop and Carly isn't riding a bell cart around the lobby, the dogs can be found on walks with guests. Many guests schedule their walks with Catie or Carly months in advance to secure a spot.
"So just this past summer, a guest took [Carly] on an hour long walk. She came back with her tongue dragging, all hot. We gave her some water. Another family was already scheduled to walk her again right afterwards, and so the family walked to the corner and all of the sudden I see Carly running back with the family chasing her. Carly had pulled herself off the leash and ran right back into her bed and wouldn't move. She didn't want to go on that walk," says Eades. "… she ended up going on that walk after all. She was a good sport about it, but she does not like back-to-back walks. She likes being on the bell carts and hanging around outside."
Their birthday party on Saturday will include a card-making session for kids, Catie and Carly shaped cookies, a reading of the book Catie Copley, pawtographs, singing, and cake.
Fallon says Catie will be looking forward to a guest who makes a trip from England to Boston in time for her birthday each year, as well as one little girl who's attended the party since she was two years old.
"If you asked me many years ago if I was going to be watching the famous dog of Boston, I would have said you're crazy. Everybody thinks she's the famous dog of Boston, but she's just a normal dog. I've grown up with dogs all my life. She's definitely the most well-behaved dog I've had to work for," he jokes.
138 St. James Ave., Boston, 617-267-5300, fairmont.com.
---