A Tour of Facebook Boston's Art Collection
The company commissioned local artists to spice up their Cambridge office, which celebrated its one-year anniversary in the area last month.
---
Last month, Facebook's local team marked the one-year anniversary of its presence in the Boston area by unveiling an expansion of its engineering base in Kendall Square. But the celebratory expansion didn't consist of just an increase in office space—Facebook Boston also made several additions to its art collection, made up entirely of commissioned pieces by local artists.
The collection began with a single piece commissioned to celebrate Facebook Boston's launch last November—a nine-foot interpretation of the company's logo made from custom welded steel, circuits, and embedded LEDs by Peter Berdovsky, an artist better known as Zebbler. For additional artwork, Facebook Boston's site leader Ryan Mack decided to host an iteration of the company's artist-in-residence program, spearheaded by Drew Bennett at Facebook's headquarters in Menlo Park, Calif.
Most offices just buy pieces and hang them on the walls. I think [the artists] really liked the challenge of creating something for such a unique space, for such a unique audience, and especially Facebook.
Facebook has served as a patron for the arts since its beginning days. In 2005, graffiti artist David Choe was invited by then-president Sean Parker to paint murals on the walls of Facebook's first offices in Palo Alto, accepting payment in the form of stock options, valued at roughly $200 million at the time of the company's initial public offering in 2012. In 2007, this time at the request of Mark Zuckerberg, Choe returned to decorate Facebook's new Menlo Park campus—and even Zuckerberg's laptop.
But the official artist-in-residence program began two years ago, inviting artists—who are now offered stipends instead of stock options—to spend a few weeks at a time creating site-specific pieces and installations inside Facebook's offices. To kickstart the program in Boston, Bennett recruited Dina Pugh, a New York-based curator, to assist Mack in selecting artists.
"One of the things that I knew we were looking for was something that speaks to the 'hacker mentality'—someone who's working with DIY materials or thinking inventively about materials, as well as thinking about connections between people," Pugh says.
After narrowing down the list, Mack and Pugh invited the artists—Floor van der Velde, Sean Greene, Ethan Murrow, and Elaine Buckholtz—to spend a day at Facebook Boston's office, make observations, choose a space, and begin envisioning their work.
"It's always fun to work with artists in a site-specific capacity. Sometimes it can be very freeing and spark a new idea that they otherwise wouldn't have had. It was a really interesting challenge for the artists to consider the audience of Facebook engineers—to think about what they could create that would be interesting to those people and inspire them on a daily basis," Pugh said. "Most offices just buy pieces and hang them on the walls. I think [the artists] really liked the challenge of creating something for such a unique space, for such a unique audience, and especially Facebook—everyone uses Facebook."
Last week, Mack led Boston on a tour of Facebook's newly expanded local branch and showed off its growing art collection, which, in addition to the commissioned pieces by artists-in-residence, also includes art by employees, including Mack himself. Check out the works below:
Peter Berdovsky/Zebbler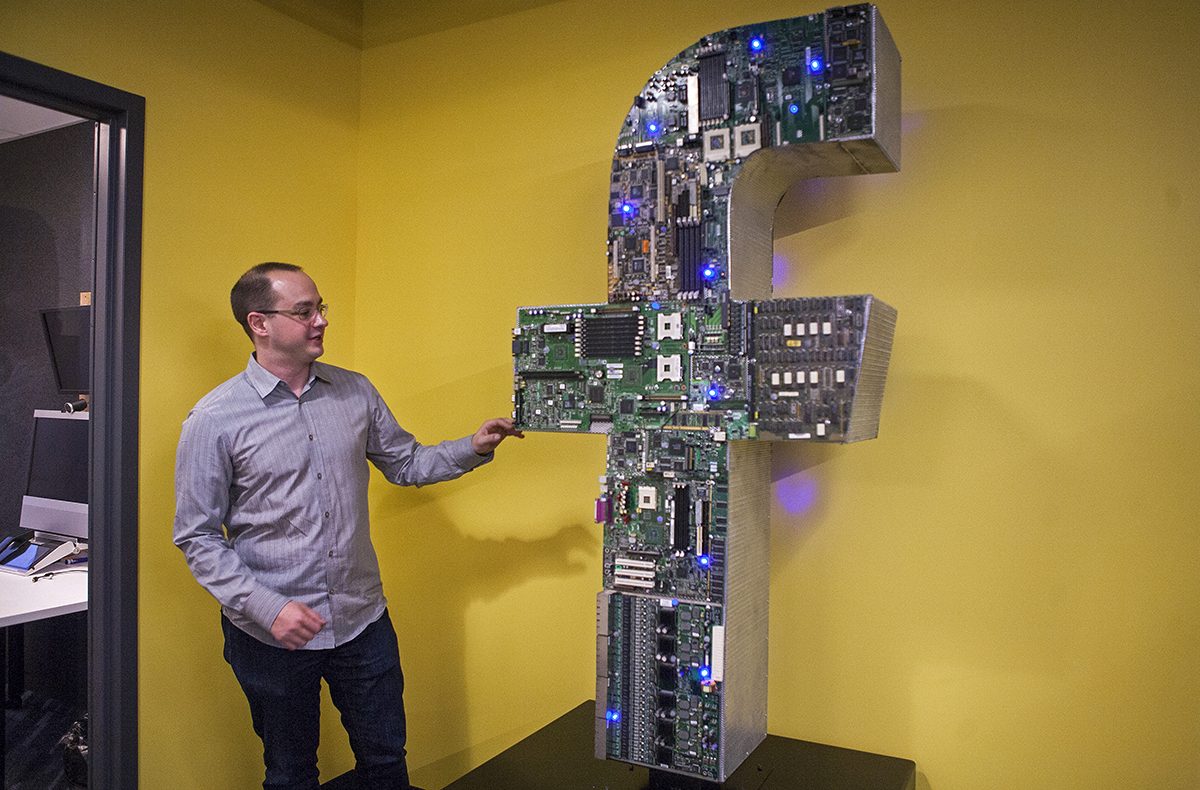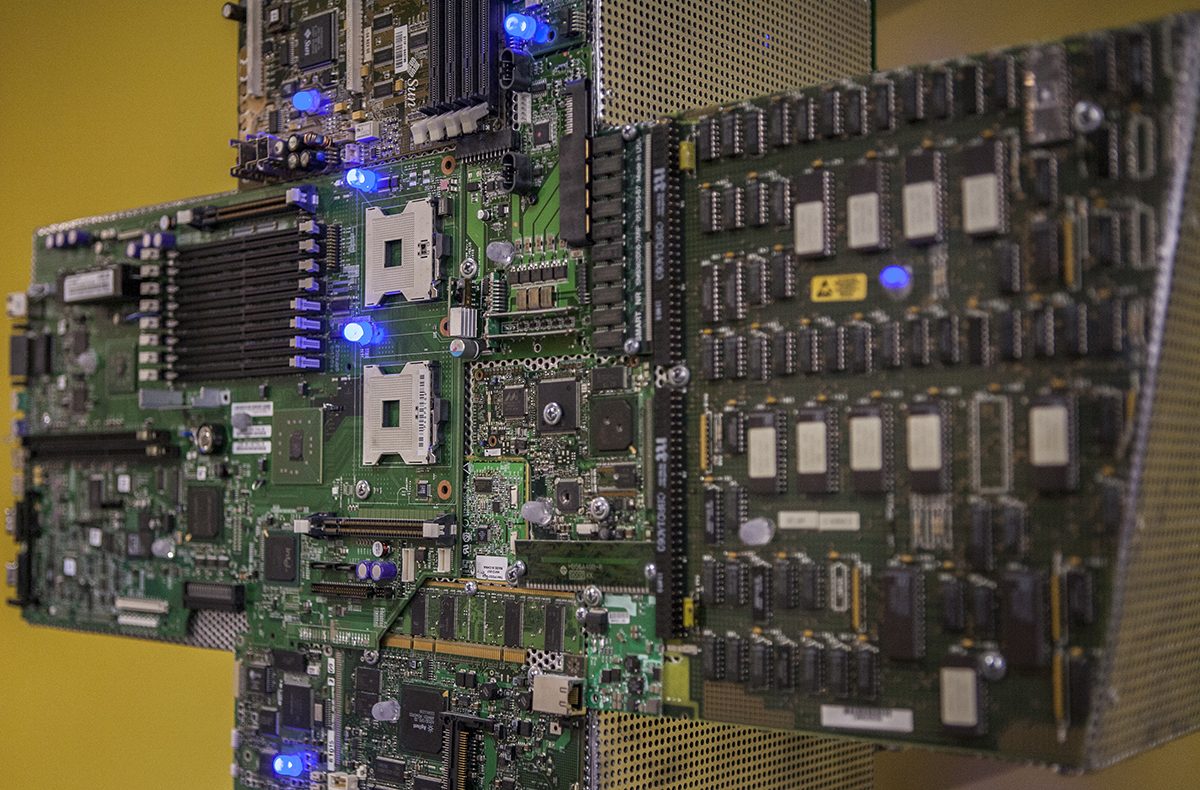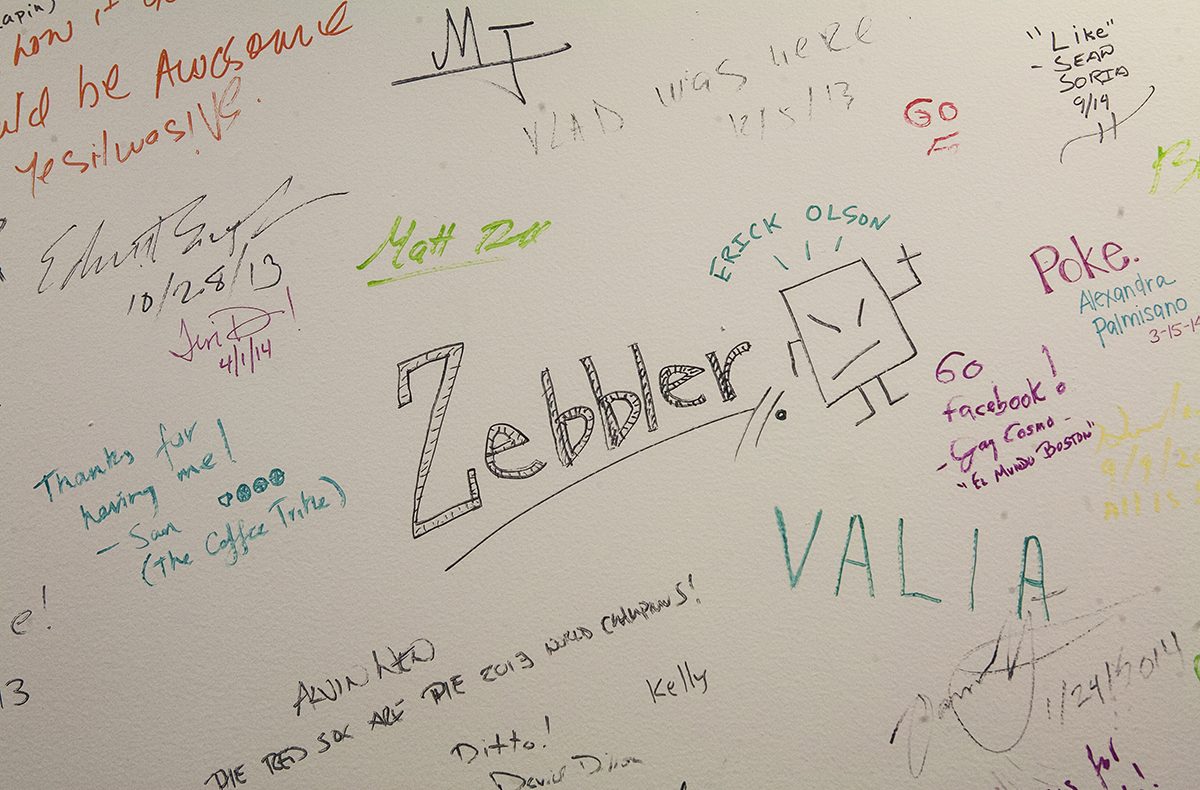 The sculpture by Zebbler, who was also commissioned to create a video mapping installation at the Boston Public Library for the city's First Night celebration last year, was manufactured at the Artisan's Asylum in Somerville and was the first piece in Facebook Boston's art collection.
"I keep swearing I'm seeing patterns, but I'm pretty sure it's random," Mack said.
Fun fact: The sculpture's original software contained a programming error that caused the lights to stop blinking every few weeks. The high-tech solution that Facebook Boston's engineers came up with? A simple Christmas tree timer, which now turns the lights off and back on every night.
Floor van der Velde
The installation in the lobby, made from CNC routed transparent panels and fluorescent light fixtures, ties Facebook Boston to its neighboring MIT community—artist Floor van der Velde received a Master of Science in Art, Culture, and Technology from the university.
"Floor just had a vision for the security area when we got there," Pugh said. "There was no color, there was nothing on the walls, so she was really excited about creating that initial experience when people first walk in."
Sean Greene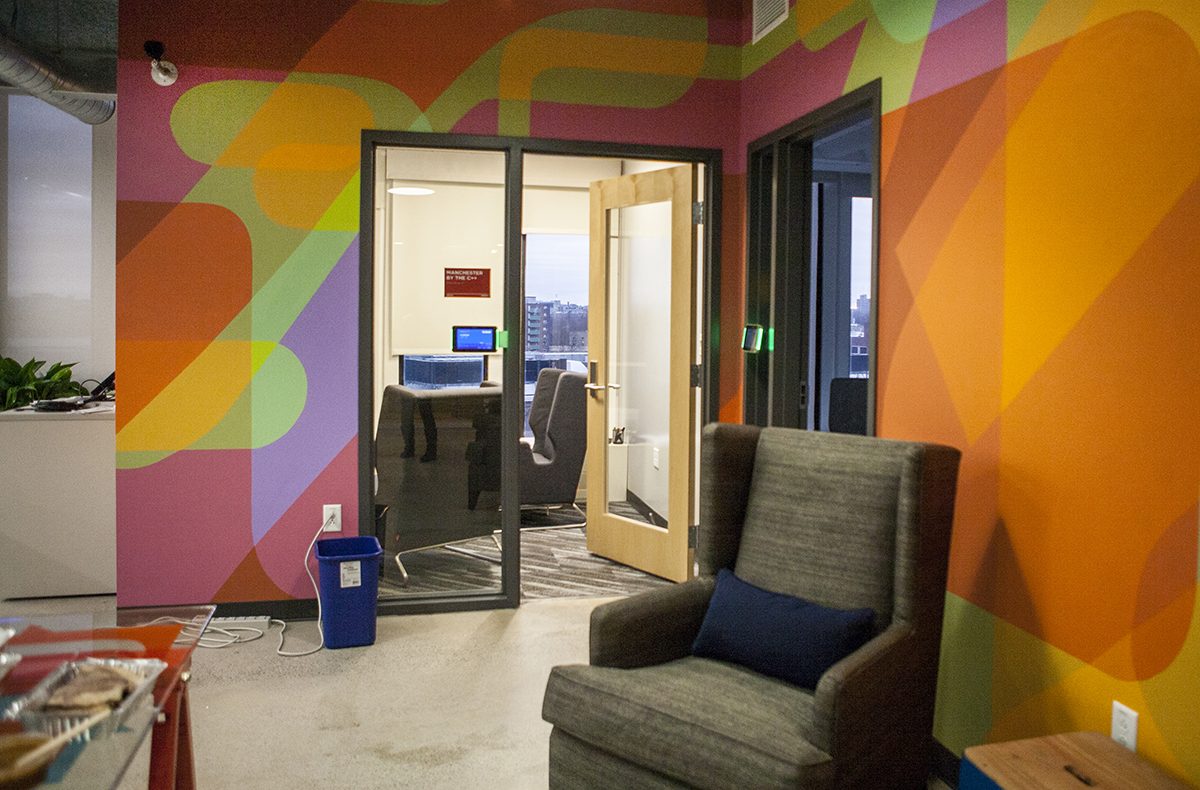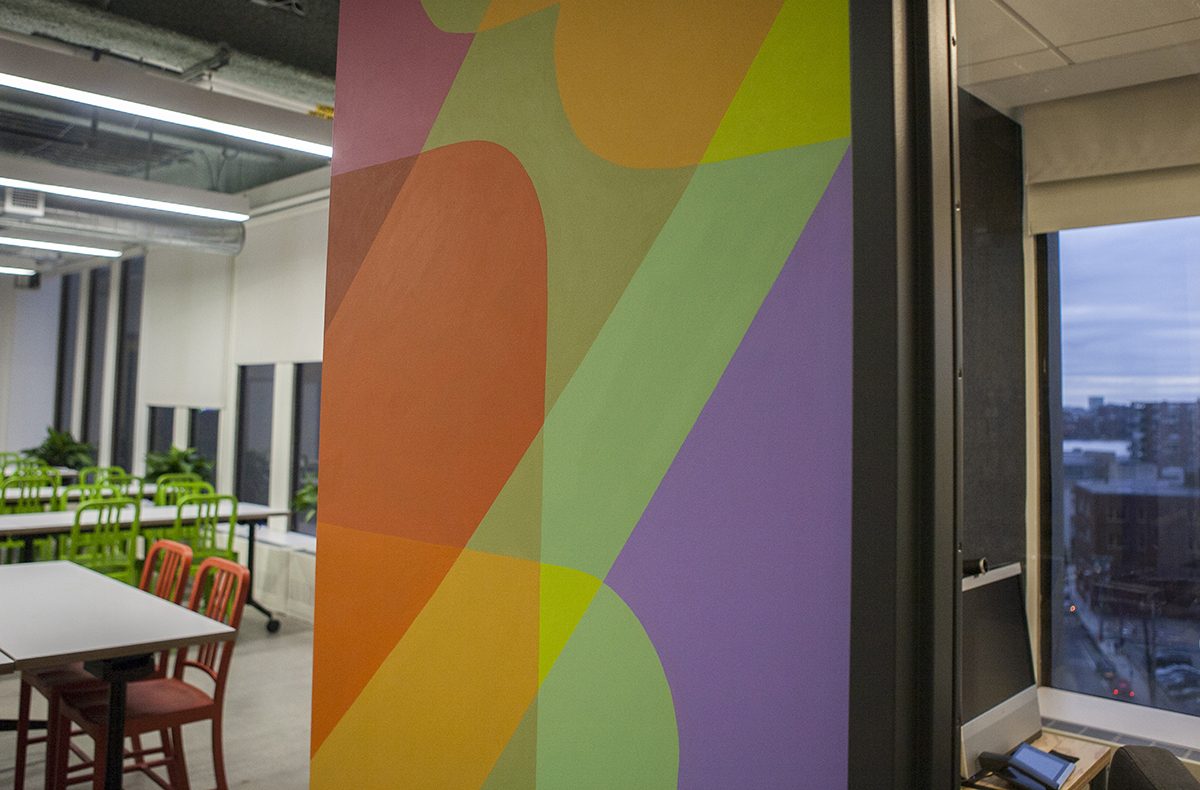 "This was a really fun one to watch—I wish I had the budget to do the entire room," said Mack of the mural painted freehand by artist Sean Greene on three walls and a four-sided column in the cafeteria space.
Greene was inspired by the relationship between natural light and the industrial exposed ceiling that he observed during his site visit to "transform the neutral and utilitarian environment into a warm and dynamic tone," according to his artist statement.
Ethan Murrow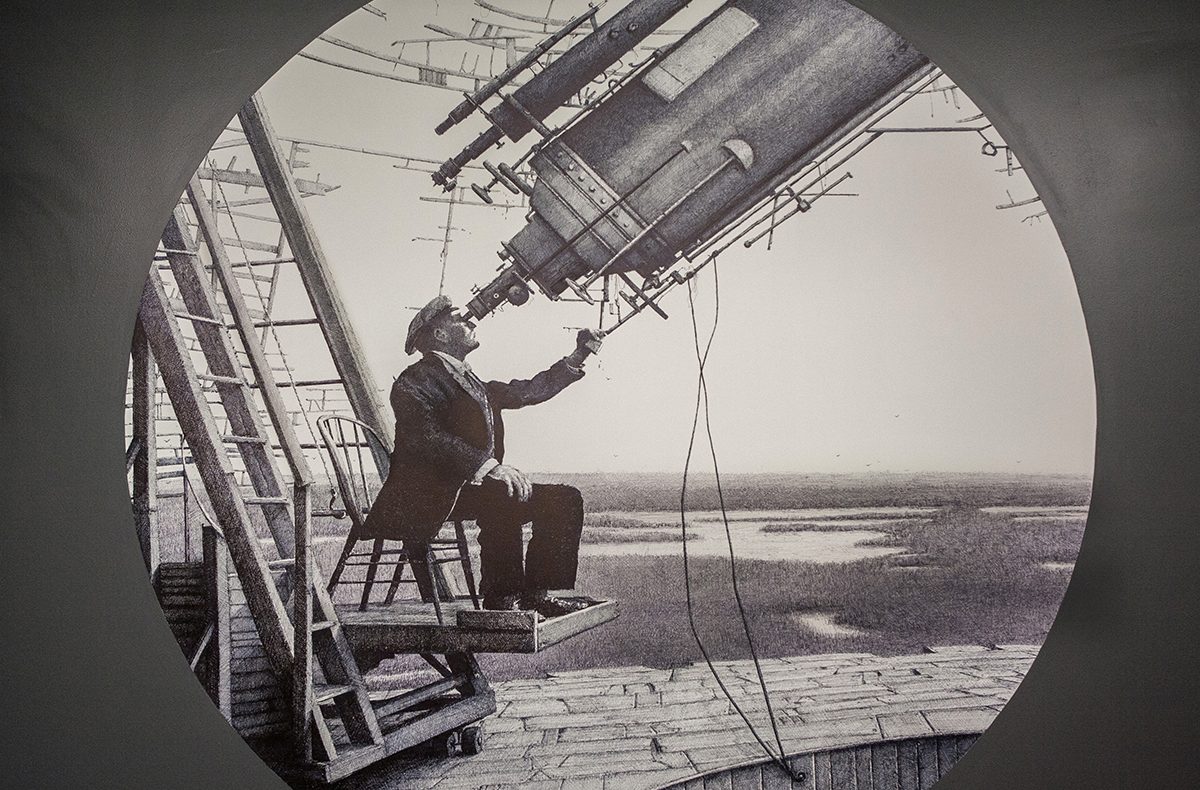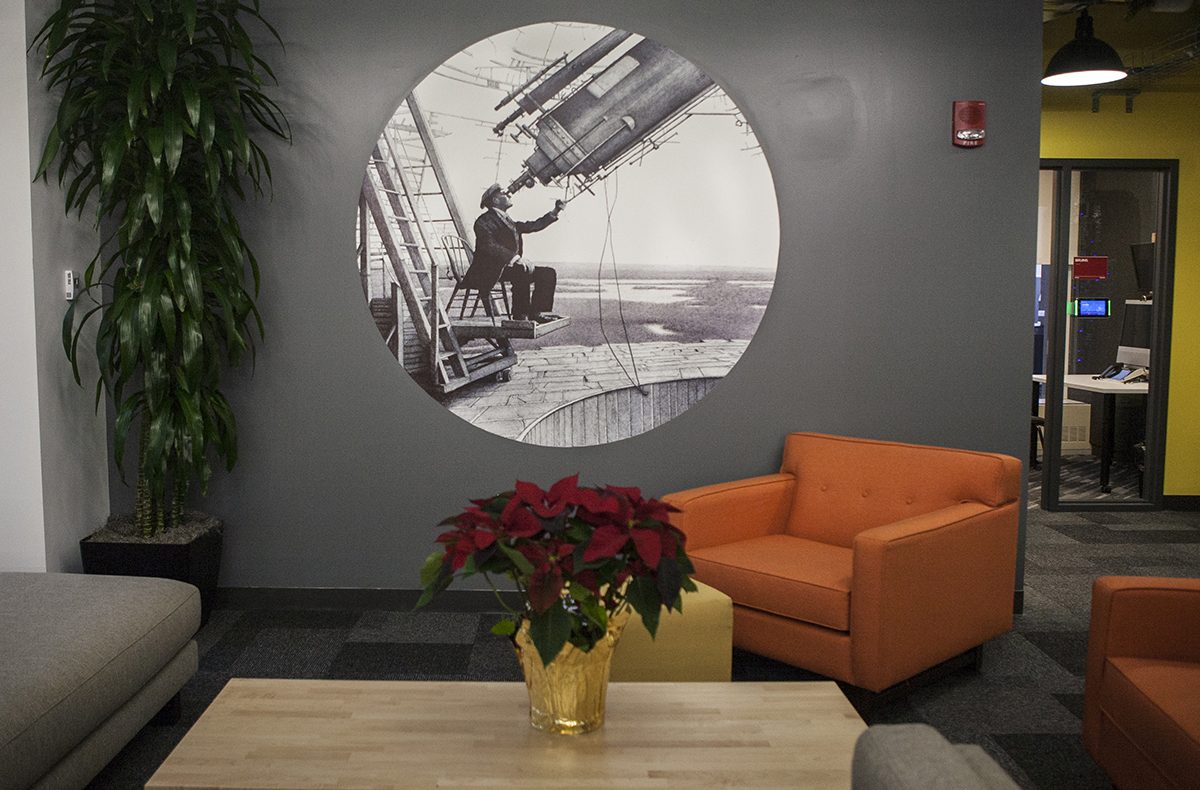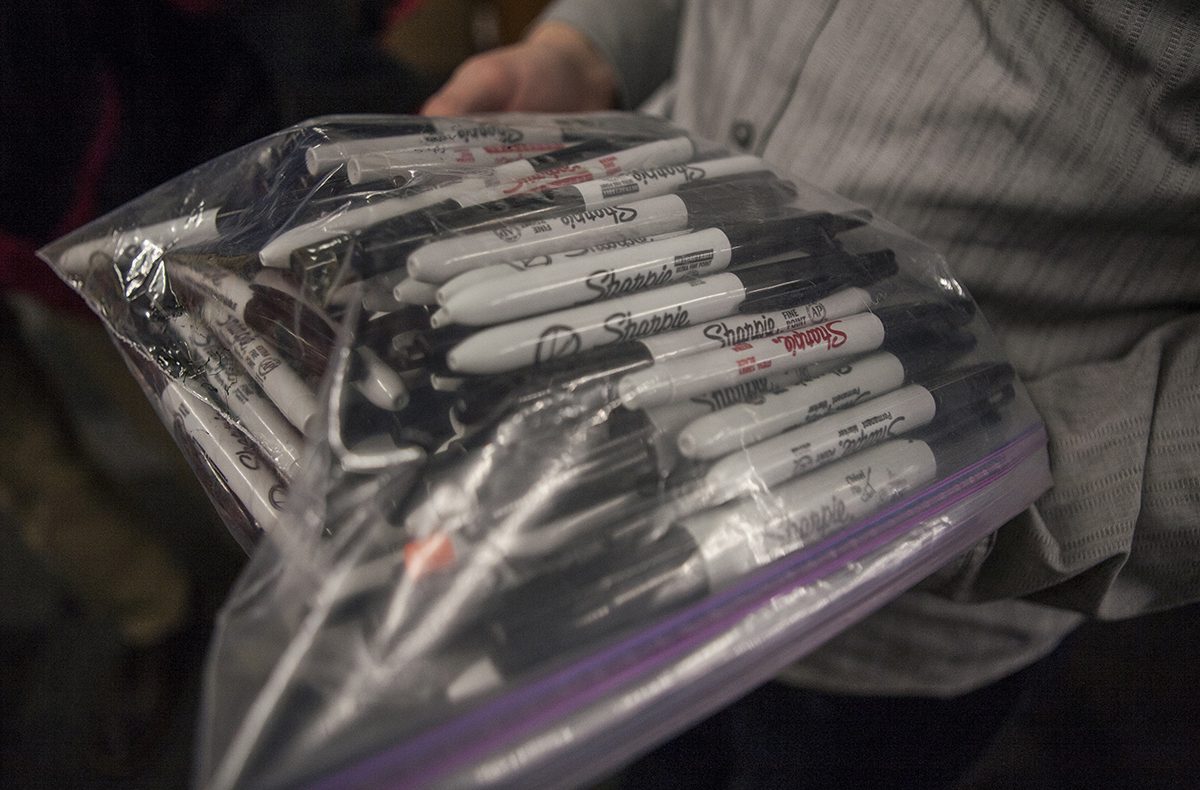 After several rounds of painting and sandpapering the space, artist Ethan Murrow used up about 100 Sharpies to draw this piece directly onto the wall. Mack still keeps the Sharpies in the office as a reminder.
"I don't remember why, but I had the idea of having it be a portal into the past of the area," said Mack, who worked closely with Murrow on the development of this piece.
The background is covered in salt marshes, which used to be abundant in the area, according to Mack's research. In the foreground, a man looks through a telescope developed using optics from Alvan Clark & Sons, a company founded in 1846 in Cambridgeport.
"I think of it as sort of the earliest of high-tech startups," Mack said. "I think it connects us to the history of innovation in this area."
Facebook's Analog Research Lab
This collection of posters, most of them expressing company values, comes from Facebook's Analog Research Lab, a printing studio and workshop in Menlo Park. Abby Rose, a Facebook Boston employee, took charge of arranging the posters. Rose also appears doing a handstand in a photograph (top, center) taken by Mack during a visit to a Facebook data center in Forest City, North Carolina.
"We turned off all the lights—all the staff got really mad that it was suddenly dark in their office—and I got the picture as fast as I could," he said.
Elaine Buckholtz
Mack was particularly fascinated with past work by artist Elaine Buckholtz, a professor at the Massachusetts College of Art and Design. For this piece, Buckholtz sampled paintings by Van Gogh by spinning them like a record, videotaping them spinning, and then extracting frames from the recording to create a linear interpretation of the original paintings.
"I think because Ryan fell in love with it, we really wanted it to be the central thing that people look at all day long while they're working," said Pugh of the piece, which is easily visible from the engineers' desks.
---
Clarification 1/8/15: A previous version of this article stated that Drew Bennett runs the Analog Research Lab. He only runs Facebook's artist-in-residence program, which is a component of the Analog Research Lab.
---