Chris Pratt Honored As Hasty Pudding's Man of the Year
The actor participated in a traditional roast, and, despite being an avid Seahawks fan, even praised Tom Brady—to a degree.
---
In the final season of The O.C., Chris Pratt portrayed Summer Roberts' left-wing activist pal Che Cook—a minor character, but a major role in the show's cancellation.
On Parks and Recreation, Pratt portrays Andy Dwyer, a goofy and dimwitted slacker. Who knew he was a method actor?
In The Lego Movie, Pratt provides the voice for main protagonist Emmet Brickowski. Last month, the film was snubbed for an Oscar nomination—it's too bad that there's no category for the longest toy commercial.
And finally, Pratt met his wife Anna Faris on the set of Take Me Home Tonight, proving that the key to a successful marriage is a massively unsuccessful movie.
These were just some of the ways Hasty Pudding Theatricals producers and Harvard undergraduates Zoe Rosenthal and Joshua Friedman poked fun at Pratt, who the troupe honored as its Man of the Year during a celebratory roast for the actor at Farkas Hall on Friday night, before the opening performance of ¡Oops!…Madrid It Again!, Hasty Pudding's 167th production.
Last week, Hasty Pudding honored Pratt's Parks and Recreation co-star Amy Poehler as Woman of the Year, challenging the actress to rap, act, and dance on stage. During the Man of the Year festivities, Pratt karate chopped his way through wooden boards held by Ron Swanson, gave a lap dance to the surrogate from Her, and performed a duet with an alien.
"The whole thing was a blast and a riot," said Pratt at a press conference that followed the roast.
Holding his new golden Pudding Pot, the actor recalled owning a Harvard sweatshirt in fifth grade. "I only could've owned that at the time if it was on sale at Kmart for $5 or less," he said. "So I would say you've come a long way, Harvard."
Earlier in the day, Pratt visited young cancer patients at Christopher's Haven in the West End, honoring a Super Bowl wager made with his buddy Chris Evans, which mandated that the loser visits the winner's charity of choice dressed in his respective superhero role. The Seahawks fan showed up at Christopher's Haven with his Star-Lord getup from Guardians of the Galaxy, and Evans tagged along for the visit.
"It was really beautiful," said Pratt. "I said it before and plan to live by it—going into doing Guardians of the Galaxy, if it was ever successful enough to where it would actually make an impact on a kid's life in a positive way, I would be there to try to do that. I've been really blessed and happy to do that."
Despite the Patriots' victory, Evans still plans on visiting Seattle Children's Hospital in his Captain America attire, and Pratt plans to join him. Together, the actors raised more than $27,000 for the Boston-based charity and the Seattle hospital.
When asked about the Super Bowl itself, Pratt paid his respects to the opposing team's MVP—to a degree.
"Tom Brady—there's no question—the guy's legit. He's the real deal, and he's probably the greatest living quarterback so far," said Pratt. "To be eclipsed one day by Russell Wilson."
Check out photos from Chris Pratt's Hasty Pudding Man of the Year celebration below.
---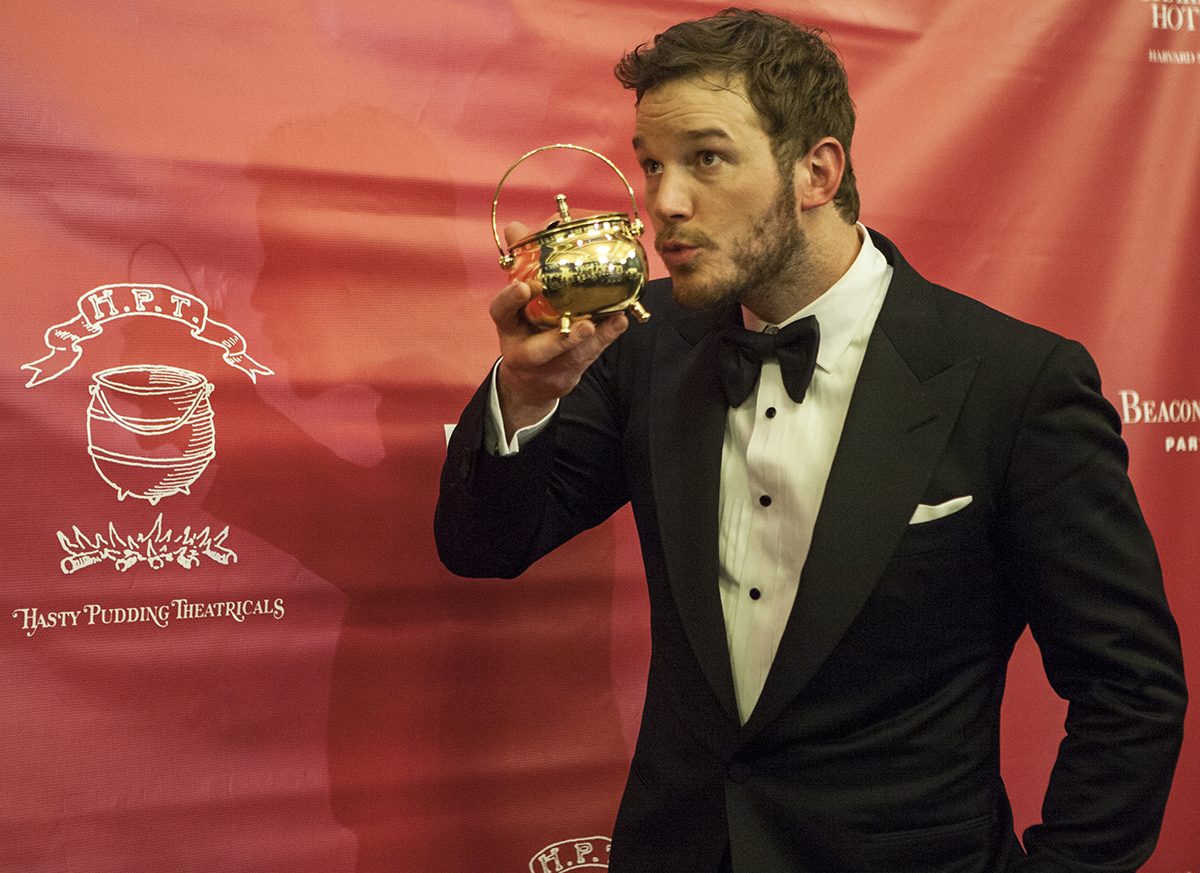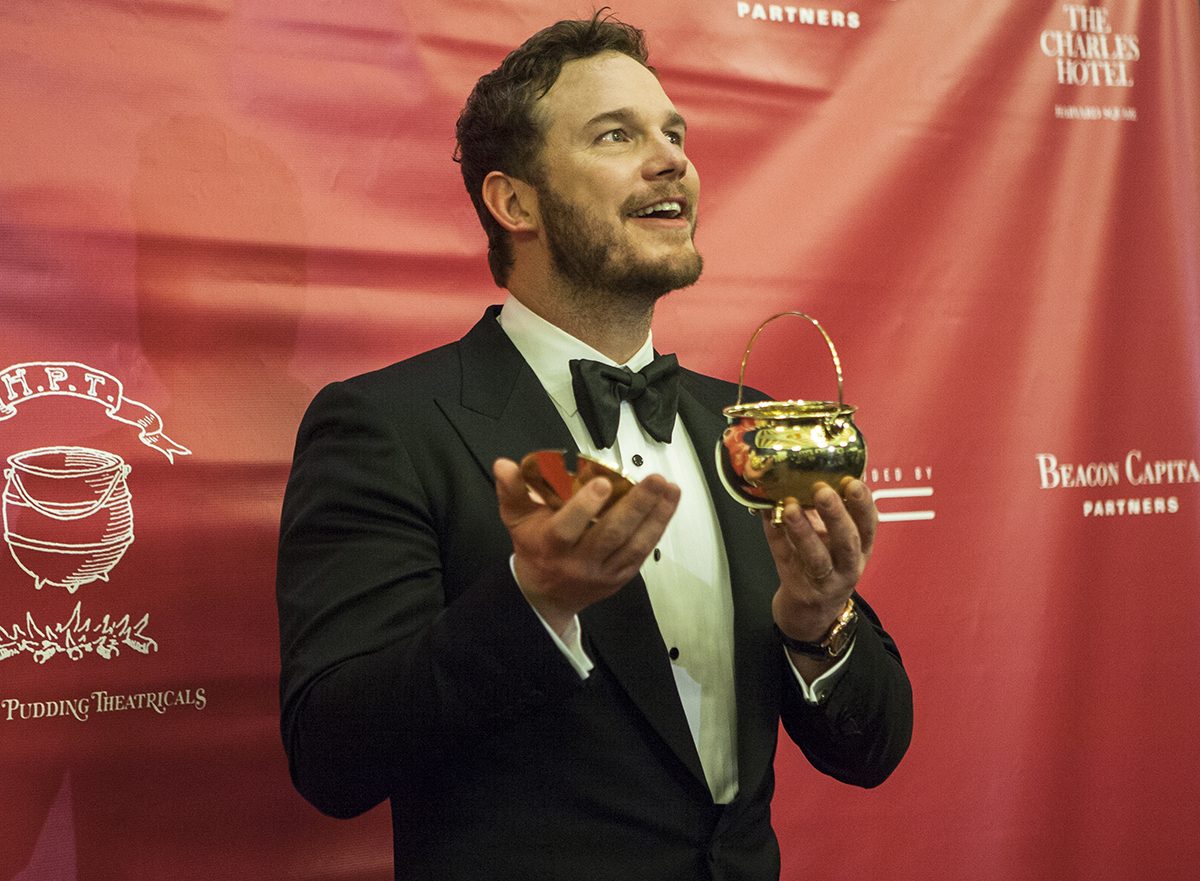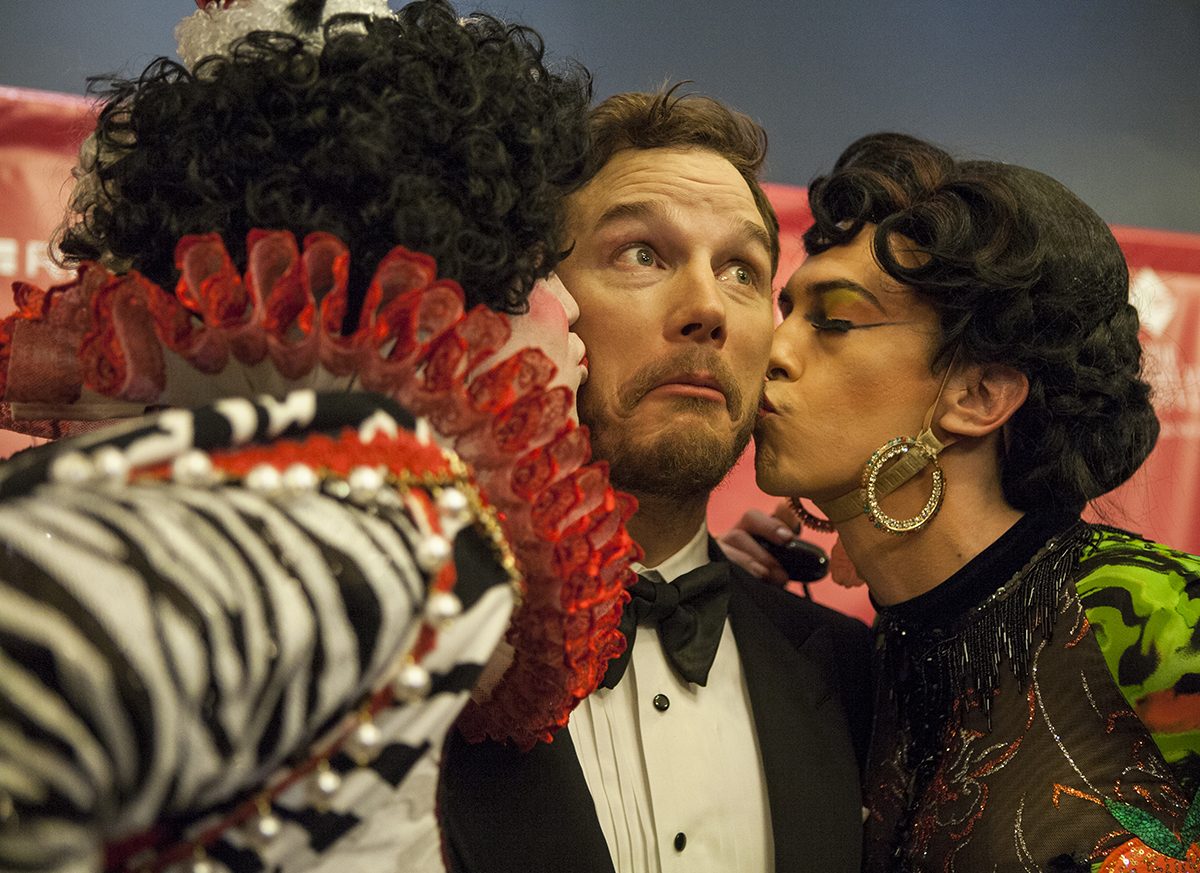 ---