HMH Releases 'Spot' App by Award-Winning Illustrator David Wiesner
Kids can pinch and zoom to explore five worlds within worlds—each more visually stunning than the last.
---
By now, it's a fact: most kids are more tech-savvy than their parents. They're growing up on the stuff, having their own smartphones at age eight, blogging at 12, and getting Internet-famous by 16.
But never mind teenagers texting and grade-schoolers learning to code. Even babies and toddlers these days seem to have a natural knack for using touch screens, tapping and swiping, pinching and zooming, and scratching their heads when the real world doesn't respond the way a well-designed app does.
The education industry has taken note. Content-wise a very conservative industry, education publishers are using new technology to win over children, parents, and schools, creating apps ranging from simple math lessons to interactive 3D world maps.
This week, one of the country's largest publishers, Houghton Mifflin Harcourt—headquartered on Boylston Street—released "Spot," a gorgeous new app for iPad by author, illustrator, and three-time Caldecott Medal winner David Wiesner.
Although it's rated ages four and up on the App Store, "Spot" could easily appeal to kids even younger. The interactive app encourages simple interactions via pinching and zooming, which takes the user through five of Wiesner's quirky worlds. You can land in a futuristic space station, swim around with a school of fish, and even attend a cat parade.
---
Scenes from 'Spot' by David Wiesner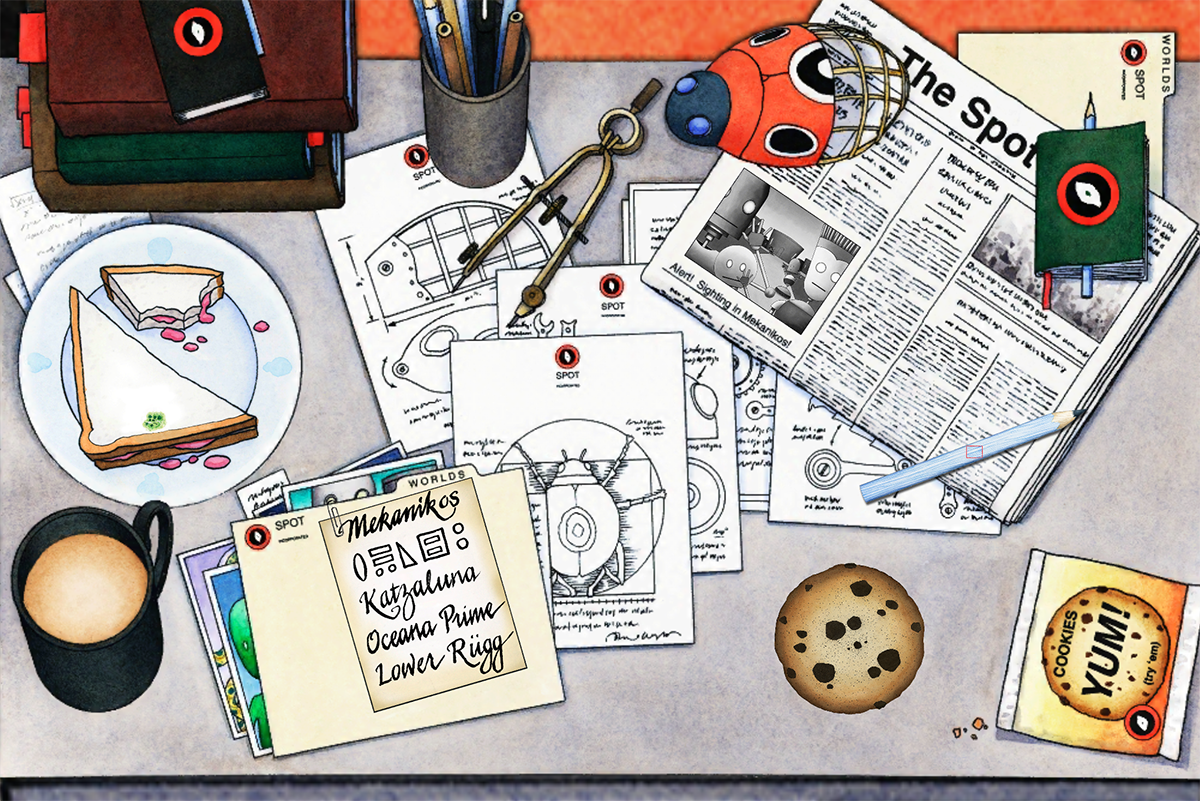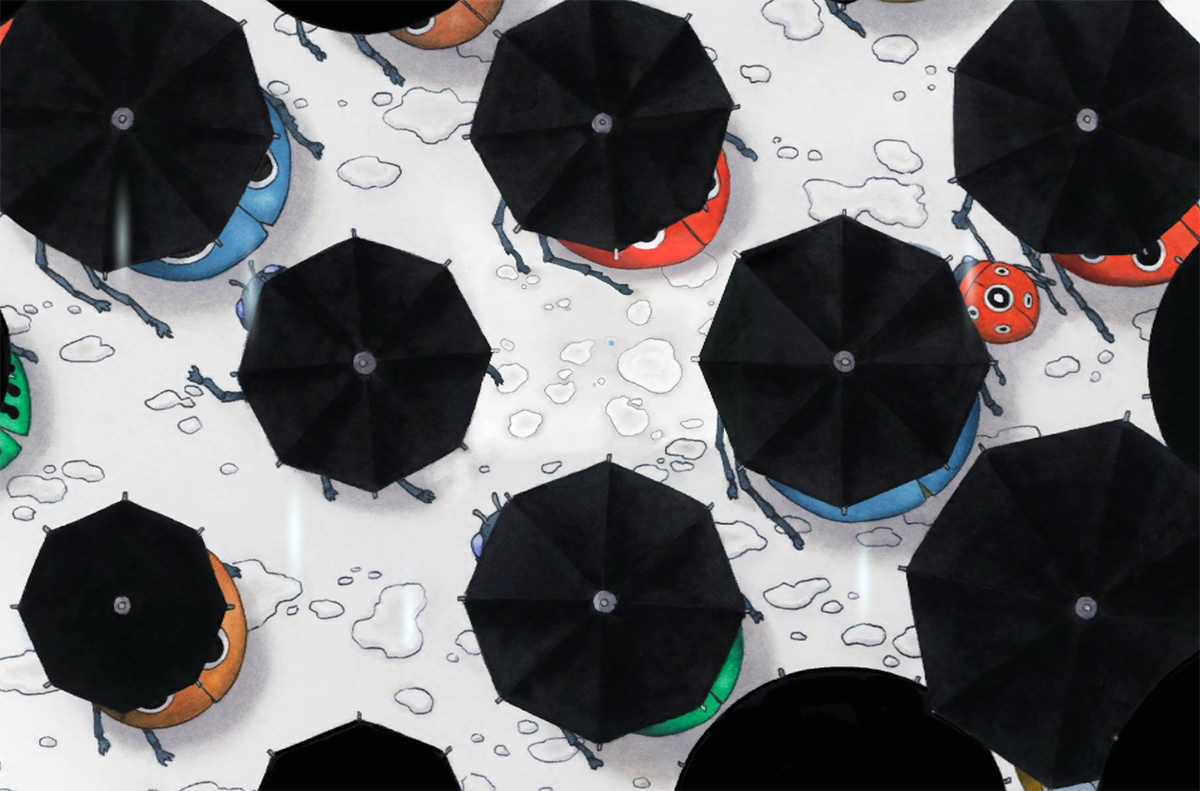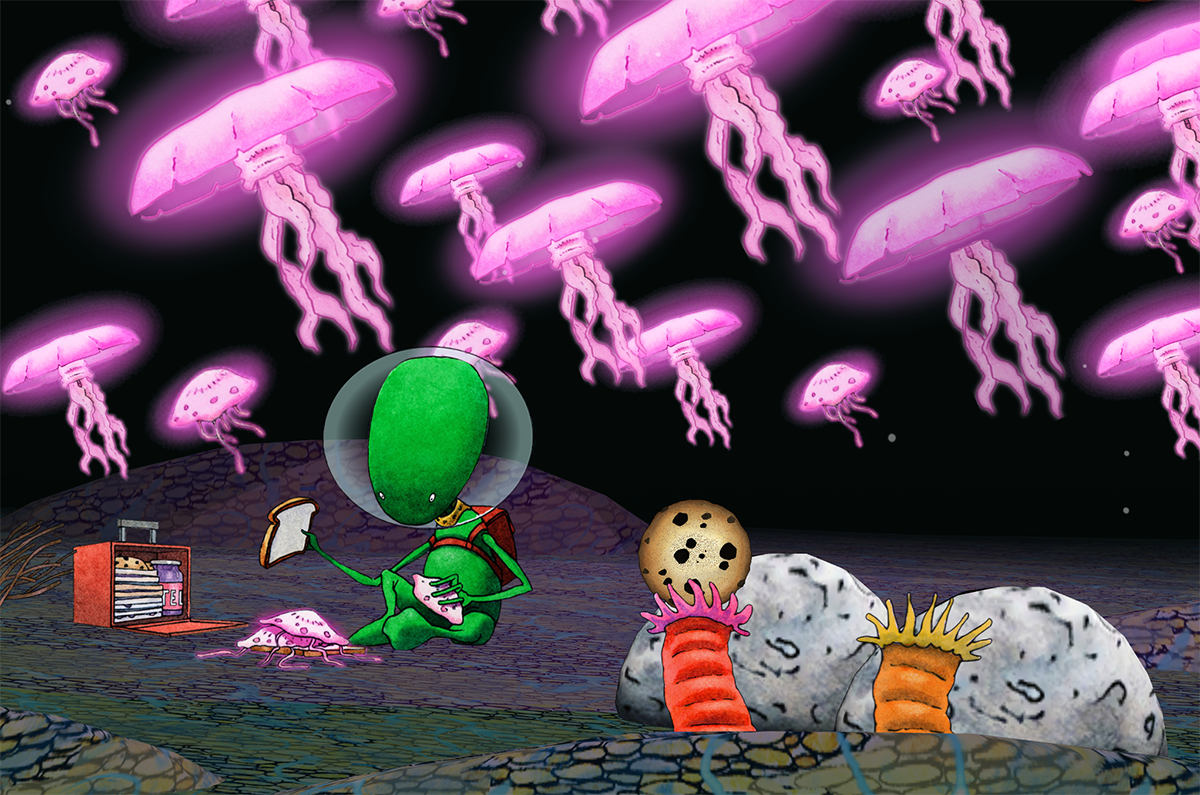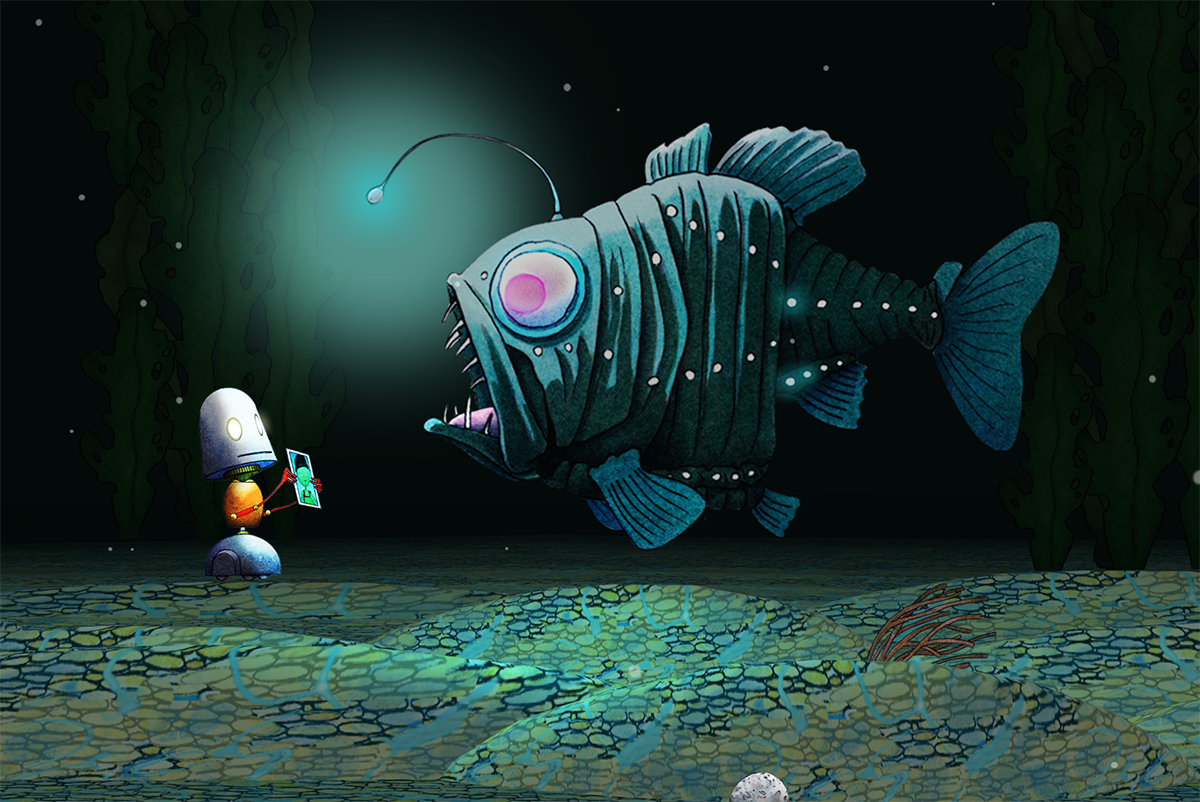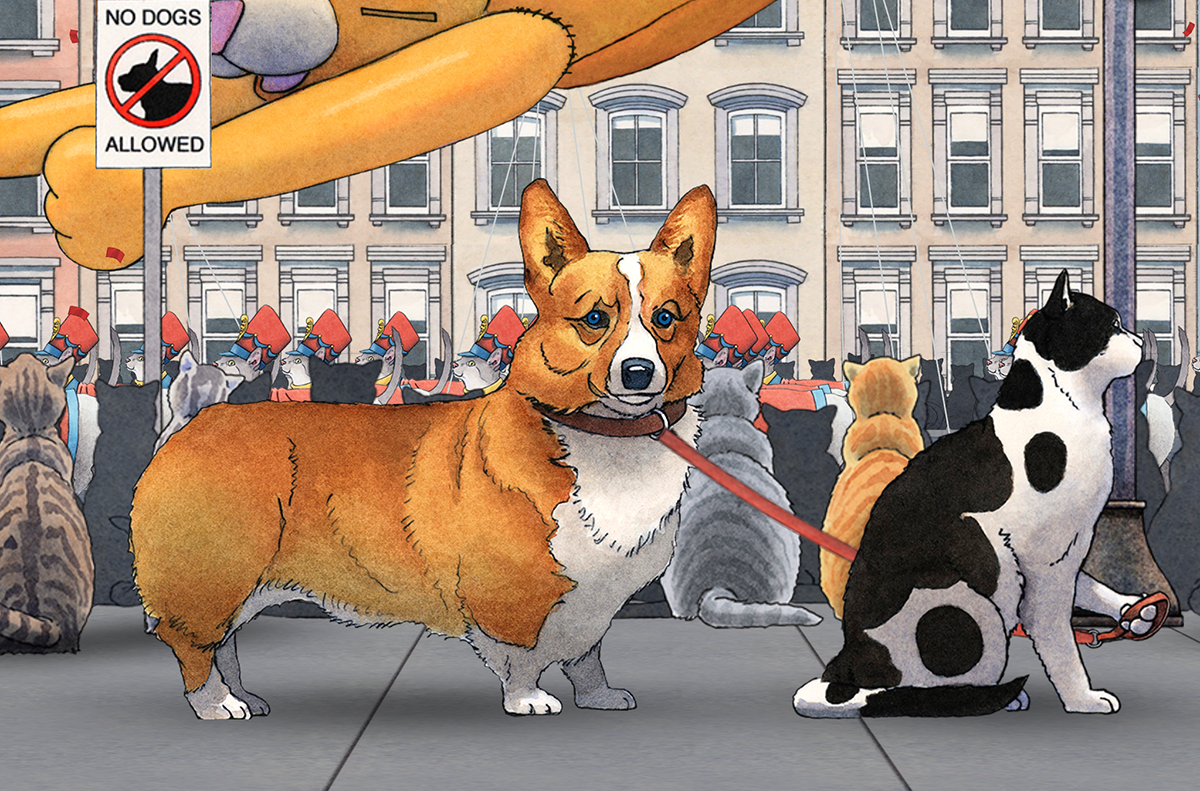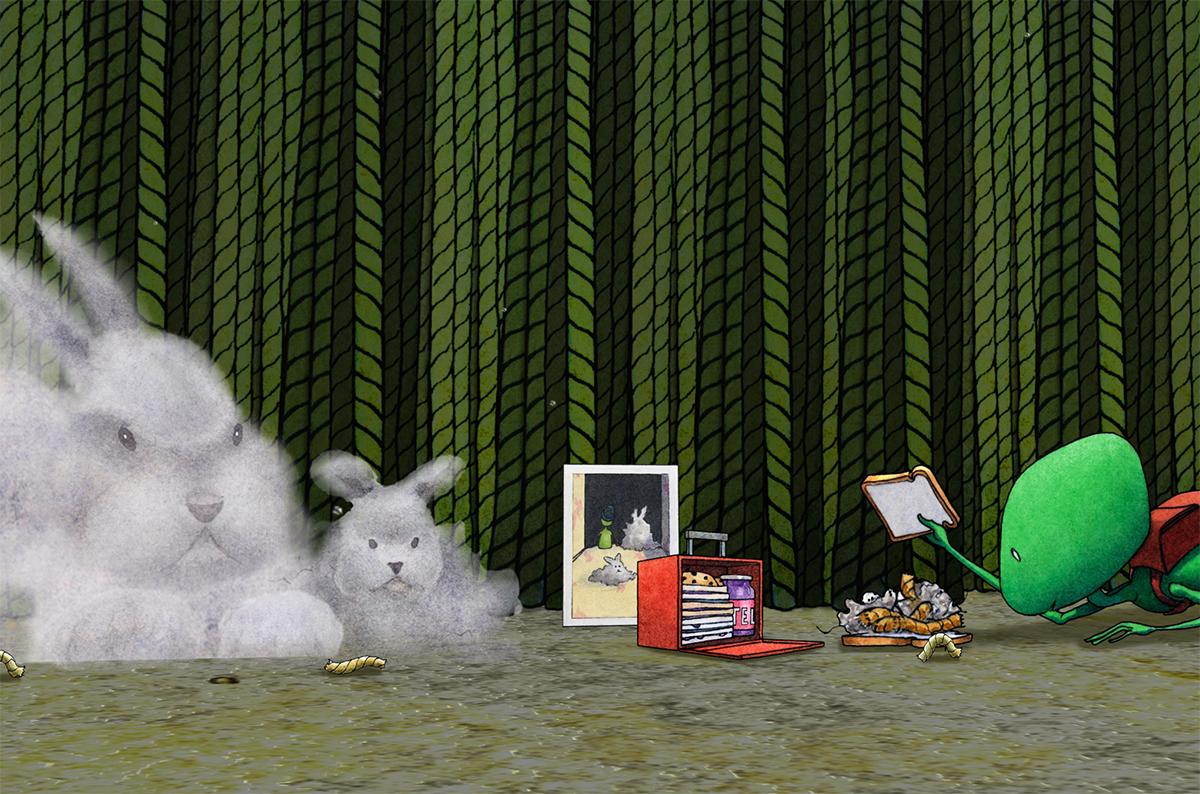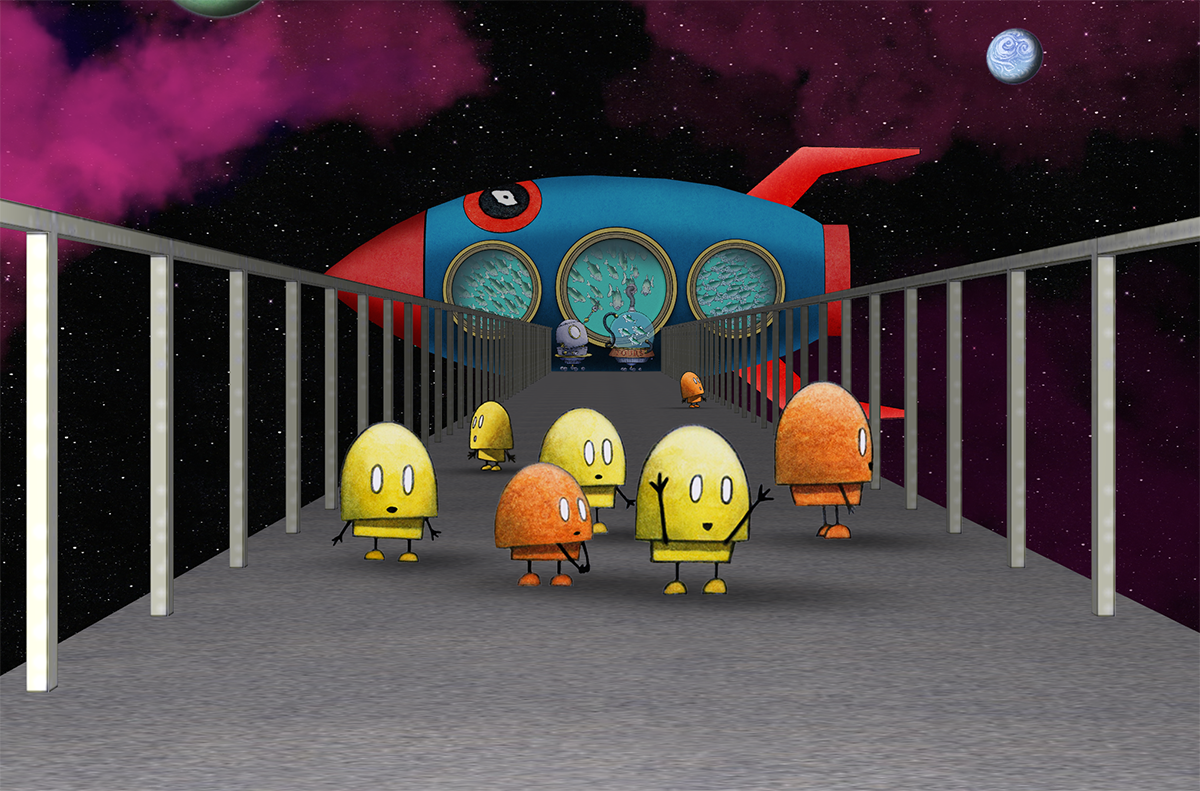 ---
All five worlds are connected by five items found in the various scenes. For example, pinch and zoom in on the newspaper on the home screen, and eventually the points of ink will become an overhead view of bugs holding umbrellas. Zoom in more, and a puddle on the ground will take you to an underwater world. In every scene, there are items that will link to one of the other four scenes as well. From the underwater scene, for example, a message in a bottle takes you to the cat parade.
For Wiesner, "Spot" is the manifestation of an idea he had 40 years ago as a student at RISD to tell stories in a nonlinear fashion. At the time, technology didn't exist for him to make his vision a reality. He says:
The blinding flash of inspiration came while I was killing time in an Apple store in Chicago. I had never picked up an iPad before, and I had no idea what to do with it. Someone showed me how to move my fingers across it and how, if I pinched my fingers together, I could make stuff really big. I suddenly went, "Wow! This would be a great way to explore an idea I've been playing around with since art school."
There is no reading required and no audio other than ambient music in "Spot." The app is very much a primarily visual experience with little plot and no game-like challenges. In that way, "Spot" is a new type of digital storytelling tool different from your average e-book. Children and parents can explore the worlds together and make up their own back stories to each scene. Where are the robots waiting at the space station headed? What's going on with the alien family? Who are the bugs who seem to run everything?
For all intents and purposes though, Spot is an app that lends itself to independent exploration for young kids. It's a relatively quiet activity good for bedtime or simply occupying the little one while you go work on other things.
"Spot" is available now on the App Store for $6.99. Parents and teachers can download complementary resources online.
---