New MOMO Murals Brighten Up John Hancock Tower Lobby
The artwork is the first of three temporary installations to grace the space.
---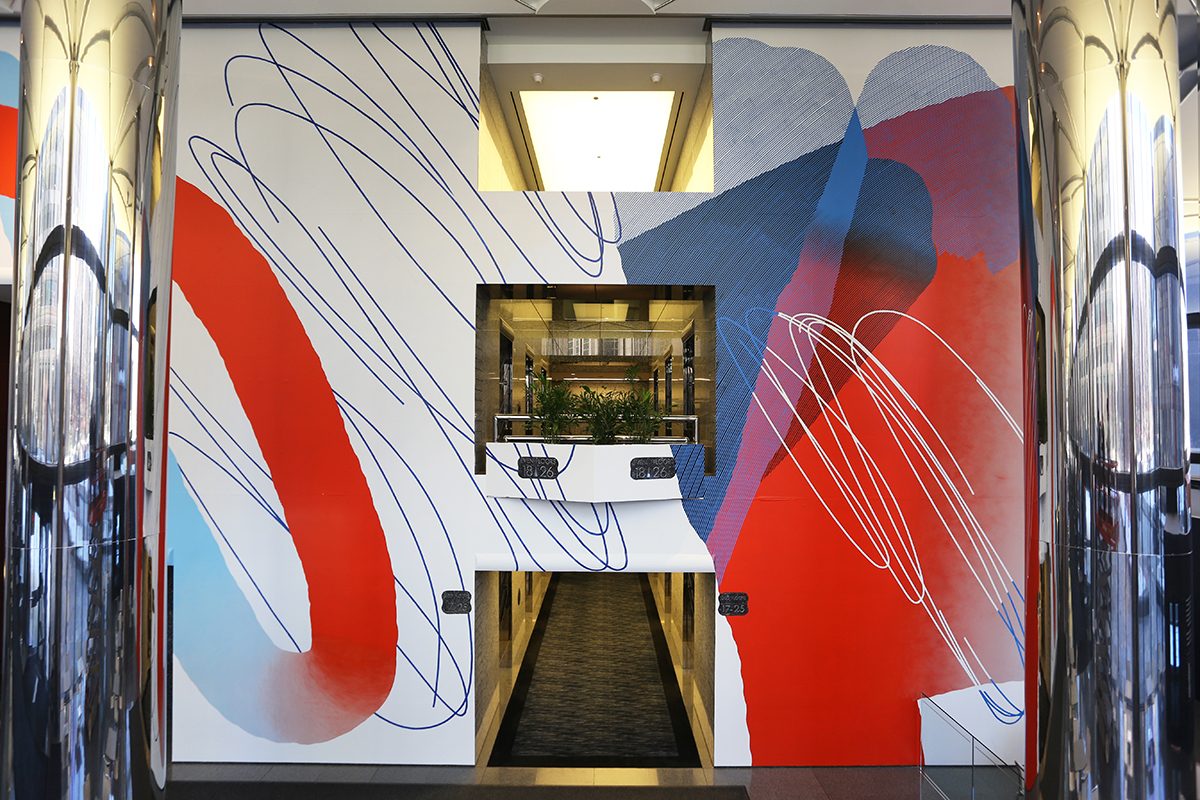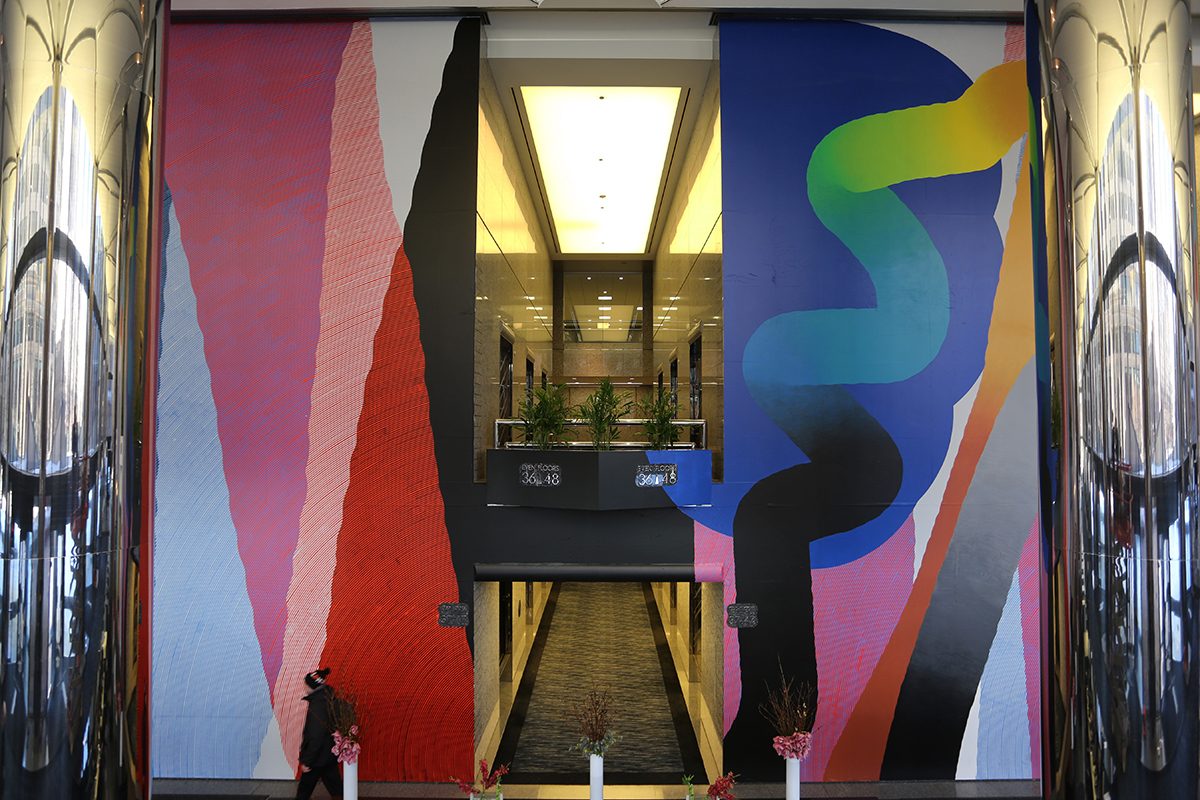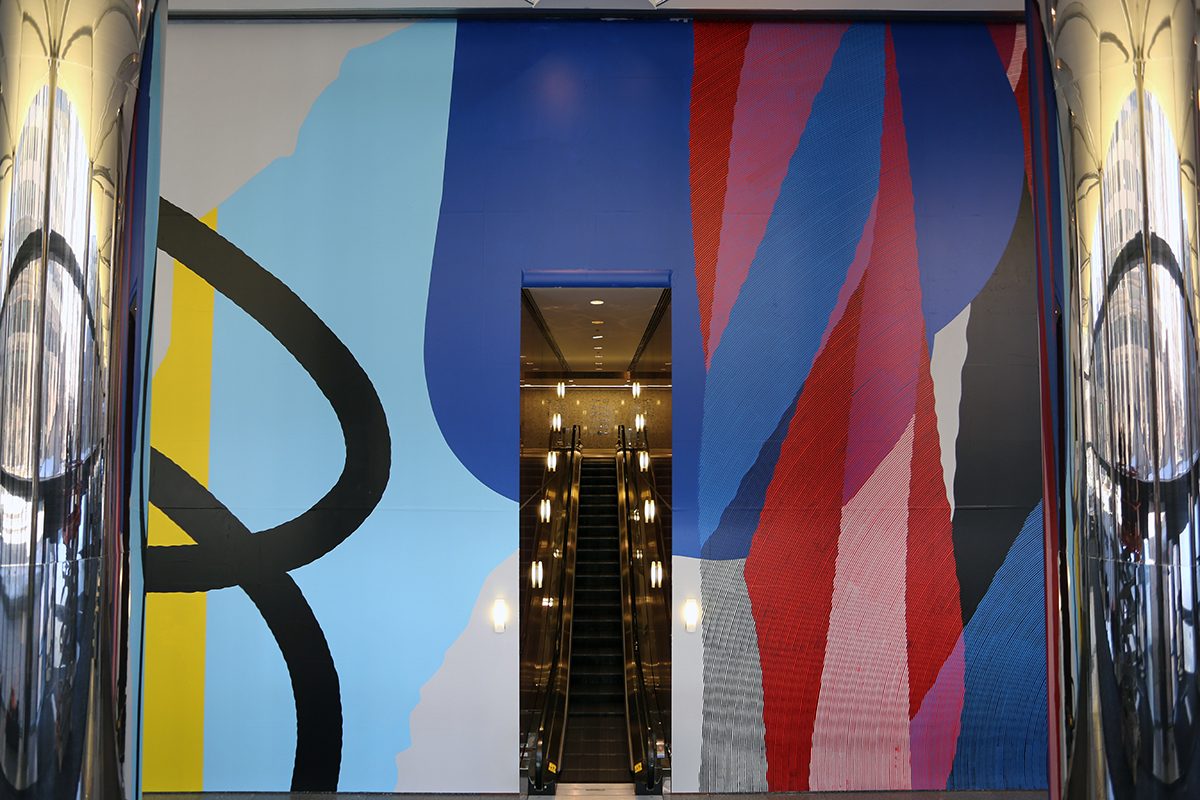 ---
Most Boston residents and tourists marvel at the John Hancock Tower from afar, peering up at the 60-story blue skyscraper from Copley Square, taking photos from the Prudential Tower's Skywalk Observatory, or admiring the blue paneled building as part of the city skyline.
This season, however, it's the Hancock's ground floor that's getting some extra love. Passersby in the last week or so may have noticed that the lobby was recently given a colorful new facelift, its walls painted in various hues by the artist known as MOMO and a team of three assistants. Commissioned by Boston Properties and curated by Pedro Alonzo, MOMO's is the first of three temporary art installations that will grace the lobby, which the public is welcome to check out.
Here, we catch up with MOMO to learn more about this unique art project.
Can you give me a bit of background on what you do?
I've been creating nonfigurative public space artwork for 10 years. I'm interested in the sensual qualities of color and line, and the composition of these on an architectural scale. Investigating these things usually requires [that] I make or customize my own tools.
Tell me about the John Hancock Tower project—how did it come about?
Boston Properties contacted Pedro Alonzo to curate a series of three temporary art installations at the John Hancock Tower. My project is the first of these. … The de-install isn't scheduled yet, but six to nine months were discussed.
What was the inspiration?
I arrived to the project with many ideas already in development, but the thing to engage with in this space is the great architecture. All the surfaces in the lobby are polished with hard edges and Deco type angles. There's a sense of verticality from the 20-plus floor-to-ceiling chrome columns, and heavy grey marble. I tried to partner my elements with these for contrast and engagement. The real excitement is seeing the flat artwork challenge the architecture, for a more lively environment, while staying balanced and poised. A friend recently told me these murals make public space more humane—that's interesting. It might also be key that it's a temporary installation. Traditionally, architecture is designed with visual codes for timeless permanence, strength, and durability. This artwork can be a passing feeling.
How long did the project take? How many team members?
Three weeks. Three assistants plus me.
Is this your first project in Boston?
Yes, this is my first in Boston.
What do you think about the city's art scene?
I've looked to Caleb Neelon for inspiration for 10-plus years. He's from this area, paints and writes from here, so I would say Caleb Neelon's town is fantastic.
What's next for you?
I'm in my studio in New Orleans trying to repair some things—the ceiling fell out the window for example—then March 15, I'll fly to Mons, Belgium, to create a mural for a European Union cultural event. Then I'll stop in New York for supplies and fly to Palm Springs, California, April 3, to paint a mural for the Ace Hotel. Then it's back to New Orleans where I'm developing a show for Paris in the fall.
---