Northeastern Revs Up Public Art Initiative
From elevators to underground tunnels, 'we want art to be everywhere,' says Northeastern President Joseph Aoun.
---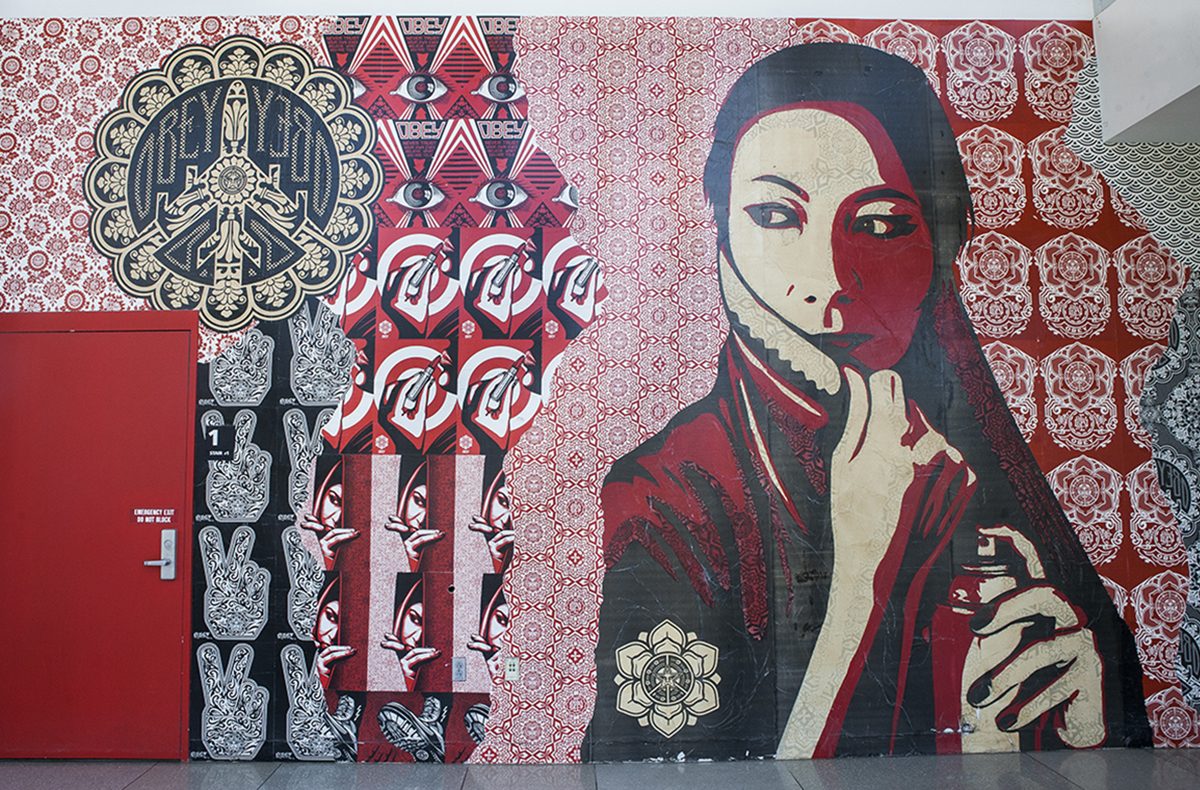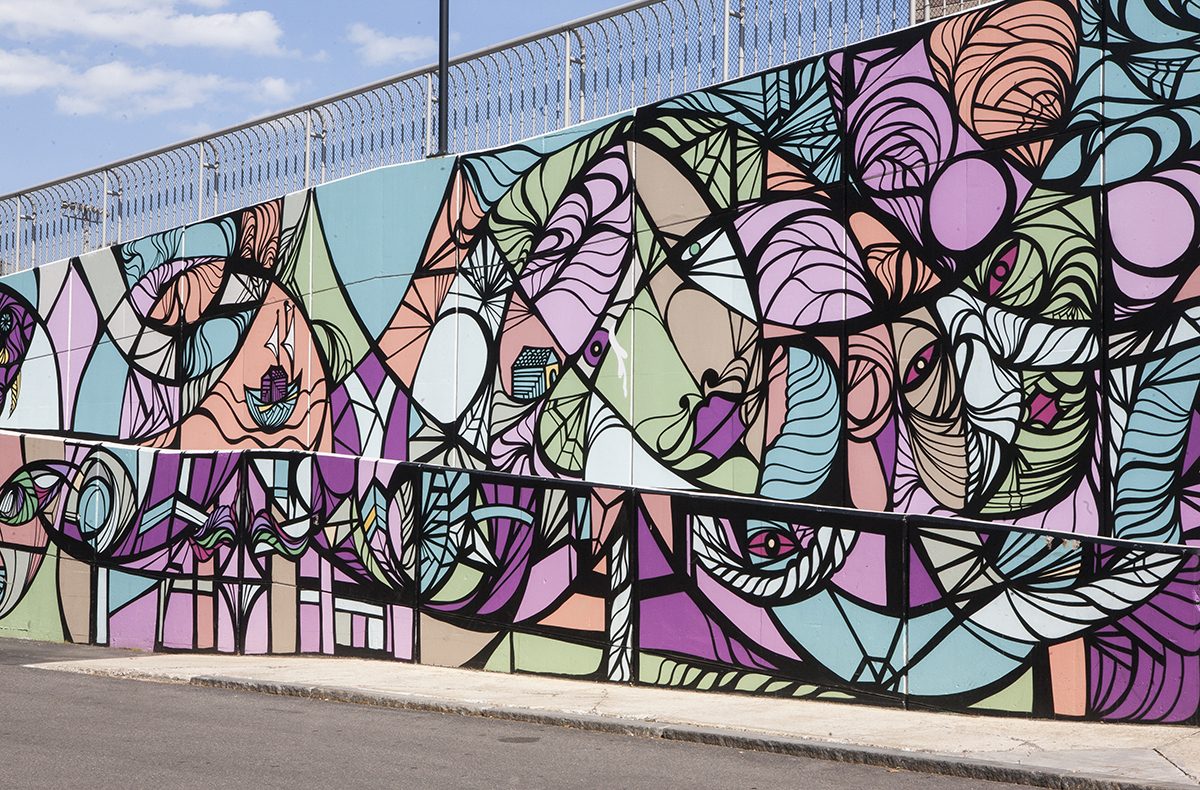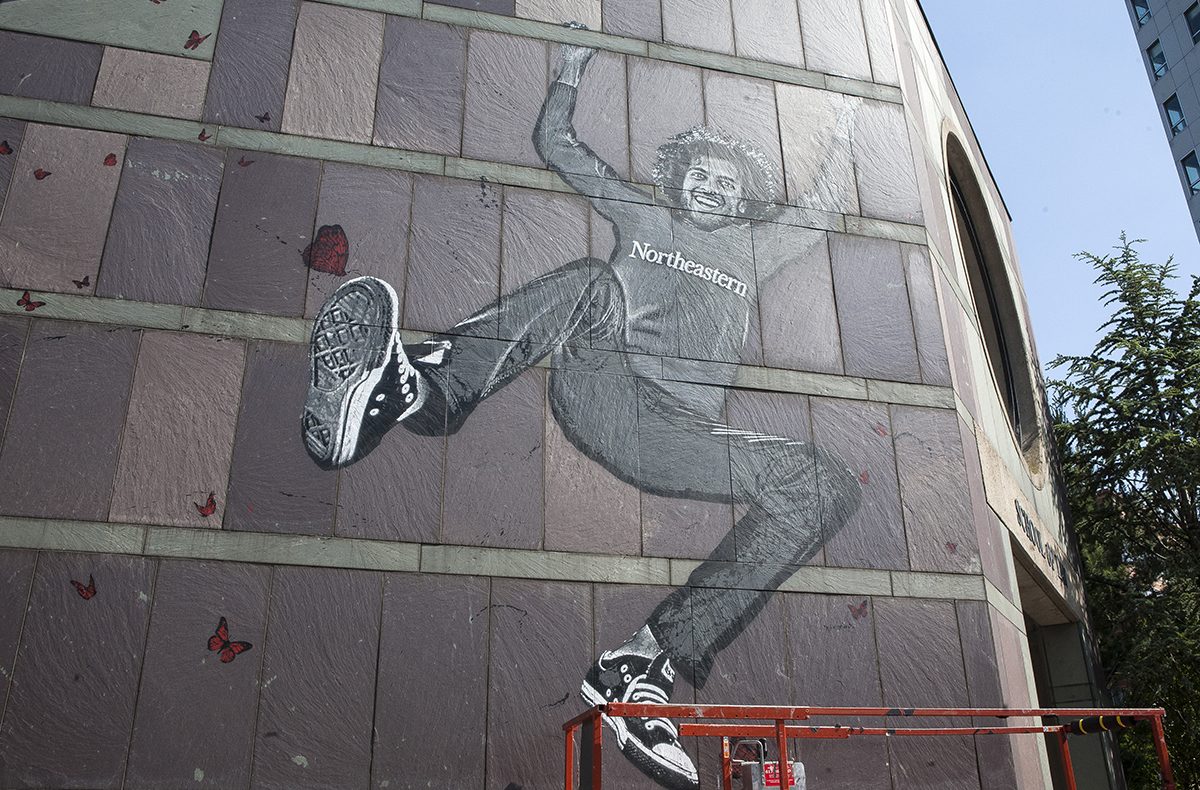 In chronological order, street artists Shepard Fairey, Daniel Anguilu, El Mac, and Jef Aérosol have been invited to Northeastern to use the "campus as a canvas" as part of the university's Public Art Initiative. / Photographs by Olga Khvan
Jef Aérosol's stay at Northeastern University has been full of pleasant surprises. In addition to the large mural he was commissioned to spray paint on the side of Cargill Hall facing Huntington Avenue, small renditions of the French artist's signature stencil graffiti have been popping up all over campus, to be uncovered by passersby in chance encounters.
"Jef is surprising us with many things, which we love. We want creativity to take the lead," says university President Joseph Aoun, who officially launched the Public Art Initiative at Northeastern at the beginning of the 2014-2015 school year, and has been inviting street muralists to adorn bare spaces on campus. "We are looking for artists that are creative, innovative, that capture the spirit of the place."
Aérosol's largest work at Northeastern—the mural on the outside of Cargill Hall, almost directly across from the Museum of Fine Arts—gives a nod to both the university and local history, although one much more subtle than the other. It depicts a smiling young man, mid-leap and sporting a sweater emblazoned with the Northeastern logo. The butterflies that surround him refer to a quote by Boston-bred author Nathaniel Hawthorne: "Happiness is a butterfly, which when pursued is always just beyond your grasp, but which, if you will sit down quietly, may alight upon you."
"I love this philosophy of life, and here we have a guy who symbolizes energy, youth, positiveness. The butterflies are more delicate, more soothing, and they counterbalance his energy. In life you have times of energy, strength, power, and times when you need to rest, to think, to relax, to watch life go by," says Aérosol. "I like symbols a lot—but simple symbols. I like my art to be understandable by as many people as possible. I don't want to be elitist."
---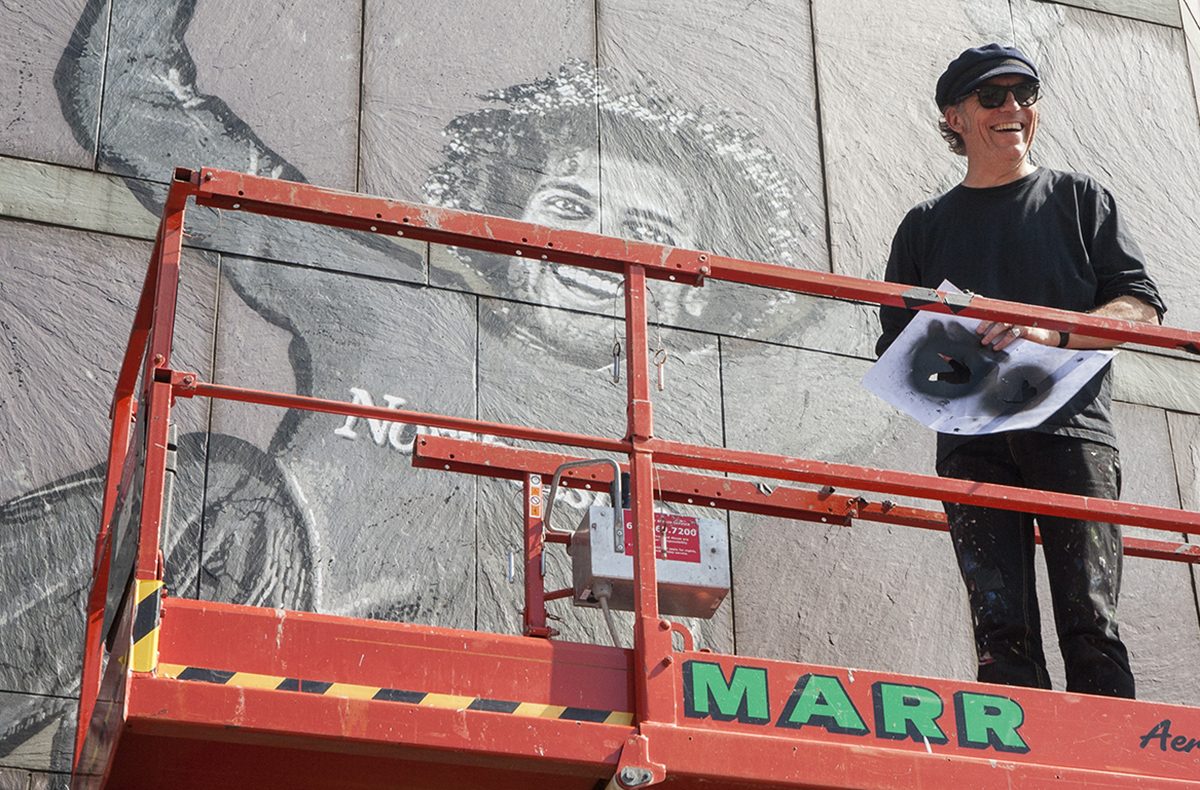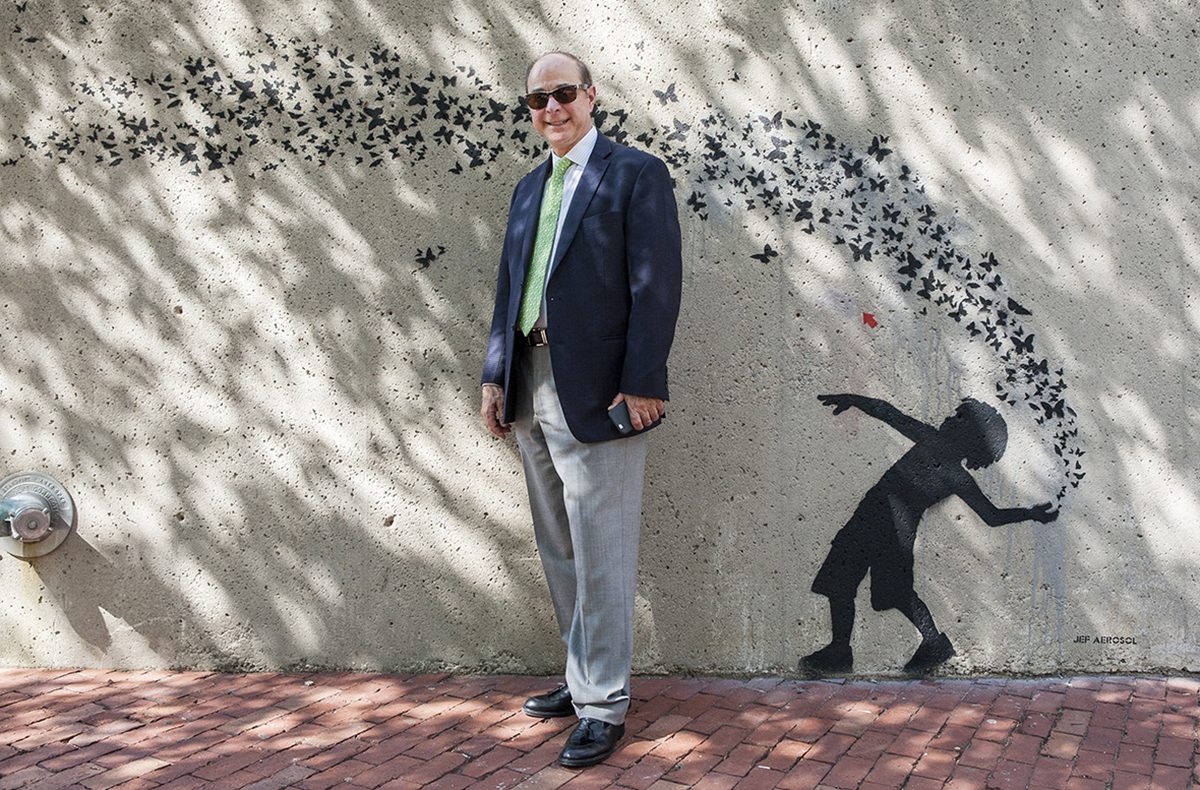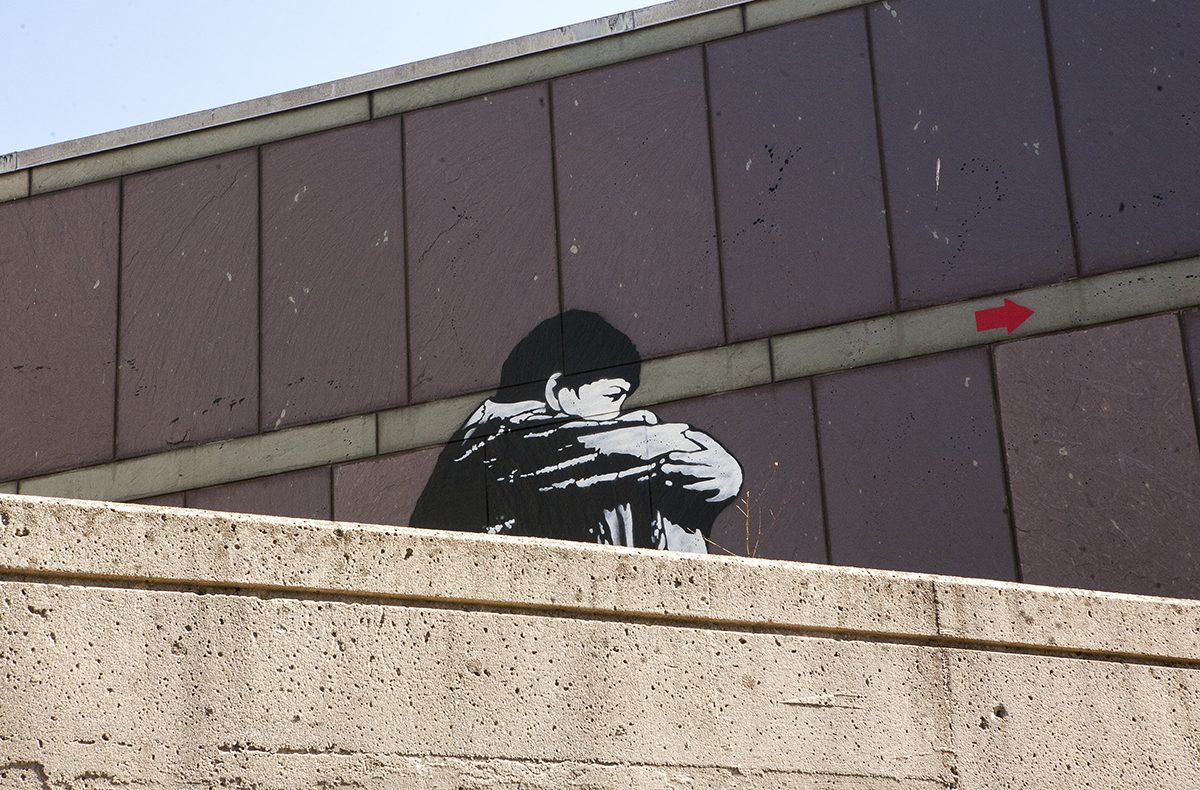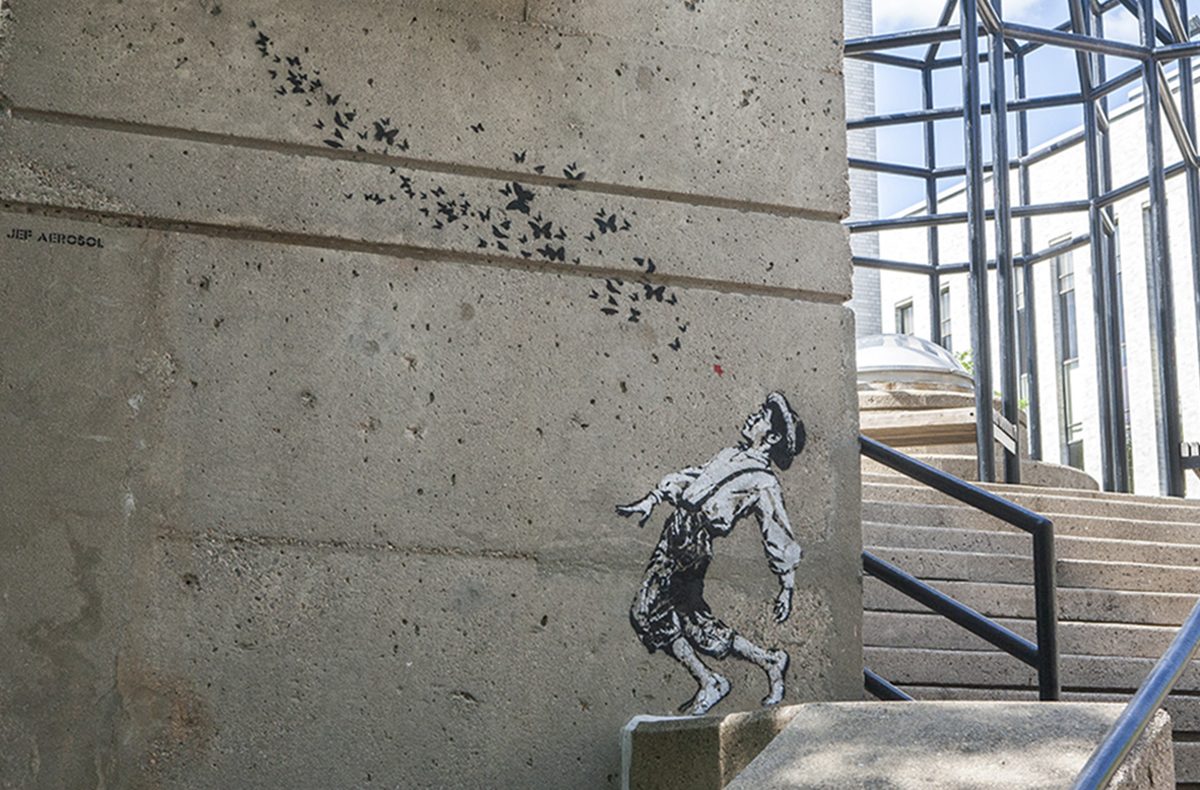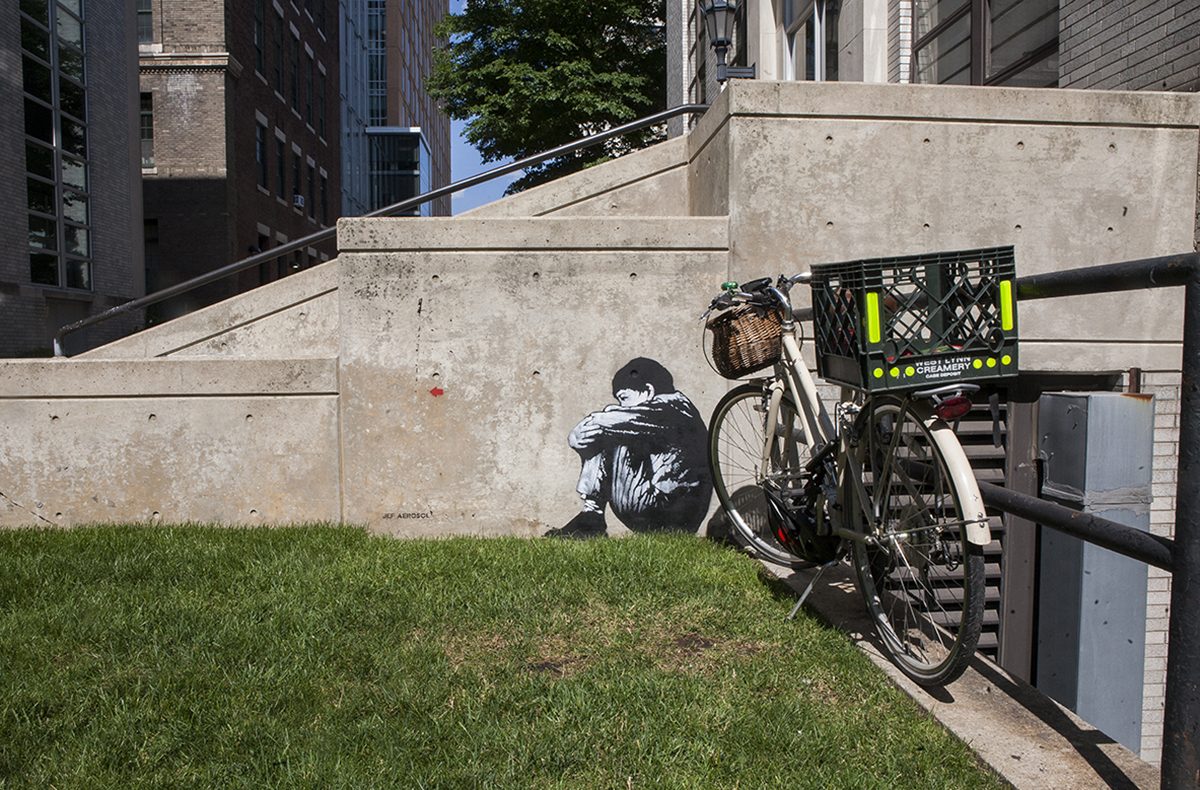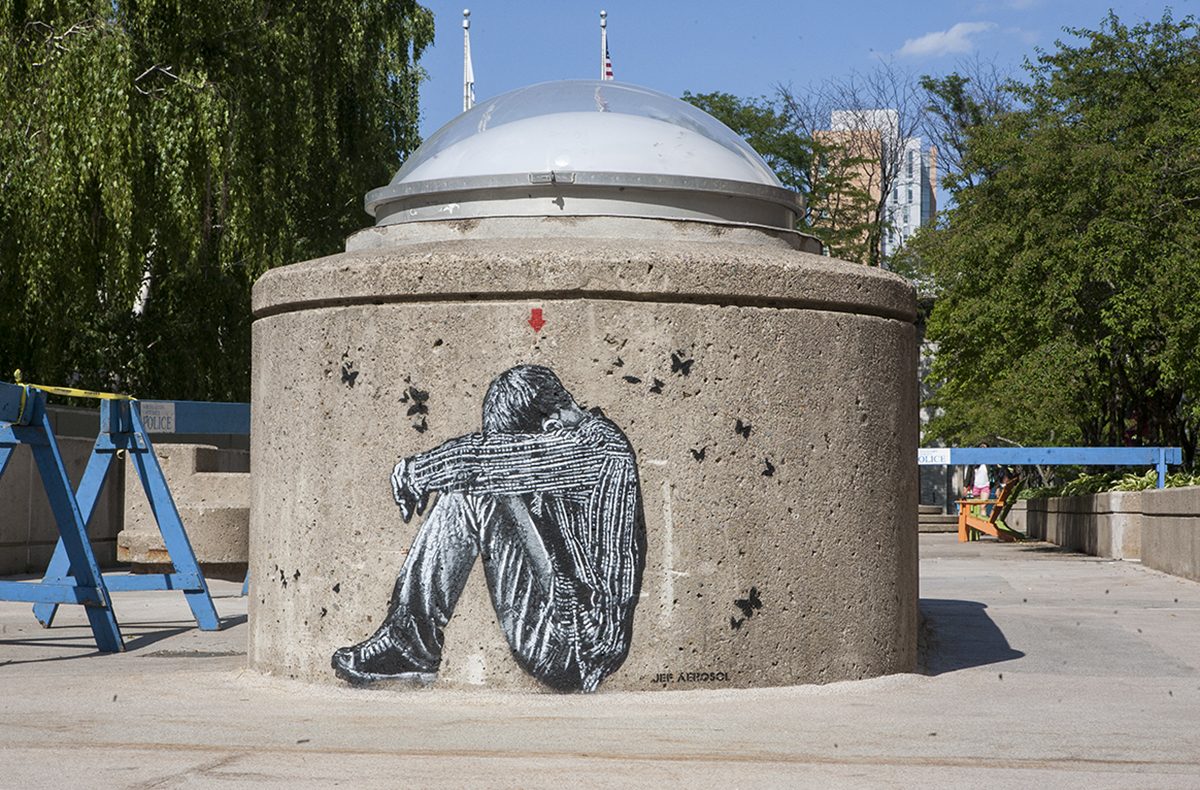 In addition to a large mural, Jef Aérosol (first photo) has been surprising the Northeastern community, including President Aoun, (second photo) with smaller renditions of his signature stencil graffiti all over campus. / Photographs by Olga Khvan
Aérosol is the third street muralist Northeastern has hosted over the past year. Last spring, Houston-born artist Daniel Anguilu painted a mural inspired by Gabriel García Márquez's novel One Hundred Years of Solitude on the retaining wall of a pedestrian bridge near the Curry Student Center. Last month, Los Angeles-based El Mac, whose father studied engineering at Northeastern, painted an homage to the university's dedication to the arts and sciences on the side of Meserve Hall overlooking the Centennial Common.
"Each artist has a story. The work has to fit with the place," says Aoun. "The students have reacted extremely positively. The beauty is when they work on the murals, the students stop, and then we talk."
Each artist was handpicked by a team managed by associate director of marketing Clare Horn, with large input from President Aoun, who had encountered their work on his travels and through conversations with his son.
"I was always interested in art in general, and more recently, I started discovering public art—through our students, through traveling in various cities, and in our own city, too—that I think is extremely creative. It's phenomenal," he says.
Although the Public Art Initiative launched officially in 2014, it got its "silent start," as Aoun calls it, in 2009, when the Northeastern reached out to famed street artist Shepard Fairey, who was exhibiting at the Institute of Contemporary Art at the time, to paint a mural inside the lobby of the International Village, an on-campus housing complex.
"I guess technically it started with Shepard, and then it really gathered momentum this past year," says Horn.
Since 2009, art installations have been sprouting up all over campus—hanging off ceilings, covering elevator doors and interiors, filling up walls around offices, academic buildings, and Gallery 360. Talent has been sourced not only from the outside, but also from within the campus community. Last November, Sophia Ainslie, a lecturer from Northeastern's College of Arts, Media, and Design, recruited students to help her paint a mural inside Ryder Hall. Series of drawings by another lecturer, Jeff Hull, cover both the atrium walls and exterior windows of the West Village Residence Complex H.
"We swap the exhibits out three times a year in this space. What was interesting was after we had one exhibit, the dean who works here commented and said, 'We have so much traffic in and out of this atrium, and most people are just head down, getting to the next place, but once you put this up, they look, they chat, they take selfies,'" says Horn. "It just totally changes the nature of the space."
---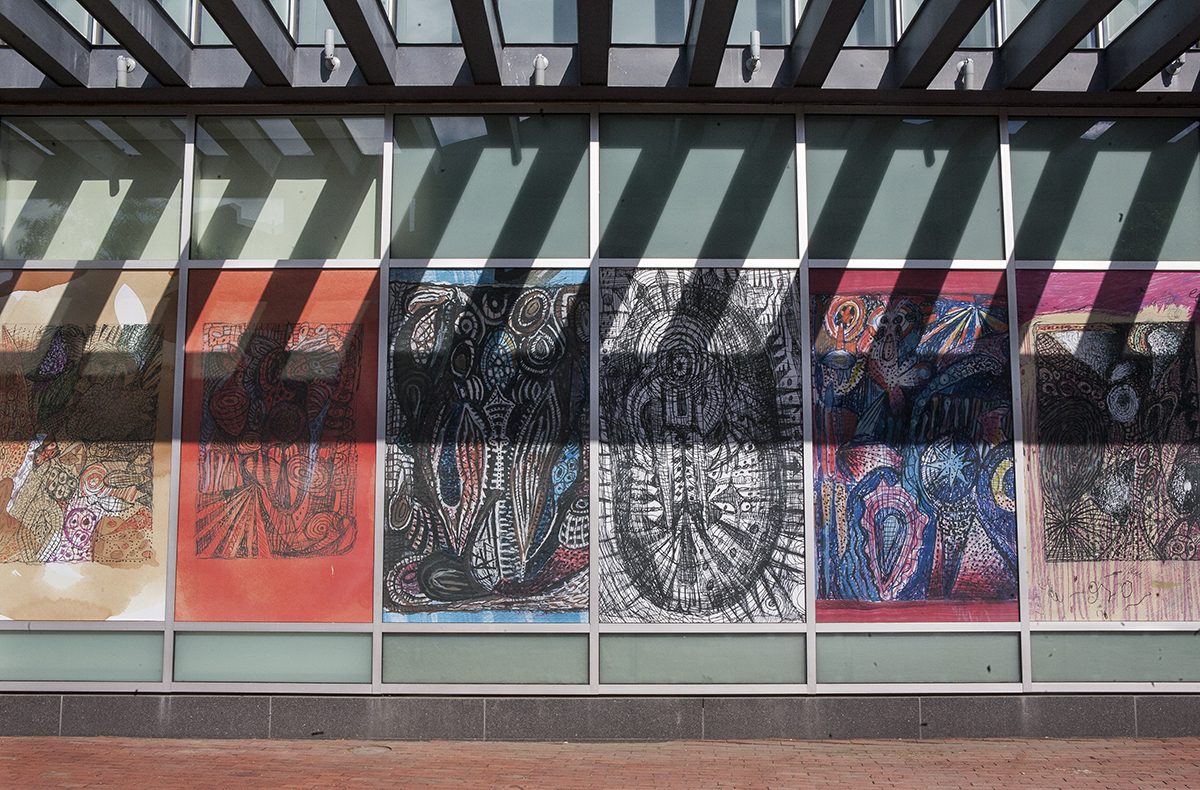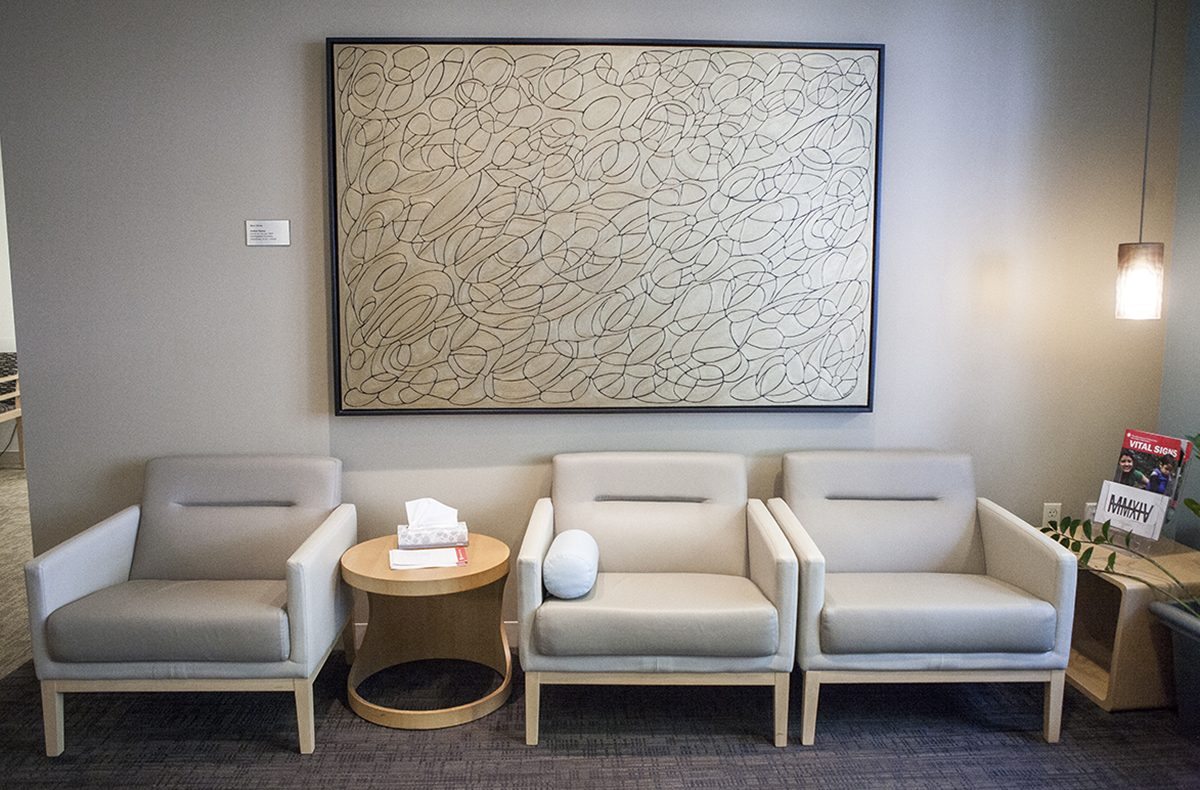 Artworks by faculty members are installed throughout campus on a rotating basis. / Photographs by Olga Khvan
During the coming school year, Aoun and Horn plan to recruit four muralists—possibly including Aérosol, who made the suggestion—to work simultaneously on a blank wall near Ruggles Station. Aoun notes that the life expectancy of a mural, subject to the elements, is around 10 to 15 years, so each visiting artist has also been requested to create an additional, more permanent piece to be placed elsewhere on campus.
"We want art to be everywhere. We don't want to restrict art to only one place—we want the whole campus to take advantage and enjoy it," he says.
Northeastern's Public Art Initiative also doesn't restrict art to one form. In 2013, the university hosted Word Becomes Flesh, a performance that fuses theater, spoken word, dance, hip-hop, and live music. In May, Northeastern partnered with Denver-based program OhHeckYeah to transform one of its quads into a street arcade, featuring three video games—one developed by students from the university's game design department—projected onto oversized LED screens and controlled with body motion rather than devices.
"We're trying to have all arts represented," says Aoun.
This coming school year, in a continuing attempt to cover all parts of campus with art, the Public Art Initiative will expand into the underground tunnel system that links some of Northeastern's buildings with a temporary light installation.
"Those tunnels, we feel, are also a canvas for art," says Aoun. "What we decided to do is have the whole campus become a canvas."
Plan your own tour of public art on Northeastern's campus using the map below.
---