Converse Rubber Tracks Will Officially Open Its Boston Recording Studio on July 1
Bands will come through year-round to record inside the state-of-the-art space for free—no strings attached.
---
On July 1, Converse will welcome the first band to record inside its brand new Rubber Tracks studio, located next to the company's recently opened world headquarters on Lovejoy Wharf. The Boston facility is Converse's third permanent Rubber Tracks space, modeled after a flagship studio that opened in Brooklyn in 2011. A second location opened in São Paulo, Brazil earlier this year.
"We wanted to build a state-of-the-art facility that any recording artist could come into and record for free and leave with all the rights to their music," says Jed Lewis, the company's global director of music marketing. "No strings attached."
The 1,100-square-foot studio features a control room equipped with a soundboard by acclaimed designer Rupert Neve, a live room, an isolation booth, and a vesti-booth. Bands will come through year-round, five days a week—each recording session will last a day, just as in Brooklyn—and are welcome to use any of Converse's instruments and gear or bring their own. Professional producers and sound engineers, rotated on a weekly basis, will be on-hand to offer help and advice.
"Obviously one day in the studio is not as much time as we want to give everybody, but we've established a flow now where we can be ready for these bands when they come in. They walk in, and drums and mics are set up, we've even selected amps based on their preference," says Brad Worrell, who manages the Rubber Tracks studio in Brooklyn. "Depending on what they're using and what we've got, they could be recording 20 minutes after they get in the door. It's invaluable when you do have a limited time."
Local musician Stephen Konrads attests to the Rubber Tracks staff's promptness and friendly attitude. In November, his band Eternals recorded at Q Division, a studio in Somerville where Converse started to host pop-up Rubber Tracks sessions in 2013 while getting its permanent studio on Lovejoy Wharf up and running.
"My previous recording experiences have always been like one guy in a bedroom with a small interface and a bong, and that's it—or it's one really, really overworked engineer who's working as hard as he possibly can. We walk into Q Division, and it's 10 o'clock in the morning, and the whole room is set up, and there's like six people around, and there's like three assistants asking if I want coffee," he says. "The opportunity to work in a world-class facility is just such a huge learning experience. There's a lot of ways that you can go about recording music, and doing it in a way that's fun and whatnot, but it's not necessarily a growing experience. But once you have that experience under your belt, you'll learn a lot about how to handle yourself as a musician."
---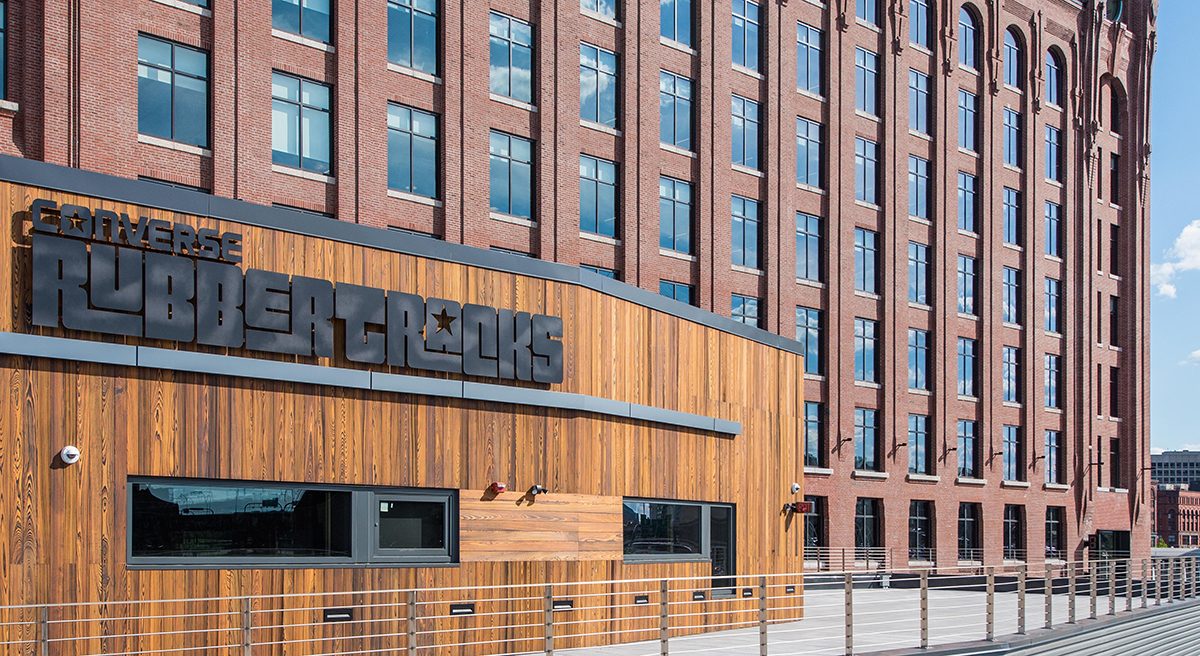 Photographs provided
---
Like Eternals, Worrell hopes that all bands come out of a Rubber Tracks recording session with an educational experience.
"It's rewarding—educating them on this process and giving them a chance to hear what they sound like," he says. "We've got them playing all together like they do live, and they come into the control room, and they literally hear themselves for the first time. I've had bands even look at each other and say, 'Oh, this is what we sound like.' It's almost like we've ruined them—they can't go back to [recording in a] basement."
Although a session only lasts a day, a band's relationship with Converse may continue beyond the recording studio and transfer onto a stage. Its Rubber Tracks Live shows—last night's Matt & Kim performance marked the company's 20th in Boston—let headliners handpick their openers from a pool of bands who have recorded in Converse's studios and pop-ups.
"A lot of times when you're an independent artist, you feel like you're making music in a vacuum. To see all these channels of support around you that had never existed before—it makes you feel like you should keep doing what you're doing," says Konrads, whose band was selected to open for Wild Nothing at The Sinclair in May.
Bands can register for a chance to record inside the new Boston studio on Converse's Rubber Tracks website, which also houses a high-quality, royalty-free sample library. There are restrictions on the application process—but they're not based on musical preferences.
"If you're a signed band, if you have a record deal, you won't get in. The idea is that if somebody can pay for you to get into a studio, then you don't really need to come to Rubber Tracks," says Worrell. "Kind of the last thing we do is actually listen to content. We have a really talented, small team of people who make decisions about who gets in, and it's honestly not based on who's going to be the next big thing, or who they want to work with. We're here to give bands an opportunity they wouldn't otherwise have."
---