Ten Can't Miss Pieces from 'Crafted: Objects in Flux' at the MFA
Curator Emily Zilber walks us through highlights from her new exhibition.
---
"I like to think of the MFA as a big craft museum," says Emily Zilber, who was brought on as the institution's very first curator of contemporary decorative arts five years ago. "Essentially you have thousands of years of objects skillfully made, and their making tells us something about the culture and time and artistic landscape in which they were created."
Zilber's latest effort at the MFA, an exhibition titled "Crafted: Objects in Flux," encompasses more than 50 works by 41 artists from different nations, generations, and stages in their careers.
"When we say 'objects in flux,' we're talking about objects that essentially refuse to adhere to that easy definition of the crafted, beautiful object on the pedestal," she says. "They have some kind of boundary slippage that they're using productively to really make a statement and to respond to a larger contemporary art world."
Zilber organized the exhibition into three themes, posing questions that she hopes visitors will ask not only of the objects in "Crafted," but also throughout the entire museum. During the final steps of installation, she took us on a tour and highlighted can't-miss pieces from each section:
The Re-Tooled Objects
This section focuses on works made using new technologies that challenge the notion of the traditionally handcrafted object and expand artistic possibilities.
---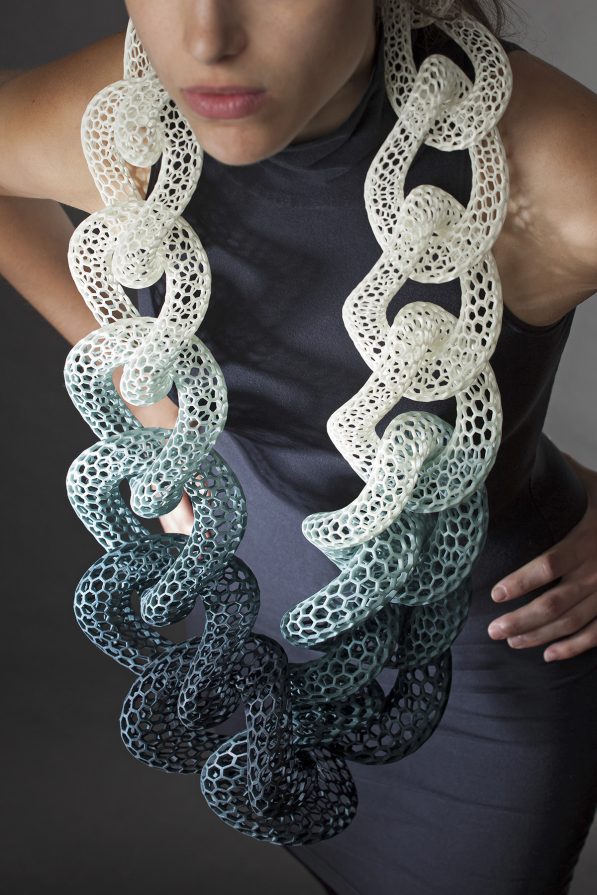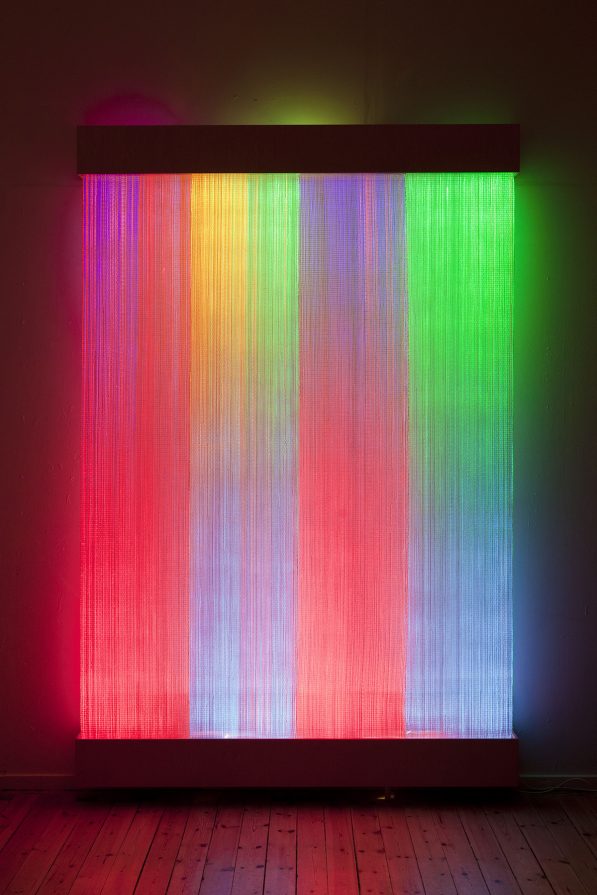 Photographs courtesy of the Museum of Fine Arts, Boston
---
"Trans-Hematopoietic/Black" (2011/2014) by Doug Bucci
This necklace was virtually designed and 3D printed, but also hand-dyed by the artist.
"We think of something crafted as being handmade—we have no problem when we're talking about the potter's wheel or the chisel, but when it comes to newer technologies like 3D printing or prototyping, we have a bit of a harder time," says Zilber. "This is a really great example of using a set of tools that has a long history and a set of tools that's a bit younger in tandem to do something that can only be made now."
"Ikat II" (2011) by Astrid Krogh
In this piece, the artist references the ikat textile-dyeing technique traditionally associated with Indonesia, India, East and Central Asia, and South America. But here, Krogh achieves the color-shifting effect by employing optical fibers—light-transmitting textiles made out of thin strands of glass—and paper yarn.
"The shifting of color here—the signature of ikat—she's able to get that here in a way that is never the same twice," says Zilber.
"The Transit of Venus" (2013) by Greg Payce

Look closely and you'll see human forms—both male and female—in the negative spaces between the porcelain vessels that make up this piece.
"He's playing with the notion of the body as a vessel, so when they're organized like this, you get silhouettes between them that are playing with ideas of sequence, playing with ideas of narrative construction of Greek vase painting," says Zilber. "We're so used to seeing a story played out on a vessel, but between the vessels is a different kind of thing."
"The Thread Wrapping Machine Chair" (2015) by Anton Alvarez
Alvarez was traditionally trained as a cabinetmaker in Sweden, but the various pieces of this chair are held together using a thread-wrapping technique, executed by a custom-made, pedal-powered machine developed by the artist, rather than traditional joinery.
"Thread-wrapping is a technique that's been around for millennia—we can see it in Peruvian textiles, for example," says Zilber. "[Alvarez] is developing a new tool to make something different, but it's really informed by a knowledge and deep understanding of historical practices."
---
The Performative Objects
This section focuses on works that refuse to be static objects—works that can be made through performance, perform on their own, and encourage engagement.
---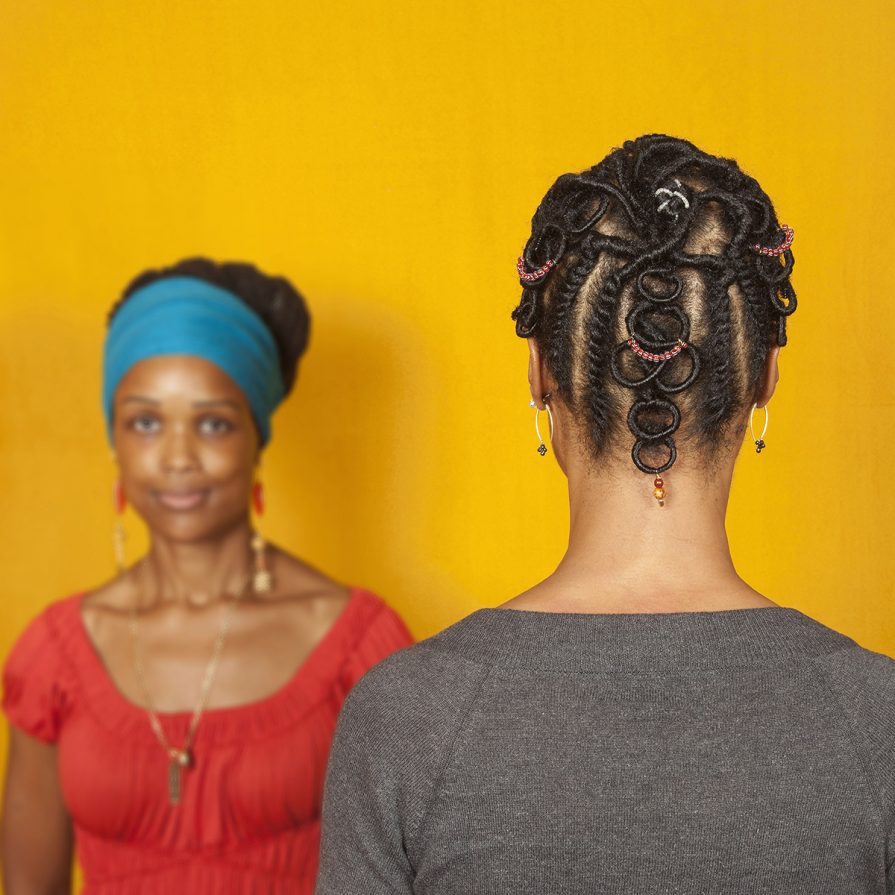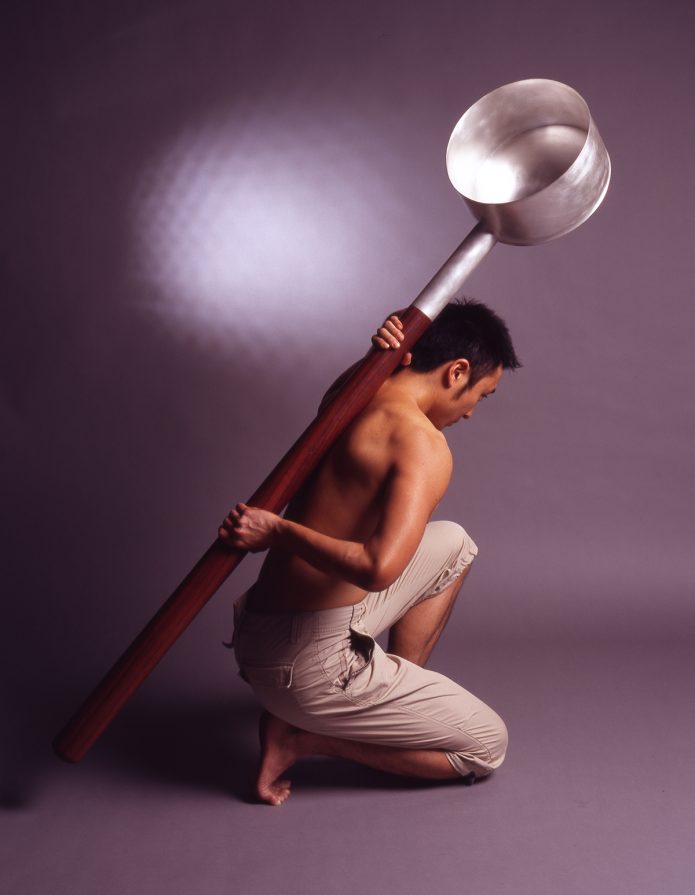 Photographs courtesy of the Museum of Fine Arts, Boston
---
"The Hair Craft Project" (2013-2014) by Sonya Clark
Clark, who is the chair of the Department of Craft/Material Studies at Virginia Commonwealth University, spent a year visiting 11 hairdressers, asking them to demonstrate their best work on her own head. Afterward, she asked each stylist to use the same techniques to create works on canvas primed with silk thread.
"She's said that hairdressing is the primordial fiber art, and when you think about it, braiding, twisting, and wrapping—all of these skills are skills that people use in the production of fiber," says Zilber. "[The hairstylists] have never worked on canvas, have never worked with silk, but they used the exact same skills that are used to produce the hairstyles."
In October, Clark will visit the MFA's African galleries with a hairstylist from Boston, who will create a hairstyle based on a Sande society piece from the collection on the artist's head.
"Huge Ladle" (2005) by Chien-Wei Chang
Chang plays with scale, sizing a silver-plated ladle up to unexpected proportions, which then beckon the body to respond to it in a different way. The piece reflects on the artist's experience of integrating two cultures—he was born in Taiwan, but recently acquired his U.K. citizenship.
"The process is sort of scooping knowledge from one place into another and back and forth, so he wanted to make a utensil that was sized for the challenge," says Zilber.
"Trace 2012" and "Trace 2112" (2012) by Etsuko Ichikawa
Trained at Dale Chihuly's renowned Pilchuck Glass School in the Pacific Northwest, Ichikawa is an expert glass artist—but her final works do not consist of glass. Instead, the artist trails molten glass over paper, creating calligraphic lines with the burnt marks.
"There's a longstanding tradition of pyrography, which literally means 'firewriting.' Usually you see it done on wood, but she's translating that into molten glass on paper," says Zilber. "This requires a total control and total understanding of her medium—you can't do this if you don't understand how glass works."
Video via Etsuko Ichikawa on Vimeo
---
The Immersive Objects
This section focuses on works that play with space, presented in a nonconventional way within a gallery setting, which changes the audience's perception and understanding.
---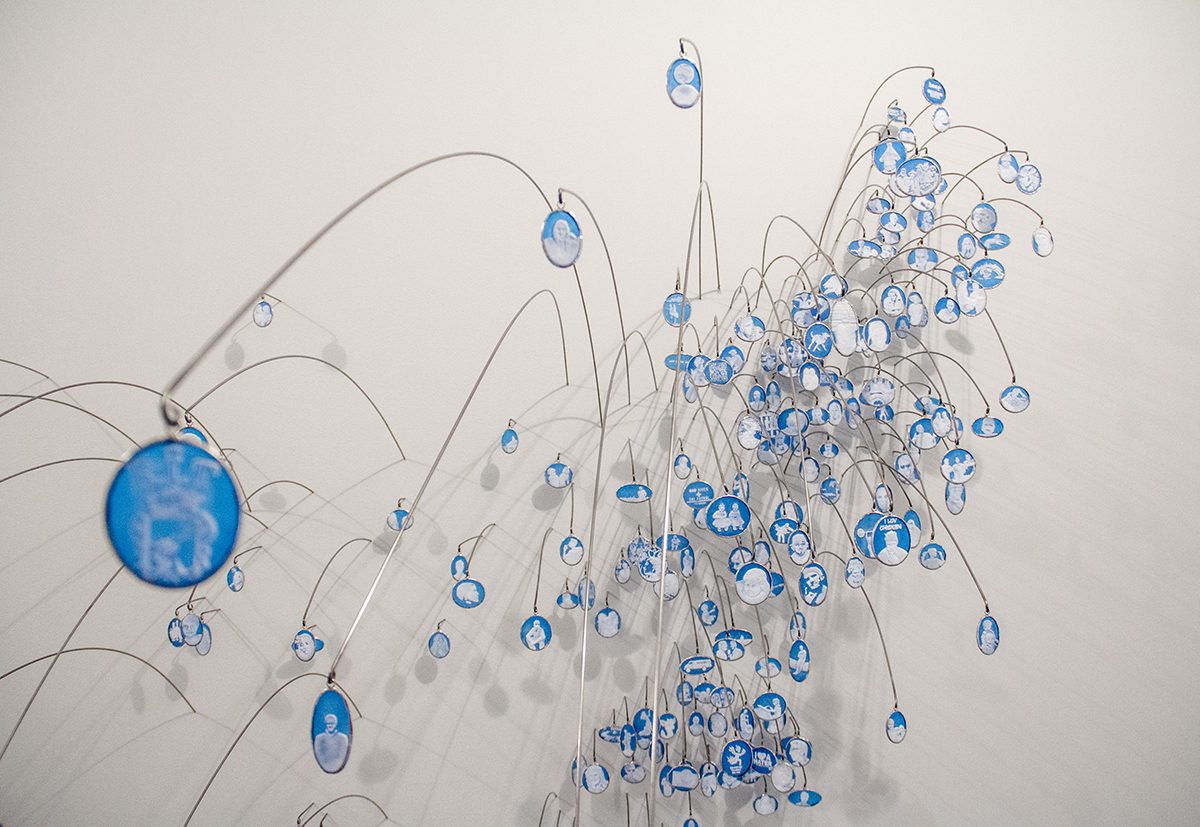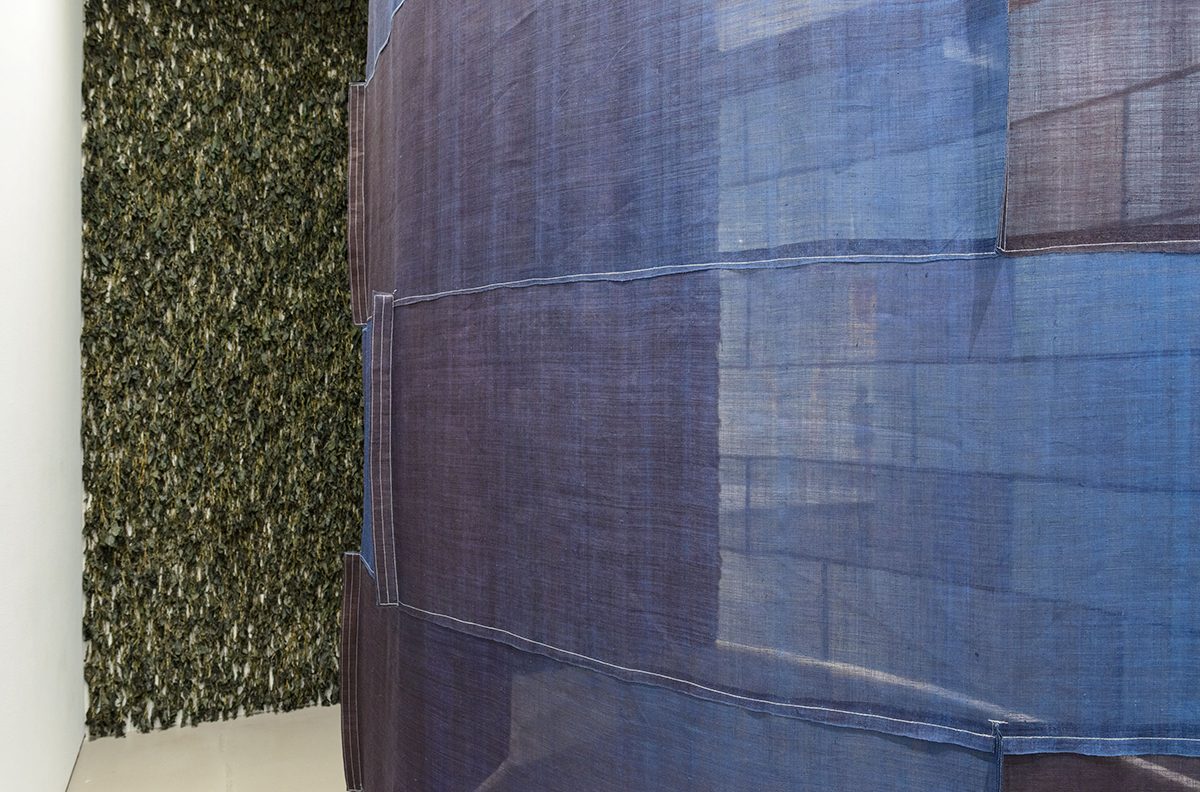 Photographs courtesy of the Museum of Fine Arts, Boston
---
"Pending" by Charlotte Potter
Potter's piece takes up an entire wall of the exhibition, featuring more than 500 handmade glass cameos depicting the profile pictures of the artist's pending friend requests on Facebook. Their placement represents both geography, with a large cluster representing New England, and the artist's relationship with the person requesting the connection, with each cameo's distance from the wall dependent on the number of mutual friends the user shares with Potter.
"It captures a moment in the life of the social network—this sort of ephemeral social network, which has changed and shifted," says Zilber. "It also really asks us to think about how the images that we choose to represent ourselves—on Facebook they're ephemeral—what happens when you make that a concrete thing?"
"Mobile Sections" (2015) by Rowland Ricketts
Ricketts uses centuries-old methods from Japan to cultivate and processes his own indigo in Indiana. His site-specific installation for "Crafted" creates an immersive space featuring gradient-dyed indigo dyed textiles, an entire wall covered with dry indigo that emits an herbal-tea-like smell, and recordings of the indigo harvesting and dyeing process by sound artist Norbert Herber.
"It's this totally immersive kind of environment that takes a craft that has this rich history and does something fundamentally different with it," says Zilber. "It asks you to encounter it in the moment as you're here, but also to think about the longer process, both before and after."
"Poros" (2015) by Nathan Craven
A large square window in the "Crafted" gallery becomes the canvas for Craven's site-specific work, consisting of thousands of hollow ceramic elements and illuminated by natural light. Each piece, individually glazed, can stand on its own, but together, they form a mosaic-like work.
"Once it is de-installed, it will never exist in the same way anywhere else again," says Zilber.
Video courtesy of the Museum of Fine Arts
"Crafted: Objects in Flux" will be on view at the Museum of Fine Arts through January 10. For more information, visit mfa.org.
---