Watch: Ellen DeGeneres Tries (and Fails) to Scare Aly Raisman
The talk show host couldn't shake the Olympian.
---
Aly Raisman has pretty much spent her entire adult life performing under pressure in front of global audiences, so it shouldn't be a surprise that it takes a lot to rattle the Olympic gymnast.
The 22-year-old continued her Rio 2016 victory tour on Wednesday's episode of the Ellen DeGeneres Show, and the talk show host had a special gag in store for Raisman and her parents Rick and Lynn.
DeGeneres, who has a habit of trying to scare unsuspecting celebrities, attempted to shock the Needham natives with some help from a ridiculously dressed "coach" wearing a tracksuit and shorts. Unfortunately for the comedian, her plan backfired as Raisman barely even budged, while her folks were only slightly spooked.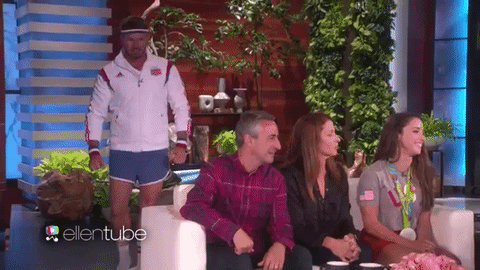 DeGeneres was a bit disappointed by their subdued reactions and joked that Lynn was scared more by her daughter's performance at the Olympics than by the talk show host's antics.
"We should have just had Aly performing," DeGeneres said. "That would have scared her more."
Check out the full clip from Raisman's appearance on Ellen below.
---