Boston Calling Live Blog 2017
Our collection of all the moments you can't miss, through Sunday, May 28. Follow us on
Facebook
,
Twitter
, and
Instagram
, too.
---
With reporting by Spencer Buell, Jackie Cain, Abby Bielagus, Alex Erdekian, Julia Hopkins, Lizzy Barrett, and Lisa Weidenfeld
Sunday, 9:45 p.m.
The night closed out with rock star moves from Cage the Elephant and simultaneous Weezer (sweaters were destroyed) and Major Lazer (crowds were surfed) shows, before Tool finished up the festival.
Sunday 7:29 p.m.
Run the Jewels took the stage, accepted a bouquet of flowers, and gave the crowd some words of wisdom. Killer Mike, who's from Atlanta, also lamented the Falcons' loss to the Patriots, and called himself and El-P the Bill Belichick and Tom Brady of the rap game.
Meanwhile, despite a lack of sunshine, Wolf Parade helped Boston Calling "believe in anything."
Sunday, 5:45 p.m.
Everyone jammed out with Frightened Rabbit on the Blue Stage, right? Plus, if you were over at the comedy stage, you got to hear Hannibal Buress entertaining the crowd with a shrooming story, interviewing an Uber driver, and telling jokes through a voice changing device.
Sunday, 4:30 p.m.
Flatbush Zombies played to an adoring crowd.
Sunday, 4 p.m.
It's safe to say Pup fans are pretty into the band.
On the Red Stage, Mitski said she was into the cloudy weather, pointing out that it very much matched her aesthetic.
Boston band Buffalo Tom also took the stage earlier today. You can learn about the other local bands at Boston Calling here.
Sunday, 3:50 p.m.
New development, beer geeks: You can now get a handful of Mikkeller's beers from the location near the Green Stage in these cool cans, including the American Dream hoppy pilsner.
Sunday, 3:15 p.m.
Mondo Cozmo appreciates it when you get their name right.
It's apparently Mondo Cozmo with a z because that's how his dog spells it. #BostonCalling

— Lisa Weidenfeld (@LisaWeidenfeld) May 28, 2017
That's right, Lisa! https://t.co/oeYvrnMYtK

— Mondo Cozmo (@MondoCozmo) May 28, 2017
Sunday, 2:48 p.m.
PUP had a rowdy set at the Blue Stage in a light drizzle. So far, the rain is holding out, but the clouds look mean.
🇨🇦PUP!🇨🇦 pic.twitter.com/Qvakr1AHRG

— Spencer Buell (@SpencerBuell) May 28, 2017
Before them, Massachusetts emo up-and-comers The Hotelier kicked things off. They're one of many hometown heroes performing at Boston Calling this year.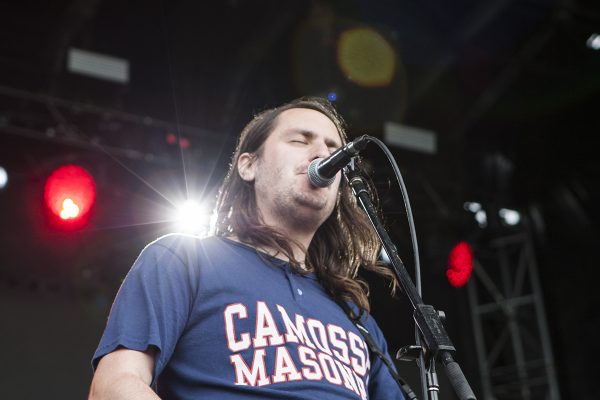 Sunday, 2 p.m.
Cloudy skies making you nervous? Swing by the Maven car sharing tent for a poncho.
Saturday, 10 p.m.
The day wrapped up with the 1975, the XX, and a headlining set from Mumford & Sons.
Saturday, 7:20 p.m.
Feeling hungry? Check out our guide to the food here at Boston Calling.
Saturday, 6:45 p.m.
Tegan and Sara kept the crowd entertained with a few stories, including the fact that Sara at one point wanted to go to Harvard to become a lawyer. She probably made the right career choice.
Meanwhile, Majid Jordan was hard at work on the Blue Stage.
Update, 5:48 p.m.
Danny Brown in a Korn T-shirt, a Red Sox hat-wearing Brandi Carlile, and Dorchester's own Cousin Stizz take the stage.
Cousin Stizz photo by Julia Hopkins
Saturday, 4:46 p.m.
The performance from London's Oh Wonder on the Red Stage was electric, and Josephine Vander Gucht got airborne.
Saturday, 4:19 p.m.

Canadian duo Tegan and Sara, who take the Red Stage at 5:30 p.m., love the sculptures placed around Boston Calling with artists' lyrics printed on them. They said so on Instagram (which, by the way, is worth a follow if you like cats, twin-size sweaters, and other such things).
I mean, look at this cat:

Saturday, 3:15 p.m.
Vendors set up around Boston Calling are vying for attendees' attention with games, raffles, and free stuff. Seems like they brought their A-game.
At the Angry Orchard tent, you can go "bobbing for apples" with a crane, play whack-a-mole, or skeeball.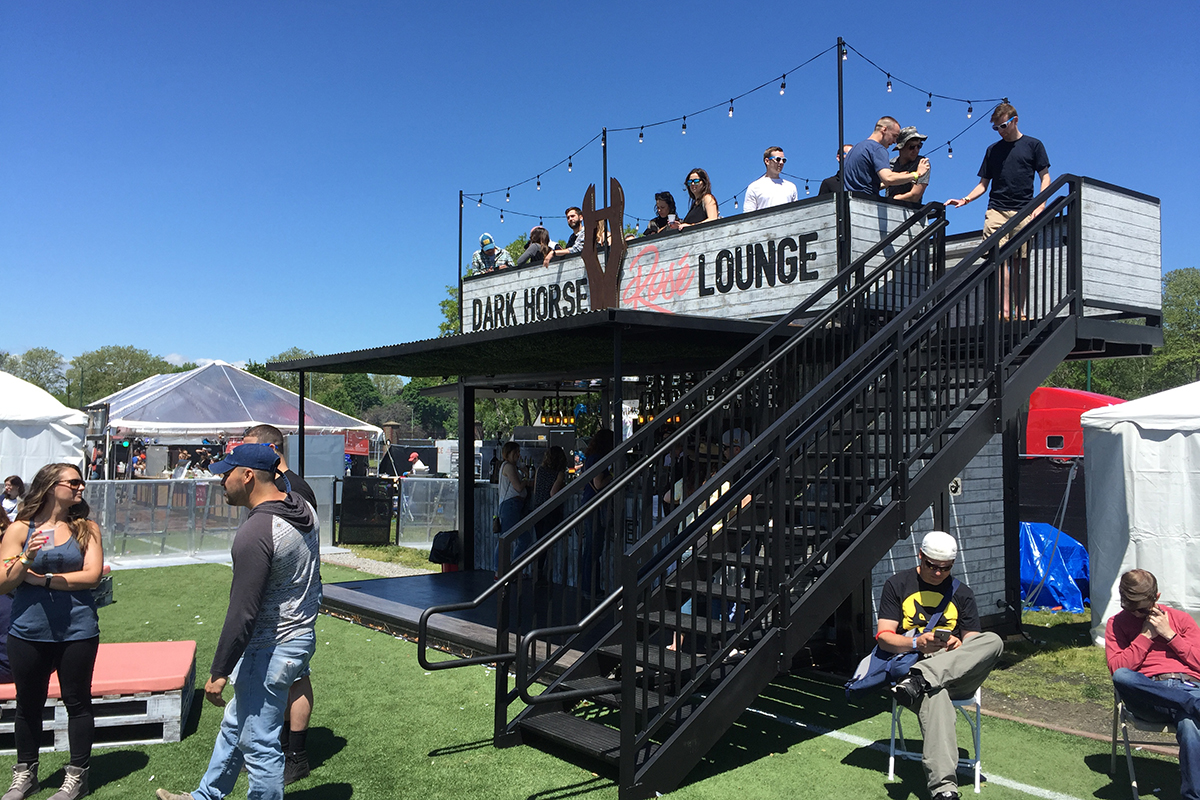 Dark Horse, which is serving samples of rosé, is also offering the chance to watch headliners from their rooftop deck. The drawing is at 8 p.m.
Miller Lite, which built a "Bar 75" astride the Red Stage, has a phone charging station and a wall of "real fans for real fans" for cooling off
JBL is offering free headphones, speakers, and swag to those who can nail one of these targets with a ball.
And at the booth for the new Aubrey Plaza movie Ingrid Goes West, you can grab a free slice of avocado toast. We tried it. It's good.
Saturday, 2:32 p.m.
Timothy Showalter of Strand of Oaks had lots of fans singing along at the Red Stage this afternoon.
Saturday, 2:25 p.m.
Festies who showed up early saw Portland's Alexandra Savior get things started under clear blue skies.
Saturday, 2 p.m.
Day 2 brings sunny skies and daytime crowds to the festival.
Friday
The night closed out with rainy performances from Bon Iver, Sigur Ros, and Chance the Rapper.
Friday, 8:23 p.m.
Lexington native Pete Holmes played to a hometown crowd by telling plenty of Boston jokes. Comedy host Hannibal Buress also stopped by.
Friday, 8:00 p.m.
Mac DeMarco enjoyed a beer onstage.
A little rain didn't stop the fans.
Friday, 6:30 p.m.
Headliner Chance the Rapper made an early appearance when he jumped on stage with Francis and the Lights, a la May I Have This Dance.
Friday, 5:45 p.m.
Behold, the moves of Francis and the Lights.
Friday, 4:45 p.m.
Deerhoof's Satomi Matsuzaki came with eye makeup ready to rock.
Friday, 4:30 p.m.
Whitney was feeling the love during their set.
Friday, 4:20 p.m.
Lucy Dacus takes the stage.
Friday, 4 p.m.
This year's fashion item of choice? A poncho.
Friday, 3:54 p.m.
Vundabar was the first band to take the stage, officially kicking off the festival.
Friday, 3:30
Xylouris White was one of the first acts to take the stage.
Friday, 3:20 p.m.
Concertgoers aren't letting a little rainy weather keep them down.
Friday, 2:33 p.m.
Because it wouldn't be a Boston festival without the Dunkies truck.
---
---