The Charles River Esplanade Is Getting a Fancy New Mural
Artist Silvia Lopez Chavez will contribute a piece to the Bowker Overpass.
---
The Esplanade Association has announced plans for a mural on the Esplanade. The new art, the first-ever professional mural along the Esplanade, was designed by Silvia Lopez Chavez and is called "Patterned Behavior." It will adorn the Bowker Overpass. The painting process will start shortly, and the artwork will remain in place for two years.
In a press release, Chavez said the Esplanade is "my favorite part of the city where many people and activities intersect and connect in meaningful ways. That really speaks to me, since I am always striving to create art that builds connections. This mural is certainly a reflection of that."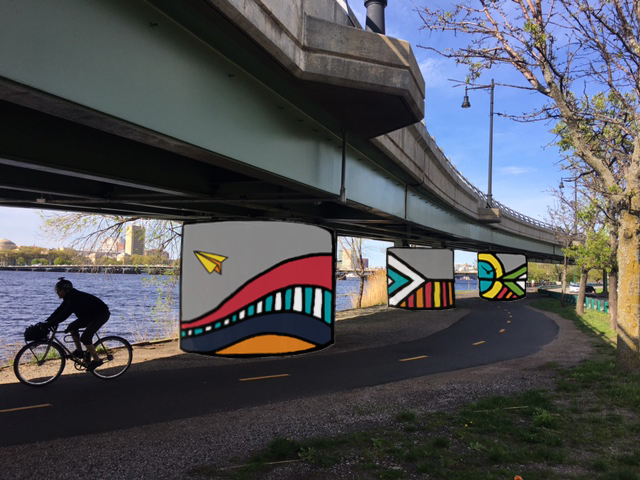 The press release indicates the mural will start as viewers approach from the east, "starting with swaths of color on the pillars and growing in detail and vibrancy into a crescendo on the 120'x13' wall facing the Charles River. Graphic elements such as a bike, arrows, paper airplanes and boats pack a visual punch and blend with playful designs to mimic the patterns created by our interaction with the space."
The project is not fully funded yet, though, so if you're interested in donating some cash to the beautification of the waterfront, you can. If you give $2,500 or more, you can view the completed art on a yacht with Chavez on September 5, which is how I personally always view art.
---
---