Free Things to Do in Boston, September 2017
Including a free day at the Isabella Stewart Gardner Museum, Somerville's annual Fluff Festival, and more.
---
SEE
Opening Reception: Reconfigure
This art opening is a part of SoWa's First Fridays. Works by painters Ariel Basson Freiberg and Lavaughan Jenkins focus on deconstructing the human form using paint to create the distorted images.
September 1, 6 p.m. – 9 p.m., Abigail Ogilvy Gallery, 460 Harrison Ave., eventbrite.com.
Museum
Frank Hatch Day
The Isabella Stewart Gardner Museum celebrates its annual Frank Hatch Day, in honor of longtime trustee Frank Hatch. Admission is free between 11 a.m. and 4 p.m., and it's coincidentally also the last time you can experience the sound exhibit the museum currently has, "Listen Hear: The Art of Sound." There will also be activities to be found in the galleries and performances in the courtyard.
September 4, 11 a.m.-4 p.m., Isabella Stewart Gardner Museum, 25 Evans Way, Boston, gardnermuseum.org.
MOVE
Dancing at Faneuil Hall
Learn something new at Faneuil Hall's Dance Nights this September. With nights dedicated to swing, salsa, and R&B, the night begins with a 45 minute, beginner-friendly class, followed by an evening of music to show off your new moves. Come with a partner, a group, or alone: All are welcome.
September 7, Swing Night, September 14, Salsa Night, September 21, R&B Line Dancing Night, 6 p.m. – 9 p.m., Faneuil Hall, faneuilhallmarketplace.com.
WATCH
Mayor Walsh's Movie Nights
This summer series wraps up in September with two last screenings of classic family films at the Frog Pond on Boston Common.
September 8 (Honey, I Shrunk the Kids), September 15 (Top Gun), 6:30 – 8:30 p.m., Boston Common Frog Pond, boston.gov.
LISTEN
New Politics
This concert, presented by ALT 92.9, is the final ALT Rocks Boston concert of the year. New Politics is a Danish rock group from Copenhagen, known for a blend of pop, rock, and "dance rock." So get dancing!
September 9, 11 a.m. – 5 p.m., SoWa Open Market, alt929boston.com.
CELEBRATE
The Boston Arts Festival
This annual showcase of Boston artists began in 2003, and showcases the best of visual and performance art in Boston. Also called the "ähts" festival for anyone who either has a Boston accent or wants to pretend to have one, it now brings around 50,000 visitors to Christopher Columbus Park each year.
September 9-10, 11:30 a.m. – 6 p.m., Christopher Columbus Park, thebostonartsfestival.com.
LISTEN
Jamaica Plain Music Festival
In its seventh year, this entirely free music festival highlights artists from the Jamaica Plain neighborhood in a two day, two stage, music extravaganza. According to Charles McEnerney, who does the marketing for the event, the festival is "Like a train: Once it leaves the station it keeps barreling towards the end." With almost nonstop music, a family-friendly interactive zone, and food trucks to keep you fueled, it certainly seems an apt comparison.
September 9, 12 p.m. – 7 p.m., Pinebank Field, jpmusicfestival.com.
CELEBRATE
Cambridge Carnival
Cambridge's largest festival returns for its 25th year, and it will be just as big and colorful as the years before. The Trinidad style Carnival celebration includes a costume parade, live music, traditional food, and Kids Fest—a separate festival within the larger one. "It's noise, but good noise, fun noise," says Nicola Williams, the president of the non-profit volunteer group that organizes the festival. "Our event, compared to other events, is more organic. It's for everybody."
September 10, 12 p.m. – 7 p.m. (parade 12:30), between Central Square and Kendall Square, cambridgecarnival.org.
WATCH
Documentary Screening: Let the Fire Burn
If recent events have made you want to gain a greater understanding of America's complicated racial dynamics, this documentary might be a good place to start. It tells the story of a standoff between police in Philadelphia and a black liberation group called MOVE in 1985.
September 14 + 21, 6 p.m. – 7:30 p.m., MIT List Center, 20 Ames St., listart.mit.edu.
LISTEN
MixFest
This free annual concert is held at Hatch Memorial Shell on the Charles River Esplanade. The concert is free, so long as you get there before they reach capacity. This year's headlining artists are Kelly Clarkson, Blondie, and Andy Grammer.
September 16, 11 a.m., Hatch Memorial Shell, mix1041.cbslocal.com.
PLAY
South Boston Street Festival
For the past eighteen years, two blocks of South Boston have shut down for their annual street festival. Started to highlight local South Boston businesses, the festival has grown each year and now has about 8,000 attendees. "We want to feature the best of South Boston merchants, restaurants, service providers, and artists," says Karen Stanley, who helped found the festival and continues to help organize it. "We open it up to the neighborhood to introduce our artists and others, and to remind people how much there is here."
September 16, 11 a.m. – 4 p.m., East Broadway (between I and L Streets) South Boston, southbostonstreetfestival.com.
SEE
Sleepless Make More: Art Opening
There's always something appealing about starting from a blank slate, isn't there? And that's just what the artists at this exhibit will do. For the 24 hours before the exhibit opens, they'll be building all their art from scratch, going from 5 p.m. one day to 5 p.m. the next. Starting at 3 p.m. on the second day, you can stop by to see how it's going.
September 16, 3 p.m. – 8 p.m., The Space Studio, 438 Somerville Ave., eventbrite.com.
MOVE
The Dance Mile

This interactive fitness event ends with a one-mile "dance parade," which is preceded by a Zumba warm-up at City Hall Plaza. The whole thing is soundtracked by DJs, who will move onto a special truck to lead the dancers in the parade.
September 17, 11 a.m. – 5 p.m., City Hall Plaza, eventbrite.com.
SEE
South End Open Studios
Check out the art of 200 artists with studio space in the South End, in the 31st year of this annual tradition. Local galleries will join the fun as well, and a free shuttle bus will help transport guests between studios. Maps of the studios will also be available at information tables around the South End (try the Boston Center for the Arts, for one).
September 16 – 17, South End, useaboston.com
TASTE
Boston Local Food Festival
More than 100 food vendors will descend on Rose Kennedy Greenway for the 8th annual Boston Local Food Festival. This festival focuses on both local chefs and local products, with vendors required to source the majority of their food supply locally. In collaboration with the Northwest Atlantic Marine Alliance, they produce the Seafood Throwdown, where two chefs have to cook a surprise seafood in a dish with local produce to be judged. Expect demos, music performances, and a family fun zone.
September 17, 11 a.m. – 5 p.m., Rose Kennedy Greenway, bostonlocalfoodfestival.com.
LISTEN
14th Annual Revels RiverSing
The Revels chorus bids farewell to summer with this concert. There will be some pre-show festivities, a puppet parade, and a folk band.
September 17, 5 p.m. – 7:30 p.m., Winthrop Park, Harvard Square, revels.org.
LEARN
Free Museum Day
The annual free museum day, run through Smithsonian magazine, returns. Print out a ticket using their site for free admission for you and a friend at a range of participating institutions. Boston examples include the Museum of Fine Arts, the Mary Baker Eddy Library, and the Museum of African American History, while the Harvard Art Museums over in Cambridge will also offer free admission. Check the site for more options, which appear across the state.
September 23, statewide, smithsonianmag.com.
CELEBRATE
New England Indonesian Festival
Gain a greater understanding of Indonesian culture with this festival, which promises cultural arts, live performances, and food.
September 23, 12 p.m. – 6 p.m., Copley Square, neindofest.com.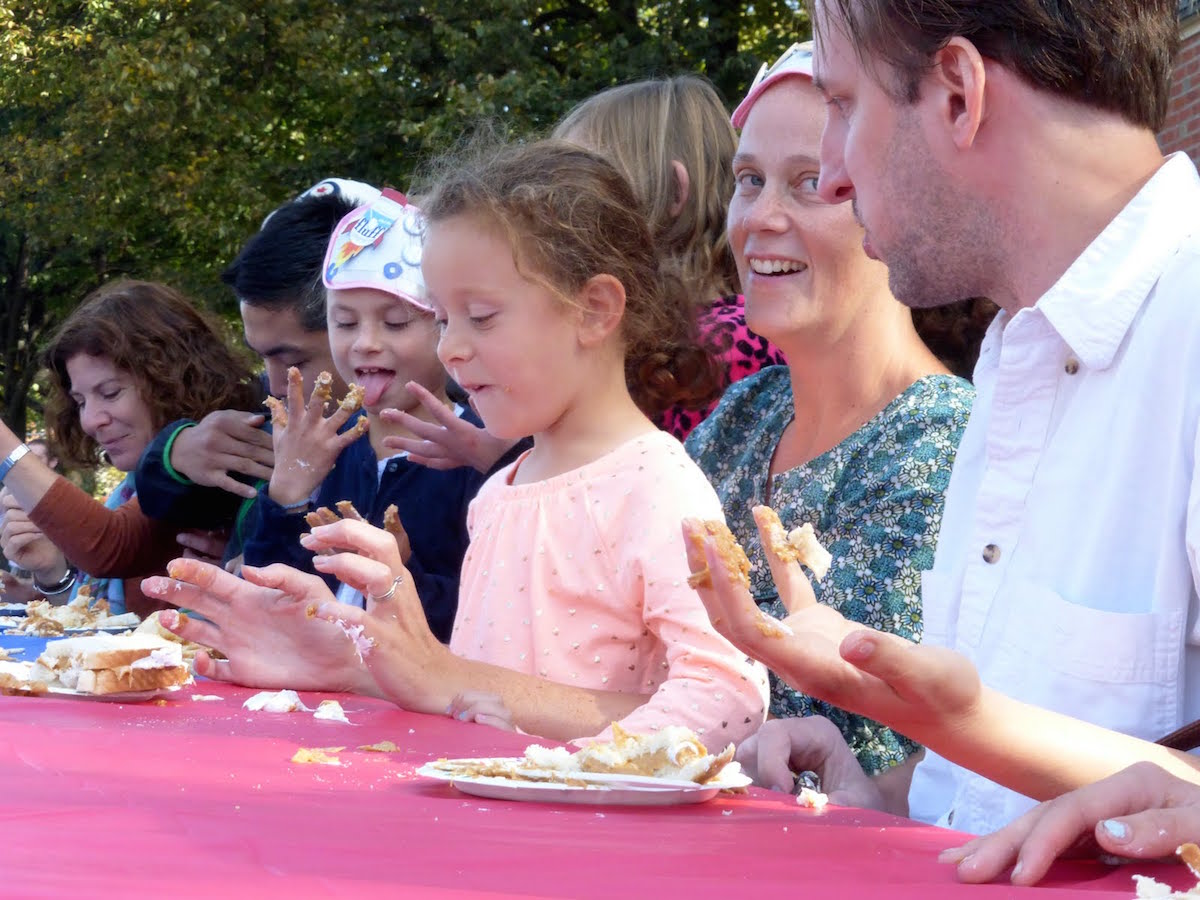 CELEBRATE
What the Fluff?
Though the Fluff Festival is still only in its 12th year, this year is the 100th anniversary of the invention of marshmallow fluff in Somerville, so the festival is bringing all things fluff, and then some, to the table. According to Esther Hanig, the Executive Director of Union Square Main Street, it will be full of "Truly fluffy shenanigans." This year they'll be hosting their annual cooking contest and awarding prizes for Best Future Chef, Most Retro Recipe, Most Inventive Recipe, and a Centennial Winner.

September 23, 3 p.m. – 7 p.m., Union Square, Somerville, flufffestival.com
PLAY
Allston Village Street Fair
Live bands, street performances, artists, and more are all in order for this annual family-friendly neighborhood festival.
September 24, 12 p.m. – 6 p.m., Harvard Ave. between Cambridge St. and Brighton Ave., allstonvillagestreetfair.com.
WATCH
Documentary Screening: CitizenFour
Whether you're a fan of Edward Snowden or you think he was wrong, if you want to know more about him, this might be the documentary for you. Director Laura Poitras interviewed him alongside journalist Glenn Greenwald to learn why he leaked confidential government secrets.
September 28, 6 p.m. – 8 p.m., MIT List Center 20 Ames St., listart.mit.edu.
LISTEN
Berklee Jazz Festival
This music festival takes over six blocks of Columbus Avenue for "Boston's biggest block party." Music is spread across three stages, which are interspersed with food, art, and activities. Though it's called a jazz festival, you can expect a mixture of jazz styles, plus Latin, blues, funk, and groove performances.
Columbus Ave (between Massachusetts Ave and Burke St), September 30, berklee.edu.
---