When Van Morrison Bunkered Down in Boston: A Conversation with Author Ryan Walsh
In his debut book, Astral Weeks: A Secret History of 1968, local musician and author Walsh details a history of the '60s counterculture in our town.
---
In 2015, Boston magazine published an entrancing, nostalgic feature called "Astral Sojourn," in which author Ryan H. Walsh wrote about a long-neglected moment in rock history. Back in 1968, Van Morrison had been trying to escape a record contract and a career of frustration in New York, so he came up to Boston, lived in Cambridgeport, and developed the song cycle that would form Astral Weeks, one of the most revered albums in rock history.
As Walsh delved deeper in the background of this seminal album in his life, he conducted interviews with the J. Geils Band frontman, Peter Wolf, who befriended Morrison back in the day; Janet Planet, Morrison's wife and muse at the time; legendary Warner Brothers executive Joe Smith; and even Carmen "Wassel" DeNoia, an aging "low-level" mobster who once broke a guitar over Morrison's head.
The tale was told with such grace that it caught the eye of Penguin Press, which offered Walsh a book deal to expand the story. His debut book, Astral Weeks: A Secret History of 1968, finally hits bookstores on March 6. Walsh has even recorded original music for the Astral Weeks audiobook, featuring guest stars like his wife, singer-songwriter Marissa Nadler; Morphine saxophonist Dana Colley; and Belly's Tanya Donelly.
As the frontman for the veteran local indie band Hallelujah the Hills, Walsh has a longstanding interest in Boston's musical history, and he had a particular fascination with Astral Weeks. After all, years ago, when he went on a first date with Nadler, she put that very album on the stereo at the end of the evening. They fell in love at first listen.
But Walsh's book has turned out to be much more ambitious than a dreamy anecdote fleshed out with more details of Morrison woodshedding future radio classics with local musicians in forgotten clubs around the city. Instead, the narrative is a vast tapestry of the counterculture and arts scene in Boston in the late 1960s, featuring other superstars who had crucial moments in our town, as well as many forgotten cranks and eccentrics, all woven together in a seamless narrative.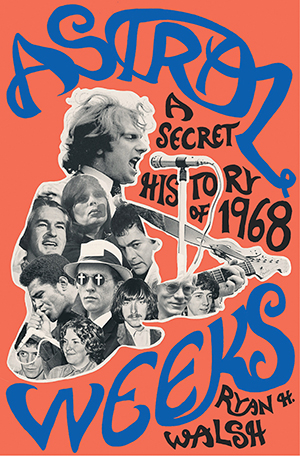 "Penguin loved the original story," Walsh says, "and I did the whole book pitch on blowing this one story out, but it wasn't quite exciting enough. Then when we looked at what it would be like to cover that whole year in Boston's counterculture scene, we revealed new things and connections that blew me away, and soon I was off to the races."
Indeed, after starting the book with the Morrison story, Walsh takes the book through many surprising anecdotes involving now-legendary figures in that one big year. Lou Reed and the Velvet Underground, for example, were always more famous as a New York band, but in fact they were basically a resident live act up here, and inspired a young fanboy named Jonathan Richman to start his musical career. After Martin Luther King Jr.'s assassination, James Brown agreed to have his concert at the Garden broadcast so as to calm Boston and prevent the riots that plagued so many other American cities. The year 1968 also saw the launch of FM pioneer WBCN, as well as WGBH's era of producing wild, avant-garde TV shows.
One common thread running through the whole book is the mysterious commune led by messianic folkie Mel Lyman. An acclaimed banjo player back in the 1960s who even headlined the Newport Folk Festival with the Jim Kweskin Jug Band, Lyman soon developed a reclusive commune in Roxbury, called the Fort Hill Community. Members of the group hung on Lyman's every word, and because most of them were artists and musicians, they were involved in many aspects of the Boston culture scene.
They seemed to have their hands in every venture, from short-lived rock clubs in the Back Bay; to the controversial alternative newspaper, Avatar, deemed obscene by local authorities; and even to actor Mark Frechette, who famously was the lead role of a revolutionary hippie in Michelangelo Antonioni's film Zabriskie Point.
Lyman's group was always in the news back in the day, and hence its members feature in most chapters of Walsh's book in some capacity…that is, until a disastrous 1971 Rolling Stone cover story portrayed them as distinctly cult-like. Though the community still exists here in Boston, it shrank completely from public view with Lyman's reported death in 1978.
"I was first interested when I read a quote where they said back then that they wanted to create 'the most beautiful music ever known,' and I write about how they failed at that," Walsh says. "That exposé ruined them, and now this compelling, strange figure is gone and forgotten. Members of the community hadn't spoken to journalists in decades, so I was surprised to learn they were still there in Roxbury and would talk to me."
And then there is a chapter on "The Bosstown Sound," perhaps the most notorious marketing failure in the music industry, where unrelated bands like the crazily psychedelic Ultimate Spinach, the folk-pop Orpheus, and the garage rockin' Beacon Street Union were disastrously packaged together by MGM Records. The goal was to compete with the hype around the close-knit San Francisco music scene, where bands like the Grateful Dead and Jefferson Airplane produced raw, experimental, and yet accessible music.
But here in the Bosstown Sound, none of the bands knew each other, and there was no cohesive sound that the city offered. Even worse, the bands' music was rearranged by outside producers in a vain attempt to mainstream it, thus creating albums that alienated even the musicians whose names were on the records. The national music press mocked the desperate hype and the goofy moniker, so when their albums hit the shelves, their sales sank like a stone.
"I got out of BU in 2001 and was in a lot of bands," says Walsh. "I just felt for these kids, all just 20 years old with dreams falling apart thanks to a comedy of errors. I mean, you have a corporate accountant telling the Ultimate Spinach guitarist how long a solo is going to be. I spent a lot of time talking to these people who are now in their 70s, and some look back fondly and some still hold grudges, but I think with most people I would often catch that spark and they seemed young again."
Indeed, such failures meant that so many of these tales and trends never attained national renown like Haight-Ashbury and Flower Power, but that's what makes them so fascinating and startlingly fresh.
"Struggling and striving is more interesting for me to write about than a band riding around in their excess," Walsh says. "I mean, I'd rather write about Ultimate Spinach than Aerosmith."
To celebrate the publication of Astral Weeks, Ryan Walsh will talk about his new book with former Boston editor Carly Carioli at Brookline Booksmith on March 6 at 7 p.m. Mayor Marty Walsh has also declared Tuesday to officially be Astral Weeks day in Boston.
---