Spring Arts Preview 2018
Twenty-seven can't-miss books, movies, exhibits, shows, and more. —Edited by Matthew Reed Baker
---
APRIL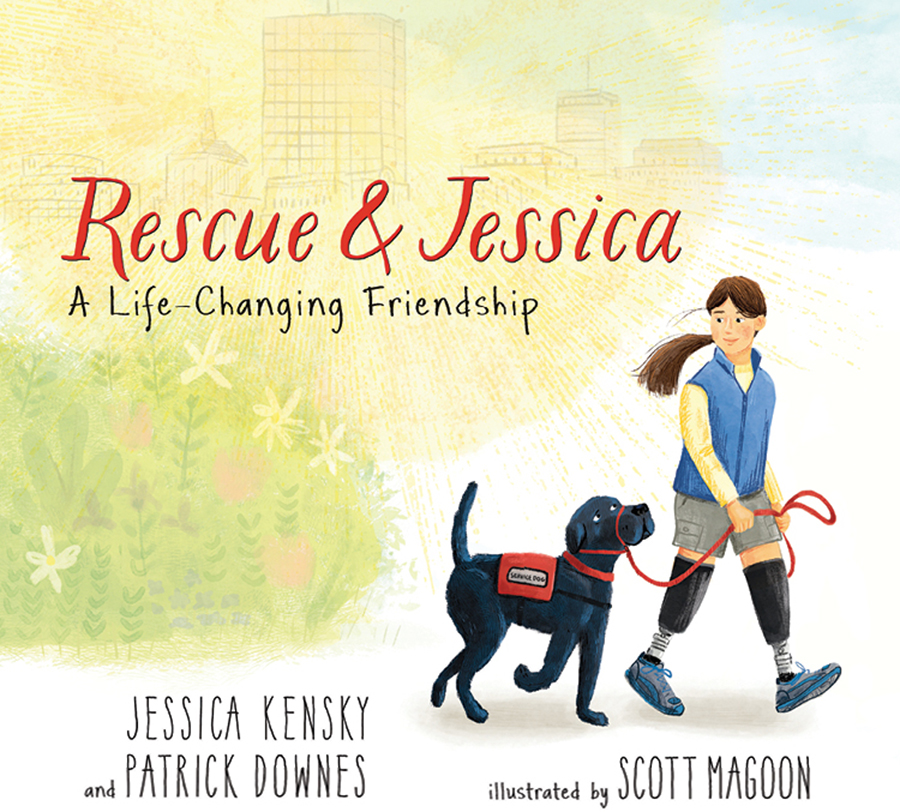 BOOKS
Rescue & Jessica: A Life-Changing Friendship
What do you do when you have to start over? That's the question behind Rescue & Jessica, in which co-author Jessica Kensky tells the true story of adjusting to life after losing her legs post–Boston Marathon bombing. Illustrated by Reading's Scott Magoon, the book explores Kensky's bond with her service dog, Rescue, who stays at her side while she learns how to manage her new life. "Rescue has buoyed me in a way that another human just couldn't do," she says. "I can't imagine not having him."
But of course, it's much more than a woman's-best-friend tale. "We realized that we had this really cool opportunity to have a conversation with kids about people with disabilities," says Patrick Downes, Kensky's husband and co-author, who also lost one of his legs in the bombing. "When it's hot out and we're wearing shorts—so kids see our three prosthetic legs with Rescue in his vest—we can always see that their brains [are just full of] questions, so we found a way to engage them." And they've found that their black Lab has been the cuddliest way to break the ice. As Magoon puts it: "To know Rescue is to love Rescue."
Out April 3, $17, Candlewick Press.
—Alene Bouranova
COMEDY/SCREEN
Chappaquiddick
The biggest scandal of the Kennedy era gets the Hollywood treatment: Australian actor Jason Clarke stars as a young Ted Kennedy, with Kate Mara as the doomed Mary Jo Kopechne in the passenger's seat.
Out April 6
Women in Comedy Festival
Headlined by One Mississippi star Tig Notaro, this annual showcase features some 200 local and national performers doing improv, standup, and sketch comedy in venues around town.
April 19–22, wicf.com.
FINE ARTS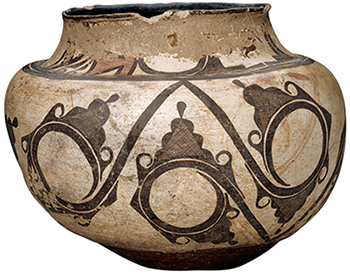 "Collecting Stories: Native American Art"
The first in an ongoing series of MFA exhibitions focusing on artistic movements that shaped American identity, this survey homes in on the late 1800s, when scholars set out across North America to learn about Native American culture.
April 14–March 20, 2019, Museum of Fine Arts, 617-267-9300, mfa.org.
Gordon Hall
A Boston native and Hampshire College alum, Hall has exhibited around the country and in Europe, crafting stark sculptures and performing with them. Now the artist returns home to MIT for a debut solo institutional exhibit.
April 17–May 20, MIT List Visual Arts Center, 617-253-4680, listart.mit.edu.
MUSIC
Justin Timberlake
JT comes to Boston for a two-night stand, promoting his new album Man of the Woods. While he's here, perhaps he'll reunite with Scituate's Ryan McKenna (better known as the Super Bowl Selfie Kid).
April 4–5, TD Garden, 800-745-3000, tdgarden.com.
Gretchen Parlato
The Grammy-nominated jazz diva who's sung with such titans as Wayne Shorter and Esperanza Spalding will fill the Gardner's Calderwood Hall for one night only. Recent Berklee alum Mirella Costa opens the evening with a set of sultry Brazilian tunes.
April 17–May 20, Isabella Stewart Gardner Museum, 617-278-5156, gardnermuseum.org.
THEATER/DANCE
"Limitless"
Beyoncé choreographer Darrell Moultrie debuts a new work at this spring dance concert, where our city's top dance students leap to a repertoire featuring music by hip-hop producer Hank Shocklee and Philip Glass.
April 19-22, Boston Conservatory Theater, 617-912-9222, bostonconservatory.berklee.edu.
Top Girls
In this 1982 play by Caryl Churchill, protagonist Marlene scores a dream job at the Top Girls employment agency, then somehow stages a celebratory dinner with famous women throughout human history—a surreal satire that still has a sharp bite today.
April 20–May 20, Huntington Avenue Theatre, 617-266-0800, huntingtontheatre.org.
Courtesy Candlewick Press (book); Courtesy Museum of Fine Arts (pottery); Getty Images (Timberlake)
---
MAY

FINE ARTS
Alicja Kwade
Upon learning that Ipswich's Crane Estate once had a hedge maze, Pedro Alonzo knew he'd found his next project. To revive the concept for conservation nonprofit The Trustees' "Art and the Landscape" initiative, he enlisted Polish sculptor Alicja Kwade, who uses mirrored images and duplicated objects to play with perceptions of time, science, and space. "She's like a virtuoso of material and forms," Alonzo says. For this installation—Kwade's first solo public art commission in the U.S.—she's taking an abstract approach in her tribute to the estate's former topiary labyrinth.
After bringing Os Gemeos to the Greenway and Shepard Fairey to the Seaport, Alonzo, a former Institute of Contemporary Art curator, is excited to breathe new life into historical sites with The Trustees: "It's really hard to see public sculpture like this in the United States," he says. "To have an organization that's committed to it, it's fantastic."
Opens May 19, Castle Hill on the Crane Estate, thetrustees.org.
—Casey Russell
Kevin Beasley
Beasley ransacks unsuspecting closets for T-shirts, socks, and even kaftans, then shapes and hardens them with resin, often embedding them with microphones and amplifiers. The results: ghostly figures fashioned from empty garments, and sneaker sculptures that record and retransmit the ambient sounds of the gallery.
May 9–August 26, Institute of Contemporary Art, 617-478-3100, icaboston.org.
"Playtime in the Making"
Playtime isn't just for kids. This installation highlights the role of play in craftsmanship. Inspired yet? Stoughton's Derek Diedricksen, star of HGTV's Tiny House Builders, is constructing an indoor playground adjacent to the exhibition.
May 19–September 16, Fuller Craft Museum, 508-588-6000, fullercraft.org.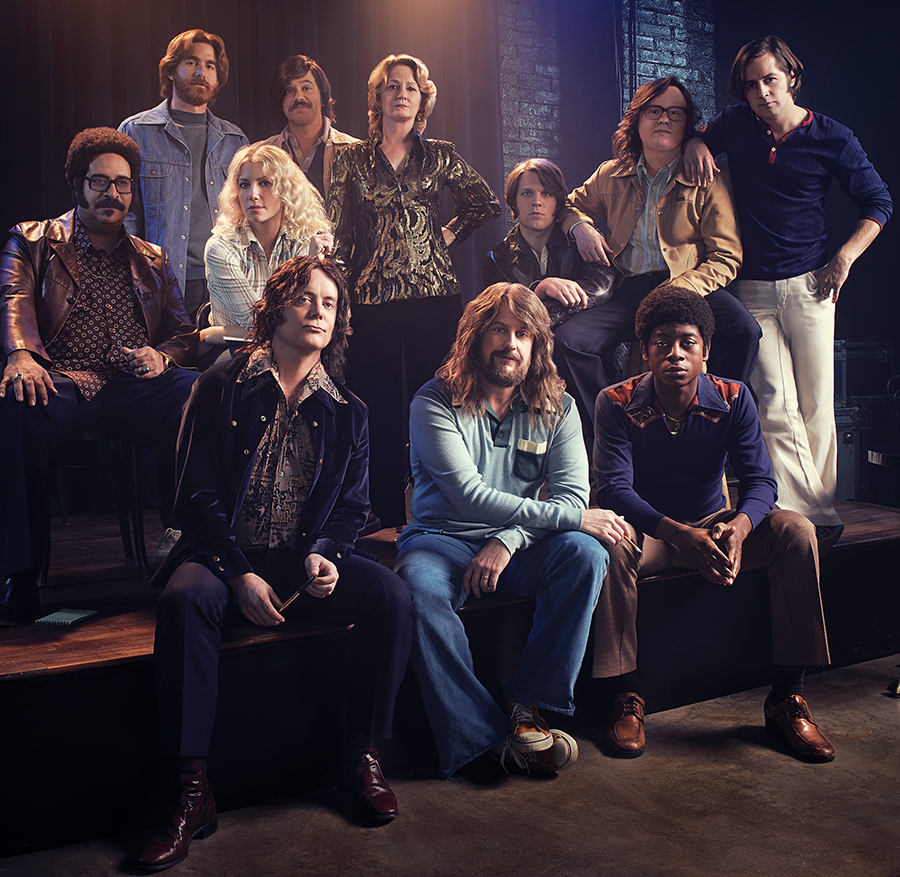 COMEDY/SCREEN
I'm Dying Up Here
Tune in for the second season of this Showtime series about the 1970s comedy scene on L.A.'s Sunset Strip, where struggling funny folk try to make it big. Playing the ambitious joker Cassie is Wellesley native Ari Graynor, who herself broke into feature films with Mystic River.
Starts May 6, sho.com/im-dying-up-here.
Wayne Brady
This TV and Broadway star is famous for excelling at everything from standup to musical theater. Now he's touring in an engaging, hilarious one-man revue.
May 19, The Wilbur Theatre, 617-248-9700, thewilbur.com.
MUSIC
The Breeders
Former Pixie Kim Deal is now just as famous for her own band, which reunited in 2012 with the classic "Cannonball"-era lineup. This month, they return in support of their new album, All Nerve.
May 4, House of Blues, 888-693-2583, houseofblues.com/boston.
Boston Calling
Among the highlights of this year's annual extravaganza: Eminem, the Killers, Queens of the Stone Age, Khalid, and Vladimir Putin's least-favorite band, the Russian punk-rock protesters Pussy Riot.
May 25–27, Harvard Athletic Complex, bostoncalling.com.
THEATER/DANCE
Jagged Little Pill
In this world premiere from the ART, Diane Paulus directs a musical based on the iconic, "Ironic" bestselling Alanis Morissette album from 1995. So put one hand in your pocket and take out your wallet now, because you oughta know this must be heading to Broadway.
May 5–June 30, Loeb Drama Center, 617-547-8300, americanrepertorytheater.org.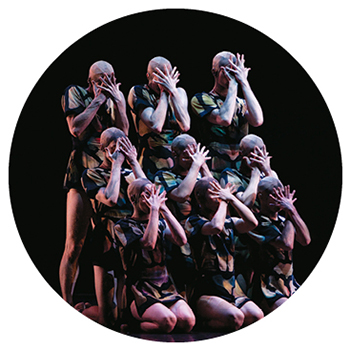 "Classic Balanchine"
Boston Ballet is one of the world's foremost interpreters of the great choreographer George Balanchine, and this spring it performs a trio of his masterful works.
May 17–June 9, Boston Opera House, 617-695-6955, bostonballet.org.
Courtesy CBS (I'm Dying Up Here); Courtesy The Trustees of Reservations (sculpture); Boston Ballet/Rosalie O'Connor
---
JUNE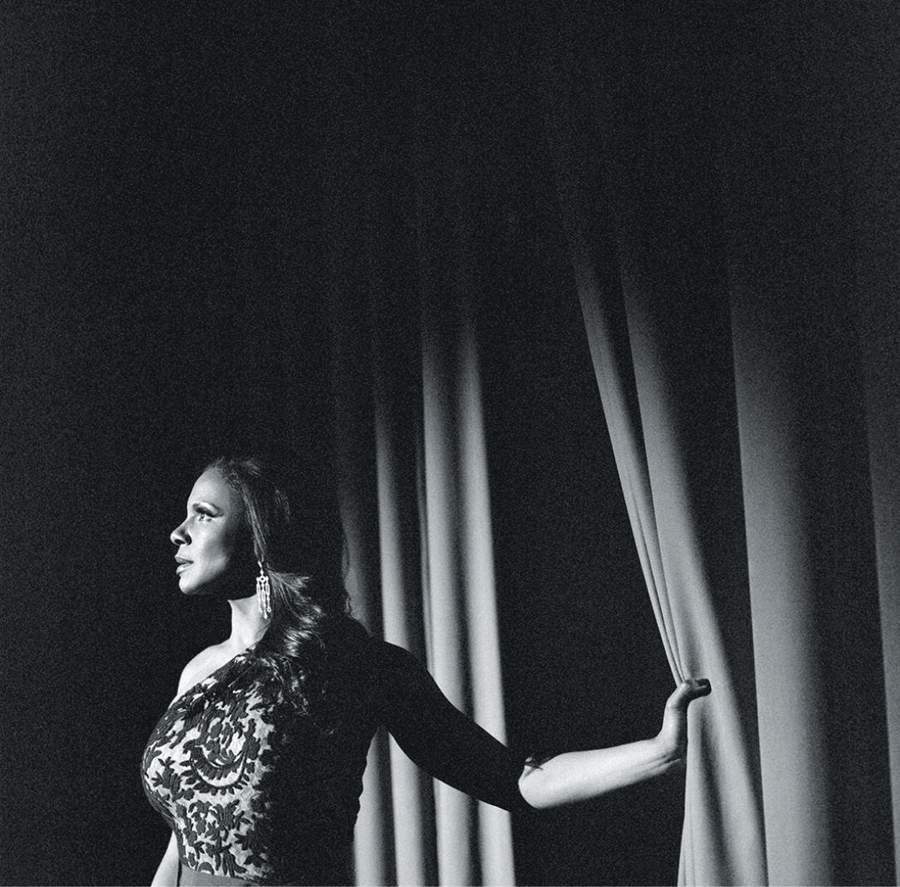 MUSIC
Audra McDonald
Broadway icon Audra McDonald heads to Tanglewood with the Boston Pops for a memorable evening in the Koussevitzky Music Shed. The winner of a record-breaking six Tonys (as well as two Grammys and an Emmy), McDonald lends her megawatt star power to tunes by the likes of George Gershwin and Richard Rodgers.
This summer concert marks a highly anticipated return to Massachusetts for the songstress: McDonald spent several months in Cambridge in 2011 originating the revamped role of Bess in the American Repertory Theater's acclaimed new production of The Gershwins' Porgy and Bess. Her favorite memory of her time in New England? Grabbing a slice at Otto Pizza. "[Costar] Norm Lewis and I would try desperately to walk by it without going in on our way home after the show, but we failed night after night," she says. After an evening spent belting out standards from the Great American Songbook, a special delivery of a mango-and-pulled-pork pie will be well deserved.
June 24, Tanglewood Music Center, 888-266-1200, tanglewood.org.
—Alene Bouranova
U2
The iconic rockers return for two arena shows that promise to be as visually and musically astounding as their previous tour.
June 21–22, TD Garden, 800-745-3000, tdgarden.com.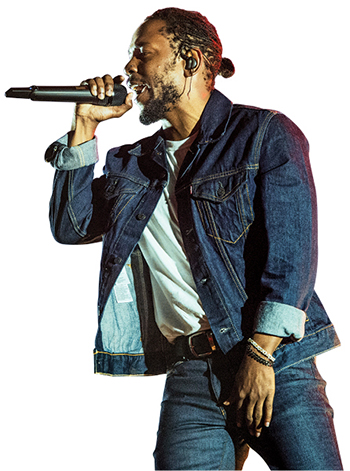 Kendrick Lamar
Hot DAMN., judging from Lamar's fiery Grammys performance, this show should be a scorcher. One of the world's most important hip-hop artists, he arrives in Mansfield to spit his latest hits and deep cuts off his landmark To Pimp a Butterfly.
June 5, Xfinity Center, 800-745-3000, livenation.com.
COMEDY/SCREEN
Deon Cole
Best known as Anthony Anderson's eccentric coworker Charlie on Black-ish, Cole originally made his name as a writer for Conan O'Brien—and turns out, he's a riotously funny standup comedian, too.
June 16, The Wilbur Theatre, 617-248-9700, thewilbur.com.
Uncle Drew
Spawned from those wildly popular Pepsi Max ads, this comedy revolves around an elderly hoopster who can still crush his competition on the court. How does he stay so damn good? Perhaps because Uncle Drew is played by none other than Celtics star Kyrie Irving.
Out June 29, uncledrew.movie.
FINE ARTS
"Nam June Paik: Screen Play"
This video-art pioneer bends minds with repurposed televisions and warped pixels. Drawn entirely from Harvard's collections, the survey includes two avant-garde works Paik made at WGBH in the '60s and '70s.
June 30–August 5, Harvard Art Museums, 617-495-9400, harvardartmuseums.org.
"Sally Mann: A Thousand Crossings"
For decades, Mann has been one of the most influential and yet mysterious photographers in America, her work filled with images of children, decay, and ghostly southern landscapes. Now, the PEM hosts her first major traveling exhibition.
June 30–September 23, Peabody Essex Museum, 978-745-9500, pem.org.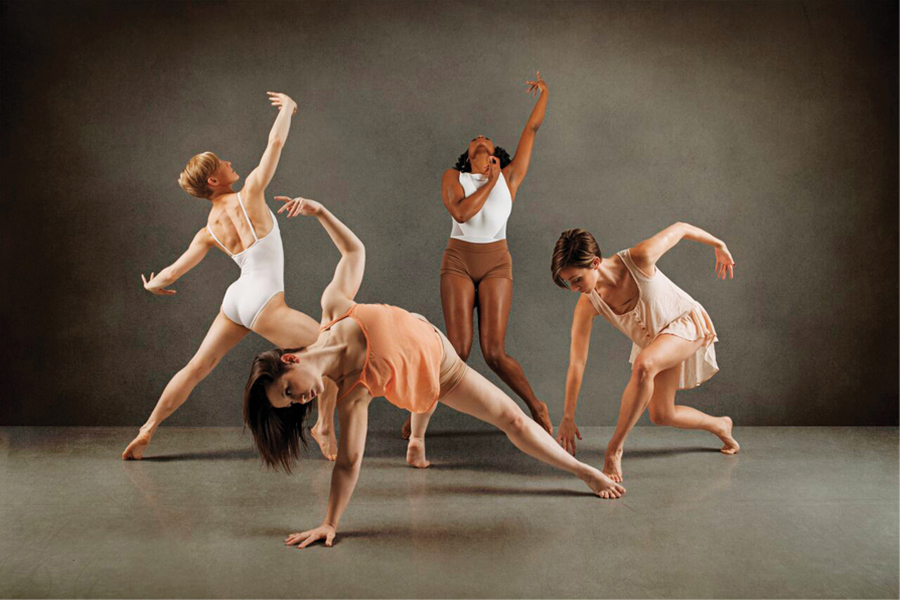 THEATER/DANCE
"F=ma"
Force equals mass times acceleration: Newton's second law of motion is a truly apt name for Urbanity Dance's spring revue—an ambitious slate by an all-female cast of choreographers.
June 1–2, Tsai Performance Center, urbanitydance.org.
Mame
This madcap musical about the Roaring Twenties keeps getting revived on Broadway and in the West End, and now it's playing in the round here in Beverly.
June 5–17, North Shore Music Theatre, 978-232-7200, nsmt.org.
Tanglewood/Autumn de Wilde (McDonald); AP Images (Lamar); Courtesy Urbanity Dance
---