Seven Can't-Miss Events in Boston, May 2018
Including Boston Calling, Boston Ballet's The Sleeping Beauty, and more.
---
FESTIVAL
Boston Calling
The latest installment of this massive music fest is shaping up to be the best yet—and not just because of its killer lineup. Last year's inaugural run at the Harvard Athletic Complex may have shown the growing pains that come with expansion, but this time around, festival organizers promise improved WiFi and cellular service, shorter lines, and even more food and drink vendors.
And oh yeah, the lineup. Boston Calling always draws big names, and the roster this Memorial Day weekend is no exception: St. Vincent; Fleet Foxes; Portugal. The Man; Pond; Tyler, the Creator—and seriously high-profile headliners the Killers (Friday), Jack White (Saturday), and Eminem (Sunday). As usual, the festival also features standup acts—including Jenny Slate—plus, new this year, a long-anticipated film experience curated by Natalie Portman. Sure, single-day tickets are available, but with a bill like this, why not go all in?
May 25–27, Harvard Athletic Complex, bostoncalling.com.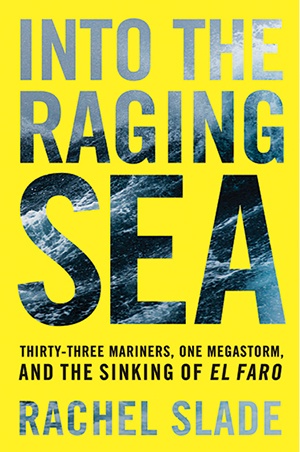 BOOKS
Into the Raging Sea
For her book debut, Boston magazine alum Rachel Slade recounts the sinking of the container ship El Faro, which vanished into the heart of a hurricane in 2015. To reconstruct the ship's final 24 hours, Slade mined the Faro's data logs and interviewed maritime experts and crew members' friends and family, ultimately crafting what Ben Mezrich calls "A Perfect Storm for a new generation."
Out May 1, $28, HarperCollins, harpercollins.com.
MUSIC
Opening Night at Pops with Andy Grammer
The Boston Pops kick off the season with multiplatinum star Andy Grammer, known for such hits as "Keep Your Head Up" and "Fine by Me." Under the graceful wrist-snaps of Keith Lockhart, the Pops pair Grammer's Top 40 tunes with timeless works by Leonard Bernstein in celebration of the late composer's 100th birthday.
May 9, Symphony Hall, 888-266-1200, bso.org.
COMEDY
Banned in Boston 2018
Head to the Fenway for an evening of cocktails and comic antics, all for a good cause. Urban Improv's annual arts fundraiser features standup routines and musical numbers from dab hands and dilettantes alike—you can expect everyone from rock stars to local politicos to hop onstage.
May 11, House of Blues, 888-693-2583, rehearsalforlife.org/banned-in-boston.
DANCE
The Sleeping Beauty
Boston Ballet's performance of the Tchaikovsky classic promises to be as magical as the fairy tale itself. Watch as company dancers transform into the lovely Aurora, the heartthrob prince Desire, and the cunning fairy Carabosse—all set to that timeless score.
May 11–19, Boston Opera House, 617-695-6955, bostonballet.org.
SCREEN
"Math, Mind, and Memory: The Films of Christopher Nolan"
M.C. Escher's mind-bending works have inspired countless creatives—including director Christopher Nolan, the mastermind behind such head-scratchers as Inception and Interstellar. To celebrate Escher's "Infinite Dimensions" exhibit (on view until May 28), the MFA screens a retrospective featuring nine of Nolan's trippy films.
May 16–31, Museum of Fine Arts, 617-267-9300, mfa.org.
FINE ARTS
"Diary w/o Dates"
Canadian artist Allison Katz brings her first-ever U.S. solo institutional exhibition to Cambridge. Katz's art tends to pose questions of the existential variety—and here, she tackles the concept of time itself. This 12-painting series takes inspiration from the French Republican Calendar, which was instituted during the Revolution but abolished by Napoleon.
May 18–July 29, MIT List Visual Arts Center, listart.mit.edu.
---