What It's Like to Be a Florist During the MFA's Art in Bloom Festival
We tagged along with floral artist Joseph Massie on a trip to the New England Flower Exchange.
---
It's 5:53 a.m. on a rainy Wednesday morning at the New England Flower Exchange. Grey clouds loom eerily above the brick warehouse in Chelsea. The forecast, paired with the industrial setting, makes it hard to believe there are hundreds of brightly colored blossoms waiting inside.
I enter through two large automatic doors to wait for Joseph Massie, a renowned British botanical artist. He's here in Boston to participate in the Museum of Fine Art's Art in Bloom, an annual festival that invites florists to create arrangements based on works of fine art. On Saturday, April 28, Massie will debut his highly anticipated arrangement in the museum's lower rotunda, made from flowers sourced from Chelsea's Flower Exchange.
Looking around the market, I see endless rows of yellow and black buckets filled with roses. Beside them, crates carry Gerbera daisies of every color of the rainbow. I feel under-dressed in the black bell-sleeved top I'm wearing—it's a bit drab compared to these vibrant hues.
Vendors and customers are bustling around and—given it's barely 6 a.m.—seem to be wide awake. One Flower Exchange flower processor, Andre Stpink, stands in the back corner, taping up paper around a bouquet.
"I get up at 3 a.m. every morning, and then we start at 4 a.m.." he says. "The large vendor trucks come mostly every day, and most flowers come on Sunday and Wednesday."
As I try to take it all in—staring in awe at the stark contrast between the bright blue hydrangeas and the industrial warehouse floors—Massie arrives at 6:10 a.m, ready to sift through the piles and piles of flowers. He looks around eagerly, clearly excited to immerse himself in the process of flower-picking.
---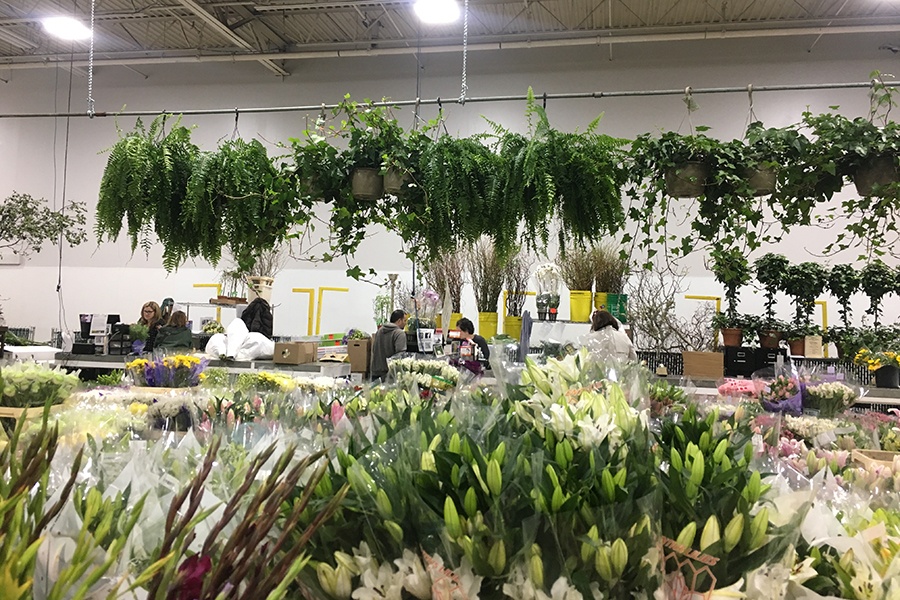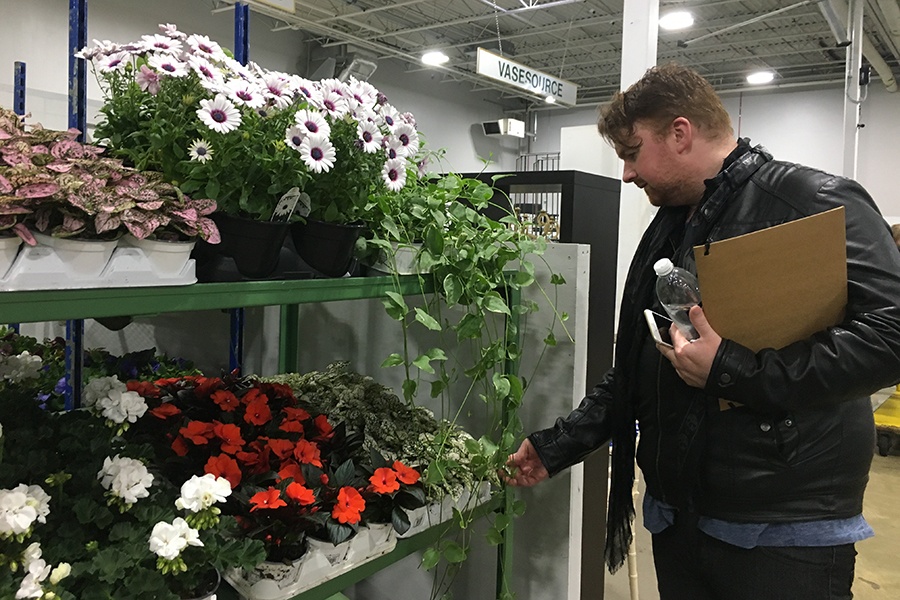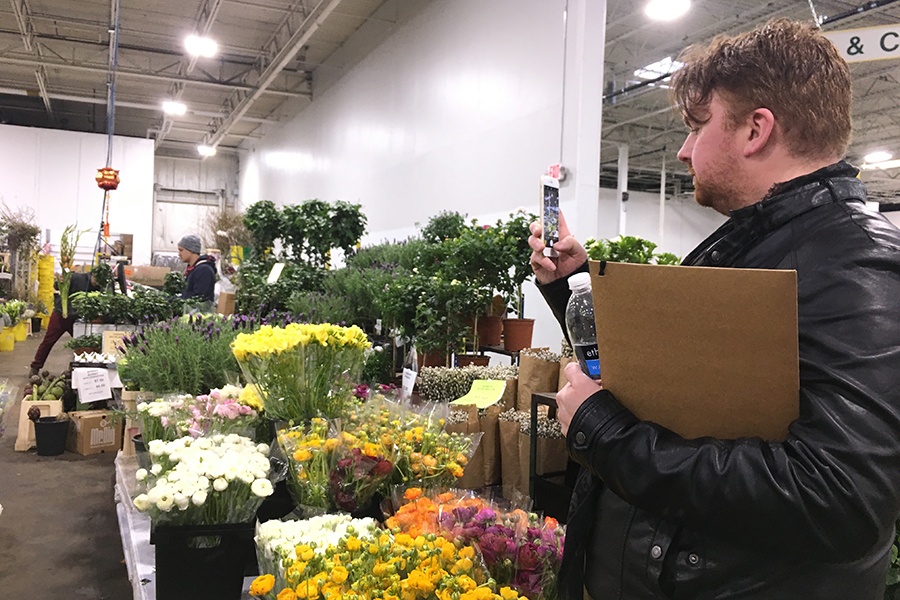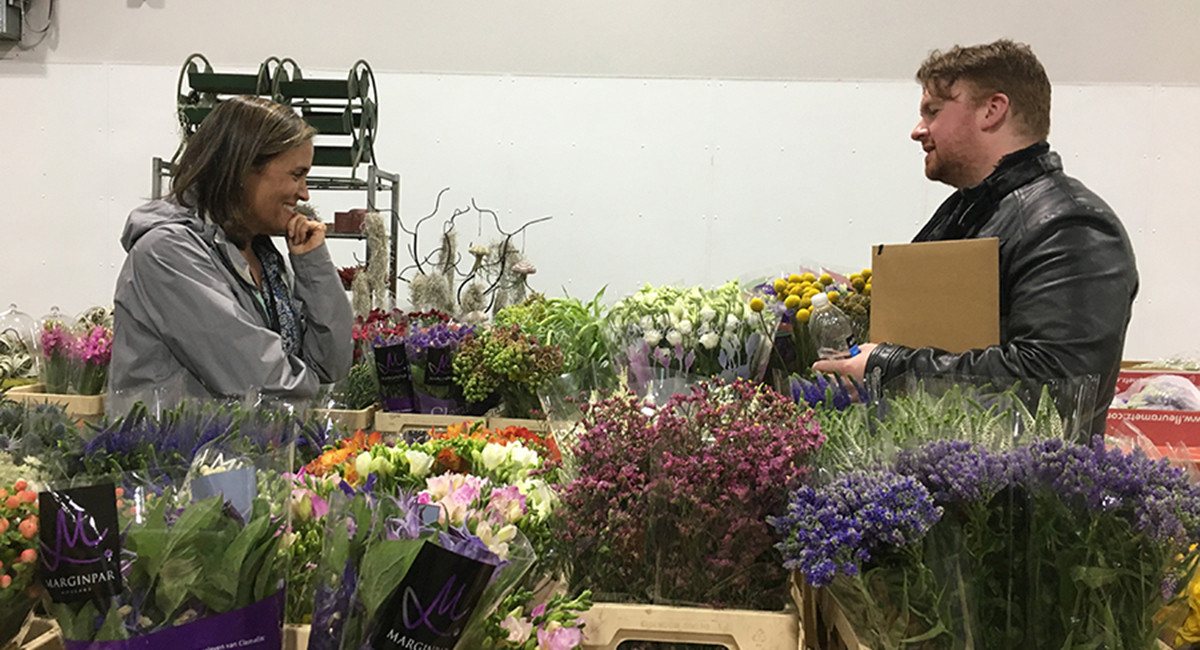 At Art in Bloom, Massie will put his five consecutive Gold Medals at England's RHS Chelsea Flower Show to the test. (He's also teaching a few classes at the MFA and presenting an "Art of Classic and Contemporary Floral Design" lecture.) Massie says he's most excited for the signature installation he's assembling in the museum's airy rotunda, which will be accented with seven pedestals.
"The installation is a sculpture piece with a lot of stems," he says. "It features white pear branch. They blossom when they open, so we have to get it a few days before."
While most of the plants Massie needs have already been ordered from the Flower Exchange—including the white pear branch—Massie tells me the purpose of the trip this morning is to purchase some finishing touches.
As I follow behind him, making my way through the small spaces in between rows of flowers, I ask him why he decided on using mostly white petals.
"The museum is going to be so busy with so much color," Massie says. "My work in general—I try to be true to the space I'm working with. The lighting of [the rotunda] is clean, so we decided to go with the white, pristine theme."
As we peruse the warehouse, three MFA volunteers who create the museum's flower arrangements throughout the year assist Massie by introducing him to vendors and offering up opinions on different blooms.
We walk to the far corner of the building, and Massie picks up a bunch of begonias in a light brown pot. One volunteer points out a slight brown spot on one of the flower's delicate petals. Firmly gripping the pot, Massie seems to love the bunch despite its slight flaw.
"I'll make it work," he says, handing it to the volunteers to load up in the car for his arrangement.
Throughout most of the morning, Massie holds, clutched in his right hand, a cardboard-colored portfolio, which contains sketches for the installation. As we navigate the flower-filled market, Massie occasionally pauses to glance at his design book before he decides on including any particular bunch.
As he scans the floor looking for blooms to complete his bouquet, he picks up flowers at random—and with more enthusiasm than the other shoppers. Sometimes he makes a purring noise at the flowers, and other times he exclaims "so pretty!" Then, he scoops up a bunch of boronias, and gestures for us to smell it.
"They put this scent in perfume," Massie says. "When they say perfumes have a 'woody' smell, it's boronia."
---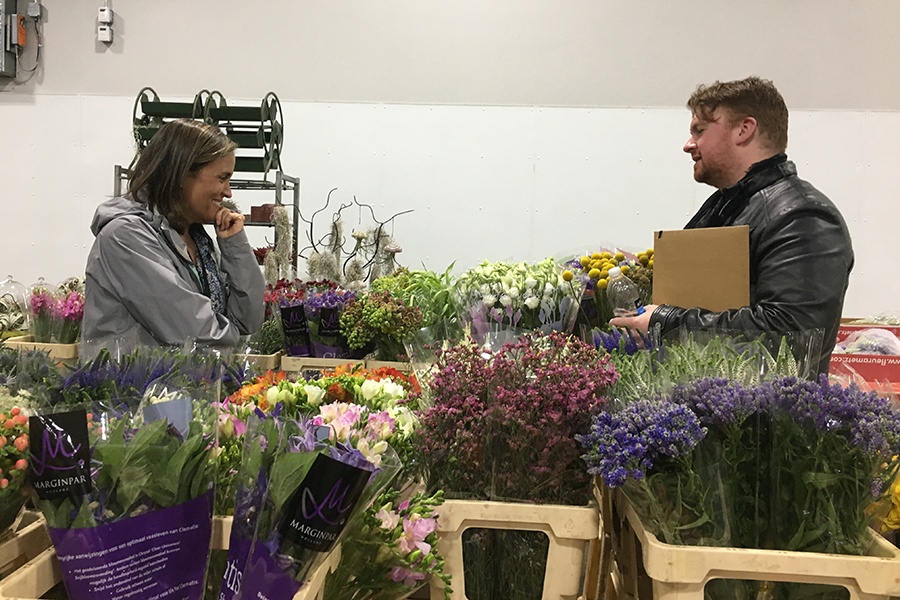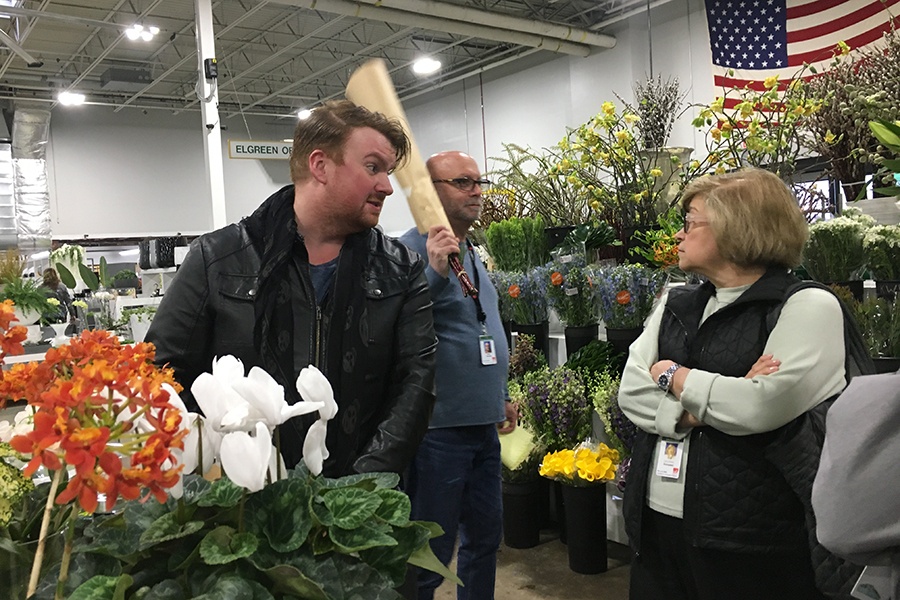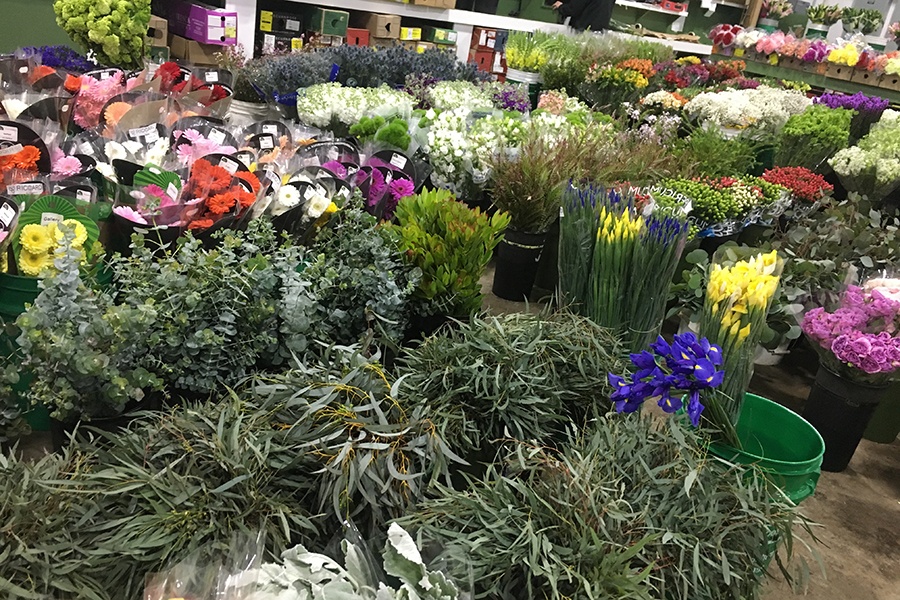 Judging from the way Massie gushes over bunches of ranunculus, roses, and boronias, it's evident that he and flowers go way back.
"When I was 14, I wanted a Saturday job, and in the UK you have to be about 15 and a half, I think," he explains. "So I went around, and everywhere was like 'You're too young.' And the only place to hire me was the local flower shop."
The Liverpool shop was the place where Massie, now 30, learned how to make bouquets. He continued on this path a few years later, attending St. Helens College in Liverpool as a horticulture student. For about 14 years, he's honed his craft, and continues to refine his botanical couture process at his flower studio, Joseph Massie Flowers, and the flower school he established, UK School of Floristry.
"I like to think that the work that we do is usually three makings. We try and make it as contemporary as possible. It's usually quite luxurious in the sense that I like using unusual flowers or ones that are more difficult to source," he says. "And then we always try to put a little bit of heart or poetry or something that's a little bit unusual in the design."
Soon, Massie's helpers begin efficiently loading the car with the leafy purple and white blossoms he's chosen. He takes out the sketchbook that's been cradled at his side, glancing at it once more to make sure he has everything he needs. Next, Massie will start preparing his installation for Art in Bloom. The whole arrangement will be finished by Friday, just in time for visitors to marvel at the sight on Saturday.
Bidding farewell to Massie, I exit the warehouse. It's only 7 a.m.—and still raining. I step on a few damp, stray petals scattered on the pavement. I can't wait to see the rotunda.
---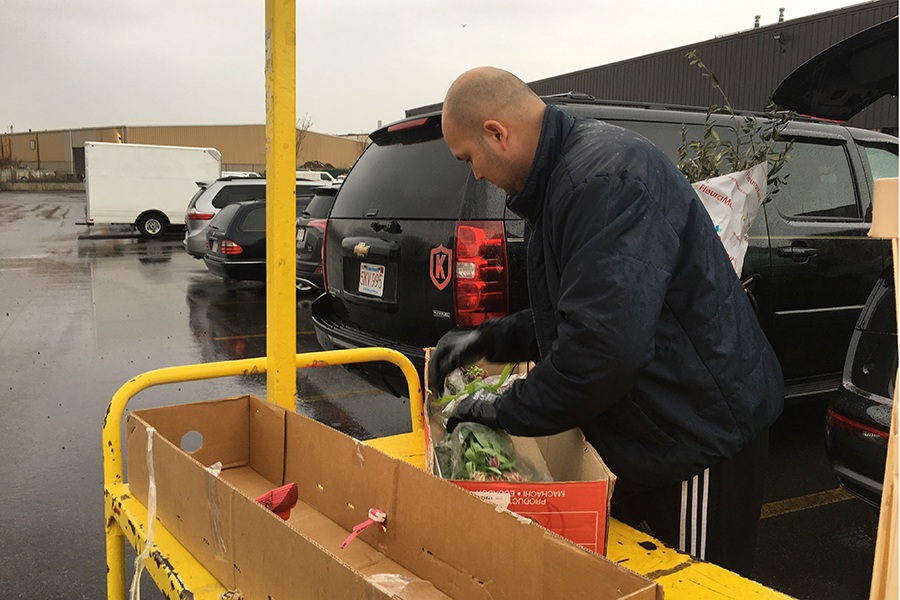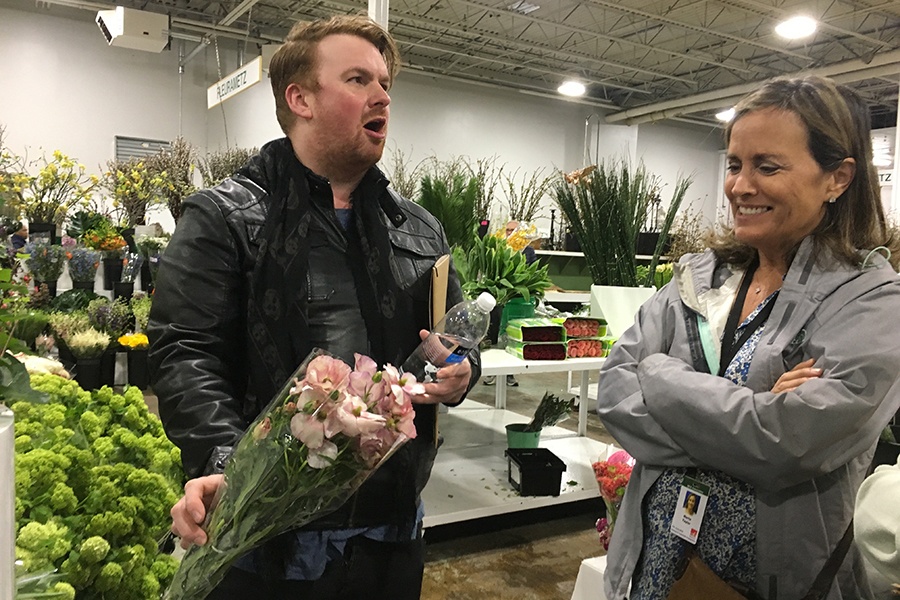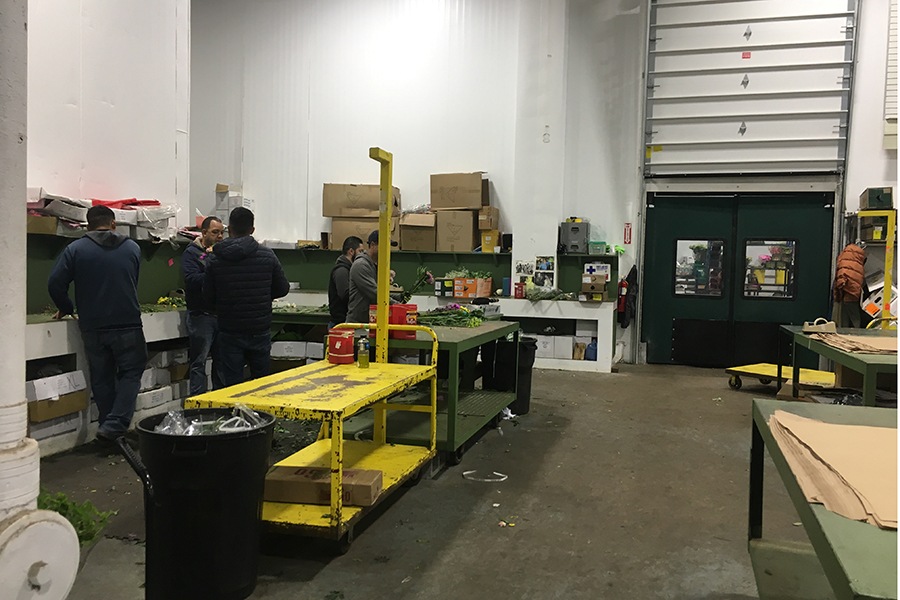 ---