News
18 Things We Can't Wait to Do This Spring and Early Summer
A highly subjective list of the concerts, festivals, exhibits, plays, and experiences you shouldn't miss this season.
---
APRIL
1. Catch the biggest wave in Japanese art.
Katsushika Hokusai may have been an important artist in the 1800s, but his Great Wave and Red Fuji paintings are still ubiquitous today on posters and in memes. Now the Museum of Fine Arts is paying him tribute through July 16 with its retrospective Hokusai: Inspiration and Influence. Not only will the exhibit feature the master's work—more than 100 paintings, woodblock prints, and illustrated books—but also more than 200 works by artists he's influenced over the centuries, from his own daughter Katsushika Ōi to contemporaries such as Utagawa Hiroshige to current stars like Yoshitomo Nara. mfa.org.
2. Stroll through a work of art that braids all of humanity together.
At the Peabody Essex Museum, from April 1 through November 5, the sunlit atrium of its new wing will be filled with 188 flags featuring human hair from 500,000 different heads. The artwork, Gu Wenda: United Nations, is easily the most unusual installation in a long time to reach a New England gallery. Read all about the installation here.
3. Grab one of 12 chances to laugh with a comedy superstar.
Though he just left his long stint as host of The Daily Show, Trevor Noah is riding high these days, with his bestselling memoir Born a Crime being turned into a movie, and his Off the Record tour traveling all over the U.S. and the world. But he'll be calling Boston home for nearly two weeks as he delivers his wise and witty current-events standup at 12 shows split between the Wilbur downtown (April 5 to 7, 9 to 12) and Medford's Chevalier Theatre (April 8, 13 to 16). trevornoah.com.
4. Let the latest dance give your soul a twirl.
Amid stunning renditions of the classics, every year Boston Ballet brings us to the terpsichorean cutting edge, as the company will do with its showcase of recent dances in Our Journey. Running at the Citizens Bank Opera House from April 6 to 16, the evening features Everywhere We Go, a 2014 collaboration between choreographer Justin Peck and indie rock star Sufjan Stevens, who wrote a nine-movement orchestral score for the ballet. Then Nanine Linning will world-premiere her latest dance, inspired by the theme of ocean preservation and set to Debussy's La Mer and Les Sirènes. bostonballet.org.
5. Watch one of the most revered plays of the past 50 years.
Tony Kushner's two-part epic Angels in America: A Gay Fantasia on National Themes has been an iconic work of theater for three decades, winning both the Pulitzer Prize and the Tony Award for best play and even earning an all-star film adaptation. But in its exploration of lives ravaged by the HIV/AIDS crisis in the Reagan-era 1980s, Kushner takes audiences from the streets of New York up to the heavens and back. From April 20 through May 21, the Central Square Theater will perform Part 1 of this cosmic and complex play, with stark staging that only highlights the magical language and moving characters. centralsquaretheater.org.
6. Go on a journey through the past.
Cherokee actress and performance artist DeLanna Studi is also a Butcher Scholar Award winner from the Autry Museum of the American West, and from April 26 to 30, she brings her own experience and historical research to her one-woman show at ArtsEmerson. In And So We Walked, Studi chronicles the six-week, 900-mile trip she took with her father retracing the Trail of Tears, the route her ancestors and 17,000 other Cherokee took when they were forcibly resettled from their homelands in the 1830s. artsemerson.org.
7. Celebrate two decades of our own homegrown indie film fest.
This year, the Independent Film Festival Boston rings in its 20th anniversary, running from April 26 through May 3. While its lineup hadn't been finalized by presstime, executive director Brian Tamm and program director Nancy Campbell are excited by documentaries—from Michael J. Fox's battle with Parkinson's disease to a personal film about learning to box in East Boston by local musician Naomi Yang of the legendary band Galaxie 500. Read our full piece about the IFFBoston's 20th anniversary here.
MAY 2023
8. Experience a new American opera about an old American story.
In 1807, an Islamic scholar named Omar Ibn Said was captured in West Africa, suffered through the Middle Passage to the Americas, and was enslaved in South Carolina. He wrote about these experiences in his 1831 autobiography, the only Arabic-language slave memoir known in our country. Now, on May 4, 6, and 7 at the Emerson Cutler Majestic Theatre, the Boston Lyric Opera is staging the New England premiere of Omar based on his book. The opera comes with some star power: The libretto is by Grammy-winning singer and multi-instrumentalist Rhiannon Giddens, and the score is a collaboration between her and film composer Michael Abels (Get Out). blo.org.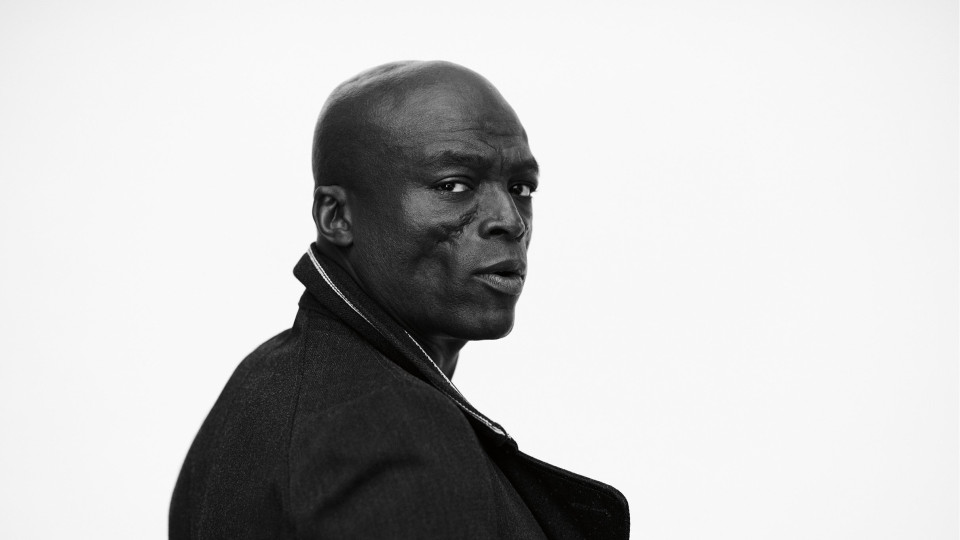 9. Get a little bit crazy with a '90s icon.
Back in 1991, Seal came out with the song "Crazy," which swept through radio with its high-tech grooves and the singer's effortless soul. Four years later, he topped the Billboard Hot 100 with the sweeping ballad "Kiss from a Rose." These songs—to say nothing of his suave persona on camera—made him a pop legend for life. On May 12, he'll be performing at the Wang Theatre with Trevor Horn, who produced Seal's biggest hits. Horn was also the lead man of early-'80s synth-pop group the Buggles, who are the concert's special guests and are all but guaranteed to sing their eternal classic "Video Killed the Radio Star." bochcenter.org.
10. Rediscover a classic show.
The Andrew Lloyd Webber-Tim Rice musical Evita has been a cornerstone of musical theater for generations. But at the American Repertory Theater from May 14 through July 16, director Sammi Cannold reprises an updated version that premiered just four years ago in New York. Long considered a glitzy Broadway production anchored by the showstopping song "Don't Cry for Me Argentina," the show here promises a more intimate production on a smaller stage. It also has an increased focus on what it was like for a young Eva Perón to rise through the unforgiving world of Buenos Aires society to become the glamorous but doomed first lady of Argentina. americanrepertorytheater.org.
11. Celebrate the richness of Haitian culture.
Though May is Haitian Heritage Month nationwide, it's particularly important here in Boston, which is home to the third-largest Haitian population among American cities. To mark the occasion, on May 18 the Isabella Stewart Gardner Museum hosts Libète: Celebrating Haitian Art & Community throughout its ornate, Venetian-style palazzo. Local performers will include Berklee professor Val Jeanty, a brilliant Afro-electronic musician and composer, as well as Cambridge dance company Jean Appolon Expressions, which creates contemporary dance rooted in Haitian folkloric movements. gardnermuseum.org.
12. Sail the harbor to the city's largest art installation.
During the warm months, the Institute of Contemporary Art brings one massive artwork to its Watershed space on the Eastie waterfront, accessible via boat from the Seaport. And this year, from May 25 through September 4, the Watershed will unveil a full sensory experience created by Guadalupe Maravilla. Inspired by his childhood fleeing civil war in his native El Salvador and his recent bout with cancer, Maravilla has focused on healing through art. His installation here will be centered on Mariposa Relámpago, a school bus refurbished with animals, plants, and spirits made from metal and stone. But be sure to schedule your visit around the "sound baths" performed on gongs by a series of sound healers, including Maravilla himself. icaboston.org.
JUNE 2023
13. Witness jazz royalty on the North Shore.
This month, the Cabot theater in Beverly plays host to two of the greatest jazz musicians ever to wield their instruments. First up on June 8 is Pat Metheny, the lyrical, versatile guitarist who has collaborated with everyone from David Bowie to Ornette Coleman to Milton Nascimento. On this night, he'll be performing with his Side-Eye trio, including pianist Chris Fishman and drummer Joe Dyson. Then, on June 21, the same space will light up with keyboardist extraordinaire Herbie Hancock, who came up with Miles Davis in the 1960s and later pioneered fusing jazz with R & B and hip-hop. Now in his eighties, Hancock still combines brilliant improvisation with thrilling electrofunk. If you have any interest in jazz, go both nights. thecabot.org.
14. Soak up the sun…and a good book.
It seems like Nantucket author Elin Hilderbrand releases her island-based novels just in time for beach reading: On June 13, she comes out with her latest, The Five-Star Weekend (Little, Brown, $30). When food blogger Hollis Shaw loses her husband in a tragic accident, her seemingly idyllic life begins to fall apart. To take her mind off her troubles, she invites a best friend from four phases of her life—from childhood to her twenties to thirties to midlife—to join her on a sojourn to Nantucket. But nothing turns out as planned, which is why you'll keep turning the pages. littlebrown.com.
15. Enjoy your favorite radio show with your ears and your eyes.
As any die-hard NPR listener knows, the weekly comic quiz program, Wait Wait…Don't Tell Me! is usually broadcast live from the Studebaker Theater in downtown Chicago—except when host Peter Sagal and judge/scorekeeper Bill Kurtis take the show on the road. On June 22, they'll be at Tanglewood's Koussevitzky Music Shed, bringing three witty comedians as contestants, a special star guest playing "Not My Job," and plenty of well-earned laughs. tanglewood.org.
16. Explore photography from the African diaspora.
Organized by the premier photography foundation Aperture, the landmark exhibit As We Rise: Photography from the Black Atlantic graces the walls of the Peabody Essex Museum from June 17 through December 3. Featuring more than 100 works, Black artists from all over the Atlantic rim are represented: Visitors can see images shot by American fashion and street photographer Jamel Shabazz, Malian portraitist Seydou Keïta, and London-based Ghanaian-Russian photojournalist Liz Johnson Artur, among many others reflecting our world's diversity of Black identity and experience. pem.org.
17. Go truckin' one last time with Deadhead heroes.
When Dead & Company formed in 2015, music fans were both intrigued and skeptical: After all, the surviving members of the Grateful Dead had just completed their 50th-anniversary farewell tour. But months later, singer/guitarist Bob Weir and drummers Mickey Hart and Bill Kreutzmann announced their new group, now with Berklee alum John Mayer in the holy shoes of Grateful Dead saint Jerry Garcia. Known best as a hitmaking heartthrob, Mayer has proven to the Dead faithful that he can wield a lyrical, freeform guitar worthy of his hero. After eight years of wild success, Dead & Company now say these are the final shows for them as well, and so they'll be ridin' that train one last time to Boston, at Fenway Park on June 25. mlb.com/redsox/tickets/concerts.
18. Last but not least, hit the state's three biggest music festivals.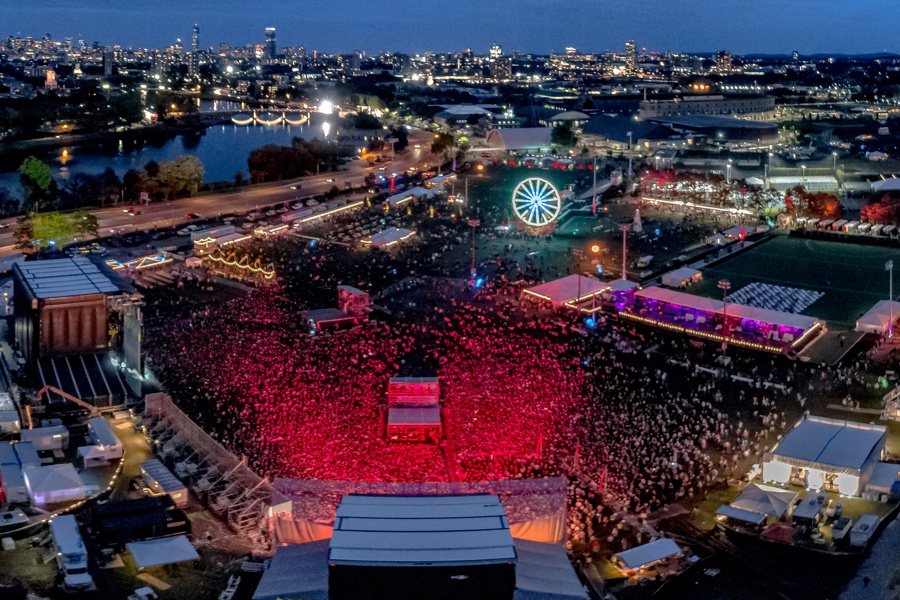 Photo courtesy Boston Calling
Boston Calling
WHEN: May 26–28
WHERE: Harvard Athletic Complex, Allston
WHAT TO EXPECT: Boston's premier music festival rules the spring with top headliners: the Foo Fighters, returning after the tragic death of drummer Taylor Hawkins, paired with art-rock legends the Yeah Yeah Yeahs (May 26); Americana folk stars The Lumineers, with Jagged Little Pill songstress Alanis Morissette (May 27); and power-pop trio Paramore, with stoner-metal gods Queens of the Stone Age (May 28).
Re:SET
WHEN: June 16–18
WHERE: The Stage at Suffolk Downs, East Boston
WHAT TO EXPECT: Although not a homegrown festival, this touring three-day event is a spectacular way to see your favorite popular stars and cult artists. Expect big names each day, from "Bad Habit" hitmaker Steve Lacy (June 16) to electro power-house LCD Soundsystem (June 17) to Boygenius (June 18), the supergroup formed by singers Phoebe Bridgers, Lucy Dacus, and Julien Baker.
boston.resetconcertseries.com.
Green River Festival
WHEN: June 23–25
WHERE: Franklin County Fairgrounds, Greenfield
WHAT TO EXPECT: For decades now, this western Massachusetts extravaganza has been hosting roots rock, blues, and folk acts on stage while also offering the best in local food and crafts. Headliners here include acts that have built up devoted followings over the years, including Alabama soul band St. Paul & the Broken Bones (June 23), groove-jazz trio the Wood Brothers (June 24), and southern rock icons Little Feat (June 25).
A version of this was first published in the print edition of the April 2023 issue with the headline "Listen Up! The Music Is Calling."
---