Boston Home
Four Art and Design Books for Your Summer 2023 Reading List
Edward Hopper heads to Cape Ann, a peek into Newport cottages, and a guide to seaside soirees.
---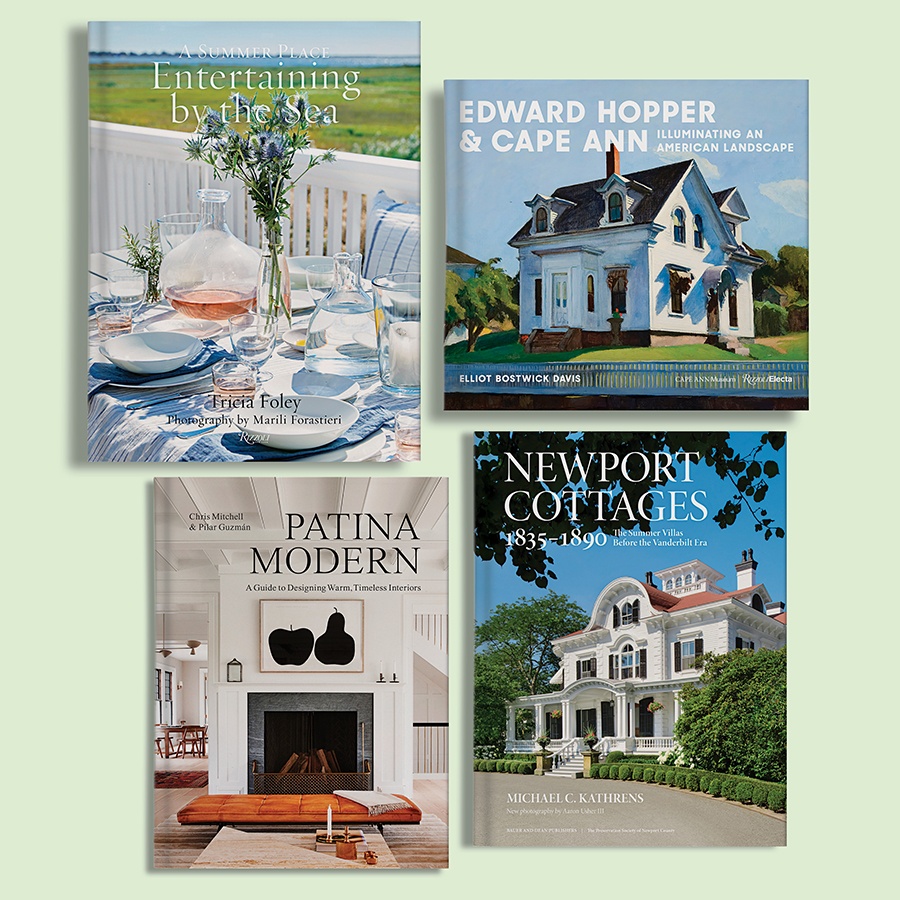 Entertaining by the Sea: A Summer Place, by Tricia Foley
Just in time for the warmer temps is this entertaining guide to help you make the most of the season. Whether you're hosting big parties or intimate gatherings, this how-to handbook provides easy ways to elevate your get-togethers with artful examples of floral arrangements, table settings, and menus that put summer food favorites and delectable drinks to good use. Author Tricia Foley (as well as some of her friends and influencers) offers advice and tips for making unforgettable experiences out of each and every occasion.
Out 3/21/23, $50, Rizzoli.
Edward Hopper & Cape Ann: Illuminating an American Landscape, by Elliot Bostwick Davis
Most people are familiar with celebrated American artist Edward Hopper, but not everyone knows that Cape Ann played a pivotal role in his life and work. Hopper's art and career were greatly influenced by his time spent in Gloucester during the 1920s, when he first adopted the use of watercolor and a focus on the subjects of homes and vernacular architecture in several outdoor painting sessions. Lushly illustrated and engrossing, this book also delves into the story of his wife, Josephine Nivison, and her impact on his artistic vision.
Out 5/2/23, $55, Rizzoli Electa.
Newport Cottages 1835–1890: The Summer Villas Before the Vanderbilt Era, by Michael C. Kathrens
The Newport 19th-century summer "cottages" are known for their lavish resort architecture. Commissioned by several of America's most wealthy and high-profile families, these grandiose homes are showcased visually through 512 illustrations, 60 floor plans, 81 house portraits, and striking archival and new photography. Published with the Preservation Society of Newport County, the compilation crafts a compelling narrative on this impressive architectural legacy.
Out 5/1/23, $75, Bauer and Dean Publishers.
Patina Modern: A Guide to Designing Warm, Timeless Interiors, by Chris Mitchell and Pilar Guzmán
Making a home simultaneously contemporary and timeless is no simple trick—this is why we turn to designer expertise, right? However, Patina Modern manages to deliver the practical fundamentals for success in book form. Tastemakers Mitchell and Guzmán go behind the scenes of six home renovation projects to untangle what it takes to create beauty and comfort in your space room by room. Readers will find an inspiring education in color, modern furniture design, paint, and proportion, along with design insights and a manifesto on critical elements such as lighting.
Out 10/25/22, $40, Workman.
First published in the print edition of Boston Home's Summer 2023 issue, with the headline, "By the Book."
---