News
Singer Chelsea Cutler Is Afraid of Sharks, Thinks Boston Can Do No Wrong
The Connecticut-born artist talks playing the Bay State, the perils of social media, and catching waves off New Hampshire.
---
Before singer-songwriter Chelsea Cutler hit the stage of Boston Calling 2023 on Friday afternoon—clad in a white and red Patriots Jersey, her 25 or so fine-line tattoos visible on her arms—she gulped down two Red Bulls (as she does before most shows) to prepare for her hour-long set. "I am extroverted, to an extent," the 26-year-old told Boston backstage before the performance, then still wearing a baggy T-shirt and Nikes. "But to get on stage and be a psycho takes a lot of extroverted energy."
Though this year was her first time at Boston Calling, the Connecticut-born artist knows the city well. Her second-ever show took place at the House of Blues Boston in 2018, when she opened for singer and friend Quinn XCII, a tour Cutler dropped out of Amherst College to join. "A lot of my college friends are from Boston, so I spent a lot of time here."
Though she now calls New York City home, her New England connections remain strong. Her girlfriend is from Rye, New Hampshire, where the two often go surfing. ("My girlfriend shreds and I'm horrible," she said laughing, "I'm afraid of sharks.") In 2020, buoyed by the success of a 2019 Jeremy Zucker collaboration "You Were Good To Me," Cutler headlined her own House of Blues Boston show, then returned in 2022 for two packed nights at Roadrunner—the biggest headlining shows of her career, where she where she brought out native Vermonter and Boston Calling 2023 artist Noah Kahan, to perform their collaboration "Crazier Things."
But on Friday afternoon, even though she'd performed at major festivals like Coachella and Lollapalooza, she wasn't entirely sure what to expect from Boston Calling. "The first time you play any festival, you don't really know what it's going to be like," she said backstage. But if history was any indication, the Boston Calling crowd would be great. "I love Boston—Boston can do no wrong," she said. "One of the rowdiest cities I've played, for sure."
Recently, Cutler released two new singles, the heartfelt "Man on the Moon" and "Stay Anything," in the run up to her third soon-to-be-announced album, set to come out later this year. But even though she's a major label artist with new music to promote, the Republic Records' talent has been on a social media hiatus since March. "It feels like if you aren't constantly updating people on social media, you just become irrelevant," Cutler admitted. But "it's been so awesome not being on it. My brain used to be so full of, 'I need to post this'; 'people are commenting'; 'people are DMing me.' Now I just don't think about it."
TikTok, specifically, and its power to make artists go viral overnight, has necessitated the need for artists to tease their music for months on end before releasing—something Cutler thinks the fans don't even want. "They'll comment, 'I'm getting sick of the song. Just put it out already.' 'Why do you keep teasing it?'" she said. "But unfortunately, it's the general public that's kind of perpetuating the cycle too." (Cutler says she's unsure whether she'll get back on the platform once her new album comes out. Her mental health is so much better without it, so maybe she'll have her management post for her instead.)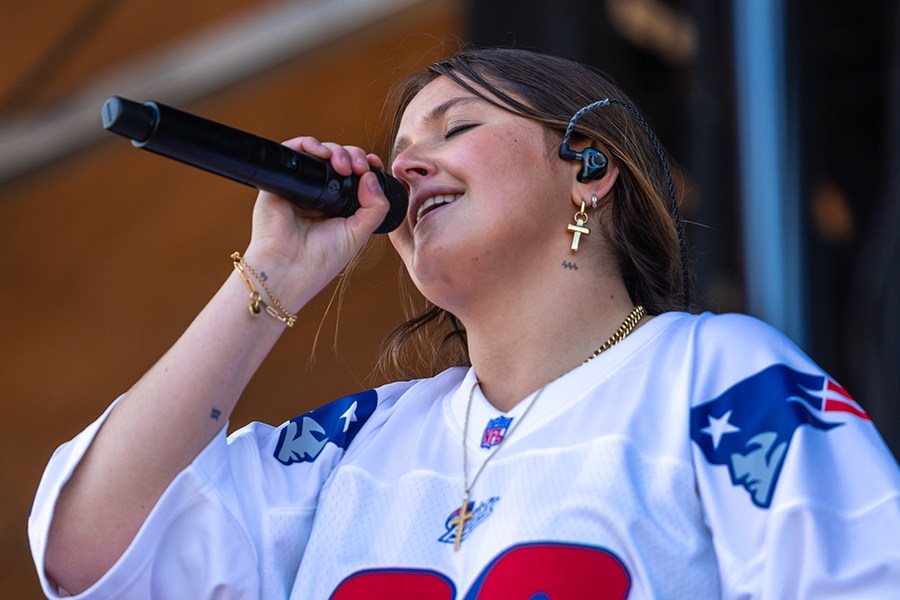 The time she's taken off social media translated into her performance at Boston Calling, too. After telling the crowd about how she'd completed a recent half-marathon (because she didn't post it on social, nobody knew—and if you didn't post it, did it even happen?), she asked the audience for two things: to introduce themselves to the people around them, something she asks at every show to foster community; and to put down their phones.
In large part, the audience obliged. Her fans filled the front, singing along to every word of songs new and old, as the adjacent Green Stage audience—waiting for the Dropkick Murphys to perform after her—listened in. At one point, she fiddled with her guitar, which she said wasn't sounding right: If she was going to sing her new "Men On the Moon," she was going to "do it right."
Before Cutler had taken the stage, one nearby man told to his friend, "I've only ever heard her voice on remixes; I wonder if she sounds that good on her own?" By the end, his whoops and cheers confirmed what the rest of us already knew—yes, she was that good.
---