Guides
Fall Arts Preview: 18 Things We Can't Wait to Do This Season
Our highly subjective list of the exhibits, plays, and arts experiences you shouldn't miss this autumn.
---
SEPTEMBER 2023
1. Cheer on a basketball demigod.
Being such a bibliophilic city that's also mad for hoops, Boston and its environs seem a perfect home for the North American premiere of The Half-God of Rainfall. Staged by the American Repertory Theater from September 8 to 24, this play by poet and screenwriter Inua Ellams is based on an incredible premise: Though he comes from a southwest Nigerian village, Demi is actually half–Greek god, and he soon becomes a basketball star in the NBA and in the Olympics. But then Zeus gets jealous, and the fun really begins. americanrepertorytheater.org.
2. Get mesmerized by the latest release from a musical genius.
Three years ago, then-local artist known as Anjimile came out with an album called Giver Taker, and soon enough, the record's blend of soaring indie-folk and intimately personal lyrics about gender identity and addiction recovery earned glowing press coverage nationwide and overseas. It also earned Anjimile a contract with the iconic postpunk label 4AD, and his follow-up, The King, arrives on September 8. Recorded over a full year, the new record is a major statement, showcasing lyrics about what it means to be Black and trans in the chaos of today's America. Musically it's a mindblower, with countless overdubs of his vocals and acoustic guitar creating choral and orchestral sounds. On December 8, Anjimile returns to Boston for a highly anticipated performance at the Institute of Contemporary Art. Tickets available here. anjimile.bandcamp.com.
3. Embrace the winged creatures of the night.
The Peabody Essex Museum would certainly win the award for Salem's Best Halloween Museum Exhibition (if only it existed!) with its latest extravaganza, "Bats!", which will fly high from September 9 through July 28, 2024. For starters, the PEM has gathered various pop-culture artifacts and artworks celebrating our favorite winged mammals by contemporary talents such as Somerville painter Resa Blatman and Argentine papercraftsman Juan Nicolás Elizalde. But the exhibition also has a natural-history element to it, stressing how bats are, in fact, indicator species that reveal the health of the environment around us. Best of all, visitors get to meet a small colony of real live Egyptian fruit bats, who are as adorable as they are fascinating. pem.org.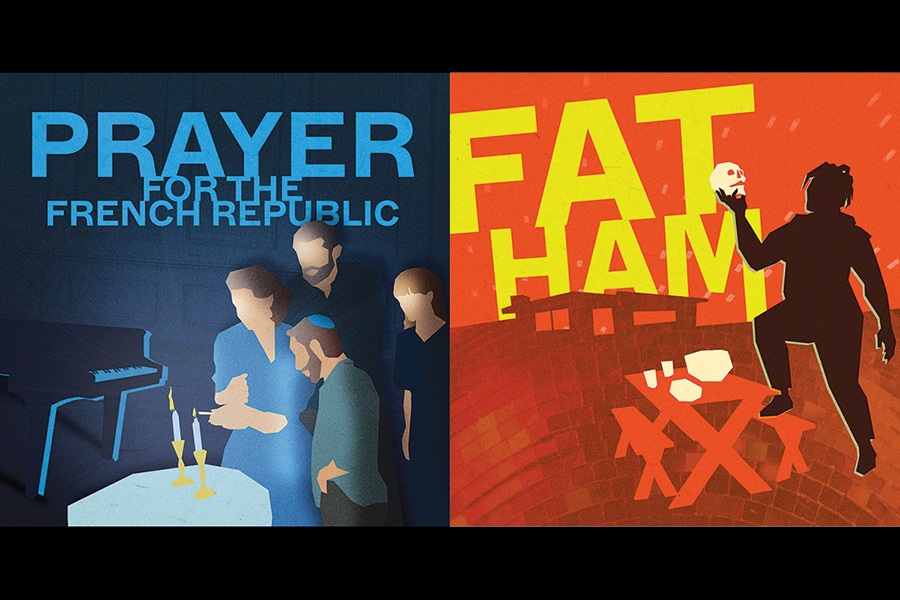 5. See the Huntington Theatre Company's first full season with a new leader.
The Huntington Theatre Company's fourth-ever theatrical leader, Loretta Greco, took over the organization's reins in 2022, but this season will be the first that she's programmed singlehandedly. There's Prayer for the French Republic (September 7 through October 8), a saga about five generations of a French Jewish family, by Joshua Harmon; Fat Ham (September 22, extended through October 29), the 2022 Pulitzer Prize–winning southern-fried update of Hamlet by James Ijames, featuring a queer Black man as the lead; The Band's Visit (November 10 through December 10), David Yazbek's Tony Award–winning musical about a band of Egyptian musicians stranded in an Israeli village in the desert; and Lloyd Suh's The Heart Sellers (November 21 through December 23), about two recent Asian immigrants celebrating Thanksgiving together.
Read our full piece about the Huntington's 2023 season here.
6. Enjoy the musical stylings of a true New England songwriter.
Call us bold, but Ray LaMontagne just might be the greatest singer-songwriter of New England so far this century. Born in Nashua, he moved to Maine as a young adult, and now lives in Ashfield. His rough, soulful voice has been compared to Otis Redding, and he pairs it with an evocative folk-rock style that takes you into the mystic à la Van Morrison. On September 15, he'll be playing close to home at the Wang Theatre and doing something special—performing a set list of songs requested by fans. bochcenter.org.
7. Experience history with one of our region's First Nations.
Long before there was a United States or a colony called Massachusetts, there was the Wampanoag nation, which has existed on these shores for 10,000 years. In 2020, the Theatre Royal Plymouth in England invited the Wampanoag people to play a central role in marking the 400th anniversary of the sailing of the Mayflower, a date that has weight for the people who lost their land to the new settlers. The pandemic delayed production of We Are the Land until last year, whereupon the nation's array of songs, dances, and stories achieved wide acclaim. Now it's coming to ArtsEmerson and the Cutler Majestic Theatre on September 29 and 30. artsemerson.org.
OCTOBER 2023
8. Rock out with the queen of '90s Boston indie rock.
In the 1980s, Rhode Island native Tanya Donelly formed the band Throwing Muses with her stepsister Kristin Hersh, gaining acclaim with indie music fans in Boston, around the nation, and overseas. Then in the 1990s, she formed Belly with bassist Gail Greenwood, guitarist Tom Gorman, and his brother Chris on drums, and together they topped the Billboard alternative charts with the timeless single "Feed the Tree." After decades of dormancy, Belly has reunited just in time for you to rock out to them on October 4 and 5 at the Paradise Rock Club. bellyofficial.com.
9. Appreciate Caribbean art from around the world.
In "Forecast Form: Art in the Caribbean Diaspora, 1990s–Today," the Institute of Contemporary Art welcomes dozens of works by artists born, raised, or based in the islands between the Americas that have had an outsize cultural infl uence across the globe. What makes the show, which runs from October 5 through February 25, 2024, unique is its focus on themes of displacement and the movement of peoples and ideas around the world—think a prayer rug made by Iranian weavers depicting Puerto Rican mosques and Islamic centers, and a collection of vintage saris and bells woven into a tapestry honoring the influence of Indian immigrants on Caribbean culture. icaboston.org.
9. Watch dancers twirl.
In addition to classic ballets and new grand masterworks, Boston Ballet's seasonal staple is its eclectic omnibus showcasing dance as an art form. Unsurprisingly, this year's Fall Experience is a must-see, highlighting British-Bangladeshi choreographer Akram Khan's Vertical Road with an original score by composer Nitin Sawhney. Other dances in the program, which runs from October 5 to 15, will include Hans van Manen's pas de deux set to French composer Erik Satie; resident choreographer Jorma Elo's dance for 10 accompanied by a solo cello on stage; and a world premiere and mainstage choreography debut by company dancer My'Kal Stromile. bostonballet.org.
10. Kick off the classical music season with style.
On October 7, the Boston Symphony Orchestra welcomes fans to its Opening Night at Symphony Gala, where maestro Andris Nelsons will conduct the city's finest through a celebration of European and Black American composers. First, the BSO will swing through Beethoven and Mozart, with veteran Austrian pianist Rudolf Buchbinder as a special guest. That'll be followed by Carlos Simon's Four Black American Dances, a sonic fantasia commissioned by the BSO last year that recontextualizes traditional southern dances for an orchestra. Finally, jazz pianist Aaron Diehl's trio joins the BSO for New World A-Coming and Tonk, by perhaps our nation's greatest bandleader and composer: the mighty Duke Ellington. bso.org.
11. Learn about 19th century fashion from the brushwork of a great portrait painter.
Long considered one of the 19th century's greatest portraitists, John Singer Sargent was able to capture not just the faces of the men, women, and children he painted, but also their homes and wardrobes. In fact, many of his most elaborate paintings overflow with the folds and textures of the dresses and robes of his subjects. This focus on apparel in his work is the heart of the exhibition "Fashioned by Sargent," open at the Museum of Fine Arts from October 8 through January 15, 2024. Organized in partnership with Tate Britain, the survey features some 50 paintings alongside clothing from the time period, including accessories such as fans and hats. Read our full article on the John Singer Sargent fashion show at the MFA here.
12. Join your fellow bookworms at the city's biggest bibliophile party.
Now celebrating its 15th year this fall, the Boston Book Festival is back on October 14 in Copley Square with another full slate of visiting authors and presenters. Among this year's keynote speakers are Rick Riordan, author of the massively popular Percy Jackson series, and YA bestseller Chloe Gong; other featured authors include debut novelist Cecilia Rabess. What's more, the festival is launching a new event in Nubian Square on October 21: JustKids features story times, author sessions, and workshops, all focused on books for the littlest audiences. bostonbookfest.org.
13. See the King alive and well.
Every generation seems to have its moment obsessing over the Presley boy from Tupelo, and this era was kicked off last year by the Baz Luhrmann smash movie Elvis. Now the North Shore Music Theatre is doing its part from October 31 through November 12 with Elvis: A Musical Revolution, a biographical musical that follows the icon's rise from his childhood up through his imperial stardom in the 1950s and his starspangled comeback in the late 1960s. Of course, the story is told through more than 40 songs, ranging from the twangy "That's All Right" to the raucous "Jailhouse Rock." nsmt.org.
NOVEMBER 2023
14. Watch Cinderella experience love, Italian style.
The Boston Lyric Opera is getting all swoony and romantic this season, as the company performs nothing but love stories, including La Cenerentola, Rossini's take on the classic Cinderella fable, playing at the Cutler Majestic Theatre on November 8, 10, and 12. In this version, the fairy-tale magic of pumpkin carriages will be cast aside for a rich dramatization of young Angelina escaping her wicked stepfamily but finding her Prince Charming (named Ramiro) at a fabulous royal ball. You know the rest, but now this tale of operatic drama gets the music to match. blo.org.
15. Learn how the Real 007 came from the Dominican Republic.
Christopher Rivas may be a veteran actor now, but when he was a boy, he was just another Dominican American kid growing up in Queens, albeit one with an intense James Bond obsession. Then his fandom took an unexpected turn when he made a discovery: As it turns out, Porfirio Rubirosa—a flamboyant Dominican ladies' man who was suspected of being a spy—was the true inspiration for author Ian Fleming's James Bond spy novels. He also became the inspiration for Rivas's show, The Real James Bond…Was Dominican, which will premiere in Boston at the Emerson Paramount Center from November 8 to 12. artsemerson.org.
16. Laugh with one of America's most in-demand comedians.
After years of working in comedy as an actor and writer, Atsuko Okatsuka is everywhere right now, from the standup stage to the podcast airwaves to the television screen. (She even voiced a character in this year's Spider-Man: Across the Spider-Verse movie.) All that aside, she's just damn funny, and she'll bring her quick wit and lightning delivery to the Wilbur on November 10. thewilbur.com.
17. Take the kids to see a thrilling orchestral performance by kids.
What's the perfect family-friendly event to lead you into the upcoming holiday season of Nutcracker productions and the Holiday Pops? That'd be the Boston Youth Symphony Orchestra's annual performance of Sergei Prokofiev's Peter and the Wolf, the classic "symphonic fairy tale for children," as the composer called it. The tale of a young boy's adventures with the titular canine has long been a favorite of children around the world, and the BYSO performs it at Symphony Hall on November 11 with narration and engaging visuals for the young ones. bso.org/symphony-hall.
18. Get nostalgic with the new 'classic rock.'
The 1980s are coming to the airwaves and a concert hall near you.
Flip around the radio dial wherever you go in New England, and you'll find a curious change to your favorite classic-rock station. Once locked in a dusty time warp of the 1960s and 1970s, these stations are increasingly adding the sparkling sheen of Top 40 hits and New Wave chestnuts from the 1980s. Perhaps it's because Gen X grew up with these hits and is getting somewhat—um—classic as well, but that just means the audience is there. And now, so are the artists themselves, invading Boston this season to play those old tracks but also new ones.
Who: Duran Duran
Favorite Tracks: "Rio," "Hungry Like the Wolf," "The Reflex"
See Them Live: TD Garden, September 6
Who: Sting
Favorite Tracks: "Fields of Gold," "All This Time," "If You Love Somebody Set Them Free"
See Them Live: MGM Music Hall at Fenway, September 7
Who: Billy Idol
Favorite Tracks: "White Wedding," "Rebel Yell," "Mony Mony"
See Them Live: MGM Music Hall at Fenway, September 9
Who: The Psychedelic Furs and Squeeze
Favorite Tracks: The Psychedelic Furs: "Pretty in Pink" and "Love My Way"; Squeeze: "Tempted" and "Black Coffee in Bed"
See Them Live: Wang Theatre, September 12
Who: Peter Gabriel
Favorite Tracks: "Sledgehammer," "Red Rain," "In Your Eyes"
See Them Live: TD Garden, September 14
Who: Depeche Mode
Favorite Tracks: "Personal Jesus," "Enjoy the Silence," "People Are People"
See Them Live: TD Garden, October 31
Who: The Fixx
Favorite Tracks: "One Thing Leads to Another," "Red Skies," "Saved by Zero"
See Them Live: The Cabot, November 26
A version of this was first published in the September 2023 issue's print edition, with the headline, "Let's Play!"
---