You must enter a value into the award field or select year.
1992 Best Fish Market
Boston Magazine's test, conducted by the National Marine Fisheries Service, confirmed what we've known all along. Wulf's—still the best! 407 Harvard Street, Brookline, MA .
2002 Best Archdiocesan Apologist
Former mayor and Vatican ambassador Ray Flynn, just about the only man in Boston who would defend the indefensible Cardinal Bernard Law.
2001 Best Columnist, Business
The Globe's Steve Bailey, who knows more about corporate Boston than the CEOs who rush to read his column every morning.
1989 Best Sportscaster, Radio and TV
Boston television's only genuine sports reporter. Asks the tough questions, breaks news stories, and takes the job seriously. The inverse of Bob Lobel.
1998 Best Bar
Could there be any other? Doyle's is to Boston what the Elaine's is to New York. Good eats, great atmosphere, and a who's who of Bostonians both proper and not. 3484 Washington St., Jamaica Plain, MA .
1996 Best Chiropractor
If she's good enough for the women's Olympic swim team and the Boston Ballet, she can probably fix your Mac back. 26 Brighton Street, Suite 300, Belmont, MA .
2008 Best Takeout, Neighborhood, South Boston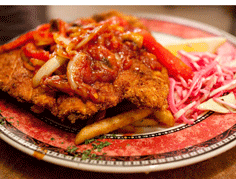 Those in the know head to the South Boston Lithuanian Club's basement for hearty, authentic Eastern European fare. Alas, weekends only. 368 W. Broadway, Boston, MA 2127, .
1991 Best Beans
If the original Bostonians made beans like these, Boston today would be the hippest city in the country. Indescribably delicious. Blue Hill Ave., Roxbury, MA .
1989 Best Meat
Everything at Dewar's is the prime of prime. And if you ever need poussin in a pinch, this is the place to go. All the best chefs in Boston do. 753 Beacon St., Newton Center, MA .
1993 Best Lunch
Elegant and satisfying—just what we'd expect from a cafe in Louis, Boston. 234 Berkeley Street, Boston, MA .
1993 Best Eclectic Cuisine
Lydia Shire's uncanny ability to combine flavors and textures of foods from around the world is unparalleled in any restaurant in Boston. 272 Boylston Street, Boston, MA .
1983 Best Wine Bar
Boston musician Fran Sheehan has put together an extensive, well-priced list at this North Shore establishment. 9 Atlantic Ave., Marblehead, MA .