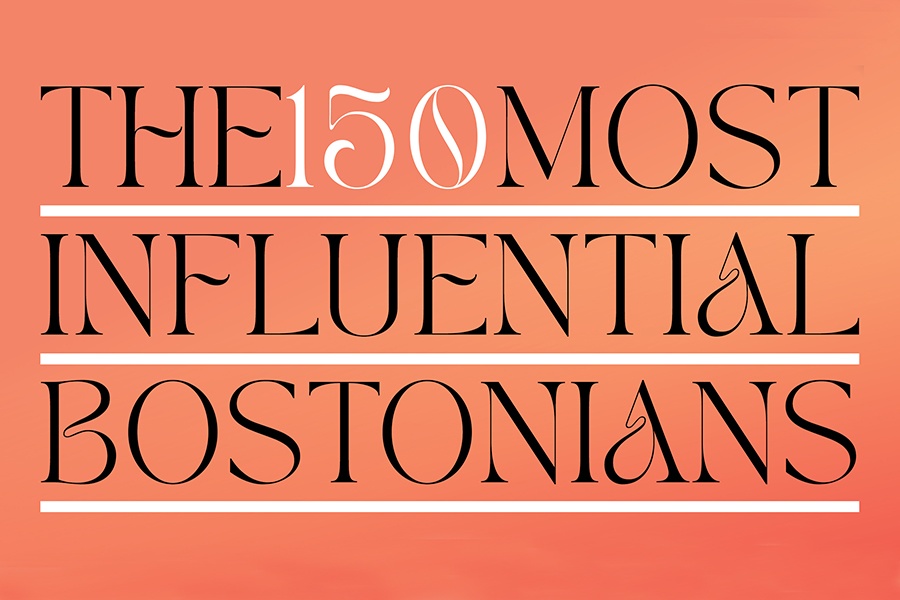 F

or years, Boston's women have fought for a seat at the tables of power. Now, in a stream of elections, appointments, and hires over the past year or so, female leaders have finally positioned themselves at the head of many of those tables.
That's represented throughout our 2023 ranking of the most influential Bostonians—in fact, nearly half of the people on the list are women. The most obvious example is our new number one: Maura Healey, who became the state's first woman elected governor just a year after Michelle Wu became the first woman elected mayor of Boston.
Voters seem to be ahead of the curve, but boards of directors and search committees are catching up. Look around the city, and you'll find women newly named as president of the Federal Reserve Bank of Boston, CEO of Blue Cross Blue Shield of Massachusetts, president of GBH, and editor of the Boston Globe. The biotech industry and universities are also leading the charge: New presidents at Harvard and MIT—Claudine Gay and Sally Kornbluth, respectively—exemplify the latter, while CEOs Reshma Kewalramani of Vertex and Yvonne Greenstreet of Alnylam represent the former.
Something else that's different about our list this year? We've expanded it from 100 to 150 people, reflecting the more-diffuse nature of power across the city as the former old boys' network becomes more diverse and inclusive. Whether you agree with the very subjective nature of the rankings or not—we're certainly counting on them kickstarting more than a few heated debates!—one thing is for sure: What it means to be a leader in Boston keeps changing and moving forward.
---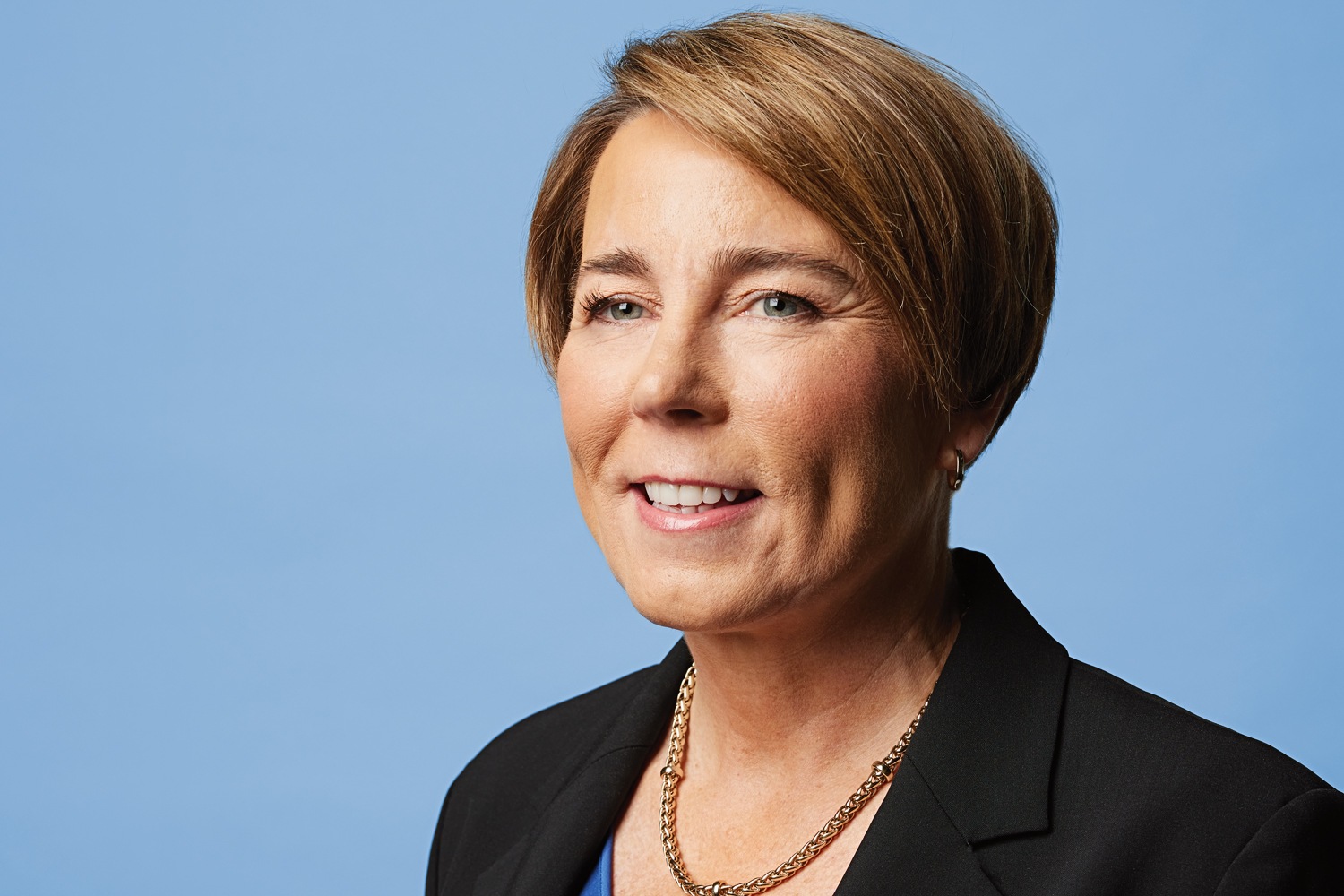 1. Maura Healey, Governor
There's a new governor in town, and by winning 85 percent of the primary vote and 63 percent in the general election, Healey starts with a clear political mandate while serving as an inspiration to a new generation of LGBTQ+ leaders and politicians. Sure, she'll find the usual roadblocks among the state legislature, business community, and activists, but with apparent goodwill among all of those groups—as well as popular support—she'll have the power to forge ahead on tough issues such as housing, transportation, and climate. She seems, frankly, to have nothing but allies or at least no significant vocal opposition (as some other local pols have accumulated). Drink it in, Governor!
Photo Credits: Ken Richardson (Healey, Pizzuti Henry, Kewalramani, Iselin, Idowu, Jemison, Budd, Sheridan, Burlin O'Connell, Francisco, Goldberg, Phillips, Holaday, Collins, Barnes, Miller, Jenkins-Scott, O'Brien); Courtesy of Representative Pressley (Pressley); Mona Miri (Pelton, Wu, Obi); Suffolk Construction (Fish); Matt Kalinowski (Clark, Canales); Courtesy of the New England Patriots/David Silverman (Jonathan Kraft); Courtesy of The Kraft Group (Daniel Kraft); MediaNews Group/Boston Herald/Getty Images (Josh Kraft); Drew Altizer (Edgerley); Courtesy photos (Johnson, Rooney); Greg Mueller/Mueller Design (Klibanski); Wikipedia (Warren); Diana Levine (Rollins, Michlewitz); The Boston Globe/Getty Images (Wieland, Campbell, Moynihan, Churchwell, Gay, Settles); Courtesy photos (Popeo, Thomas); MassMutual (Crandell); NBAE/Celtics/Getty Images (Brown); MediaNews Group/Boston Herald/Getty Images/Stuart Cahill (Kane); Courtesy of UMass (Meehan); Courtesy photo (Reynolds); Moderna (Bancel); Marilyn Humphries (Calderón-Rosado); Douglas Leavy (Shah); Courtesy photos (Sclar, Jackson, Phelan, Percelay, Regan); New Balance (Jim Davis); John Goodman (Fialkow); Tyson Reist (Stamler); TD Garden (Latimer); Courtesy photo (Jeffries); Nikki Monet (Collier); Stephen Voss (Kendi); Jessica Rinaldi/The Boston Globe/Getty Images (Chambers); MediaNews Group/Boston Herald via Getty Images (Curry); Courtesy photo (Davis); Matt Winkelmeyer/Staff/Getty Images (Rangan); Paul Marotta/Stringer/Getty Images (Slater); Boston Globe/Getty Images (Kornbluth, Grousbeck, Francis, Kennedy, Lydia Edwards, Greenstreet, Hayes, Higgins, Cox, Douglas); Museum of Fine Arts, Boston (Teitelbaum); Courtesy photos (Palandjian, Smith, Sykes, Martin, Bhatti, Steinmetz, Cooke, Sharma, Grace Lee); Thomas Hart Shelby (Barbara Lee); Trevor Reid (Lowrey); DraftKings (Robins); Mitch Weiss (Campion); Emmanuel Appiah Boakye (Grace); David Yellen (Boch Jr.); Tara Bricking/MediaNews Group/Boston Herald/Getty Images (Meyer Jr.); Liza Voll Photography (Medvedow); Courtesy photos (Schuster, Alarco, Bell, Jamison, Uzzell, Jones); International Brotherhood of Teamsters (Sean O'Brien); Karen Greisdorf (Vasallo III); NBC10 Boston (Latoyia Edwards); The Boston Foundation (Espinoza-Madrigal); Twelfth Baptist Church (Bodrick II); Stephanie Berger (Peggy Fogelman); Goff-AEW (O'Neil); Courtesy photos (Craig Oquendo, Bascome, Walsh, Moran, Miller, Papachristos, Tanaka, Walker, Franklin); Christopher Churchill (Dagesse); Susan Lapides (Paulus); Cody Pike (Johnson); The Boston Foundation/hmarieb (Hires); Kure Creative (Duverné); Boston Arts Academy Foundation (Denella Clark); Joanne Smith (Boland); WBUR (Martinez); Nic Supple (Thao); Cheryl Richards (Harker); Courtesy of TJX (Herrman); Commonwealth of Massachusetts (Tutwiler); Michael Blanchard (Kassia Davis, Varano); Vania Arroyo (Mejia); Flavio Photography (Dale); Rachel Gianatasio/MGS Group (Gold Seelig); Boston Bar Association (Cook); Courtesy photos (Mendoza, O'Leary, Idiokitas, Erlingsson, DePasquale, Sullivan); Sam Moody (Hessan); Ellen Callaway (Marlo Fogelman); MediaNews Group/Getty Images (Gordon); YouTube (Hills); Hilary Scott (Paine); OJ Slaughter (Oompa); The City of Boston (Mills); Alexander Tamargo/Getty Images (Karol); John Sciulli/Getty Images (Kwan and Scheinert).