Cumar, Inc.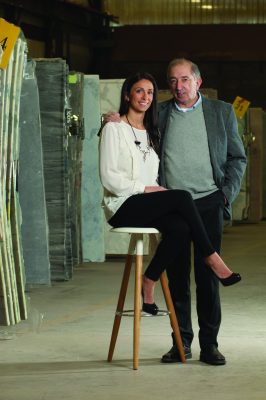 ANGELO "IVO" & CARLOTTA CUBI
617.389.7818 | cumar.com
Cumar, Inc., an Everett-based company founded in 1992, is currently celebrating its 25th year in business. It specializes in the custom fabrication of natural stone, including marble, granite, soapstone, quartzite, onyx, limestone, travertine, slate, and semi-precious stone. Carlotta Cubi is the company's vice president and daughter of founder, Angelo "Ivo" Cubi.
Who started your family business?
Cumar was started by my father, who has been in the business almost his whole life, as was his father. He began working with stone in Italy and when he came to the United States in 1986, he saw an opportunity to start a business here.
I started working at Cumar when I was in my last semester of college. I never thought I would end up working with my father, but once I started, I quickly realized that this is what I wanted to do.
Why is the location of your business so important to the success of your business?
We've invested a lot into our showroom and warehouse in Everett. The location is so central to Boston, Newton, Wellesley, and other areas that we're easy to get to from anywhere in the metro area.
Have you ever encountered any challenges in your family business?
This is a very fickle industry, so that can be a challenge. It became a major challenge during the downturn of 2008-2009, when a lot of commercial projects stopped and didn't come back until at least 2011-2012. That time was a huge redirect for us, changing our focus to high-end residential projects and on developing that market. Now we're happy to have a strong presence in both commercial and high-end residential markets.
What's the best advice you've gotten from a family member?
Produce the best quality and stand by your work. We help people achieve their vision with the best possible quality and execution, and we invest in the best safety and technology to help bring that final product to them. We want to be able to produce what they envision, not force their vision to morph to what we can do.
Since you work together, where and when do you like to relax as a family?
We have weekly dinners so my dad can spend time playing with my kids. That's the number one thing, spending time with the kids. I'm proud that my dad started this business from scratch, and I try to involve my daughters in what we do here. My five year old is always picking out marble and asking about stones. It seems odd for a five year old, but I was the same way. It really does get handed down at a young age.
---