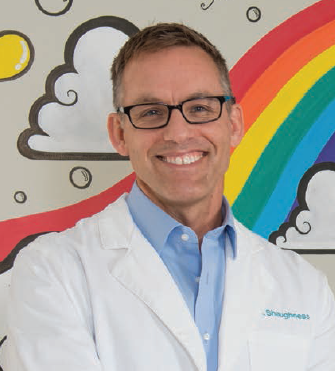 Brian F. Shaughnessy, DMD
Specialty:
Greater Boston Smiles Pediatric Dentistry
21 Totman Street
Quincy, MA 02169
Visit Website
No Records Found
Sorry, no record were found. Please adjust your search criteria and try again.
From the Dentist
In 2014, Dr. Shaughnessy founded Greater Boston Smiles Pediatric Dentistry in Quincy MA. He is a solo practitioner and native Bostonian who provides comprehensive pediatric dental care with a focus on providing access to those in need. "Tooth decay is the number one childhood illness, and it's entirely preventable. Twenty percent of the population has eighty percent of the decay. Unfortunately, most of these kids lack adequate home care and access to dental care for a number of reasons." Appreciating the busy lives that his patients and their families have, he offers same day service as available and strives to complete all treatment in one visit. This approach eliminates the need for further loss of work and school hours which only contribute to the stress of a dental visit. Dr. Shaughnessy performs comprehensive care which may include some form of sedation/anxiolysis. "Because we get so many referrals from both general and even pediatric dentists due to behavioral issues we offer a spectrum of services from nitrous oxide, oral conscious sedation as well as in office general anesthesia."
At Greater Boston Smiles, our primary focus is on the patient experience. We want our office to be a safe and special place for kids to come. We are a high energy, upbeat, kid-friendly practice, where everyone loves what they do! Part of what makes us great is our focus on convenience for both parents and patients alike. Everything from our easy accessibility as an office (located off a major highway and accessible by MBTA), our convenient and flexible hours, completing all necessary work in one appointment, and the fact that we accept most insurances truly makes us a unique practice.
Greater Boston Smiles Pediatric Dentistry is proud to provide the unique technical and behavioral skills of pediatric dental services for infants, children and teens including children with special health care needs from the Boston and Greater Boston area including but not limited to: Quincy, Milton, Braintree, Weymouth, Randolph, Norwood, Canton, Holbrook, Dorchester, South Boston and many other communities throughout Massachusetts. Our office is committed to providing parents and their children the necessary tools to attain and maintain a healthy smile for life. We believe in access to care for everyone and are open six days a week including Saturdays and Wednesday evenings.
For unsurpassed excellence of clinical care, Dr. Shaughnessy, a graduate of the esteemed University of Connecticut School of Dental Medicine, is board certified by the American Board of Pediatric Dentistry, received his specialty training at Harvard University/Children's Hospital Boston where he currently serves as an attending, and is a licensed pediatric dentist. He provides comprehensive care from 'crib to college" including highly specialized services from frenectomies for lip and tongue ties to sedation dentistry.
Dr. Shaughnessy's passion for helping others continues outside of his office and work at Children's hospital Boston. He helped to start an NGO called Community Health Partnership-Honduras where he serves as dental director and travels annually with members of his family to provide free care to those in need in Honduras.
Insurance Accepted:
Delta, Blue Cross, Cigna, Guardian, Aetna,United, Metlife,Altus,Masshealth
Primary Hospital Affiliation:
Children's Hospital Boston