About
Dr. Senatore enjoys providing comprehensive dental care for his patients, including but not limited to fillings, crowns, root canals, dental implant restorations, cosmetic veneers, onlays, in-office and home bleaching, night guards & sports guards and removable partial and complete dentures. Dr. Senatore is Invisalign certified, and also works with patients who have sleep apnea, or have TMJ discomfort and are heavy grinders.
Dr. Senatore lives in Boston, and is an avid runner and skier, and can often be found running along the Charles River.
List the treatments and procedures you offer:
General Dentistry, Cosmetic Dentistry, Invisalign
Awards or Certifications
Fellow, Academy of General Dentistry
Member, ADA, MDS, American Academy of Cosmetic Dentistry
What's your background, education and training?
Born in Johannesburg, South Africa, Dr. Richard Senatore graduated magna cum laude from the University of Massachusetts with dual bachelors degrees in chemistry and biochemistry & molecular biology. He continued his studies at the Harvard School of Dental Medicine, where he received his DMD. Dr. Senatore then completed his general practice residency at the VA Hospital in Baltimore, MD.
What do clients have to say about you?
1. Dr Senatore and Marcella were so kind and gentle. I never liked going to the dentist and I am actually looking forward to my next visit. The whole team at Prudential Dental are awesome. I just can't say enough about them!
2. Dr. Senatore worked with me to get my smile the way I wanted it and the way we both thought it looked best with only one veneer over the fake tooth and some bonding to fill the gaps between my other teeth(many dentists previously suggested a complete makeover). Going to Prudential Dental was by far the best decision I've ever made and I've never had so many compliments on my smile in my life. Dr. Senatore is a life saver!!! ALSO, the staff is so kind and so amazing. You will not be disappointed!
3. Dr. Richard Senatore is very competent, knowledgeable, pragmatic and pleasant. I can not be happier that I found him and the team is amazing. Polite, thorough and professional!
Hours of operation
Monday-Friday 8am-5pm
Insurances Accepted
All Major Insurances Accepted-DDMA, BCBS, Cigna, Atena
Awards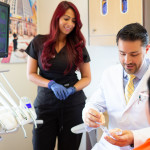 Keywords:
Cosmetic Dentistry, Invisalign, General Dentistry