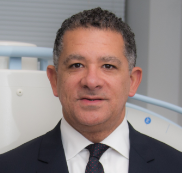 Top Doctor
Omar El Abd, MD
Specialty:
Newton Wellesley Interventional Spine
378 Washington Street
Wellesley, MA 02481
781-489-5541
Visit Website
No Records Found
Sorry, no record were found. Please adjust your search criteria and try again.
Awards
Top Doctor: 2017
From the Doctor
Dr. El Abd's practice at Newton Wellesley Interventional Spine is designed to provide prompt non-operative management of painful spine conditions using evidence-based medicine on conservative management. He is devoted to providing appropriate diagnosis, therapeutic intervention, medical management and exercise education. Dr. El Abd often utilizes X-ray guided procedures for the diagnosis and treatment of these conditions.  Dr. El Abd completed his residency training in Physical Medicine & Rehabilitation at The Albert Einstein College of Medicine.  He completed Interventional Spine training during a fellowship year at the renowned Penn Spine Center of the Hospital of the University of Pennsylvania in 2003. He is board certified in both Physical Medicine & Rehabilitation and Pain. In 2003, he joined Spaulding Hospital and he established an interventional spine program at the Newton Wellesley Hospital Spine Center where he served as the first director of Interventional Spine from 2004 to 2014.  In 2003, he joined the Harvard Medical School as an Instructor and in 2011 he became an assistant professor of Physical Medicine & Rehabilitation until 2014. In 2014, he opened Newton Wellesley Interventional Spine in Wellesley. He is affiliated with Newton Wellesley Hospital and Partners Health Care. Dr. El Abd performed more than 40,000 spine intervention procedures. He authored and co-authored 28 articles and abstracts in peer-reviewed journals and 7 textbook chapters on painful musculoskeletal disorders and interventional techniques. He directed national and international courses on interventional procedures and prevention of their complications. He received many awards including the best musculoskeletal research at the AAPM&R national meeting in 2011. He was named to the top doctors list by Castle Connelly in 2015 to 2017. Dr. El Abd focuses on identifying and treating the cause of pain. When necessary, procedures are performed in the office which is less costly and more time efficient.
Primary Hospital:
Newton-Wellesley Hospital
Special Expertise:
Pain-Spine, Pain Intervention
Insurance:
Blue Cross, Tufts, Harvard Pilgrim, Medicare, United, Aetna, Cigna, Neighborhood