Sean T. Doherty, MD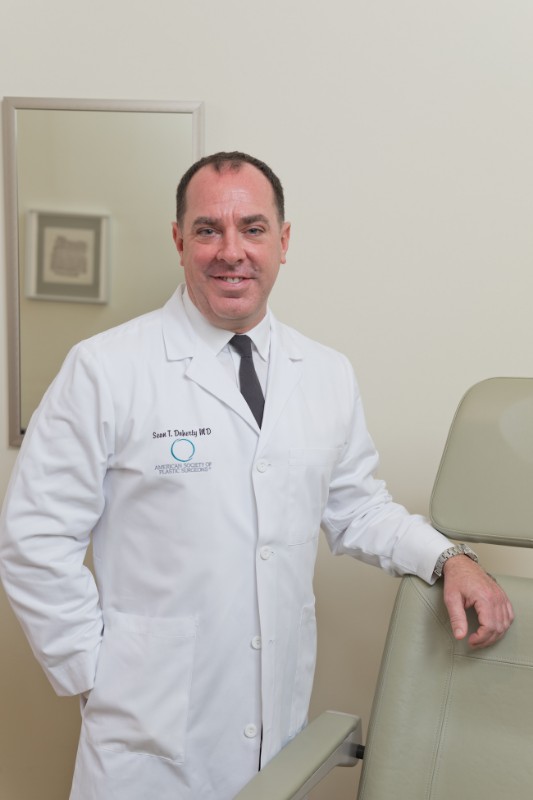 69 Newbury Street, 5th floor
Boston, Massachusetts, 02116
617-450-0070
1 Brookline Place, Suite 427
Brookline, MA, 02445
Website URL
http://www.seandohertymd.com
Specialty:
About
Treatment and Procedures Offered:
Cosmetic Surgery, Facial Injections, Non-Surgical Facial Rejuvenation, Body Contouring, Breast Surgery, Non-Invasive Body Contouring, Laser Liposuction, Fat Harvesting and Fat Grafting, Botox Injections, Facial Laser Procedures, Revision Breast Surgery, Power Assisted Liposuction, Abdominoplasty, Arm Lift, Brachioplasty, Facelift, Blepharoplasty, Gynecomastia, Male Chest Contouring, Male Body Contouring, Sculptra Injections, Non-surgical Buttock Augmentation, Microneedling, Thermi Skin Tightening, Profound, Thread Procedures, Radiofrequency, Skin Tightening Procedures,, Skin Care
Business Summary
Plastic Surgery can do as much for self-image as well as for appearance. Refinements from cosmetic surgery often produce positive changes in self-awareness and attitude that can be perceived and appreciated by patients and those around patients. My goal is to treat patients with respect and to produce subtle but exciting changes. An "overdone" look or a "surgical" appearance is never something I try to create with my patients.
Awards and/or Certifications:
Certified, American Board of Plastic Surgery, 2010
Top Doctor-Boston Nov 2017 Boston Magazine
Castle Connolly Regional Top Doctor, Boston 2017, 2018
Compassionate Doctor Recognition, Vitals.com
Patients' Choice Award, Vitals.com
What's your background, education and training?
High School: Dedham High School
College: Columbia University, BA, Art History
Medical School: Tufts University School of Medicine
General Surgery: St. Elizabeth's Medical Center, Boston, MA
Plastic Surgery: The Lahey Clinic, Braintree, MA
What is your typical process for working with a new patient?
His goal with any procedure, whether it's major or minor, is to help his patients look the best version of themselves—not overdone. It is important to Dr. Doherty that he never lose sight of the patient as a person. He spends time getting to know his patients, understanding their goals, fears and desires. He sees all patients who are considering any procedure in a consultation. At that point he discusses all possible surgical and non-surgical options.
What advice would you give a patient looking to find a provider in your specialty?
Dr. Doherty recommends that any patient seeking a surgical or non-surgical procedure seek out a Board Certified Plastic Surgeon for a consultation. The physician should listen to what a patient is looking for, examine them, review their medical history and then discuss any and all possible surgical and non-surgical options.
What inspired your passion for your profession?
While completing his surgery residency at St. Elizabeth's in Boston, Dr. Doherty found he was drawn to Plastic Surgery. He fell in love with both the surgical procedures and the aesthetic refinements of plastic surgery. Plastic surgeons utilize surgical principals while embracing advanced cosmetic technologies and techniques. It's a balance that suits both Dr. Doherty's personality and his practice philosophy. As a perfectionist, he strives for technical precision for his patients. Dr. Doherty strives for a subtle but effective improvement for both his surgical and non-surgical patients.
What treatments are you most excited to offer?
Dr. Doherty enjoys seeing women for breast augmentation, men for chest contouring surgery and both men and women for facial surgery, liposuction, facial injections and advanced skin care treatments.
What is the best reaction you've ever received from a patient?
Dr. Doherty is thrilled when his patients tell him that after a procedure they feel that they are the best version of themselves--not overdone, but just right!
What makes your business stand apart?
As Board Certified Plastic Surgeons, Dr. Doherty and his senior associate, Dr. Leonard Miller both strive to treat the whole patient. They are equally concerned with the well-being and the aesthetics of their patients. As the Medical Director for Cynosure (the aesthetic laser company in Westford, MA) and speaker and trainer for Allergan, Inc. (the manufacturer of Botox and Juvederm), Dr. Doherty is at the forefront of aesthetic innovation and is thrilled to be able to offer the most advanced plastic surgery technology for his patients.
What should patients know about your pricing?
Pricing for all procedures depends on what procedure is done, where it is performed and what anesthesia, if any is utilized.
How many years have you been in business?
Dr. Doherty has been a Board Certified Plastic Surgeon and treating patients in the Boston area for 10 years.
What do clients have to say about you? Share up to three testimonials.
When it comes to anything beauty related, I only want the best of the best. After doing a lot of research, I came across Dr. Doherty. As soon as I met him for my consultation appointment, I knew he was the best doctor out there. He is so personable, caring and enthusiastic about what he does. He makes you feel very comfortable and is extremely knowledgeable. I couldn't be any happier with my procedure and would recommend him in a heart beat to any one looking to get breast implants. He is truly exceptional.
Words alone can not say how amazing Dr. Doherty is. The moment I met him I felt comfortable. He is thoughtful, caring and honest in his approach. I am VERY happy with my results.
Dr. Doherty and his entire staff exude the epitome of professionalism combined with a genuine concern for their patients well-being, both pre and post procedure. I can without an ounce of hesitation recommend Dr. Doherty for all your cosmetic needs. Every question was answered in a timely manner, whether it was from Dr. Doherty or his fantastic nurse Tara, both of whom went above and beyond to ensure that I felt comfortable, informed and prepared at all times. If you want the best then Dr. Doherty is the doctor for you.
Hours of operation:
Monday through Friday, 9-5, and one Saturday a month.
Keywords: Plastic Surgery, Boston Trained, Board Certified Plastic Surgeon, Beauty Expert, Breast Augmentation, Male Plastic Surgery, Non-Invasive Facial Rejuvenation, Skin Care, Boston Botox, Facial injections, Laser skin procedures
Award Years
2017, 2019
Source URL: https://www.bostonmagazine.com/find-a-doctor/sean-t-doherty/
---