About
After graduating Phi Beta Kappa and Magna Cum Laude in Biology from Harvard College, Dr. Thomas Gill received his medical degree from Harvard Medical School. He performed his internship in general surgery at the Massachusetts General Hospital, and completed his orthopedic surgery training at the Harvard Combined Orthopaedic Residency Program. Upon his graduation, Dr. Gill was awarded the Maurice E. Muller Scholarship to study reconstructive surgery in Bern, Switzerland and throughout other European academic centers. He then completed his fellowship training in Sports Medicine and Shoulder Surgery at the Steadman-Hawkins Clinic in Vail, Colorado.
Dr. Gill is currently Professor of Orthopedic Surgery at Tufts University School of Medicine, Chairman of Orthopedic Surgery for the Steward Healthcare System, Director of the New England Baptist Sports Medicine Fellowship Program, and Director of the Boston Sports Medicine and Research Institute. Dr. Gill has a strong commitment to education, and serves as course director or faculty member with many CME courses.
Dr. Gill has served as Medical Director for the Boston Red Sox, Head Team Physician for the New England Patriots, Team Physician for the Boston Bruins, and Medical Director of the Boston Ballet. He is a fellow of the American Association of Orthopedic Surgeons; a member of the American Orthopedic Society for Sports Medicine; has been a member of the Team Physician Societies of the Major League Baseball, the National Football League, and the National Hockey League; and was elected to the Herodicus Society and the American Orthopedic Association.
Dr. Gill's primary clinical and research interests include knee and shoulder injuries. He has a particular interest in biomechanics of the knee and shoulder, as well as tissue engineering techniques for joint preservation and cartilage repair in the knee. Dr. Gill has authored over 200 articles and chapters on basic science and clinical issues involving the knee and shoulder, and has previously written books on Complications of Shoulder Surgery and Techniques of Knee Arthroscopy.
List the treatments and procedures you offer:
ACL Surgery/Knee Arthroscopy, Sports Medicine Injuries, Rotator Cuff Surgery, Labral Repair Surgery
Awards or Certifications
- Chairman of the St. Elizabeth's Medical Center Department of Orthopedics
- Professor of Orthopedic Surgery at Tufts University School of Medicine
What's your background, education and training?
Board Certified by the American Board of Orthopedic Surgery
Fellowship: Inselspital Bern University Hospital, Reconstructive Surgery in Bern, Switzerland and
Steadman-Hawkins Clinic, Sports Medicine and Shoulder Surgery in Vail, Colorado
Residency: Harvard Orthopedics Combined Residency Program, Orthopedic Surgery in Boston, Massachusetts
Medical School: Harvard Medical School in Cambridge, Massachusetts
Undergraduate Degree: Harvard University
Author of more than 170 scientific articles and book chapters on injuries involving the knee and shoulder, and author of books on the complications of shoulder surgery and techniques of knee arthroscopy.
Hours of operation
8:00 am – 5:00 pm
Special expertise
Knee Injuries, Shoulder Surgery, Arthroscopic Surgery, Knee Ligament Reconstruction
Awards
Hospitals
Primary Hospital: St. Elizabeth's
Secondary Hospital: New England Baptist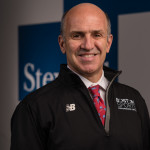 Keywords:
Orthopedic surgery, knee surgery, sports medicine injuries