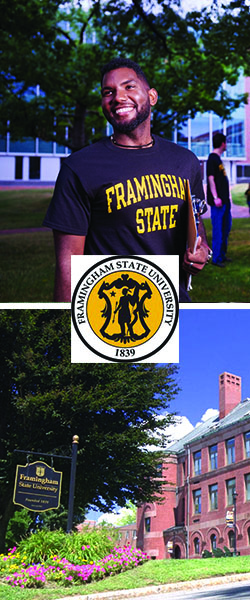 Framingham, MA | framingham.edu | 508.620.1220
As a public university, Framingham State University prides itself on its quality academic programs, affordability, and its commitment to empowering students with the skills, knowledge, and experiences that prepare them to lead fulfilling and productive lives. The University's respected faculty scholars are talented teachers who challenge students to achieve their best so that students build confidence in themselves and their abilities. FSU's many undergraduate programs range from Art to Biology to Communication Arts, and include top majors like Education, Accounting, Marketing, Food & Nutrition and Criminology while graduate offerings include the MBA, MEd, and MS. The University also has undergraduate degree evening programs along with online courses.
FSU aims to provide students with real-world experiences and has an outstanding internship program capitalizing on its location in the heart of economically vibrant MetroWest area, amid Fortune 500 companies such as Bose, Staples, Reebok, Genzyme, as well as thousands of mid-size companies, high-tech startups and public sector organizations. Framingham State University is located just 20 miles west of Boston, offering students all the cultural and career benefits of a world class city. The University is situated on a beautiful, 78 acre, traditional New England campus in Framingham, Massachusetts.

Boston, MA | northeastern.edu | 877.668.7727
Lifelong Learning: Keeping Up with the Pace of Change
To stay ahead in today's hyper-accelerated world of technology, business, and industry, you need to "skill up" and keep learning—throughout your lifetime. Change is happening at an exponential rate, making it more challenging than ever for you to keep up with your professional and personal goals. There's also a need to stay current with global trends related to industry—another reason why lifelong learning should be a part of every professional's career strategy.
If you're looking to move up in your current position, explore new opportunities, or change course altogether, Northeastern offers more than 200 graduate and bachelor's completion programs in high-demand fields, certificates, and bootcamps to help you accelerate your career. You'll also find it easy to learn at Northeastern with flexible, customized programs—delivered seamlessly in online, on campus, and hybrid course formats—designed to fit the way you live and work.
Experience Matters
It has long been acknowledged that people learn best by doing. For over a century, Northeastern University has been an innovative leader in experiential learning, integrating classroom and real-world experiences. Through co-ops, internships, global experiences, and research opportunities, you work within leading companies, for extended periods of time or on specific projects, as a vital part of your rigorous academic coursework.
Whether you're completing your bachelor's degree, earning a certificate, taking a bootcamp, or pursuing a master's or doctoral degree, you will gain valuable experience in the process. Because when employers look for their next hire or promotion, they favor those who have some level of previous experience.
Northeastern: A Top-tier University with a Worldwide Reach
Northeastern is a diverse, dynamic, and innovative university with a longstanding tradition of worldwide partnership and engagement. As a student, you'll collaborate with top-level students, recognized research faculty, and an active alumni community of over 240,000 professionals, and over 3,300 corporate industry partners worldwide.
With campuses in Boston, Charlotte, Seattle, Silicon Valley, and Toronto, Northeastern is well-positioned to provide industry-aligned programs designed to meet the demands of local markets. You'll engage in programs developed in partnership with employers—who help design and create a curriculum that's rigorous enough to prepare you for success in your field and industry. This regional network provides a wealth of resources not only across these metropolitan regions but also globally.
Your Professional Advancement Network: A New Approach to Career Acceleration
Northeastern understands the power of networks and how they can help accelerate a career and amplify success. The Professional Advancement Network is your network—delivering world-class experiential programs and degrees to working professionals aspiring to advance their careers, add credentials to a resumé, make a career change, or build on their current success. From bachelor's completion, master's and doctoral degrees, to certificates and bootcamps—whatever it takes for you to keep up and move up in today's fast-paced world of change. Discover more at northeastern.edu/pan/experience.
Contact Information
Northeastern PAN Admissions
panadmissions@northeastern.edu
1.877.668.7727
Plymouth, Quincy & Online | quincycollege.edu | 617.984.1710
Quincy College can get you where you need to be, whether you're looking to earn a degree, take a single class, continue your education, or change your career. Quincy College offers the programs you want, the flexibility you need, and the price that makes it all possible.
HIGHER EDUCATION. LOWER TUITION.
Applying to Quincy College is easy. Anyone with a high school diploma or GED/HiSET may enroll. Your journey begins here. Fill out an Application Online and receive a username and password to get started on your path to a certificate, a degree, or a profession.
College on your terms. Flexibility you can afford. Our open enrollment policy provides you the opportunity to further your education without the barriers or the wait. Flexible semesters begin throughout the year on our two convenient campus locations in Quincy and Plymouth, Massachusetts, and online. You can also try a hybrid course which combines in-person and online learning.
We are an open access institution that encourages academic achievement and excellence, diversity, economic opportunity, community involvement, and lifelong learning. Quincy College facilitates valuable learning relationships that inspire students to realize their educational and professional futures.
ASSOCIATE DEGREES
Quincy College has a variety of Associate Degree programs to choose from in Professional Programs, Liberal Arts, Natural & Health Science, and Nursing. We have designed programs in cutting edge fields like Computer Science, Engineering Technology, Robotics, and more.
Most credits earned at Quincy College are accepted for transfer to other colleges and universities. Quincy College has agreements with several institutions which allow graduates of some associate degree programs to transfer with advanced standing in specific baccalaureate programs. The courses taken at Quincy College count towards the bachelor's degree just as if they had been taken at the four-year school. Credits earned at Quincy College are often one-third to one-half the cost of most four-year colleges.
CERTIFICATE PROGRAMS
Quincy College certificate programs are designed to provide students with specific skills and job training so they may enter the workforce in less than two years. Certificate programs are offered in a wide range of high demand fields such as Accounting, Aquaculture, Biotechnology & Compliance, Customer Service, Early Childhood Education, Entrepreneurship, Game Development, Gerontology, Insurance Career, Practical Nursing, Security Administration, and Web and Mobile Development.
FOCUSED ON TEACHING AND LEARNING, ONE STUDENT AT A TIME
At Quincy College, students find all the resources they need to have a successful college experience. Our enthusiastic faculty, supportive student advisors, free tutoring, Wi-Fi buildings, and student clubs are all focused on enhancing the college experience for all of our students. Everything that we do is focused upon teaching and learning and the primacy of the teaching/learning relationship.
We welcome you to take a class with our dedicated faculty and discover why students choose Quincy College for a high quality, affordable education.
THE COLLEGE OF THE SOUTH SHORE™
Learn more about Quincy College by visiting one of our campuses in the Boston area and on the South Shore of Massachusetts.
Quincy Campus: 1250 Hancock Street, Quincy Center, MA 02169. Call 617.984.1710
Plymouth Campus: 36 Cordage Park Circle, Plymouth, MA 02360. Call 508.747.0400.
Online: quincycollege.edu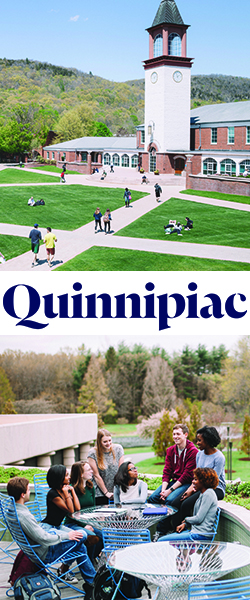 Hamden, CT | qu.edu/visit | 203.582.8600
Use our world-sized classroom to explore your interests and find your focus. Students in the undergraduate and graduate programs at Quinnipiac have many choices—58 majors, 70+ minors, internships too numerous to count, study abroad that adds experience in your major, short faculty-led overseas trips, and real experience in clinical experiences, and actual jobs. You're involved from your first day at orientation in identifying your strengths, choosing to challenge yourself to be better in your weaker areas, and selecting a course of study that prepares you for a career, graduate school, and life. We'll help build your confidence, and you'll see yourself in a new way.
The best way to decide on which college is a great fit is to come to campus—Quinnipiac offers Fall and Spring Open House programs, weekday individual interviews, Group Information Sessions on busy days and student-led campus tours at every turn. Our Mt. Carmel campus is home to the start of all our academic programs, residence living, the library, athletic fields, recreation and a great location at the foot of Sleeping Giant mountain State Park. Our York Hill campus, just the other side of Whitney Avenue, offers stunning views of the area as you wind up to the top to find the TD Bank Sports Center for Ice Hockey and Basketball, all suite-residence halls, and Rocky Top, a lodge-like student center. Our newest spot is the North Haven campus, about 4 miles distant, with a park-like setting, and the Schools of Medicine, Law, Nursing, Education, and Health Sciences. Upper class (juniors/seniors) students in some majors use these facilities and labs, and the graduate students find the interaction between students in all the Schools creates a broad learning environment whether your interests lie in being the best in health care, law, teaching or medicine. An Open House gives you access to all of these features, faculty, and campus settings. Plus a chance to talk with students and ask how they believe Quinnipiac has helped them grow. Clubs, organizations, recreation and 21 Division I teams—the Bobcats rule!
Bring us your questions, look around and see if we can help you find your focus! qu.edu/visit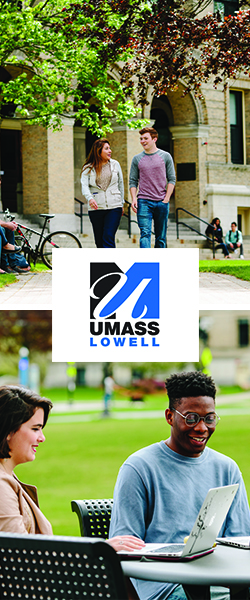 Lowell, MA | uml.edu | 978.934.4000
The University of Massachusetts Lowell is a public research university ranked in the top tier of U.S. News & World Report's national universities.
Six of our academic colleges offer more than 120 bachelor's, 42 master's, and 36 doctoral degree programs. Dozens of our accelerated bachelor's-to-master's programs allow students to earn two degrees in as few as five years. A growing number of our interdisciplinary programs reflect emerging fields in the global economy. Fifty percent of our classes have fewer than 20 students.
University of Massachusetts Lowell students, who come from 50 states and over 100 countries, find a 125-acre residential campus in the midst of a bold expansion upon arrival. Fourteen new buildings have opened since 2010.
The university's extensive industry and community partnerships advance research, benefit the public, and enrich the student experience. UMass Lowell graduates contribute meaningfully in the workplace, build lives around the passions they develop in college, and make a difference in the world.
University of Massachusetts Lowell
1 University Avenue
Lowell, MA 01854
West Haven, CT | newhaven.edu | 203.932.7000
UNIVERSITY OF NEW HAVEN — Success Starts Here.
The University of New Haven, located in West Haven, Connecticut, is a leader in transformative student-first education. Through project-based study, a University-wide professional orientation, internships, and service learning—all grounded in a strong liberal arts core curriculum—hard-working and motivated students graduate with the skills, knowledge, and experience essential to success.
A private, coeducational institution situated on an 84-acre campus, the University of New Haven has an enrollment of more than 6,400 which includes about 1,800 graduate students as well as more than 4,600 undergraduate students. Sixty-five percent of undergraduate students live in University housing.
The University's New England campus is within a short distance of Boston and New York City, giving students great access to the amenities and learning opportunities of these metropolitan areas, and is only five minutes from the Connecticut shoreline.
OVER 100 UNDERGRADUATE DEGREES ARE AVAILABLE AT THE UNIVERSITY OF NEW HAVEN
The University of New Haven offers over 100 undergraduate degree programs and more than 30 graduate degree programs, throughout five distinct academic colleges: the College of Arts and Sciences, the College of Business, the Henry C. Lee College of Criminal Justice and Forensic Sciences, the Tagliatela College of Engineering, and Lyme Academy College of Fine Arts.
Some of the most popular programs of study include criminal justice, forensic science, national security, legal studies, fire science, engineering, music, music and sound recording, computer science, marine biology, graphic design, interior design, dental hygiene, and sport management.
Throughout the University of New Haven's over 100 undergraduate programs of study, students prepare for careers via faculty-mentored research. The average classroom size is 22 students, and students regularly participate in on-the-job training and hands-on experiences through co-ops and internships. They also have the opportunity to take part in enrichment programs through comprehensive study abroad and service learning opportunities.
The University of New Haven takes pride in providing students with experiential education and places emphasis on a practical approach that balances theory with hands-on learning. Experiential education at the University promotes the methodology and philosophy of education, while augmenting academia with practical, real-world experiences and firsthand observation.
HANDS-ON LEARNING THROUGH RESEARCH
The University of New Haven focuses on hands-on learning through faculty-mentored research at the undergraduate level. Research at the University includes all kinds of study, including scientific, artistic, and scholarly activities. Research performed under the University's faculty-mentored program is a major commitment of time and purposeful effort by both the faculty mentor and the student. It also comes with a several-semesters commitment.
University of New Haven students partner with faculty mentors through laboratory research, independent study courses, and/or a thesis. The faculty-mentored research program ends with a major presentation or undergraduate thesis, which must be approved by the student's academic research department. Undergraduate research provides students with a mentor who has extensive experience in their field and a unique opportunity to practice the principles of their education.