We Tried It: Ramblewild
It's quite possibly the most fun you'll have this summer.
---
Paolo Cugnasca and his daughter Valentina are on a mission. Not to make money—although that is always welcome—or to get people outdoors, which, that too, is an added perk. But the main mission of the family's forest-fueled business is one thing: to keep trees vertical.
Through their business, Feronia Forests, which was formed in 2007 after purchasing 1450 acres of forest on Potter Mountain in the Berkshires, the family, who could be considered "conservation capitalists," are doing just that. They've found a way to keep trees upright, teach children and adults about nature, and form a family business producing maple water and maple syrup from the very land they own. The maple water, called Vertical Water, and the maple syrup, called Mission Maple, are produced directly from the trees in their forests in Western Massachusetts. In fact, if you visit the mountain, you can see the sugarbush (a term used for the tree area where the sap is collected) during your visit. It looks like a spider web of rope, connecting the trees as one energy source, fueling production of maple sap for years to come.
Last July, we introduced you to Ramblewild, the 900-acre forest adventure park the Cugnascas opened on their land where you can literally swing from tree-to-tree. Paolo, 68, doesn't want to cut trees down, and you can see from the construction of Ramblewild that very few trees were actually harmed. The wood that did have to be cut is placed in a special arrangement so that it decomposes naturally and becomes a part of the forest.
"I always loved the forest and Feronia Forests gives us the opportunity to do so many things that people don't generally associate with a forest," Paolo says. "Most people look at a forest because they want to cut the trees. And we say, 'We can do all kinds of things.' I want to do maple syrup. I want to do honey. I want to do ginseng. I want to do Ramblewild. I want to do mountain biking. I want to do snowshoeing. All these things that allow you to extract revenues from the forest while conserving it."
Paolo's passion for the land is contagious, and his mission is clear: get outside, save the forest, produce from the land. When I went to explore Ramblewild, he took me in his Jeep up to the top of the mountain for a stunning bird's-eye view of the land and the massive windmills creating energy for the region. He talked of Nature Deficit Disorder, teaching kids about nature, and about keeping the trees vertical while still being in the money-making business.
"For us, the environmental stuff is easy because we are a forest, so if you just do it right, you will take care of the environment," Paolo says. "The social side is where we want to really make a difference. So last year, we set up a nonprofit corporation called Feronia Forward. The purpose is to connect the younger generation with our forests because we all know that the younger generation, the wired generation, spends eight hours a day in front of a computer screen. And my concern is that if we don't teach them about the importance of our forests and the importance of conserving them properly, how can we expect them to take care of them when we are gone?"
Feronia Forward funds student visits from local schools to come out to Ramblewild and explore the forest. There are trails surrounding the adventure park with signs explaining what you are looking at to connect you to the forest. Children learn about nature and conservation in a fun way.
"It's not a class because they are essentially running up and down the mountain, but they are learning," Paolo says. "They just don't know it, which is the best kind of learning."
Ramblewild is open year-round because it wasn't built in the sugarbush where they tap the maple trees; it was built surrounded by hemlock trees, evergreen timbers that shelter you from the wind. The park experience is a welcome treat if you want to get outside and enjoy the seasons.
Want to get out and explore? On our visit to Ramblewild, this is what we learned:
1) It's harder than it looks.
And yet, children were passing me with ease. I'm a front-of-the-group fitness class kind of girl. I take advanced reformer Pilates classes, and on any given Saturday I'll run 10 miles just because. Heck, I just finished the Boston Marathon. But there was a climbing wall at Ramblewild defeated me. There may have been tears involved. There was definitely a rescue ladder. It took three guys to talk me off the ledge. Although the harnesses used are the highest quality available and incredibly safe, I just couldn't let go.
2) Dress appropriately.
Your favorite pair of Lululemon leggings and New Balance cross trainers will not do. Maybe in the hot summer months, they'll be fine, but for the other three seasons, dress for cooler temps—you are in the mountains, after all. During my visit, it was chilly and raining, but it was still the most fun I've had in years.
3) Get there early.
This is an all day adventure. Tickets are valid for three hours, and there are four different treetop trails to explore, plus glorious hiking trails surrounding the park for when your adventure is over. If you prefer to not get up in the trees, you can walk beneath the shrubs for free. There are creeks, a 90-foot ravine, and numerous pathways to explore. After your experience, you'll want to relax in the custom-built lodge and enjoy some maple water-infused coffee by the fireplace.
In the end, I can't wait to go back to Ramblewild. It truly is a magical wonderland. Below, more images from our delightful Ramblewild adventure, including photos taken throughout the seasons.
---
Ramblewild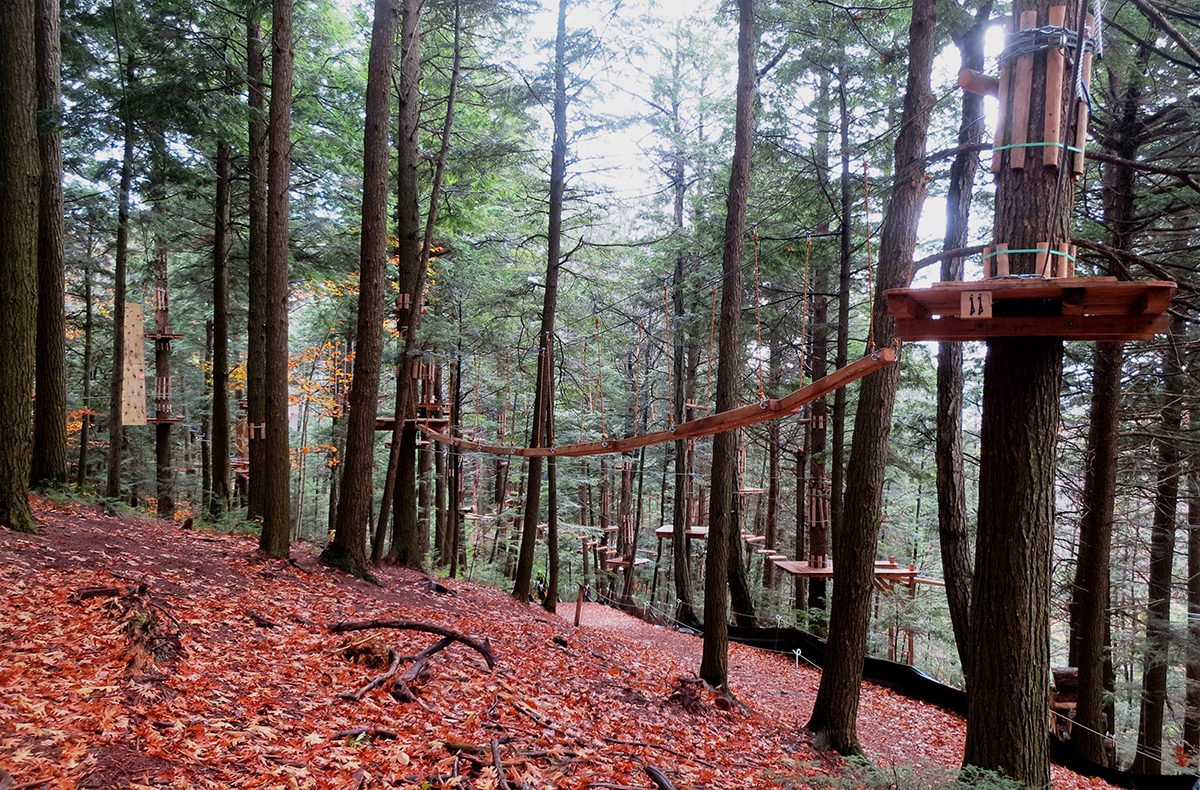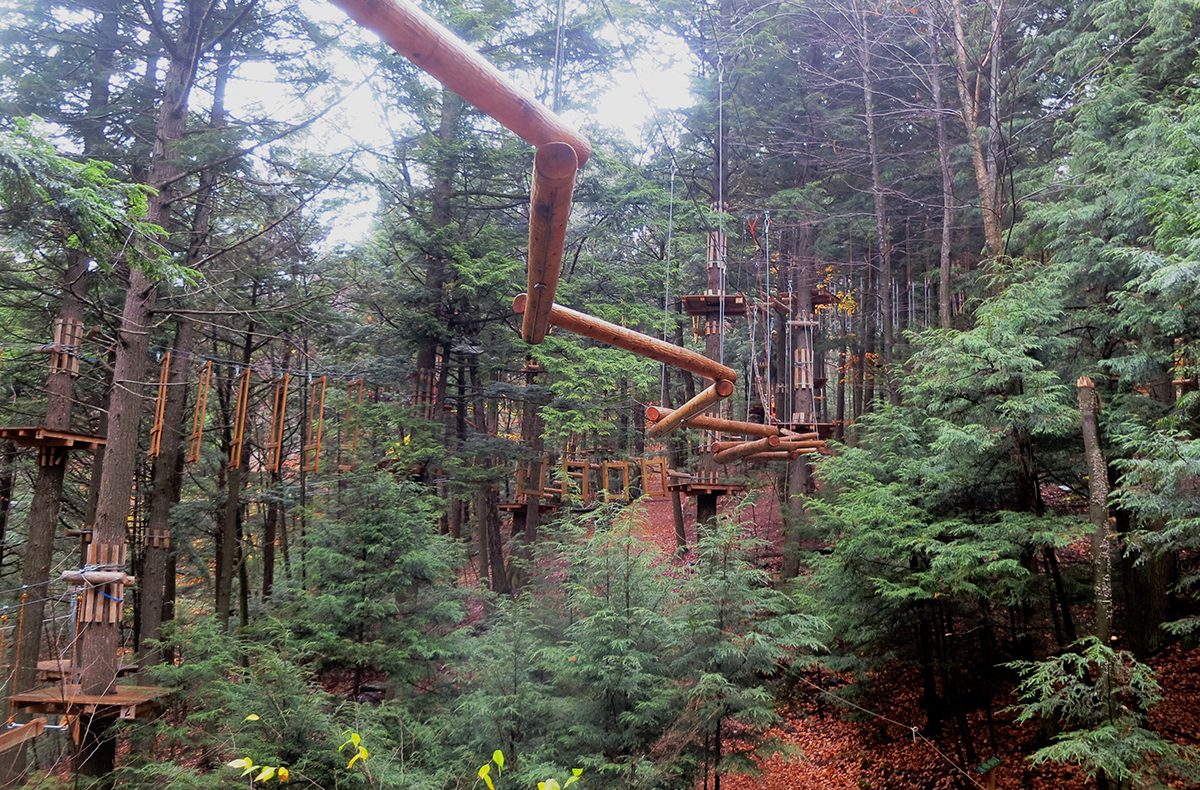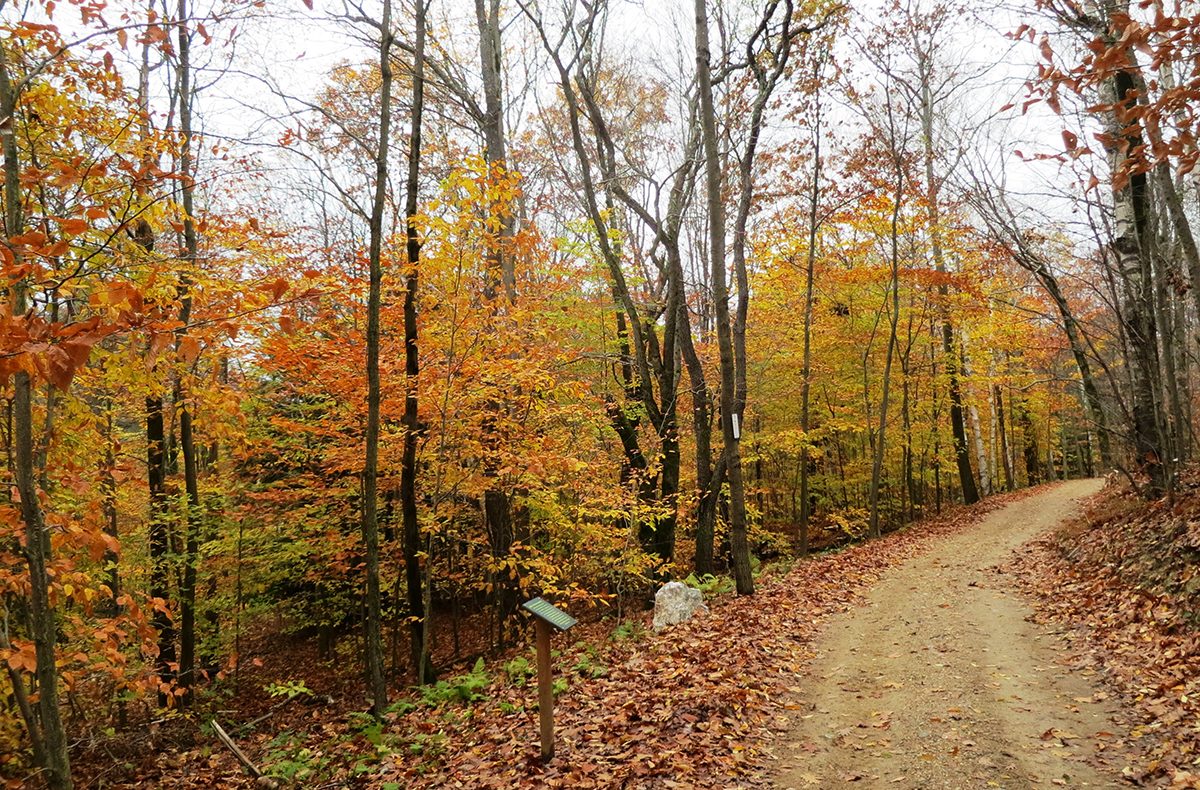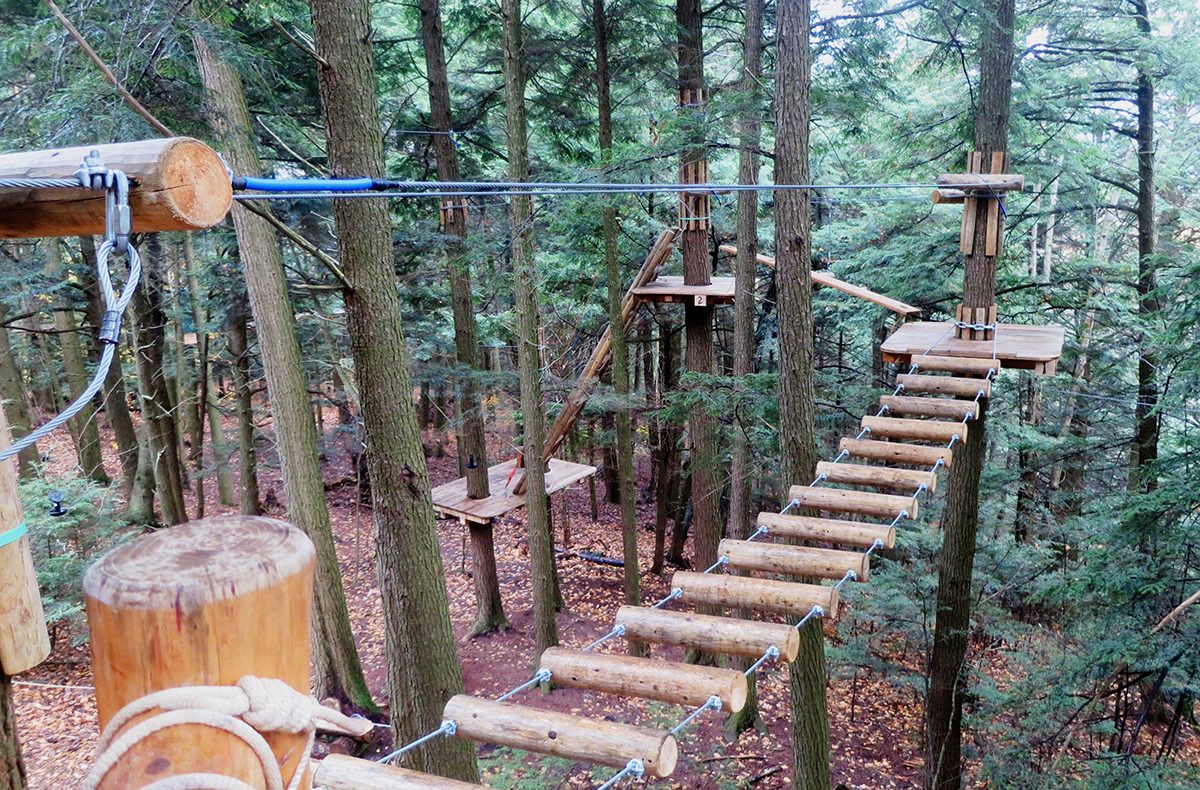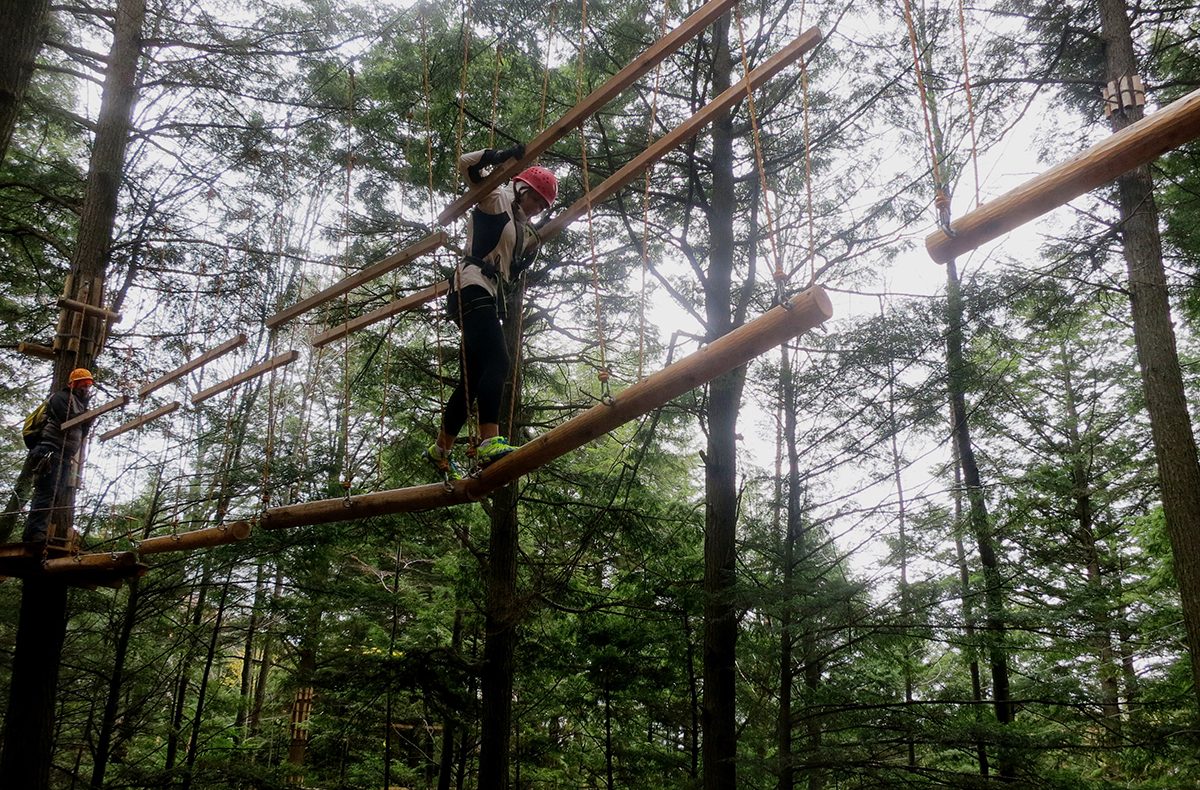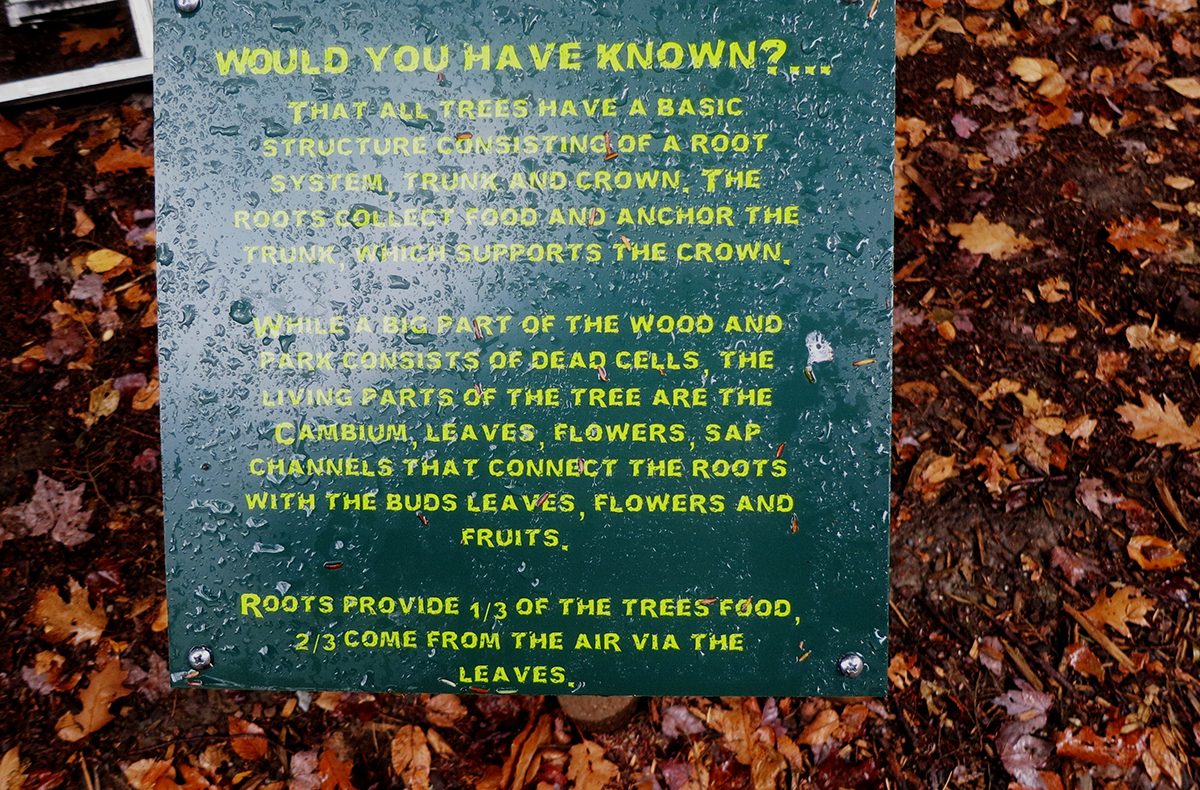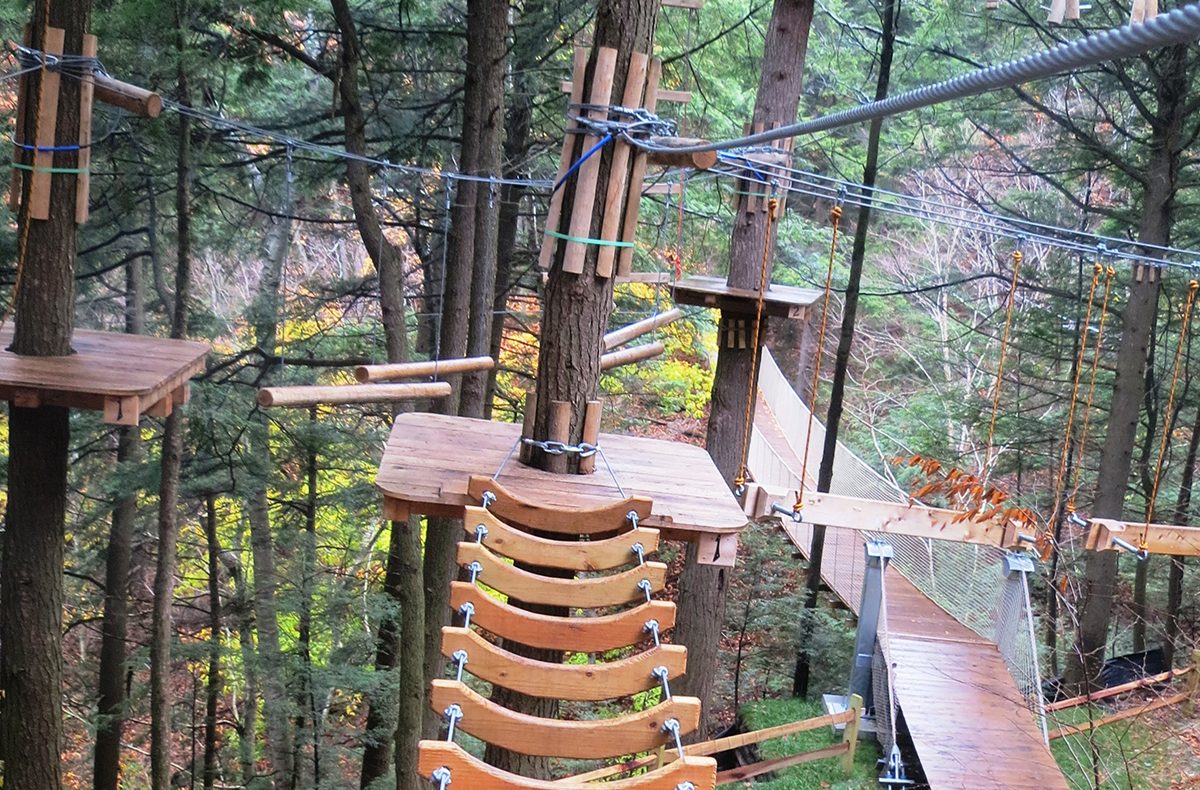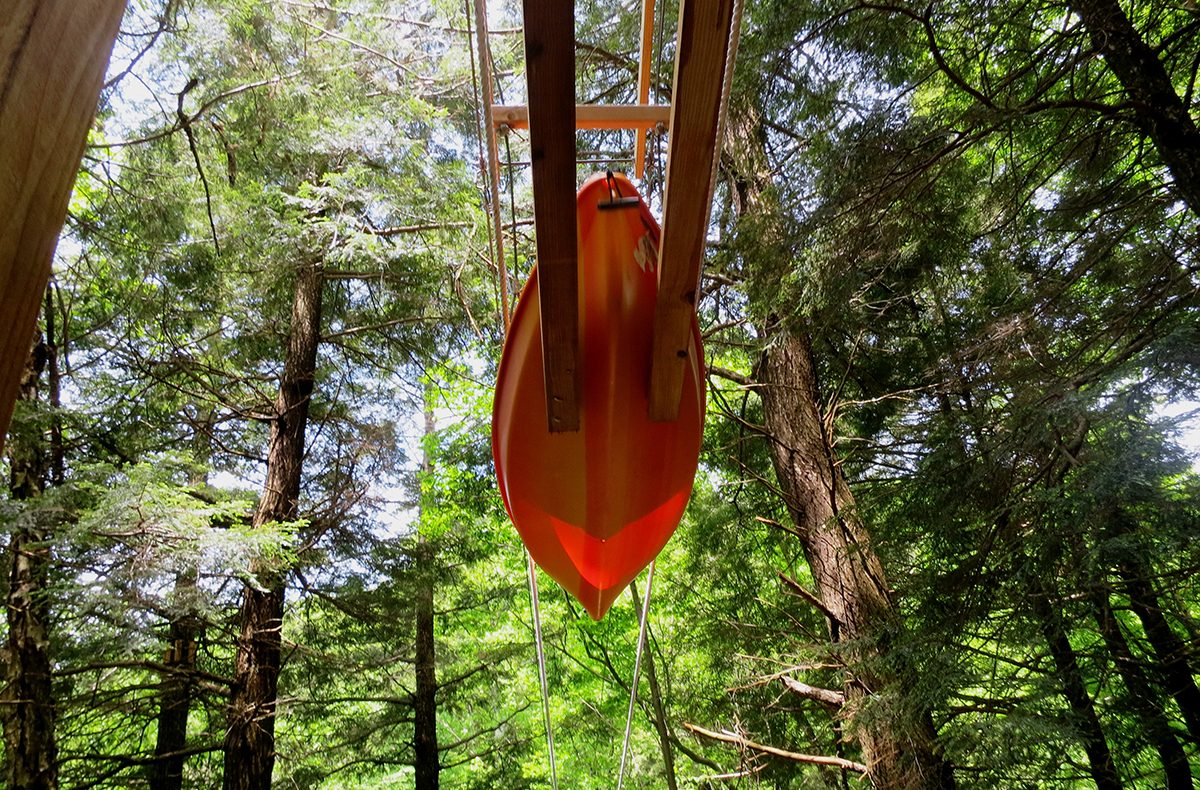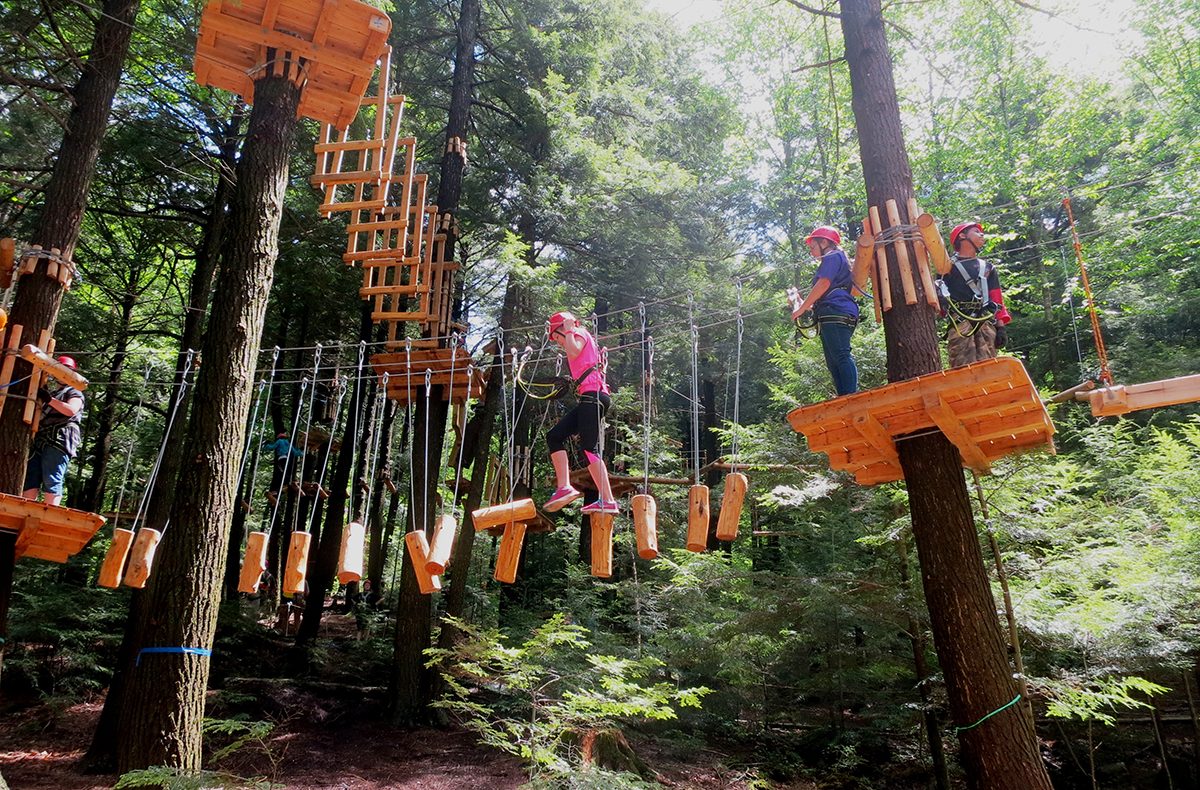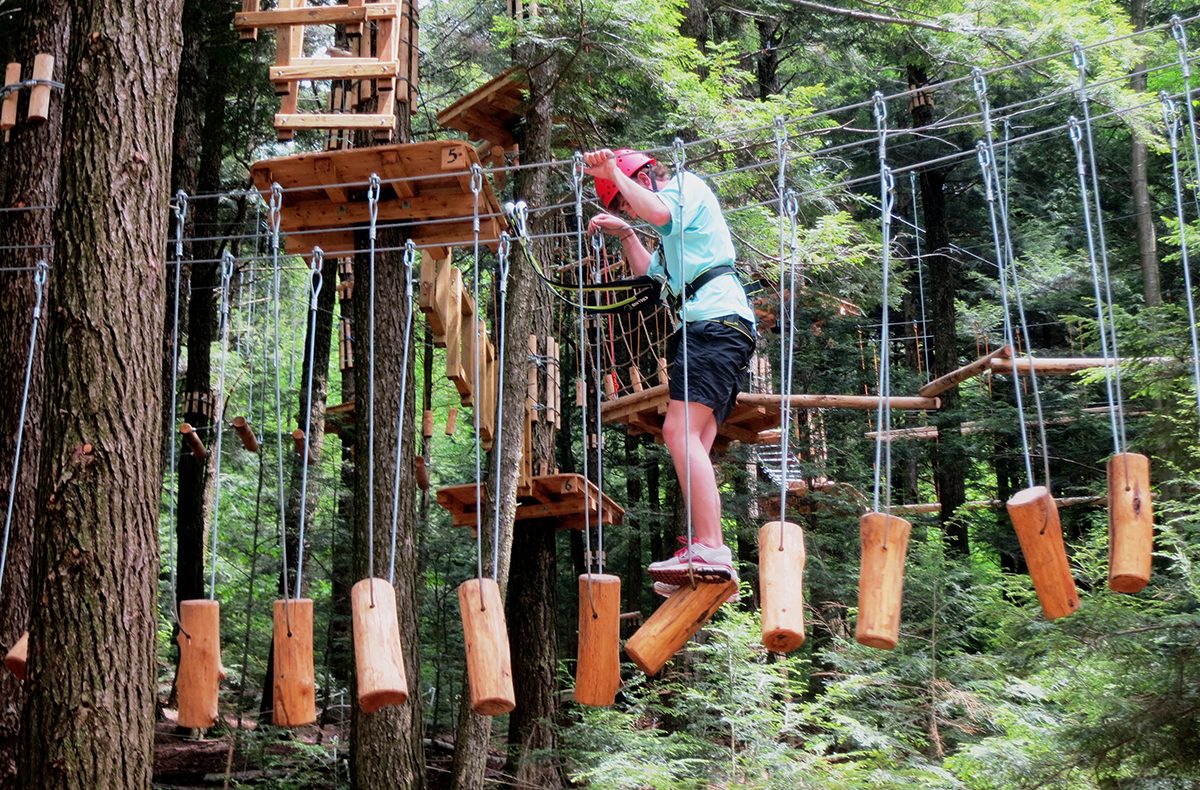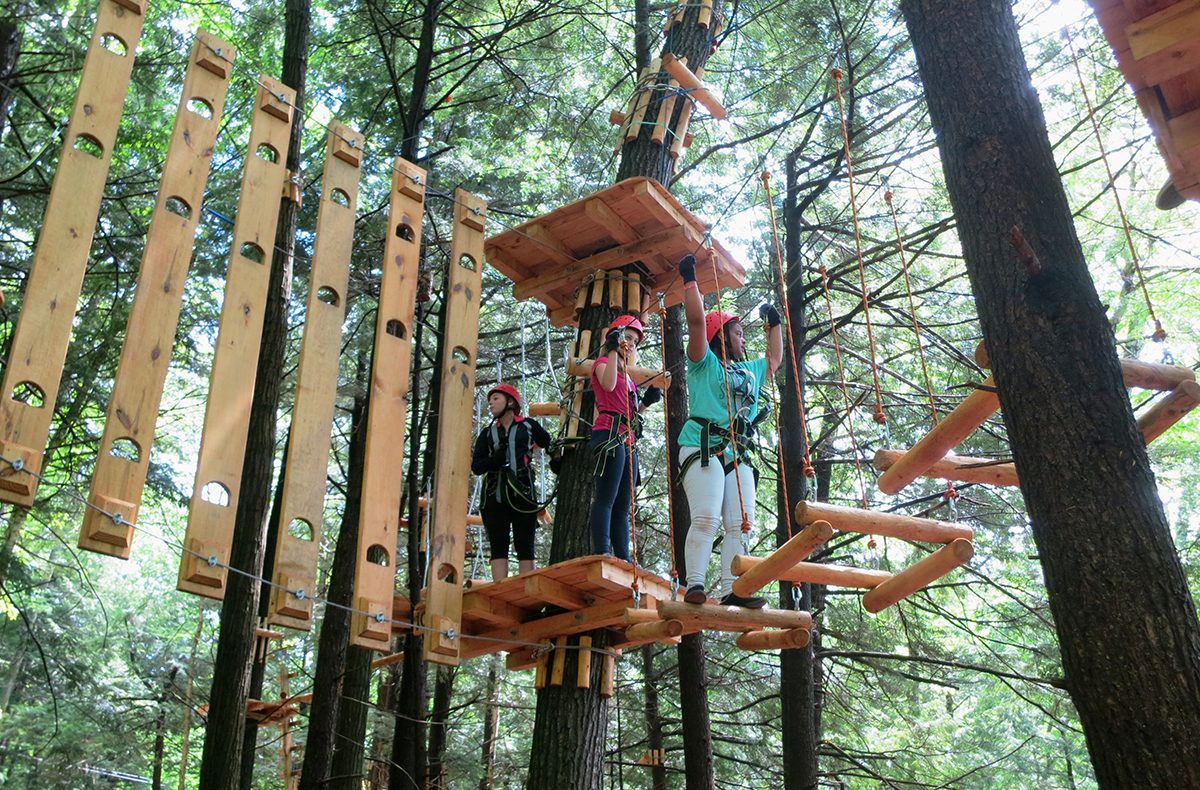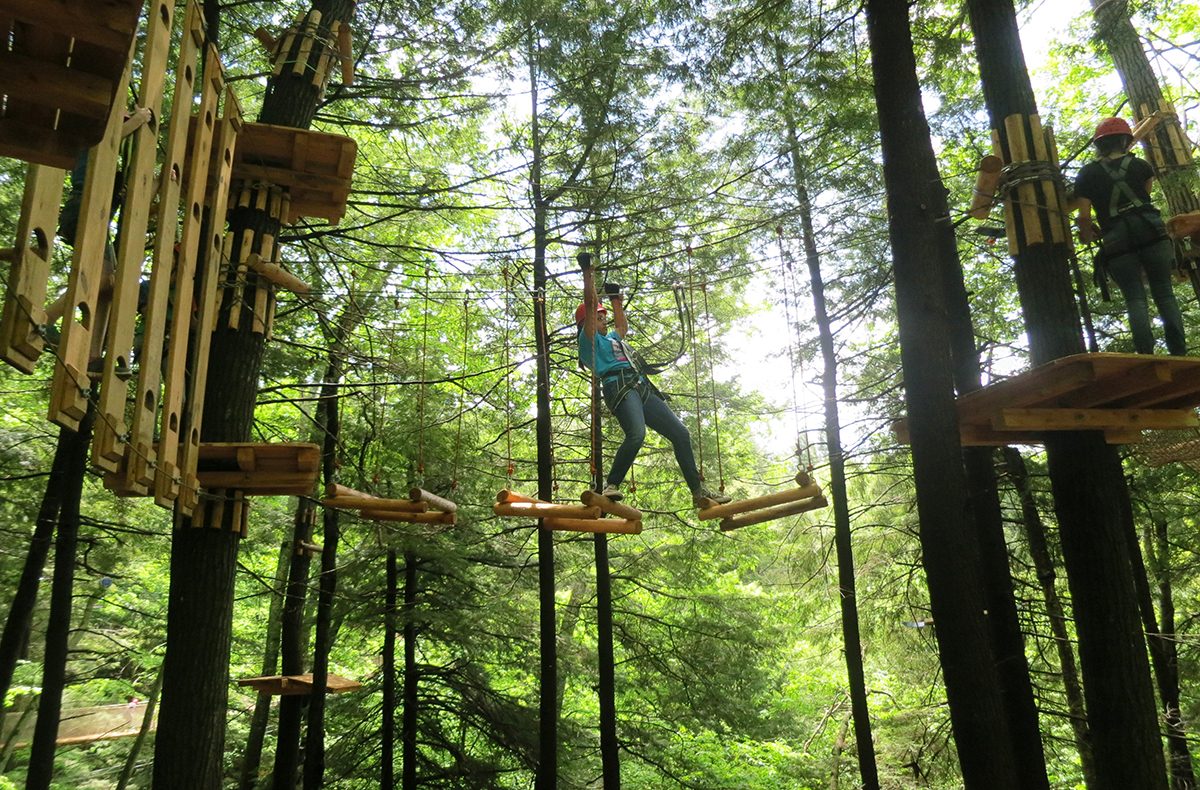 110 Brodie Mountain Road, Lanesborough, 1-844-iRAMBLE, ramblewild.com; $69 adults 15+, $63 teens 11-14, $57 juniors 7-10; no children under 7 allowed; free to enter and walk around; military and group discounts available.
---