Ask the Expert: Why Can't I Get Muscle Definition?
Fitness guru Parker Cote offers a crash course in getting lean, defined muscles.
---
Welcome to our Ask the Expert series, in which our panel of health experts answers your wellness questions. Here, trainer Parker Cote tells you how to get lean, defined muscles. Got a question of your own? Email jducharme@bostonmagazine.com.
---
Question:
To achieve lean and defined muscles, do I need a supplement or a shake after or before working out? I work out five days a week (HIIT, spinning, cardio and weights, yoga sculpt) but I am not able to get my body to be nicely defined. What should I be doing differently?—A.S., Boston
Answer:
While it doesn't have to be in the form of a supplement or shake, you should be getting protein after a workout if you want to gain muscle, Cote says.
"When you're working out, the fibers in your muscles are ripping apart," he explains. "If you just go home and sit on the couch and maybe have dinner a few hours later, your muscles are screaming."
Giving them what they want—fast-digesting carbohydrates and protein—shortly after exercising helps you refuel, recover, and build more muscle. Liquids, like a whey protein shake or chocolate milk, can be a convenient and easily digestible way to get these nutrients, but solid food works, too. Bread and white rice are examples of fast-digesting carbs, while protein can be found in meats, dairy products, nuts and nut butters, tofu, and so on.
It's also smart to eat a meal incorporating slow-digesting carbs—think brown rice, whole grains, and sweet potatoes—and protein two to three hours before a workout, Cote adds. "You just want something that's going to give you good, clean energy for a workout," he says.
What you eat is only half the battle, though. Cote says it's also worth reevaluating what you do at the gym—namely prioritizing strength-training before cardio.
"Less is more sometimes," he says. "Me, personally, I don't do cardio more than three times a week."
To get that coveted, defined look, Cote recommends swapping one cardio workout per week for another day of resistance training, using either weights or your own bodyweight. If you are using weights, upping the pounds over time will also help build muscle.
"Periodization—increasing the resistance, or just changing the exercises around—could definitely help you improve," Cote says. "You have to switch it up."
---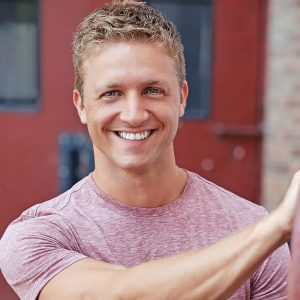 About the Expert: Parker Cote is a personal trainer and the owner of Parker Cote Elite Fitness. As a fitness model, Parker has appeared on 24 magazine covers across the globe. He has also been featured in more than 250 magazines including Men's Health, Men's Fitness, GQ, Cosmopolitan, ESPN, and Maxim, and on the Today Show with Kathie Lee and Hoda. He is a writer and fitness expert for Men's Fitness, and has written dozens of articles for major fitness publications worldwide.
He is passionate about teaching clients how to make fitness a fun part of their lives. His goal as a trainer is to help people experience the benefits of a fit and healthy lifestyle while maintaining balance in all aspects of life. He has certifications from the National Academy of Sports Medicine and the International Sports Sciences Association.
Got a question for our experts? Email jducharme@bostonmagazine.com.
---