Ask the Expert: How Can I Motivate Myself to Work Out?
Trainer Parker Cote gives us a fitness pep talk.
---
Welcome to our Ask the Expert series, in which our panel of health experts answers your wellness questions. Here, trainer Parker Cote gives your motivation a pep talk. Got a question of your own? Email jducharme@bostonmagazine.com.
---
Question:
I can never get myself to the gym. How can I motivate myself to work out?
Answer:
"You don't get in your car and just drive. You have to have a destination," Cote says. "It's kind of the same thing with fitness."
In other words, having a concrete reason to exercise will make it 10 times easier to actually get yourself to the gym. Set goals that truly mean something to you, and that you'll be able to work toward consistently—nothing that's so extreme you'll burn yourself out.
Cote recommends setting both big goals (like losing 50 pounds or running a half marathon) and small goals (like shaving 10 seconds off your mile time or graduating to a heavier squat weight) so that you can celebrate along the way and keep enthusiasm up. It's crucial to remember, though, that you'll need time to see results, even smaller ones.
"Monthly goals are good, because it gives you enough time to see results," Cote says. "You have to give yourself enough time to change and be consistent with it. My whole fitness philosophy is gradual progress." (Progress pictures can be helpful, Cote says, because they remind you that your body is changing, however slowly.)
But what about when your goals are set—and maybe even written down and shared with a friend—and you still can't drag yourself to the gym? That's when it's time to find a trick or incentive that works for you. Cote recommends splurging on some new workout gear to "freshen it up a little bit," mixing up your playlist, or signing up for a class or personal training session to force accountability.
All that said, it's important to acknowledge that there will be days when you simply don't want to go to the gym, or when you're too run-down, tired, or sore to make it happen. That's okay.
"Sometimes I'll take that day off, and then I'll have renewed energy the next day," Cote says. "People hold themselves to doing these perfect workouts all the time, but just make sure you're doing something active." Something, after all, is always better than nothing.
---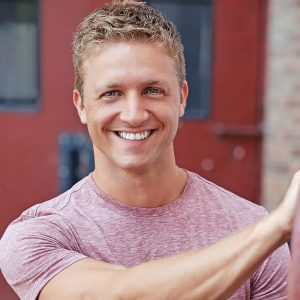 About the Expert: Parker Cote is a personal trainer and the owner of Parker Cote Elite Fitness. As a fitness model, Parker has appeared on 24 magazine covers across the globe. He has also been featured in more than 250 magazines including Men's Health, Men's Fitness, GQ, Cosmopolitan, ESPN, and Maxim, and on the Today Show with Kathie Lee and Hoda. He is a writer and fitness expert for Men's Fitness, and has written dozens of articles for major fitness publications worldwide.
He is passionate about teaching clients how to make fitness a fun part of their lives. His goal as a trainer is to help people experience the benefits of a fit and healthy lifestyle while maintaining balance in all aspects of life. He has certifications from the National Academy of Sports Medicine and the International Sports Sciences Association.
Got a question for our experts? Email jducharme@bostonmagazine.com.
---