The Best Gyms, Healthy Food, and Places to Get Outside in South Boston
Use our healthy neighborhood guide to stay fit in this neighborhood.
---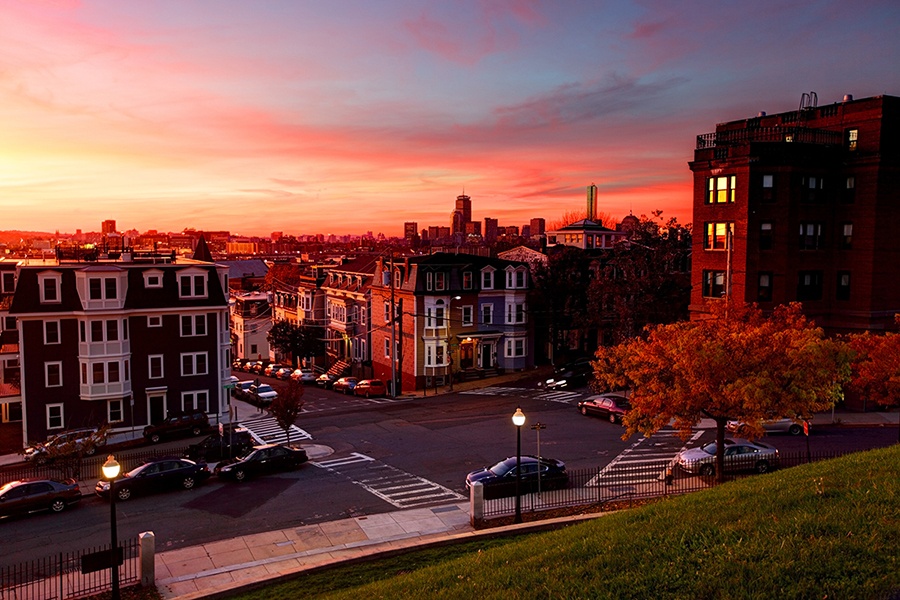 Known for narrow three deckers, row houses, and strong Irish Catholic traditions—South Boston is home to many up and comers in the city, and staying fit remains a big priority (between late nights out at old school Boston pubs and settling arguments over parking wars). Whether you're looking for a place to lift or are in need of a different super market to grab your weekly food haul, we've rounded up the best gyms, healthy food, and places to get outside in Southie.
Where to Work Out
Lifted Fitness: Want to get stronger without facing the intimidation and confusion of walking into the weight room by yourself? The coaches at Lifted will have you squatting, deadlifting, and benching with the barbell in no time. Each group class is capped at 15 participants so the coach can give you individualized attention and help you with your form—no injuries here. And if you're looking for nutrition guidance, they have a registered dietitian on staff to help you assess your current eating habits and recommend where you can make changes to fit your lifestyle. 803 Summer St., Boston, 857-496-1022, liftedboston.com.
Body of Work: This small studio space, located in the Distillery Gallery, will have you moving your body in ways you haven't moved since childhood. Think movements like: Crawling, rolling on the ground, and rocking on your hands and knees. They adhere to the Ido Portal method, which suggests that we should not be so rigid and structured in our movement but draw from many different principles and modalities of movement to get back to the way we used to move—freely. Classes are structured in a group setting or one-on-one. In group classes you'll play games with other participants and if you opt for one-on-one training, you can focus on more challenging skills like handstands or bar work. 516 E 2nd St., 6th floor, Boston, bodyofworkstudio.com.
The Handle Bar: This local spin studio, with quite the fan following, will deliver a dance club feel while you're working out. Get sweaty in a dark room, with blaring music, and sudden moments of pure darkness, where you focus on nothing but yourself and your bike. Complimentary shoe rentals are offered for those who don't have their own, but don't expect lockers or a changing room—the three different locations (two others are in Harvard Square and Fenway) were meant as neighborhood hubs for people to get in and out. Small cubbies and restrooms are available. 141 Dorchester Ave., Boston, 617-451-1270, handlebarcycling.com.
Where to Eat
The Juice Box: Swing by this juice bar for a quick and on-the-go breakfast smoothie or coffee before starting your day. Choose from smoothies like the strawberry shortcake, made with strawberries, vegan marshmallows, peanut butter, and almond milk, or sip on a sweet Thai iced coffee mixed with almond milk and cardamom for a caffeine boost. The menu is completely vegetarian and gluten free as well. If you have a minute to spare in the morning, sit down for a good morning bowl blended with acai, dates, banana, coconut water, and topped with hemp seeds and coconut flakes. Two different juice cleanses are available as well: a revive cleanse and live green cleanse in one, three, or five-day packages. 359 West Broadway, Boston, 857-930-4510, juicebox.com.
Foodie's Urban Market: When heading out for your weekly grocery haul, why not switch it up and head to this family-owned market? They carry special variety products as well as everyday essentials, and if you're in a hurry, you can opt for the prepared foods department and choose from a variety of entrees and side dishes, as well as foods with more international flair. Foodie's also has a grab-and-go case with ready-made sandwiches and a salad bar stocked with fresh produce, protein options, and a soup of theday. And if you're feeling uninspired to cook, check out the chef's recipe of the week. 230 W Broadway, Boston, 617-269-4700, foodiesmarkets.com.
Where to Get Outside
Castle Island, Pleasure Bay, M Street Beach: Take a stroll around Fort Independence or even tour inside it. During the summer, lay out a towel on Pleasure Bay beach or M Street Beach–as long as you don't mind the occasional stray ball from Spike Ball or frisbee gone awry from Can Jam. The pathed sidewalks along the beach are perfect for biking, running, or walking and some docks even allow for fishing. The beach area is close enough to the city for an afternoon day-trip but just far enough away for some relaxation. 2010 Day Blvd., Boston, 617-727-5290, mass.gov.
---
---