How to Survive in Boston on $50,000 a Day
A look at the city's most fantastically over-the-top extravagances in this new gilded age.
---
Edited by Brittany Jasnoff
---
Boston may be better known for Subarus and Bean boots than ostentatious displays of wealth, but with more mega-rich residents than ever before, that reputation is lately starting to fade. In fact, from bespoke seating for private jets to secret jewelry vaults to million-dollar matchmakers, Boston's business moguls, foreign investors, and idle rich support an entire cottage industry ready to cater to their every whim. Got a craving for the finer things? Whether you're looking to indulge—or just sneak a peek—here's your guide to the city's most fantastically over-the-top extravagances in our new gilded age.
• • •
IF YOU WANT EVERYONE TO KNOW…
Buy Bling from a Secret Vault
A look at Neiman Marcus's treasure trove of truly head-turning  jewelry.
Up on the third floor of Neiman Marcus in Copley Place is a small area dedicated to high-end jewelry. Here, you'll find a wealth of dazzling pieces on display, but even the savviest shoppers may not realize this is only the tip of the iceberg. That's because behind closed doors, and locked in a vault, are one-of-a-kind treasures too valuable for the selling floor. "Just because it's not out doesn't mean that we don't have it," says Daniel Kramer, vice president and general manager for Neiman Marcus. "Based on the relationships that we've formed, we have unparalleled access to the most unique and precious pieces and stones in the world." Behold, a rare glimpse of a few of the statement-making jewels hiding under lock and key.
—Abby Bielagus
---
If You Have $900

BUY THIS
The Monstah, a 5-foot leviathan from new South End eatery Lobstah on a Roll that feeds up to 60 people.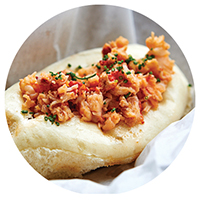 OR THAT
47.36 brown-butter lobster rolls from Eventide Fenway, whose Portland-based co-owners won a 2017 James Beard Award.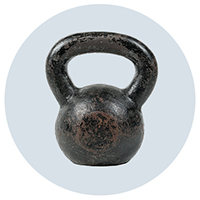 OR THIS
Four months' membership at Equinox Sports Club Boston (in case you've already eaten all those lobster rolls).
Courtesy photos
—Jacqueline Cain
---
Join the Club
Rub elbows with the well-heeled (no secret handshake needed).
THE FASHION COUNCIL AT THE MFA
The Club: For Boston's fashion-savvy gals about town
The Dues: $1,500 annually, plus membership at the museum at the sustainer level or above
The Perks: Private get-togethers and invitations to talks by the likes of nonagenarian style icon Iris Apfel and jewelry designer Neil Lane as well as trips to fashion capitals such as Paris, Tokyo, London, and Milan.
CLUB MOTORSPORTS
The Club: For the country clubber who'd rather turn the wheel than swing a nine-iron
The Dues: $100,000 to initiate a platinum membership, plus a $6,000 annual fee
The Perks: Access to a 100-acre campus in New Hampshire with overnight accommodations, a clubhouse, repair shops, climate-controlled garages, and the real gem: a scenic 2.5-mile closed course.
LA CONFRÉRIE DES CHEVALIERS DU TASTEVIN
The Club: For the city's discerning oenophiles (who must be sponsored by two other members to gain entry)
The Dues: An initiation fee and annual investments in the club's cellar
The Perks: A chance to taste rare wines acquired by direct sales from some of the world's most sought-after vineyards.
—Abby Bielagus
---
A Day in the Life of a Private-Flight Coordinator
Marialena Barnard, director of client operations for Quincy-based Sentient Jet, dishes on the perks of flying friendlier skies.
Portrait by PJ Couture
I handle the VIP flights for people we want to make sure get a little extra attention, from the first contact to flight execution. Our customers fly in anything from what we call a light-size aircraft, which will have six to seven seats, all the way up to a heavy cabin, which is 10 to 16 seats, and that's where your luxury is. There's generally a credenza with food—there's crystal and china, you're not eating off plastic. One time, we ordered all of the Cristal that the vendor could supply.
When people travel frequently, they'll have a favorite restaurant there. They know the menu front and back and would just love to have a high-end filet, or sushi from a certain place in New York City, or barbecue in Texas. So we'll have the food delivered for their flight. If it comes down to asking places to open early or put items in a car service to make sure they can get delivered in time, those are all things we'll absolutely do.
The simplicity and efficiency of flying privately is such a huge win. Your tea that you like is there steeped and hot with fresh honey and lemon. Your special lint-free cashmere blankets and certain pillows are onboard. People have wanted water in a certain cup holder and a certain type of gum when they board the aircraft. Years ago one colleague and I made calls for seven or eight hours in rural Pennsylvania looking for almond milk for a customer's coffee. We all have certain comforts that we get accustomed to.
Starting at $127,325 for 25 hours, 866-602-0044, sentient.com.
—As told to Madeline Bilis
• • • • • •
IF YOU WANT TO MAKE LIFE EASIER…
Bring the Feast to You
Who needs to go out when Boston's premier chefs make house calls? The top cooks in town can completely customize the experience to whatever whim—and cellared wines—you have.
CHRIS CHUNG
While he doesn't serve them at his restaurant, Momi Nonmi, Chung will delicately plate nigiri and even roll maki for private parties of 12 or fewer. Sushi is "a really gourmet item," he says. "I don't think it should be done at max capacity." Try it while embarking on a multicourse omakase with A5 wagyu and the freshest sashimi from the Boston Fish Pier or the Tsukiji fish market. Starting at $150 per person, plus $500 chef's fee.
WILL GILSON
"It's always been a good side hustle for me," says the Puritan & Company chef-owner, who's been known to prepare private clients tasting menus of five or more courses that often start with caviar, continue with a palate-cleansing soup or salad course and a lavish entree like dry-aged beef, and always end with chocolate. $150–$300 per person; appearance fee negotiated.
CHRIS COOMBS
The Deuxave and Boston Chops chef has been flown (often with a sous or two in tow) to locales such as Tuscany, Israel, and St. Barts for extra-special occasions. Locally, his team has done everything from a 14-course feast that began with oysters on a client's terrace to dinners involving $20,000 worth of truffles. Prices start at $5,000.
FRANK MCCLELLAND
In his three decades as chef-owner of L'Espalier, McClelland has met plenty of high rollers. The ones who've had him prepare luxurious meals in their own homes have supped on such fare as caviar, white truffle risotto, lobster, a fine selection of cheeses—and for at least one event, venison from deer shot and killed by the host. Prices start at $250 per person.
—Jacqueline Cain
---
If You Have $350,000
BUY THIS
A parking spot in Beacon Hill's Charles Street Garage—text ahead to have valets bring your ride to you.
OR THAT
Four Tesla Model X cars (each with a souped-up wheel and tire package).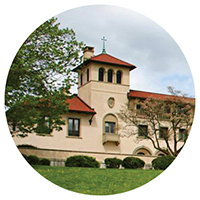 OR THIS
A private school education (kindergarten through eighth grade) at Brookline's prestigious Dexter Southfield school.
Courtesy photos
—Madeline Bilis
---
Shop Like a VIP
High-powered executives and gala-hopping socialites don't need to riffle through the racks—not when retail pros are ready to bring the racks to them.
Meredith Bonner, Personal Shopper at Barneys New York
"No two days are the same, which I love! I've done everything from curate themed birthday gifts for a client's husband to host birthday lunches. We also work with our jewelry vendors to curate trunk shows catered to clients for special occasions."
Joel Ellzey, Vice President/General Manager at Saks Fifth Avenue
"We can pre-pull head-to-toe looks. We can go to a client's home and help edit their closet. We can act as a concierge for a restaurant or a play. We also have the Fifth Avenue Club, which has beautifully appointed rooms for the individual who wants to keep a low profile."
Itay Shimony, Market Vice President, Northeast US Retail, at Tiffany & Co.
"All our Boston stores feature a beautiful, private sales salon that offers guests a comfortable alternative for viewing selected jewelry. The salon at our Newbury Street location has velvet cream walls featuring a series of archival sketches."
—Abby Bielagus
---
A Day in the Life of a Personal Concierge
Why worry about shopping or life's nitty-gritty details when you can pay Christina Kotseas to do it for you?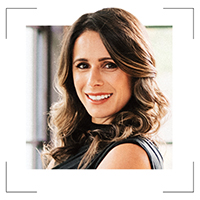 Courtesy Photo
I'm always one of multiple people in someone's house. There's usually a chef, a housekeeper, a nanny or two, landscapers, and floral designers there at any given time. My job is to seamlessly blend in and pull it all together—if there's an issue with the way floral is going or the landscapers need to communicate about the placement for a tree, it will funnel through me. During the holidays, I'm gift shopping, cocktail-party planning, wrapping gifts, and getting décor up in homes. Some like to call me "a wife," but I don't know if that's really PC nowadays.
Most everybody I work for is pleasant. I had a client in Chestnut Hill who bought an $8,000 fur vest from Loro Piana on Newbury Street and asked me to make a special trip out there to see it on her. She wanted my opinion on whether it was too expensive to keep. Today I transported a $6 million painting in a client's car. We noticed that there was a smudge on the canvas, so I brought it out to a vendor that we've used just outside of Boston and he fixed it. You have to be versatile and easily blend into any type of atmosphere. You never let them see you sweat, and you need to have, like, 12 pairs of shoes in your car because you never know if you're going to be walking into Hermès to place an order for $500,000 worth of product or if you're going to be on your hands and knees organizing someone's shoe closet. You know, I've done both in the same day.
$4,400 for a 40-hour package, Kotseas Concierge, kotseasconcierge.com.
—As told to Madeline Bilis
• • • • • •
If You Want to Have Some Fun
Master the Art of the Buyout
Enough with the hoi polloi. Whether you want to go skiing with your family sans crowds or just dine in the company of no one, these lavish destinations can be yours and yours alone—for a price.
A NOT-SO-SECRET GARDEN
Where: The courtyard at the Isabella Stewart Gardner Museum, Boston
How Much It Costs: $8,000
What You Get: The opportunity to enjoy the museum's majestic courtyard and cloisters just like Isabella did more than a century ago—in blissful solitude.
A NEWPORT MANSION
Where: Grace Vanderbilt, Newport, RI
How Much It Costs: $12,000
What You Get: All 33 rooms of a railroad tycoon's manse turned hotel. Staff can organize a private fitness class, mix you a proper gimlet, and maybe offer tips on how not to lose a fortune.
AN ENTIRE SKI MOUNTAIN
Where: Plymouth Notch, Plymouth, VT
How Much It Costs: $18,000
What You Get: More than 800 acres of fresh powder on 28 trails. A day's rental includes three square meals (real skiers eat duck truffle pâté), plus lodging at the On the River Inn in nearby Woodstock.
THE CITY'S HOTTEST DINING ROOM
Where: Uni, Boston
How Much It Costs: $30,000
What You Get: A Saturday night with the place to yourself—so you won't have to share chefs Ken Oringer and Tony Messina's tuna-and-foie-gras tataki and A5 Wagyu sirloin ($30 an ounce).
FENWAY PARK
Where: Boston
How Much It Costs: $250,000
What You Get: A chance to warm up with some batting practice, run the bases, and then reward yourself with your very own box of Fenway Franks. You're never going to play for the Red Sox, but you can pretend for a day.
—Madeline Bilis
---
If You Have $10,000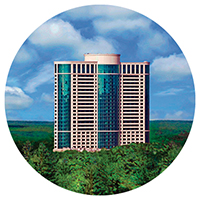 BUY THIS
A helicopter ride to Foxwoods and a night in its Mashantucket Villa, where a chilled bottle of Dom Pérignon awaits.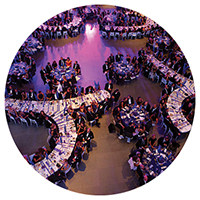 OR THAT
Four tickets to one of Boston's biggest nights of the year: the Storybook Ball.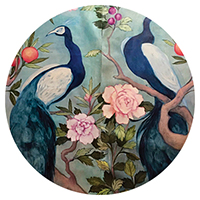 OR THIS
Nothing makes an estate like a pair of custom wall murals (starting at $5,000 apiece) from Vermont's Medusa Studio.
courtesy of MGHFC (ball); courtesy photos
—Madeline Bilis
---
Hire a Star for Your Next Party
Looking for a big shot to grace your red carpet? Here are a handful of New England celebrities who've made VIP appearances in the past.
If the thought of getting Aerosmith to perform at your party gets your motor running, there's hope. Steven Tyler reportedly serenaded guests at NASCAR superstar Kurt Busch's wedding reception in Palm Beach in 2017.
Captain America doesn't just punch Nazis; he can twirl a joystick, too. So if you're a gamer with fat stacks of cash, you might be able to swing Boston native Chris Evans, who cohosted an Xbox One X launch party in November.
Does your shindig need a celeb who can out-party your guests? Patriots tight end Rob Gronkowski once reportedly notched five figures to show up at a 21st birthday bash, where he signed footballs and played beer pong.
For those who'd rather skank like it's 1997, an appearance from the Hub's own Mighty Mighty Bosstones reportedly costs a cool $75,000. That's what the ska sensations earned for jamming at a block party in Kansas last year.
—Hayley Glatter
---
A Day in the Life of A Millionaire Matchmaker
For 10 years, Janine Bush was a financial-services headhunter. Now the Boxborough resident recruits candidates for the openings in her clients' hearts.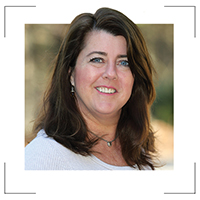 Courtesy photo
I meet with everyone. I wouldn't say that I'm judging, but I'm screening.
When Joe Shmoe becomes a client, we talk about his past relationships, his stumbling blocks, whether he wants more kids. My first step is to look in my database, which has maybe 2,000 people in it. I'm constantly recruiting. It's a lot of detective work.
I set everything up: I get availability, I arrange the date, I make the reservation, I reconfirm, I swap phone numbers, and then after the date I get feedback. The only feedback that I share is constructive criticism. This is where the coaching comes in: "You sounded too hung up on your ex; you talked about your kids too much; you didn't ask enough questions; or you asked too many questions and your date felt like they were on an interview."
It's a lot of work, and people ask why it is so expensive. It's because I'm not a dating service; I'm giving you exactly what you're asking for. A guy who is a CEO of a company and goes to Bali twice a year is going to want someone who is classy, well traveled, beautiful, and takes really good care of herself, and those women are harder to find.
Executives who understand the value are the ones who confidently call me and say, "I'm too busy, I'm too private, I'm not going to the bars." I tell everyone, it's just like using a headhunter. If you're a hiring manager, you're going to call a recruiting firm to give you the top five candidates, and that's what I'm doing.
$5,000 to $20,000 and up, J. Allen Matchmaking, 20 Park Plaza, Boston, 617-674-4458, jallenmatch.com.
—As told to Abby Bielagus
---