Roots Is Now Open in Boston
Even if you aren't Canadian, you'll love this new gallery-retail hybrid.
---
The beloved Toronto lifestyle brand Roots has put down, well, roots in Boston, in a new space on Newbury Street. The store acts as a perfect example of a new breed of retail that seems more intent on immersing the customer in an experience than on actually making a sale. Devotees of the label will find an entire room dedicated to the legendary Salt and Pepper sweats, as well as one for the iconic Cabin Sock. There is also a section of the store selling Boston-centric apparel available only at this location, but otherwise, almost everything else has to be purchased online. The idea of this store is to sell the Roots culture, the one thing that can't be bought with the click of a mouse. And as a newbie, personally, I was sold.
The sensory experience begins at the front door where the customer is greeted with a photographic timeline of the brand's history. Turn the corner and you find yourself in a room completely and totally decked out in speckled gray, inspired by the popular Salt and Pepper sweats. It's set up like a small living room (perfect for selfies) with a couch, two arm chairs and end tables, and all of the decor and knick-knacks, including a laptop, a phone, books, a bicycle, a plant, a fan, are completely covered in gray. There is a also a long wooden bar running along the opposite end of this room where "sweat-tenders," are waiting to sell you pieces from the Salt and Pepper line.
The next room is an homage to the other fan favorite, the Banff bag and its leather counterparts, all still made by hand in a Toronto factory. Banff bags are displayed in the center of the room on wooden pillars. One wall features a video playing footage from the factory floor today and over its 45-year history, and the other wall is covered in different leather bag styles which are tagged for easy online ordering. Snap a picture of the tag or write it down and order online at your convenience.
Next up is an installation of 200 sock-clad feet, some resting on Bruins hockey pucks. There is also a walkway through thousands of feet of fleece that's reminiscent of the hanging flaps in a car wash, but cozier. The back of the store mimics a more traditional retail space; actual apparel and accessories are for sale off the racks. Back here is also a customization station where customers can design jackets and bags to their individual tastes.
Roots has opened more traditional stores in Natick and Lynnfield, but this is the only experiential gallery concept the brand has opened. "To introduce ourselves into a new market, we can't really lead with product. We want to tell our story about the culture. So this is really a space where we can have people experience the aspects of our brand, and touch some product and also have some items that are available to sell…The idea is that we want people to come in and start to dwell and actually spend the time to find the stuff they like…because this really is the sort of a space we want people to engage in, instead of just breezing through," explains James Connell, vice president of ECommerce and Customer Experience.
The plan is to change the installation every six to eight weeks. So if you want to see a giant wooden beaver decorated in 400 salt and pepper shakers, now is your chance.
Roots Legends at 334 Newbury Street is open on Monday through Saturday from 10 a.m. to 8 p.m. and on Sunday from 10 a.m to 6 p.m. Additional info at roots.com.
---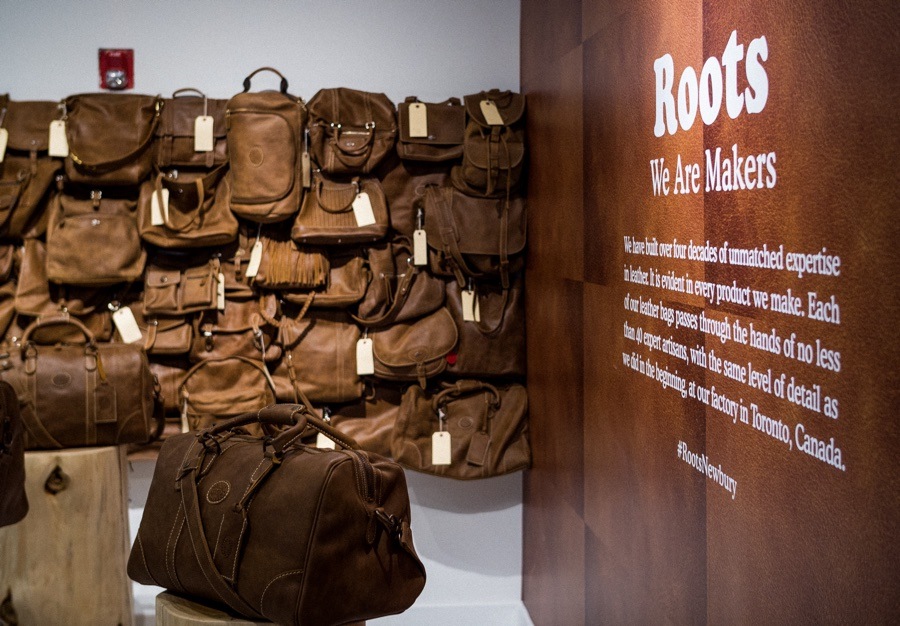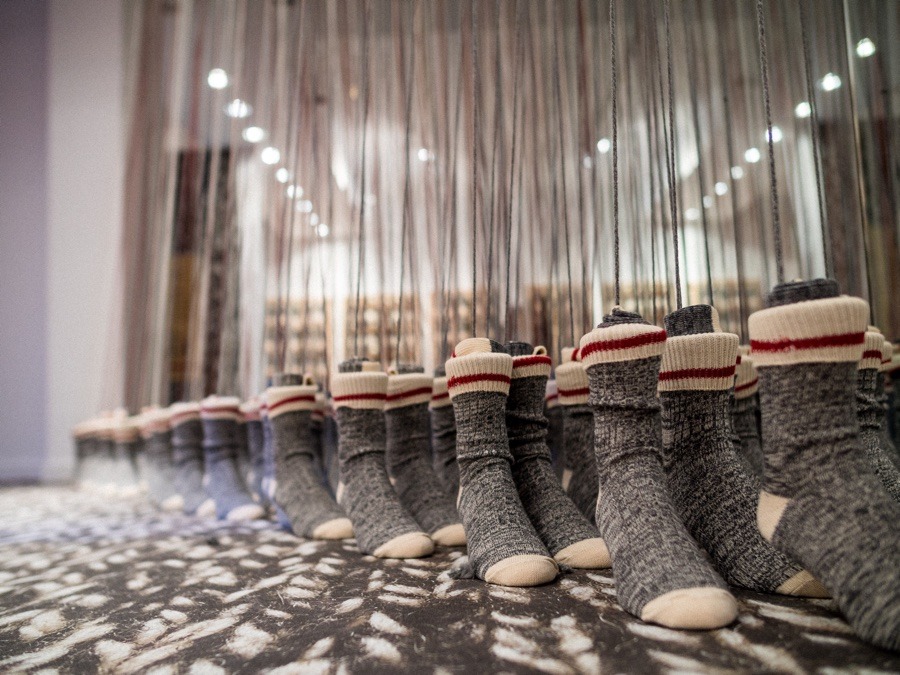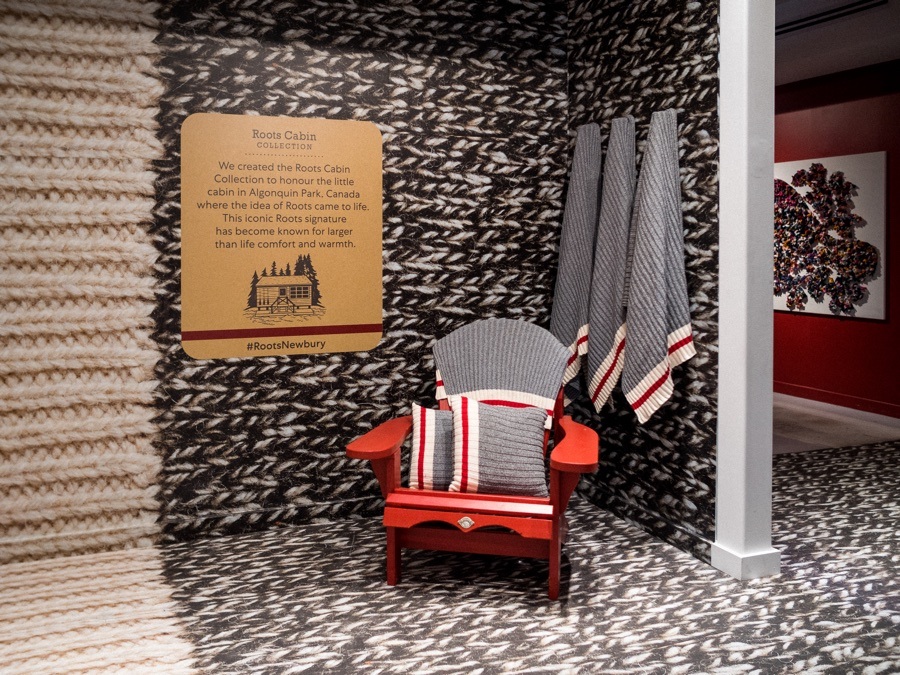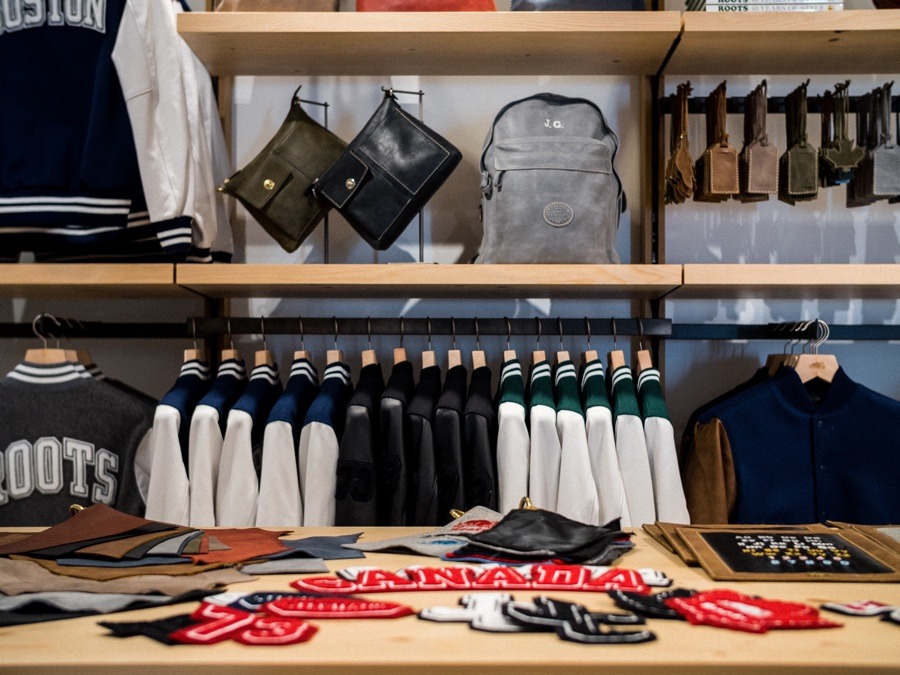 ---
---