The Ultimate Guide to Shopping and Snacking in Lower Mills
Just before Boston meets Milton, indie boutiques, cult-favorite eateries, and antiques shops offer treasures worth the trip.
---
1. Pet Supply
Proprietors Mark Armour and Mark Walter, a.k.a. "the Marks," ran a successful dog-walking business before opening their pet-supply store, which sells accessories, toys, hard-to-find raw-diet foods, and locally made treats for four-legged friends.
2284 Dorchester Ave., 617-322-3183, thepoopedpoochpetsupply.com.
2. Cake Pops Boston
Why wait for your birthday to indulge? Try all of Heather O'Donnell's decadent cake pop flavors—standouts include Key lime and s'mores—for a perfectly portioned taste of the good stuff every day.
2267 Dorchester Ave., 617-322-9690, cakepopsboston.com.
3. Smitty's Barbershop
The chairs are always full at Smitty's, which moved into a new Lower Mills location last year, and for good reason: fresh cuts and expert shaves served up with a smile by barbers Michael Smith and Jake Bell.
1158 Washington St., 617-690-2420.
4. Dark Horse Antiques
Owner Robert Ferrini has been sharing his passion for antique furniture and housewares since 1993; recent finds include a set of blue lamps with creatively woven shades and a red-velvet armchair that resembles a conch shell.
1162 Washington St., 617-298-1031.
5. Archangel Boutique
Lashonda Jefferson describes the boutique she opened 13 years ago as an extension of her own closet. That means you'll find dresses for nights out, standout separates for work, and styling tips from Jefferson herself.
1166 Washington St., 617-296-5900, archangelboutique.com.
6. Streamline Antiques
Lynda Watson and Lisa Crowley's charming shop is packed with art deco and midcentury modern gems just waiting to be discovered, from Bakelite baubles and vintage suit jackets to hand-painted barware.
1168 Washington St., 617-298-3326, streamlineantiques.com.
7. Flat Black Coffee
What started as a Lower Mills retail store in 2003 has grown to become one of the area's premier independently owned coffee roasters, with four other shops throughout the city. Pop in to the original location for an award-
winning cup of the namesake flat black.
1170 Washington St., 617-298-1800, flatblackcoffee.com.
8. Yellow Door Taqueria
After two-plus years, lines still form out the door and around the block for Yellow Door's duck confit tacos and chili-infused-mezcal cocktail.
2297 Dorchester Ave., 857-267-4201, yellowdoortaqueria.com.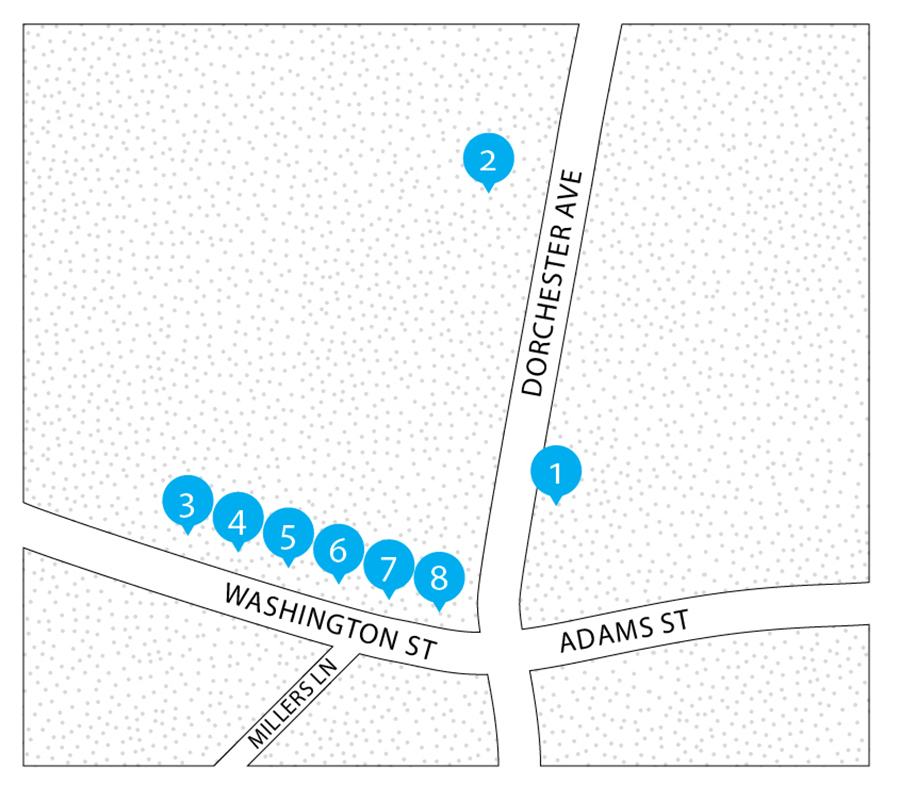 ---
---