MELANIE CABRAL & DR. GLENDA SAVITZ, O.D.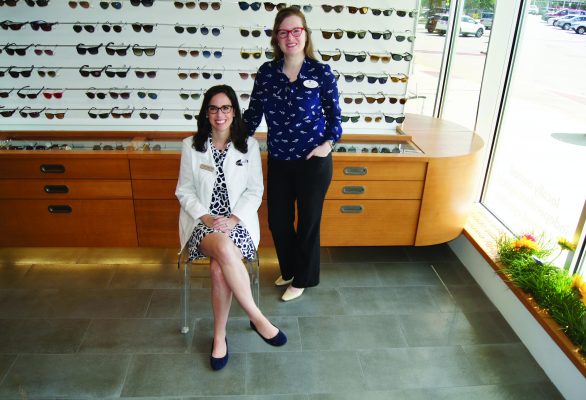 MELANIE CABRAL & DR. GLENDA SAVITZ, O.D.
EYESPOT
617.232.3303 | eyespot.com
EYESPOT is a luxury optical boutique which specializes
in extraordinary frames from around the world. Founded in 2006, EYESPOT also offers cutting edge technological eye care. Melanie Cabral is Managing Partner and is pictured with Dr. Glenda Savitz, O.D.
Why did you start your own business?
Melanie: Running an independently owned and operated business has allowed me the opportunity to not only continue to build on past relationships of over 20 years with my regular clients, but also form new bonds with new people in the community.
What do you enjoy most about your job?
Melanie: I get to travel the world without ever having to get on a plane! I personally select handcrafted sophisticated frames from all over the world and love seeing the immediate visual transformation and satisfaction in my customers.
What do you like most about working together?
Melanie & Dr. S: My "Frame IQ" and Glenda's "Eye Care IQ" really complement each other's expertise. EYESPOT was founded by one of Boston's leading retina surgeons (named one of Boston magazine's Top Doctors in 2016). We use a state-of-the-art 3D eye scanner to project images allowing patients to
be part of the diagnostic process. It's extremely gratifying to have access to this gold standard in care and style.
---