Then and Now: Menino's Boston
Have you blocked out what the city looked like 20 years ago? Peter Vanderwarker's photos recall Boston before the Big Dig.
---
We all want to forget the horror, but throughout most of Menino's administration Boston was under siege by the Big Dig. The project may have been federally funded and overseen by the state, but it was the mayor who was saddled with a downtown that resembled a battlefield. Somehow, though, Menino managed to sell investors and ordinary citizens alike on his vision for the clean, efficient, and business-friendly city that would emerge from the project's dust. The Big Dig ballooned into a $22 billion boondoggle, but Boston came out of it as a better city: Property values have more than doubled, our streets are safer, and our economy is more robust than ever.
Sponsored Content

The Harvard Art Museums present Corita Kent and the Language of Pop, on view through January 3, 2016. Learn More
Noted photographer Peter Vanderwarker, author of The Big Dig: Reshaping an American City, has spent more than 30 years documenting our evolving city. Here we offer a series of his photos taken before and during Menino's administration. The above pair of images shows City Square in Charlestown—during the construction of the Route One tunnel below the square, and after its conversion to a park. The other two sets show the Central Artery shortly before it was dismantled, and the same view after the land was transformed into the Rose F. Kennedy Greenway. —Rachel Slade
BEFORE: City Square, Charlestown, 1991
AFTER: City Square, Charlestown, 2010
BEFORE: The Central Artery, 2004
AFTER: The Rose F. Kennedy Greenway, 2012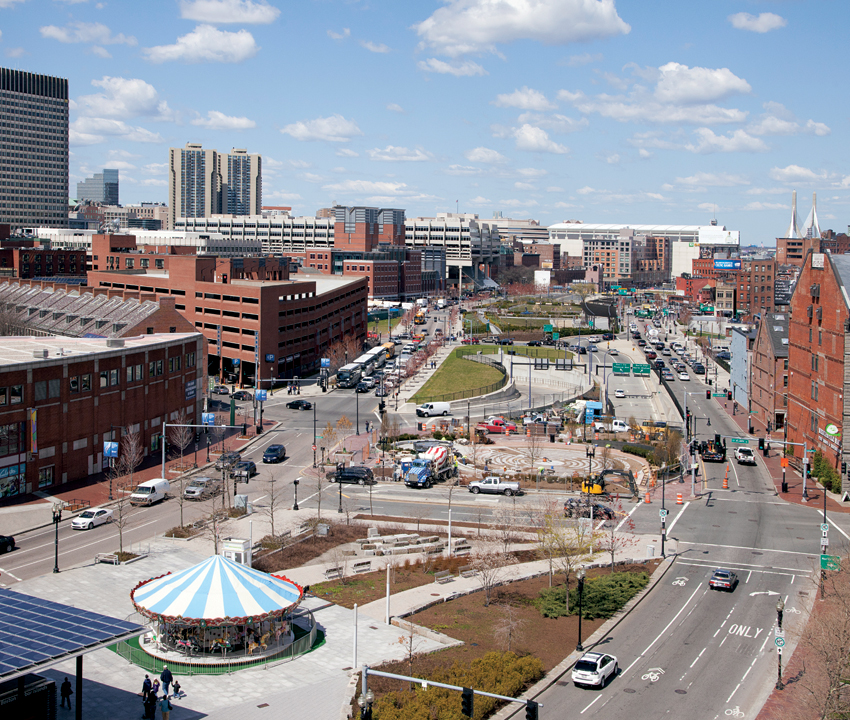 BEFORE: The Central Artery, 1999
AFTER: The Rose F. Kennedy Greenway, 2012
Next: Tom Menino's Boston, By the Numbers »
---