How to Game the College Rankings
Northeastern University executed one of the most dramatic turnarounds in higher education. Its recipe for success? A single-minded focus on just one list.
---
From his office, current Northeastern president Joseph Aoun looks out over the construction of a new residence hall—the school's 12th since 1996—situated behind the YMCA where NU began more than a century ago. Wearing a suit, a pink shirt, and a salmon-colored tie, he sits cross-legged in a white leather chair and holds his eyeglasses between his thumb and index finger. When he requests water from his secretary, it arrives in a stemmed glass with two lemon slices. This is a man who is clearly used to winning, and takes pleasure in the spoils.
When Freeland retired in 2006, NU trustees saw in Aoun the right man to keep the rankings machine rolling. Aoun had been dean of the College of Letters, Arts and Sciences at the University of Southern California; during his tenure as dean, the school rose eight spots between 2000 and 2006, breaking into the top 30. Aoun says that NU's trustees were targeting candidates from large private schools that had "moved up in the trajectory."
In many ways, Aoun tries to distance himself from Freeland. He resists talking about the school's meteoric rise over 17 years—from 162 to 49 in 2013—and plays down the rankings, brushing them aside like an embarrassment or a youthful mistake. "The focus on the ranking is not a strategy, for a simple reason," he says. "You have thousands of rankings. So you will lose sleep if you start chasing all of them." While it's true that U.S. News no longer appears in the university's strategic plan, it does appear in NU's portrayal of itself: The school has no qualms using its high ranking in recruiting materials and publicity videos. Yet multiple Northeastern administrators expressed concern over this article's focus on the rankings. One vice president telephoned Boston's editors in a panic.
Despite Aoun's carefully crafted image, the school's actions undercut his words, as gaming U.S. News is now clearly part of the university's DNA. And Aoun is a willing participant. "He may not admit to it, but that's definitely what's going on," says Bob Lowndes, who is retiring as vice provost for global relations. Ahmed Abdelal, provost under both Freeland and Aoun, says the two presidents have shared "the same goal: further advancement in national ranking."
Under Aoun, in an apparent effort to score rankings points by lowering the percentage of accepted students, NU's admissions department received a mandate: Increase applications at home and abroad. Northeastern's new science and engineering complex, colorful Adirondack chairs throughout campus, and star faculty members like Michael Dukakis are all intended to advance reputation and lure top students. "They poured a ton of money into admission recruiting," says a former NU admissions officer. "We had amazing amounts of latitude to travel overseas. We worked really hard, and we traveled like crazy."
There were other tricks, as well. In 2009, NU stopped requiring SAT scores from students attending international high schools. By removing a barrier to foreign students, who typically score lower if they take the SATs at all, NU boosted its application numbers without jeopardizing its overall testing average. Those foreign students, ineligible for federal aid, also tend to pay full freight. Since 2006, the percentage of international undergraduates has jumped from just under 5 to nearly 17. In the 2012 to 2013 school year, NU had the most international students of any university in New England, and the 10th most in the country.
Aoun also began using spring enrollment to his advantage. In 2007 the school introduced N.U.in, a program that invites students with lower grades and SAT scores to spend their first semester abroad and begin their on-campus experience in the spring. U.S. News does not collect data for spring entrants, so those students' lower grades and scores are excluded from the rankings. Editor Brian Kelly explains that U.S. News doesn't require spring data because the federal government doesn't either, but he concedes, "It's possible that is a gaming window."
Aoun's tactics seem to have worked. Last year, Northeastern received its highest number of applications, almost 50,000 for 2,800 spots. That's nearly five times more than in 1990. Enrolled students were more qualified than ever before, with average SAT scores up 22 points from the previous year. "They're at the level of Ivy League schools," says Henry Nasella, NU's chairman of the board of trustees. "People are always talking about the value of their degree," says last year's student-body president, Nick Naraghi. "Not only am I getting what I was thinking I would get, I'm getting much more."
Serving as the president of a top-50 school has its perks. Aoun lives in a 14-room townhouse overlooking Boston Common that the school purchased his first year, now worth $8.9 million. A chauffeur drives him to campus. Aoun's salary increases each year, and in 2011, he was the second-highest-paid college president in the country, at $3.1 million, though that included a $2 million retirement supplement. (Harvard's president, Drew Gilpin Faust, came in 54th that year, with total compensation just under $900,000.) In addition to Aoun, seven Northeastern employees made over half a million dollars that year.
Northeastern has essentially created a blueprint for any school that can stomach following it, but gaming the U.S. News rankings has its costs: According to a study published this year by Research in Higher Education, a mid-30 school like the University of Rochester would have to spend an extra $112 million on faculty salary and student resources alone to rise a total of two spots. To feed the beast, Aoun has tapped several new streams of revenue, including satellite graduate campuses in Charlotte, North Carolina, and Seattle, as well as online education. Nasella calls them "very important" and claims they are "very profitable" for the school.
"There's no rankings problem that money can't solve," says Michael Bastedo, director of the Center for the Study of Higher and Postsecondary Education. Actually, there may be one—a ranking system with enough credibility to overshadow all others has appeared on the horizon, and this one will be much tougher to game. Concerned about the skyrocketing costs of a college education, the White House is launching a federal rating system that, unlike U.S. News's, will focus less on student inputs (e.g., SAT scores) and more on the resultant value of a degree—weighing a school's tuition costs, graduation rates, and postgraduate salaries. The government hopes to implement the system this fall. Don't expect to find NU at the top: In Money magazine's 2014 "Best Colleges for Your Money," which uses a similar methodology, Northeastern landed at the bottom of the third quartile, at number 433.
---
By the Numbers
NORTHEASTERN'S RISE IN THE U.S. NEWS COLLEGE RANKINGS
---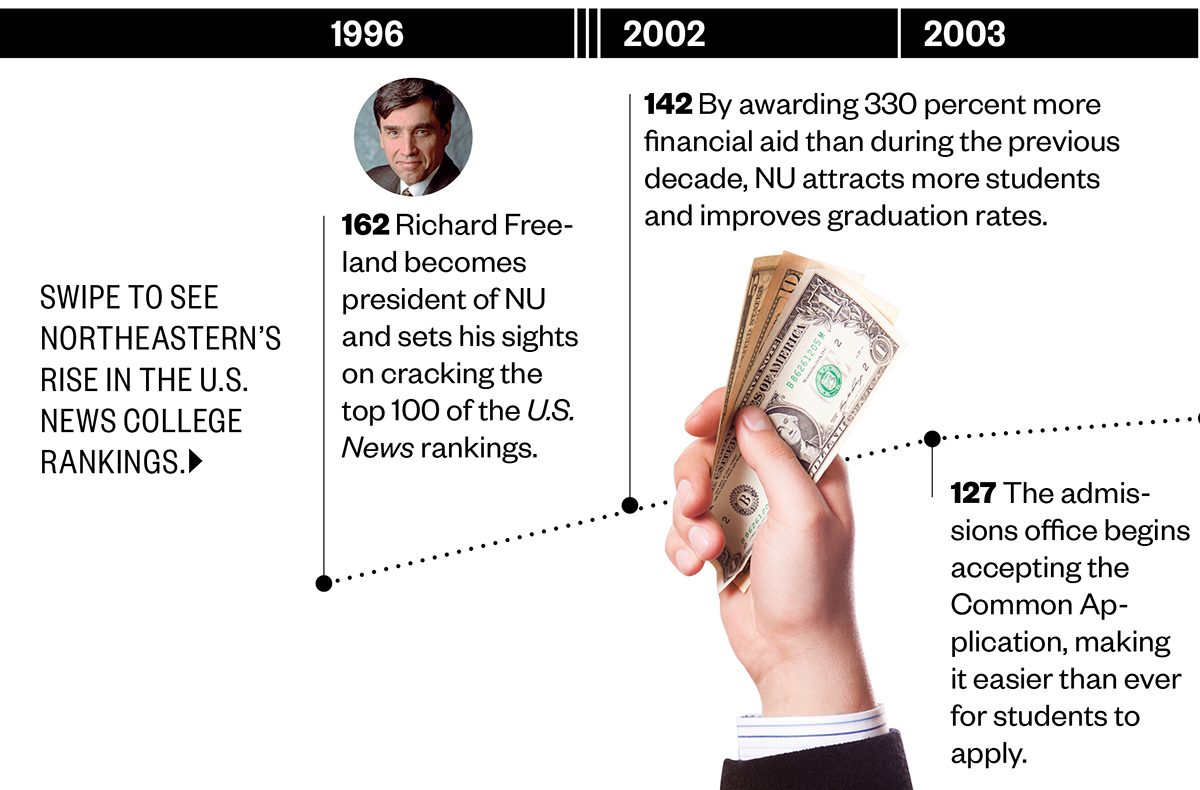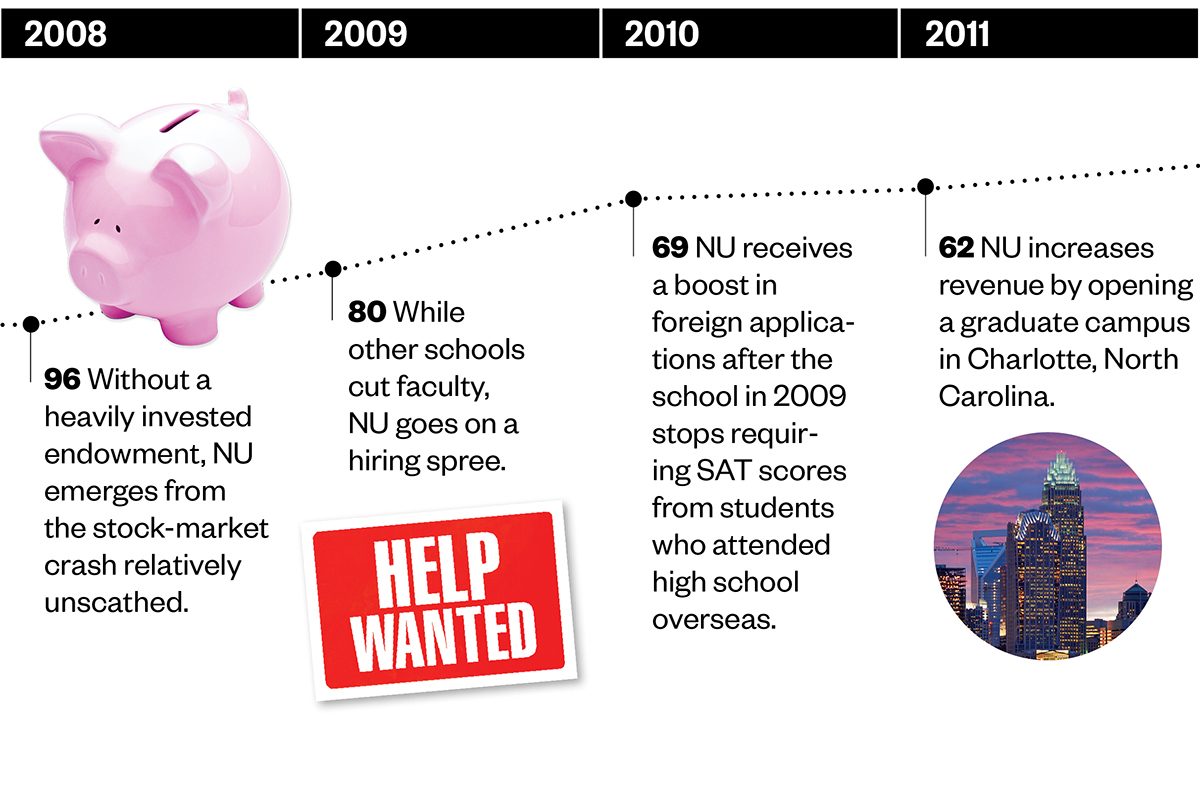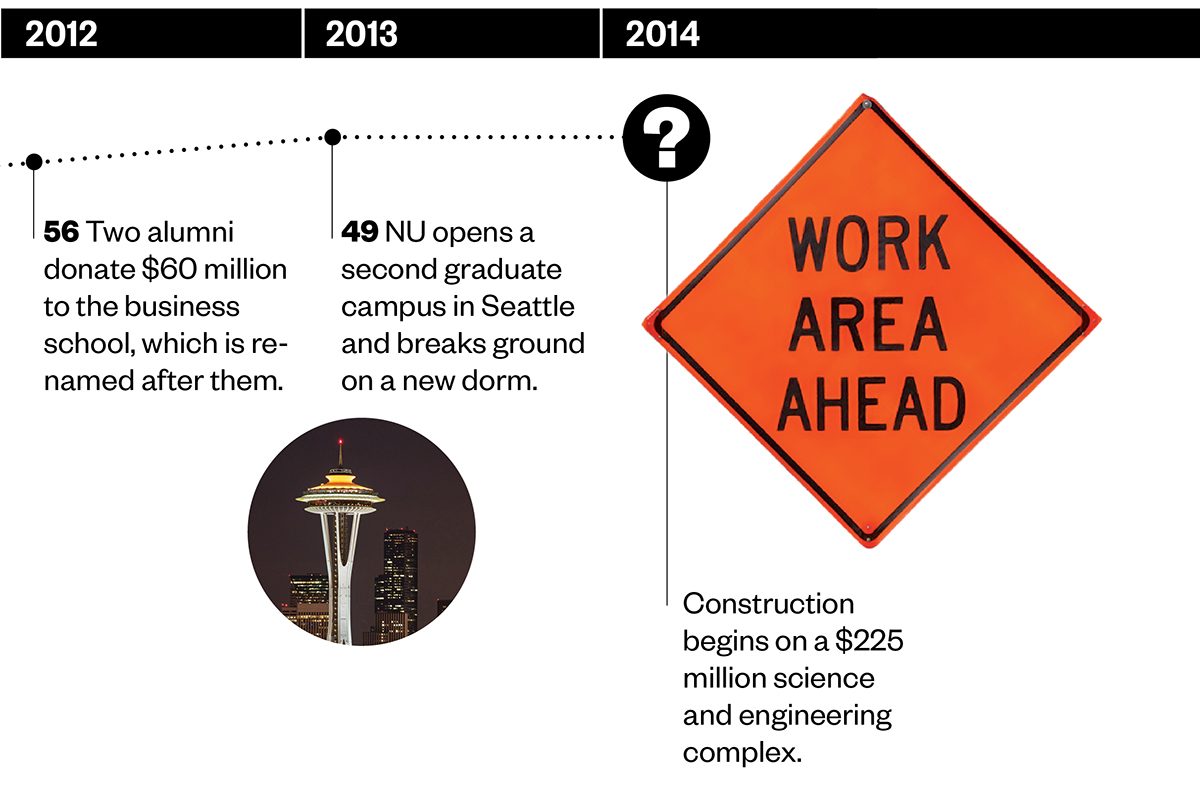 ---
Check out all of our Best Schools 2014 coverage.
---
---