Ace In the Hole, Ready to Serve
For 14 weeks, Officer Ray Barnes and his police K-9 unit, Ace, ran through extensive drills at the Boston Police Department's training grounds in Jamaica Plain, preparing for a career of tracking down criminals and recovering evidence.
---
Officer Ace Barnes doesn't mind all the overtime hours without the extra pay. He's not concerned that the Lynnfield Police Department won't offer him a pension when he finally retires from the force. And he's even content with the expectation that he needs to work the night shifts, being woken suddenly from a slumber to track down criminals and help recover evidence.
As long as Ace gets his chops on the rubber ball his police handler keeps tucked in his back pocket, he's fine with just about any task that's asked of him.
"It's the ball. His life is the ball," says Lynnfield Police Officer Ray Barnes, a slim but broad-shouldered policeman whose prescription lenses sit neatly near the middle of his nose. "He will do whatever I tell him for it."
That instinctual drive for reward was built up during the course of an exhaustive 14-week, non-stop training program, where a certified instructor from the Boston Police Department took Ace, a Belgian Malinois, and a class of eight more undisciplined, young canines, and transformed them into hard-wired first responders on four legs.
But Ace's seemingly endless desire to wrap his jaws around the ball was instilled in him long before he began serving in an official capacity alongside Barnes, or even before he started his training. Hand-picked by the BPD's head trainer Troy Caisey, a 22-year veteran of the force, Ace was paired specifically with Barnes from a pool of dogs purchased from a vendor in Raynham.
That's where Ace learned the foundations for his police skills, making him a contender to start training before being whisked away by Caisey to begin a life of service work that sits in stark contrast to the leisurely comforts a household pet typically enjoys.
Standing at attention in the Lynnfield PD's musty garage on a humid, damp July afternoon, weeks after completing the rigorous training regimen conducted at a farm-like facility in Jamaica Plain, Ace positions his paws a few inches from Barnes' spit-shined black leather boots and stares up at his handler with a quizzical look.
It's Ace's first day on the job, and with his black eyes fixated on Barnes, he waits for a command—a hand movement, a phrase spoken in German, anything, really—but remains stoic, frozen in place with his neck craned skyward, his tongue dangling from the side of his mouth.
It took months of practice, frustrations, early morning commutes, and piles of treats to get to this point, but now, Ace is ready to take on just about anything.
---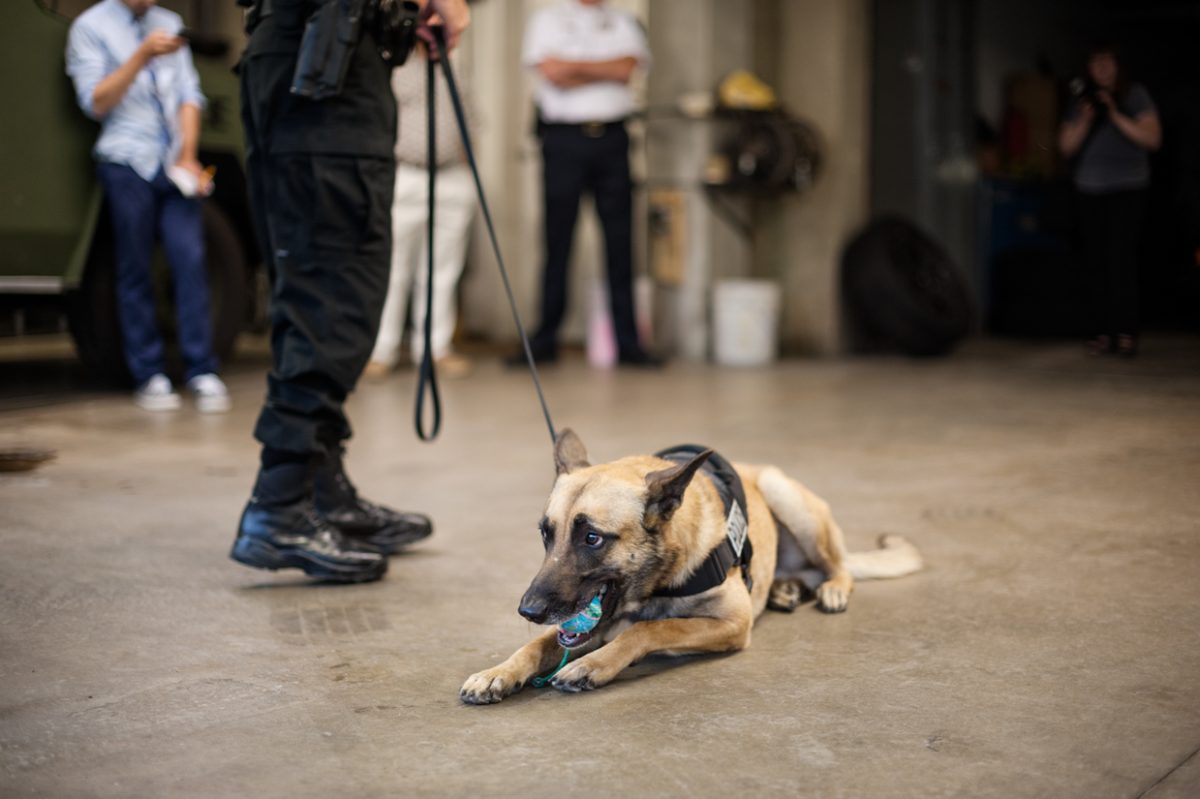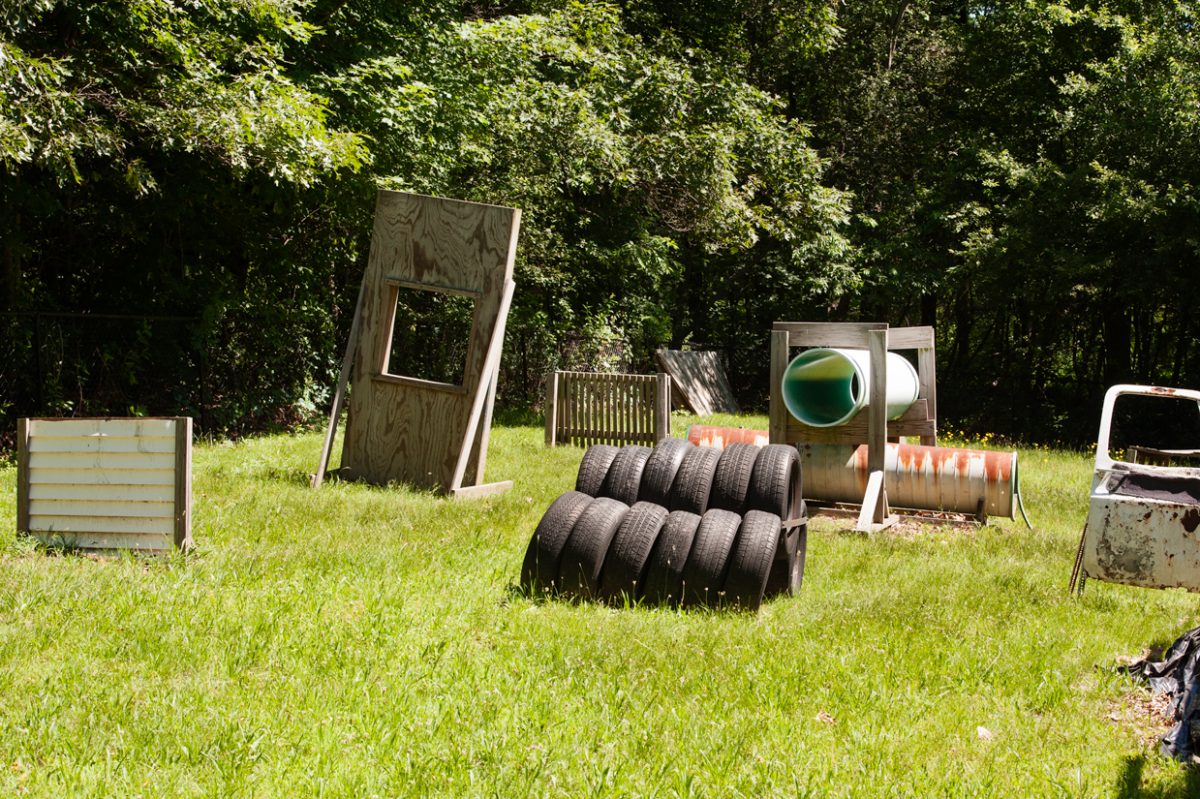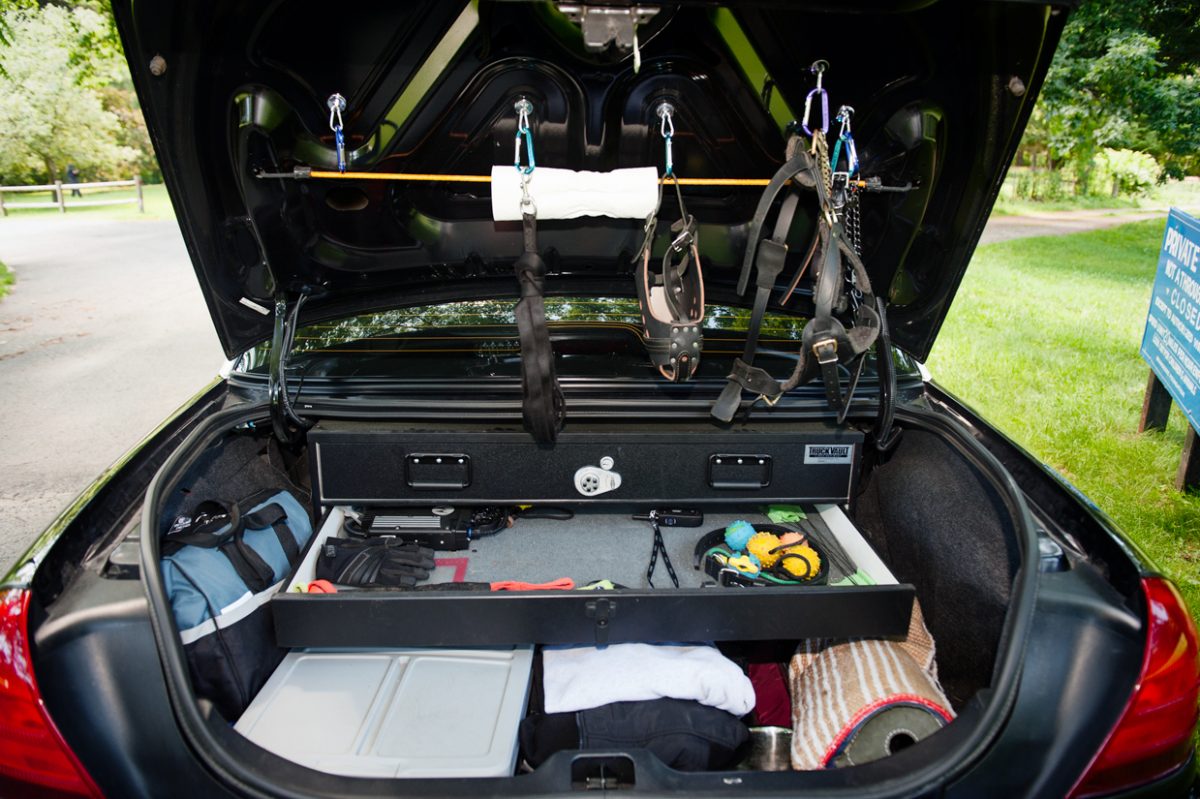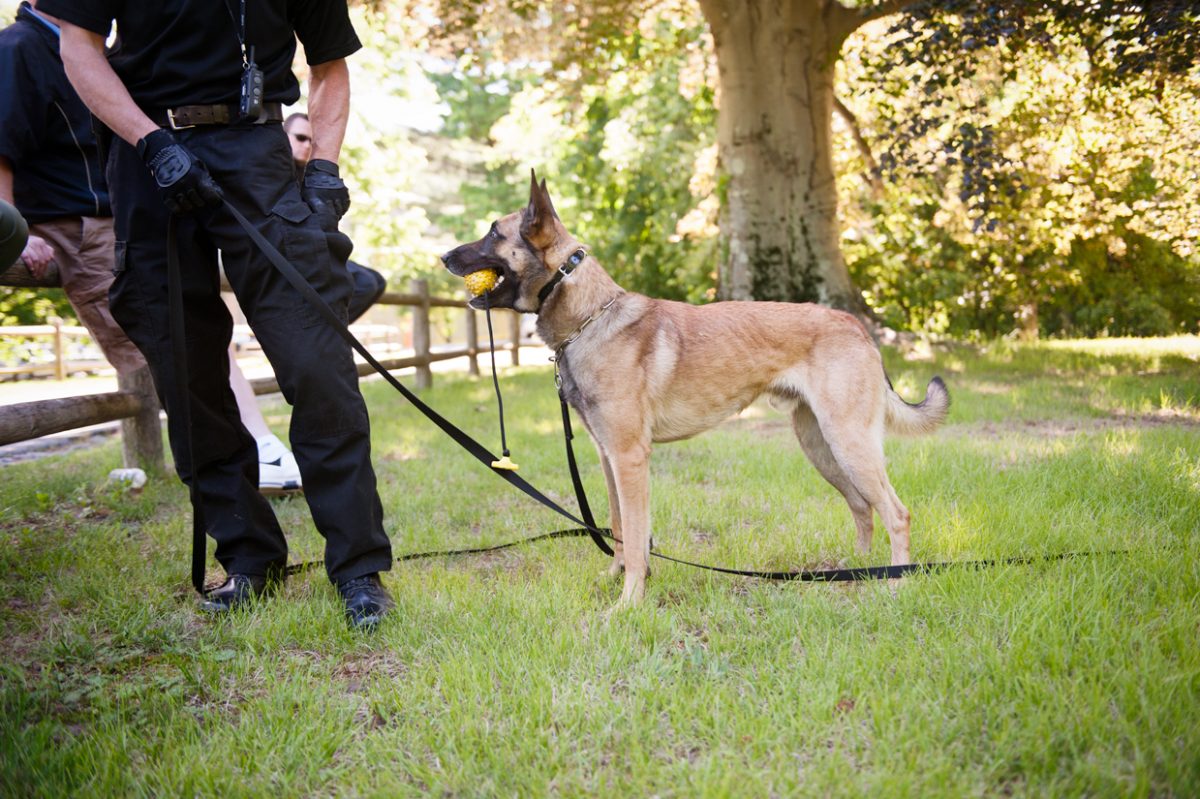 ---
Officer Barnes didn't fully grasp how time-consuming the training would be once he finally filed the paperwork.
"It's a lifestyle change," says Barnes—he previously served with Lynnfield's motorcycle unit—just two weeks into the K-9 program in Boston. "When I heard from other officers that this was going to be a lot of work, I really had no clue."
Like the handful of other pairs in their group, Barnes and Ace reported to training on the grounds of the Brandegee Estate, the sprawling, more than century-old property in Brookline that straddles the Boston town line. The estate includes rolling farmland complete with stables that were once the headquarters and training center for the BPD's Mounted Unit. The stables, which are situated at the bottom of the grassy inclines in Jamaica Plain, not far from the rear of Brigham and Women's Hospital, were turned into a K-9 training compound more than 50 years ago, making way for an indoor and outdoor academy featuring a rotation of courses where the dogs can master their skills.
A portion of the land, which is flanked by two long driveways where officers from across Massachusetts park their cruisers, is marked by large, square white boxes made of thin wood where decoys can hide so the dogs can track them down as if they were real suspects. On the northern corner of the property is a fenced-off area that's been turned into an obstacle course with ladders, tires, tubes, and an old car door, all poking through overgrown weeds and grass, positioned perfectly, and broken in from years upon years of K-9's running through agility drills.
"It's taxing on myself," says Barnes of the training, as he waits for his turn to conduct the exercise on the obstacle course. "But we're both learning together. I love it. I absolutely love it, it's rewarding."
The majority of the training is conducted under the watchful eye of Officer Caisey, a stern-looking policeman with a graying mustache who buries his sense of humor in a sly smirk, the left side of his lip always poised for a half-smile that never quite makes it. During his career as head trainer, Caisey has primed more than 350 dogs that have been deployed to police departments all across New England. He's pretty much what you'd expect from someone whose job it is to train police officers, even of the canine sort. He's all business—he has to be—and he gives his orders in a low baritone, but only when necessary.
It's early in the training regimen, and on a cool morning this past May, Caisey's eyes are on Barnes, who's trying to get Ace to weave through the obstacles on the agility course.
"I'm not worried about training the dogs. That's the easy part," Caisey says, exposing his wit. "It's the officers that I'm worried about."
Caisey says shaping a dog into an ideal police officer takes time, and the entire process depends on food and toy rewards—Ace's favorite ball and rope, for example—to make the drills more enjoyable for the dogs, even as they're putting in hours of grinding, repetitive work.
"It's all a game," he says. "For them, they think it's a game. This way, they are more likely to listen to the commands of the officers. There's a lot of hectic-ness at first, and they are a little out of control, but within four weeks the dogs get more fluid."
At the start of training, the dogs are driven by kibble and cut-up bits of hot dog the officers constantly carry around in small satchels, feeding them every time they respond amiably to a given command. As the weeks progress, they're tapered off the food for rewards, and given toys instead. Eventually, even the toy becomes less visible. Still, the idea of their service being a recreational activity is what makes them so responsive.
"When the dog gets finished, I consider them at about 70 percent done," says Caisey. "Where the dog goes after that—from street experience and maturing, the handler getting on deployment and getting more well rounded—if the dog improves vastly, it relies on the handler. If the dog maintains the same ability [as when it leaves], the handler isn't putting enough work into the dog."
Ace is young—only two—and while he's muscular and strong, he's somewhat inattentive early on, so his chances of making it through his career as a successful dog officer rest solely on Barnes' shoulders. He will have to complete "in-service training" twice a month, even after he graduates with Ace.
"Right now he's exactly where he should be," says Caisey, as Barnes exits the obstacle course through the wooden fence. "He's picked up all of the instructions, he's got a grasp on it…[but] if they don't continue to train them on a regular basis, the dog will lose proficiency."
• • •
In his 20 years with the department, Lynnfield Police Chief David Breen had always wanted a dog on the force, but obtaining the funding for the astronomical costs associated with a K-9 unit was always out of reach.
Even though Lynnfield is a quiet town where the streets are dotted with white picket fences and marked by carefully manicured front-yard gardens, the need was there.
"They are a force multiplier," says Breen. "These days, there is so much more the dog can do, and so many more instances of requests for dogs."
In 2013, Breen and Barnes caught wind of a $25,000 non-competitive grant offered to Massachusetts Police Departments through the Stanton Foundation, named after longtime CBS president Frank Stanton, to cover the startup expenses that come with having a K-9 unit. The grant provides enough funding that it carries departments through the first three years of dog ownership, helping to pay for the dog's purchase, training costs, kennel facilities at the officer's home, equipment for a police cruiser, food, and veterinary care.
Along with Lynnfield, 20 other departments received grants during the same term, bringing the K-9 units to towns like Manchester-by-the-Sea and Middleton. The first class of dog officers supported by the Stanton Foundation graduated in January of this year, several months before Ace started his training.
Although Barnes eventually became Lynnfield's first K-9 handler, Ace wasn't the first dog to be paired with the officer.
Before Barnes and Ace became the duo hailed as local celebrities by their small community, the officer was initially matched with a dog named "Tuukka," after Bruins goalie Tuukka Rask.
As it can happen all too often, Tuukka wasn't quite ready for training when he arrived to meet Barnes for the first time in Jamaica Plain. Citing his lack of ability to pay attention, trainers at the facility quickly swapped Tuukka out, and that's when Ace came in.
"I don't really know him yet, but I am starting to see the bond grow," says Barnes, adjusting to the new long-tailed recruit. "There's definitely something there, which is good, because he could save my life one day."
---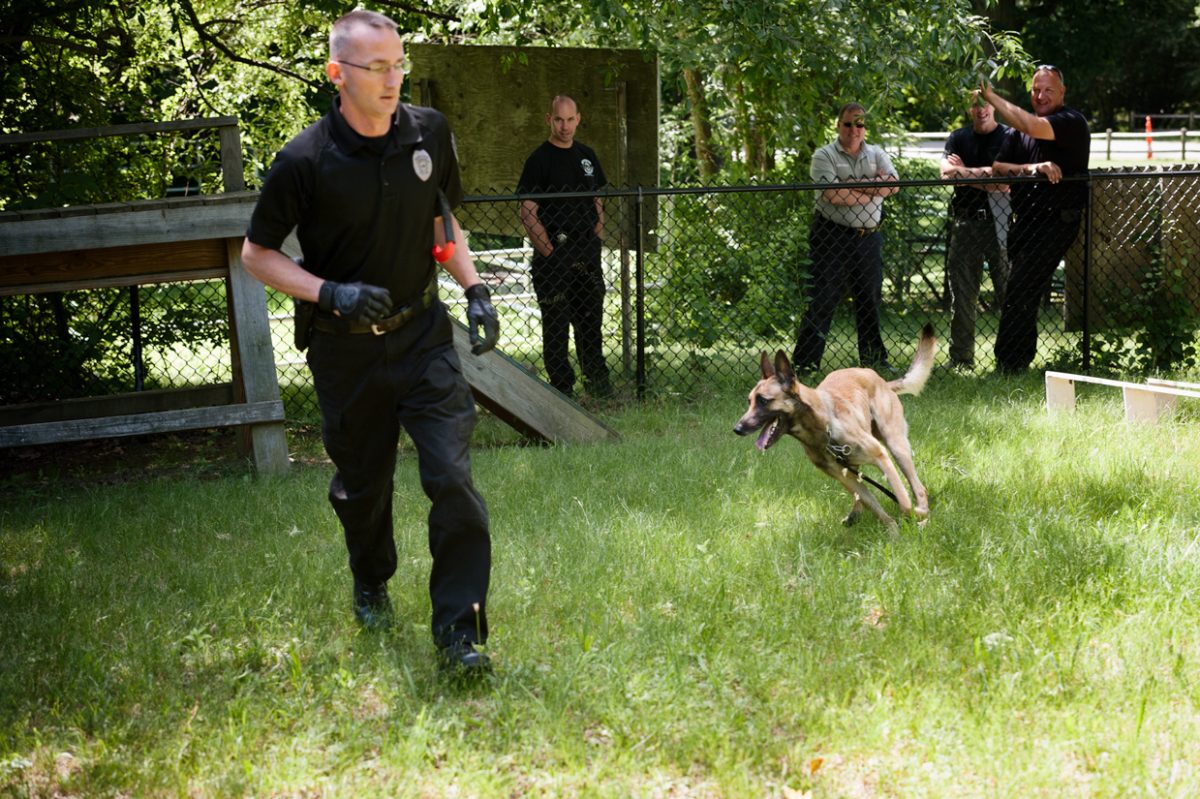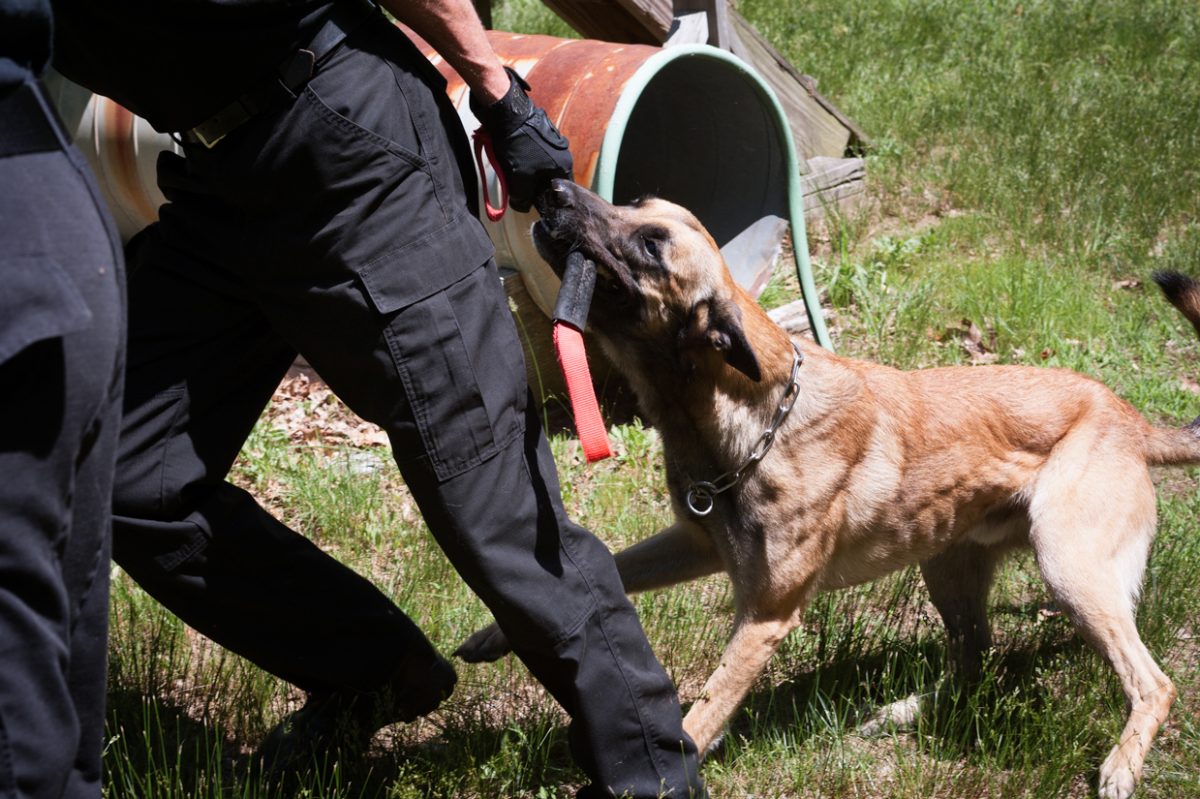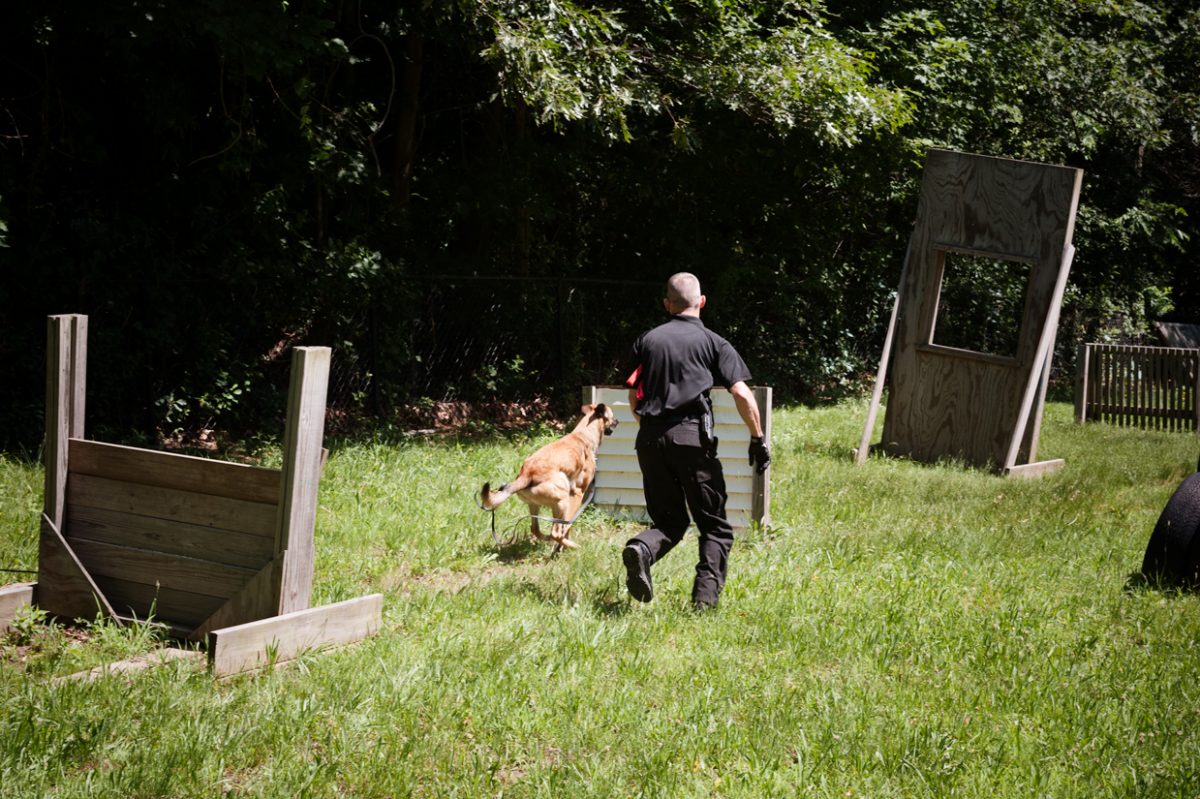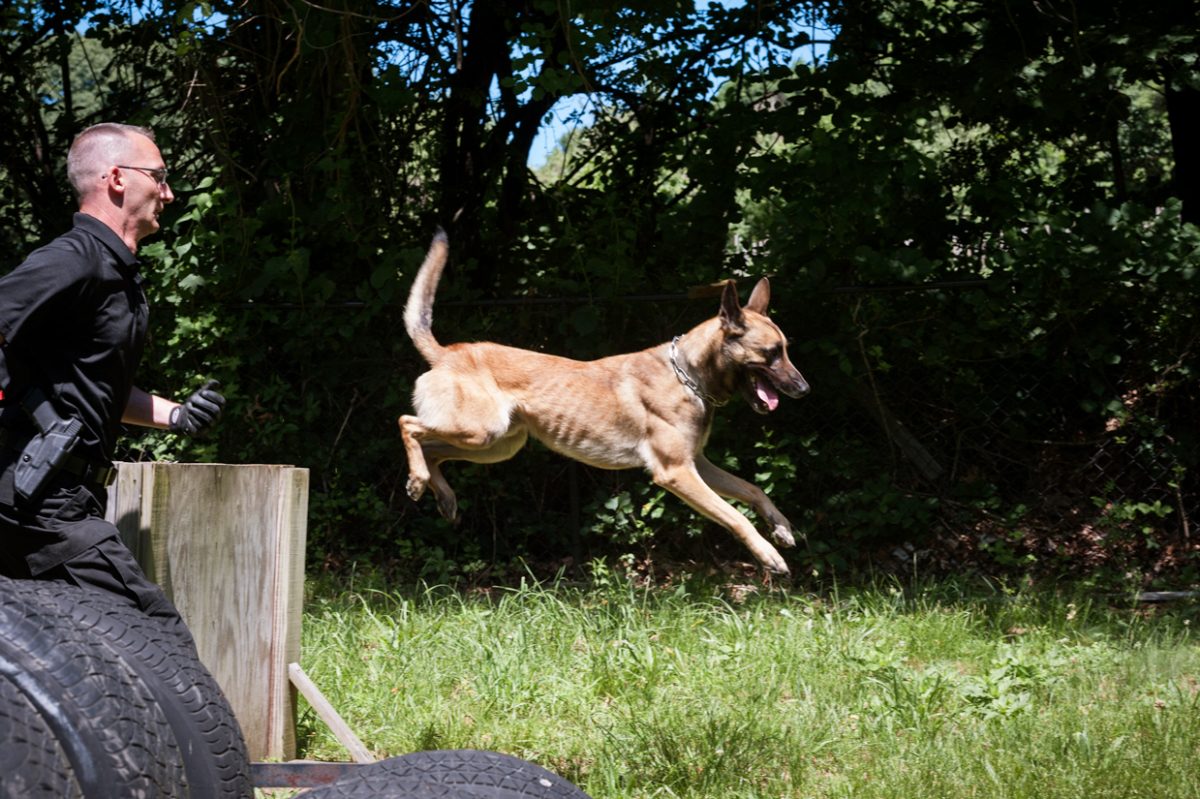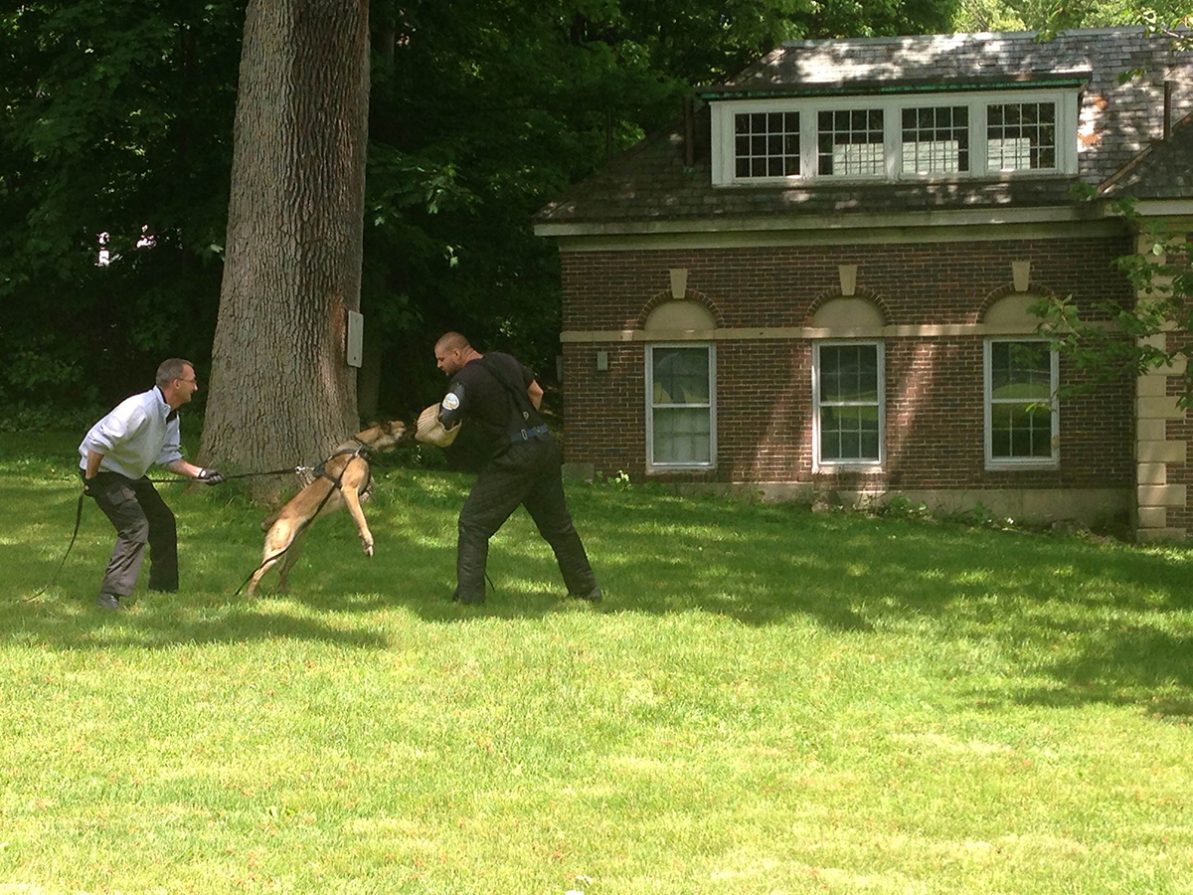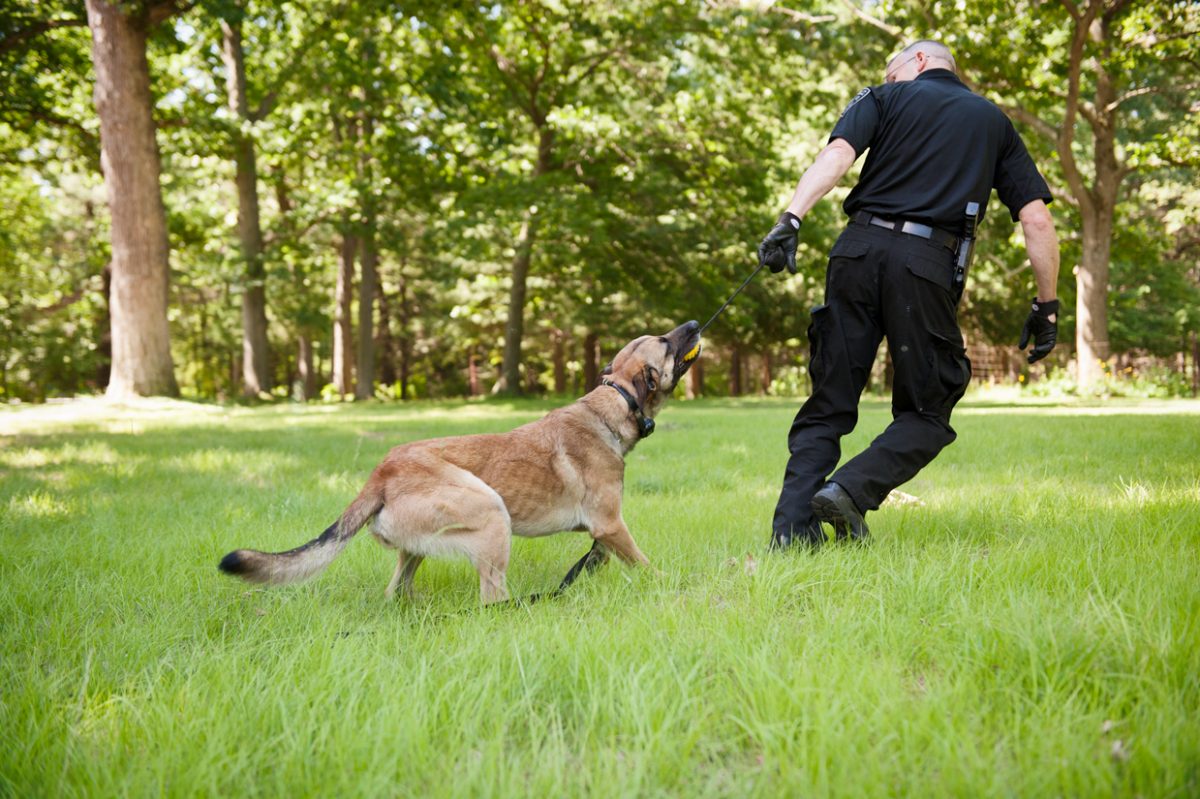 ---
Ace has high points and low points in the early days of training, but the obstacle course is clearly his strong suit right from the get-go. His statuesque posture and trim body, with ribs protruding from underneath his sleek beige fur, helps him to blaze through the agility exercises, slipping into tunnels rooted in the ground and climbing mock fire escapes and ladders in a flash.
The training is repetitive. Each week, the same drills are conducted over and over, with slight variations. Handlers rely on input from each other throughout the process, and pick up on tips by watching fellow officers attempt a drill.
"Sometimes I think you learn more watching all day than just doing the training," says Barnes. "Watching what's going on is actually learning. There's always something that can be improved on."
While the obstacle course falls somewhere between circus-like entertainment and an imperative tool to teach Ace how to react with impeccable speed, it wears him out, and can sometimes have an impact on his other tasks during the day.
Beyond the agility exercises, from April through July, the dogs learn how to conduct article searches, sifting through the hillside grass of the estate for fake guns. Off the field, tracking exercises take the handlers and their dogs through wooded regions of Jamaica Plain, where they follow a scent from point A to point B. Other days, they head to abandoned warehouses across the Commonwealth, so the K-9s can practice roaming through closed quarters in search of suspects.
Much like the duties vary, so do the dogs. Each dog has a distinct personality, but the biggest immediate factor comes down to breed. Typically, officers are given German Shepherds, which is what the public usually equates with police dogs. But in many cases, like Barnes, the officers are paired with a Belgian Malinois, a similar-looking breed with lighter fur tones, slender body types, and, more often than not, a few more quirky personality traits.
"Mallys" like Ace have lots of energy—he tends to jump on Barnes rather frequently—and have a good bit of spunk that's matched with a short attention span.
"They have a different drive than [German Shepherds]," says Barnes, admitting that he was concerned about training a Malinois, since they don't usually get assigned to first-time handlers. "They present themselves nicely, but on tracking work they are more all over the place, and don't keep their heads down. It's definitely a breed thing."
During the training, a friendly rivalry develops between the cops working with German Shepherds and those working with Mallys. It didn't take long for the sarcastic, snide remarks to fly when someone's dog started to misbehave.
Even weeks into training, Barnes sometimes has to revert back to the basics because Ace acts out. Barnes refers to these episodes as having a "Mally Day," something he heard horror stories about from other officers before he even got Ace.
"I heard they were mouthy and jumpy," Barnes says. "But that's just them. You have to do more work to teach them to get off and stay down versus a German, but I learned it's not as hard as the stories you hear. You just have to teach them you're the boss."
Which, of course, is easier said than done.
During an article search drill in mid-June, Ace epitomizes the Mally stereotype when he refuses to let go of a fake handgun he locates in the grass. Barnes repeatedly tries to swap the gun out from the dog's locked jaws by coaxing him with his favorite rubber ball and rope, but Ace refuses to let up. Barnes tugs on the leash, commanding him to "oust"—a German term for "drop it"—but grows more and more agitated each time Ace disobeys his orders.
"It can get frustrating," Barnes says, after finally walking off the field to make way for another officer. Ace doesn't relinquish the gun from his fangs until Barnes finally yanks it away. "They have good days and bad days, they get tired, just like we do, so you can't fault them—he's learning."
Besides, even with some setbacks, he likes Ace just fine, and it's evident by the way he rubs his hand on the spot between his ears when Ace pops up to place his paws against Barnes' chest, even when he's not supposed to.
"Things will be fine with him," says Barnes. "He's like my best friend right now."
• • •
Probably the most physically grueling aspect of training—for the officers, at least—is when they have to put on the ominous "bite suit."
These 50-pound, dexterity-limiting body bags, made of a protective material that keeps the dogs from sinking their teeth into human skin, come out weekly, much to the chagrin of the handlers.
"It takes a lot out of you. It's like a workout," Barnes says, slipping his small frame into the gear, which makes his arms stick out to the sides like a plush doll.
During one version of the exercise, the dogs are tied to a wooden post that's been part of the barn since the days it served as a horse pen. A handler—never the dog's partner, though—then plays a game of taunting the leashed canine, getting close enough for them to almost reach the suit. Swinging their arms closer to the animal, but never getting quite within reach, the canines start to gnash their jaws, spit flying from their mouths and hitting the floor. All the while, they let out an incessant bark that never changes pitch, stretching forward on their back legs, front paws lifting from the ground as they try to land their teeth on the decoy. As fast as they burst into a tirade of barking and lunging, the handlers can make the canines stop, bringing a sudden, eerie silence over the room.
This process is what trainers refer to as "turning them on" and "turning them off." Like with every command, to do this, the officers rely on a mixture of words spoken in German, a tactic that makes it easy to deploy a canine when necessary, without tipping off a suspect to what's to come.
When it's his turn to direct Ace, Barnes throws out warnings to the decoy, getting Ace primed before lunging at his target. In the instant the command leaves Barnes' mouth, Ace goes from a still, nearly docile dog, to a gum-exposing beast whose jaw makes a popping sound as he bites into the air, trying to tear into the suit.
"Excellent," Caisey says, reacting to how smoothly Ace turns off and on.
Once a dog makes contact, the handlers tell them "good boy," and repeat "Pucken, Pucken," the German word for "bite," as the dogs whip their heads back and forth, pulling on the synthetic material.
The words "good Pucken, good Pucken," are common on the training grounds, and are typically followed by "oust," which lets the canines know it's time to unhinge from their target, something Ace does with impeccable speed by the last weeks of training.
"He looked really good today," says Barnes on this particular rain-soaked July afternoon, when the training was kept indoors. "I was really pleased."
Barnes isn't as pleased when it's his turn to wear the suit and let another officer's dog attack him.
"That's a lot of work!" he says at the end of a five-minute drill, where a canine bit down into his body bag and pulled his arms and shoulders back and forth. "The dog almost took me down."
---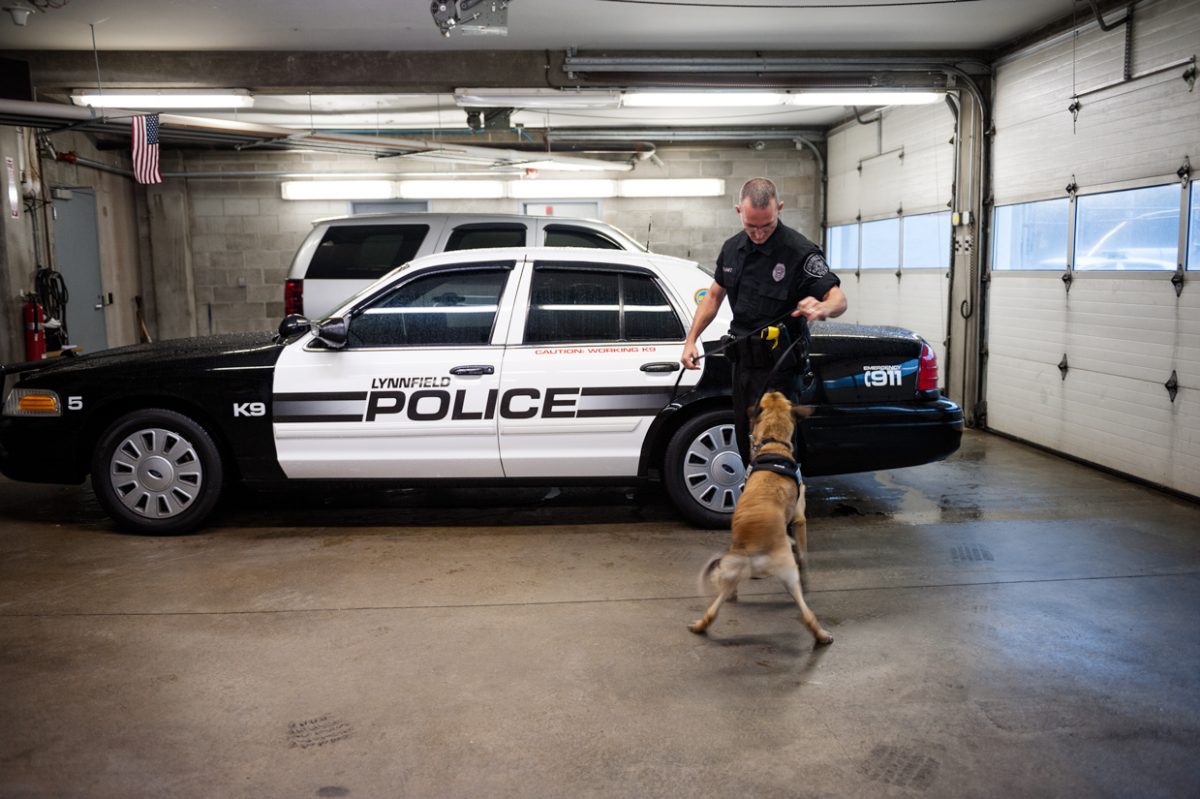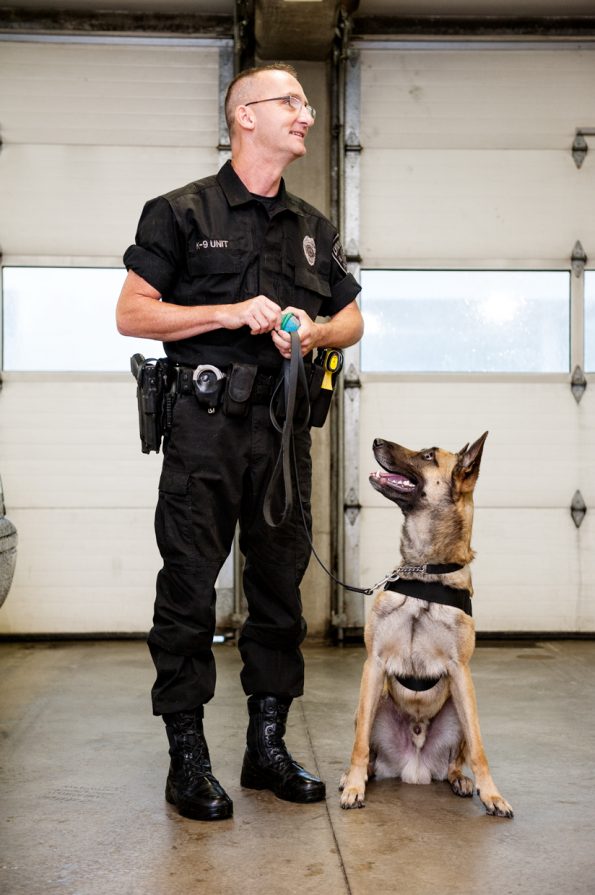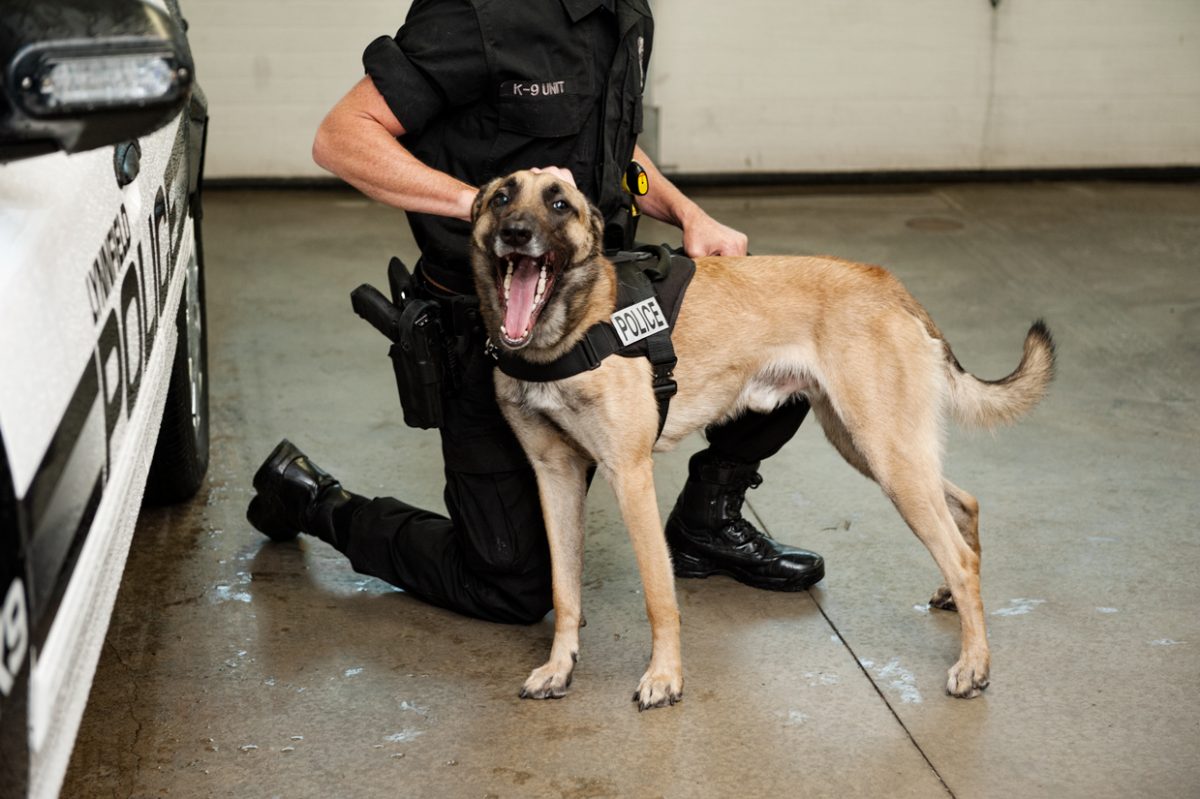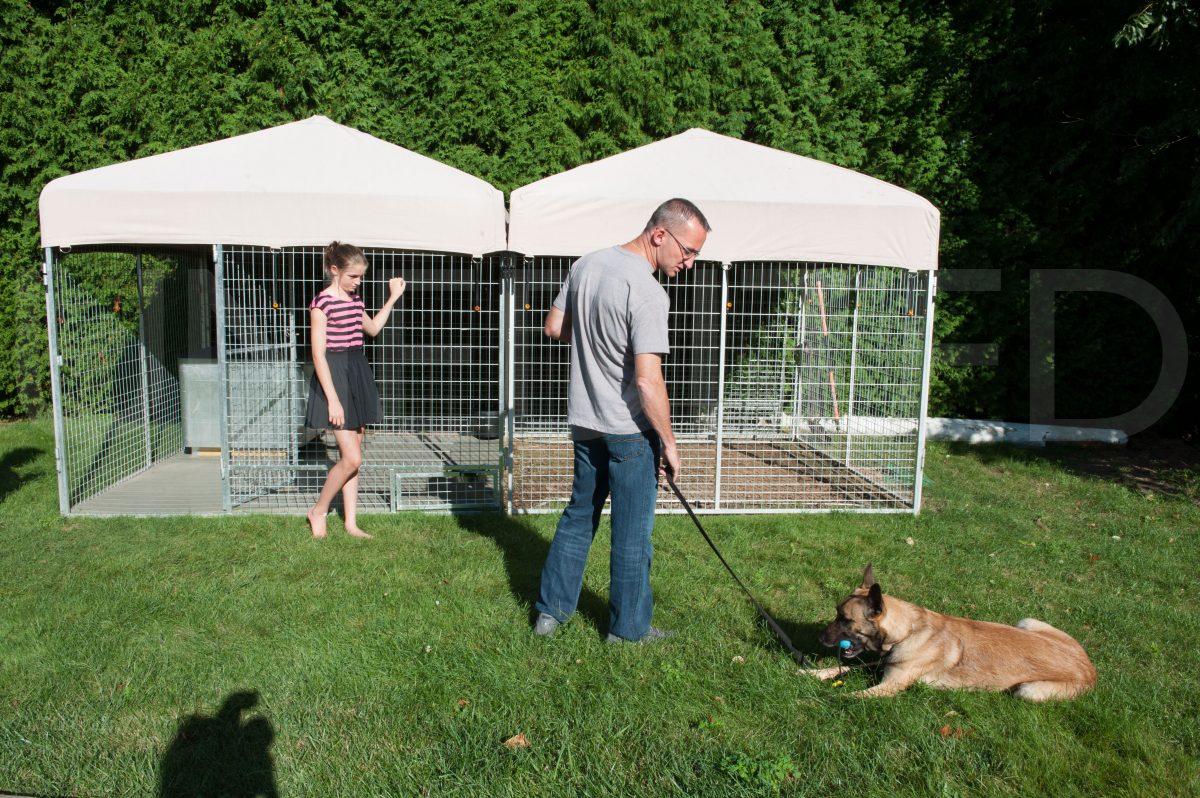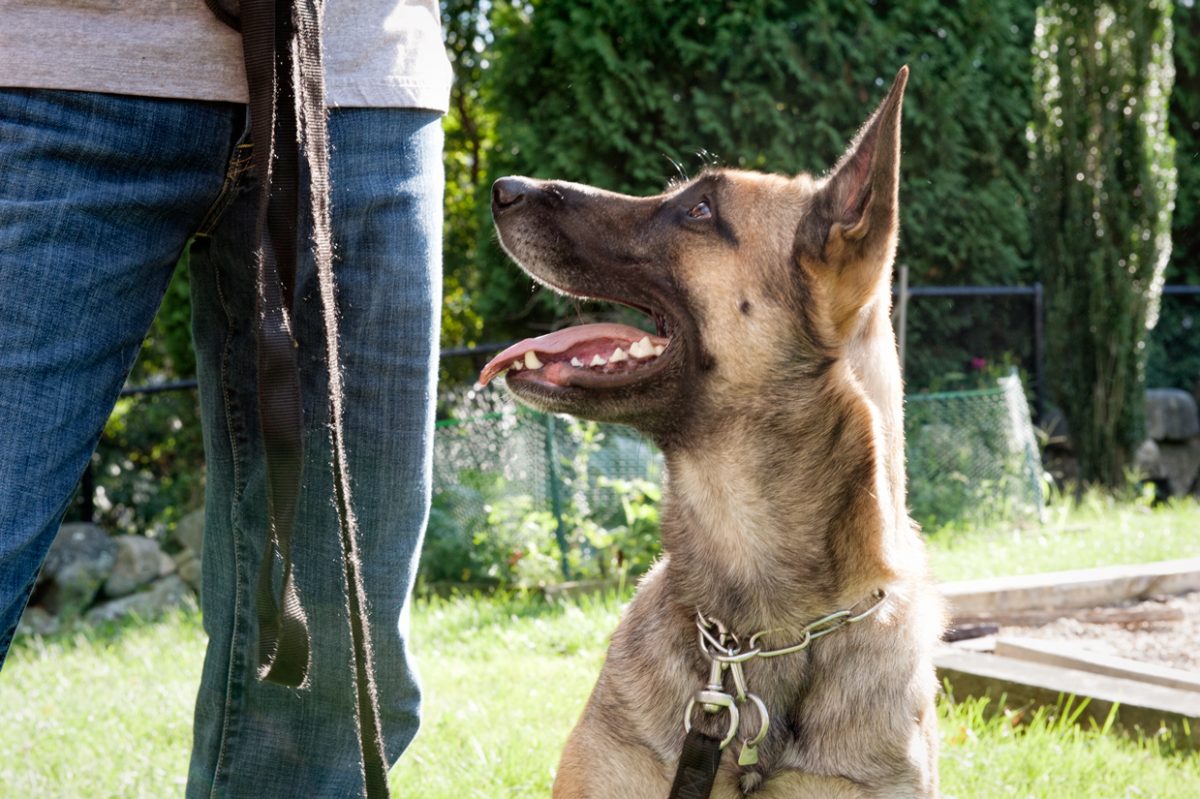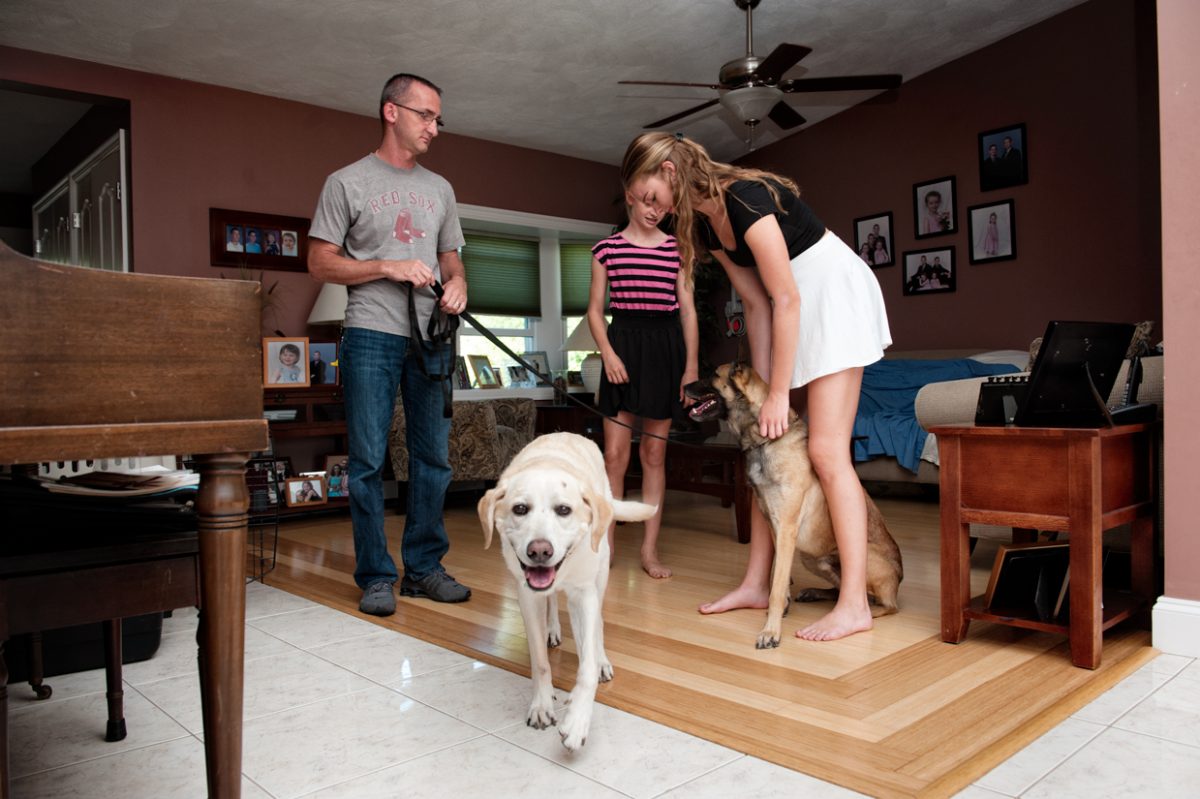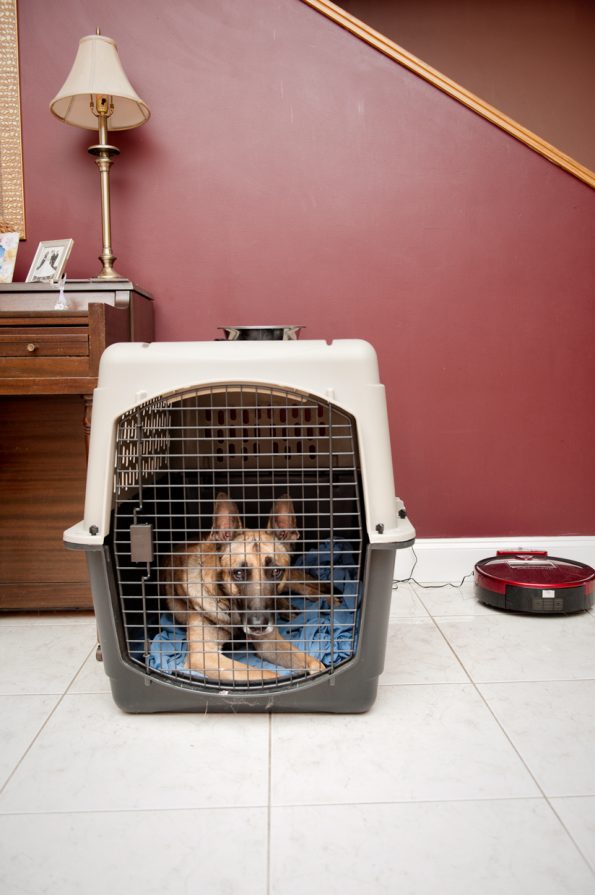 ---
In late July, just days before Ace reports for his inaugural shift at the Lynnfield PD, the training comes to an abrupt, anticlimactic end at the academy.
Never one for pomp and circumstance, Caisey jokes that "graduation day" is nothing more than him tossing a pile of certificates on the table at the Brandegee Estate and telling the officers to "pick one," before they all go out—sans dogs—for lunch.
Looking back on past graduating classes, Caisey says he used to host a "final day" ceremony where families and police chiefs from the various departments would come and see the dogs perform tricks along the obstacle course, and show off all that they learned. But rather than spend two weeks preparing for the big finale, he decided that it would be more beneficial to use the last few weeks to implant as much information as possible into both the dogs and trainers' heads before they begin their careers together.
With certificates in hand, Caisey says it's up to the handlers to continue a daily training regime, and expand upon what they learned during the program.
"Like with any job, you can only be taught so much in school. But if you advance yourself when you get out, you learn more from applying yourself repeatedly so you become an expert in it," says Caisey. "Ace was in a good spot when we finished, he was where I expected him to be at the end of training, and we will see where they advance from there."
For Barnes, this new pressure looms large as he prepares to venture out on his own, responding to real-life scenarios while distancing himself from the safe confines of the estate, with Caisey and the other handlers no longer offering advice from the sidelines.
"The transition back to work will be hard," says Barnes. "But I'm glad I'm done with driving into Boston at 5 a.m."
Ace now has everything he needs: a handler, his ball, and certifications in tracking, apprehension, evidence recovery, agility, and building searches.
• • •
It's early September, and much like his time as a certified officer, Ace adjusts with ease to life with the Barnes family in their quaint Peabody home, and around the barracks at the Lynnfield Police Department. The adjustment has maybe been a little too smooth, however, because Barnes and Ace have yet to respond to a single incident, and the officers are getting anxious.
"I'm waiting for that first call. We haven't had anything," says Barnes. "I'm waiting, and I'm waiting, and I'm reaching out to other communities. But it will come."
In police work, no news can often mean good news, so while he waits, Barnes uses the down time to cruise the streets with Ace, stopping occasionally at parks and green spaces in the neighborhood to fine-tune his training, recreating the tracking and evidence recovery drills.
The lack of emergency calls also gives Ace an opportunity to enjoy some downtime, and get a taste for what life would be like if he weren't now an active police dog.
The Barnes' house, which rests at the arch of a cul-de-sac in a residential family neighborhood tucked away from Route 1, seems to be the perfect place to call home. Although he's trained to protect and serve, those who meet Ace off-duty—especially women and children—are greeted by a kind-hearted, mild-mannered pup, bucking the stereotype of what people think K-9 units are like. As Barnes will stress, they aren't vicious attack dogs—they're police tools.
"He is the sweetest dog," Barnes says, trying to ward off too much sentimentality for his four-legged companion.
On the floor of the family's living room, Barnes' oldest daughter, Alexandra, 14, pokes her fingers through the kennel where Ace is temporarily locked up. As she leans in to scratch the dog's head, Ace pushes his body forward, and positions in such a way that his fur squeezes through the individual metal squares of the kennel's door, just enough so that he makes contact with Alexandra.
While the entire experience of having Ace in the house has been daunting on both Barnes and his wife, Shannon, the family has unconditionally accepted the dog as a part of the family.
"This is what I want," she says, pointing over to her daughter petting Ace. "I don't want the girls afraid of him. I don't want Ace to think that they're a chew toy."
Barnes' daughters are an active part of Ace's post-Boston training, which may have helped the canine understand their role in the family's hierarchy. His youngest daughter, Julia, 12, is the most adamant about forging a bond with Ace outside of his work life.
"Julia wouldn't like that at all if she couldn't be near the dog," says Shannon, referencing her daughter's relationship with the family's elderly lab, Bancho, who doesn't seem to mind the new dog hanging around.
Barnes is quick to chime in: "The good thing is, I won't have to worry about boyfriends later on in life either."
Ace's time in the house is a rare occasion. When he's not in the police cruiser, he spends most of his days in a massive caged outdoor shelter, provided by the Stanton Grant, which is part dirt and part plastic decking with a fully enclosed, insulated doghouse to protect him from the elements. Barnes even added some soft carpeting on the roof of the doghouse, because Ace made a habit of curling up and sleeping on top of it.
"He's like Snoopy," says Barnes, as Ace once again jumps up to put his paws on his chest, his signature move.
When he's out of the cage, he's with Barnes—almost always—practicing the same routines from his days at the academy in the small side yard that runs along their two-story home. Barnes tosses a ball with a rope attached, the same one—well, eighth, to be exact—used to coax the canine into following commands so he could secure his certifications.
"That's it. That's it right there," says Barnes, pointing toward the dog toy he tossed to the end of the grassy yard, as Ace races toward it. "That's his whole life."
And it will probably stay that way, at least until they get that call.
---