How Boston's Olympic Dreams Flamed Out
From his expansive fifth-floor Roxbury office, John Fish looked out at the Boston skyline in the early-morning hours of January 8, 2015—decision day for the U.S. Olympic Committee—and saw a city with his fingerprints all over it. From the 60-story Millennium Tower at Downtown Crossing to the Mandarin Oriental on Boylston Street, where Fish lives in a $7 million, 4,700-square-foot luxury condo, he'd spent his lifetime building much of the city's past and present.
Dreaming big had clearly paid off. Head of the $2.5 billion-a-year Suffolk Construction company, he'd collected all the trappings of the wealthy, including a twin-jet Gulfstream IV, a seven-bed, 10-bath mansion on four wooded acres in Milton worth nearly $6.5 million, and a $3 million oceanside home in the Oyster Harbors Club on Cape Cod. In 2006, Boston ranked Fish 33rd on its list of "Top 50 Wealthiest Bostonians," with an estimated net worth of $425 million. But those were just things. Fish had always been far more interested in ideas, power, and, more recently, building Boston's future.
From his perch in Roxbury, Fish can see to the Back Bay, where on the top floor of a glassy office building, the Massachusetts Competitive Partnership (MACP) meets six times a year to discuss the state's issues and give business a voice in politics. Cofounded by Fish, the group of 16 top executives lobbies the State House and regularly speaks with the governor, the House speaker, and the Senate president. Just to the east sits City Hall, where Fish long had the ear of his close friend, the late Mayor Tom Menino, and where he still speaks frequently with Mayor Marty Walsh. And half a mile from there, Fish could clearly make out the ladderlike Atlantic Avenue offices of the Federal Reserve Bank of Boston, where he serves as deputy chair and will likely become chairman. Though he insists he is not interested in public office, Fish is still routinely described as the city's most powerful person, including by this magazine.
Heir to Jack Connors, a former advertising mogul at Hill Holliday, longtime Democratic backer, and champion for business interests on Beacon Hill, Fish—a former chairman of the Greater Boston Chamber of Commerce—has become a de facto spokesman for Boston's business community. At 55, he has built himself into a victory machine of almost freakish intensity. When he arrives at work every morning at 4:30 a.m., the first thing he sees is the plaque above his office door that reads, "Winning isn't normal"—a daily reminder to the former high school football player that success comes from hard work. To cram more hours into the day, Fish has been known to fly his private jet to California, take advantage of the three-hour time difference to work and dine with clients, and then fall asleep on the plane ride home. "I meet a lot of very type-A people," says Paul Grogan, president and CEO of the Boston Foundation. "He's in a category by himself."
But as Fish looked out at the city he built, he also eyed dark clouds on the horizon. Fish sees a Boston whose two biggest economic drivers—elite education and world-class medicine—are vulnerable. Economics experts predict that the astronomical growth in the cost of a college education is unsustainable, and that out-of-control healthcare costs are creating a bubble—one that, should it burst, would hit harder here than almost anywhere else. Boston's business and development community is still scarred from the financial and housing collapse seven short years ago. He wants a more diverse local economy—and for the city to think strategically about its growth.
Fish already knew the numbers: There is not enough housing in Boston. He'd been traveling the state arguing the need to "unlock the value outside [Route] 128" by creating housing and jobs outside Boston's outer ring and making it easier for commuters to get in and out of the city. He dreamed of new housing in the exurbs and high-speed rail service to Springfield, where homes cost nearly $350,000 less, on average, than in Boston. His vision was big and bold—one that required investment, politics, and charm. But it also needed more than that: For decades, politicians had come to similar conclusions—but lacked the political firepower to convince statewide officials and voters who were still suffering from Big Dig sticker shock. To put his plan in motion, Fish would need to do something different. In the 2024 Olympics, he seemed to have found an unexpected lever of power. And now, having found that lever, he pulled with all his might: He courted the world's brightest spotlight and set out to reimagine Boston as an Olympic City, selling the $9 billion Olympic effort as a way to generate a momentous deadline for Massachusetts to confront its crumbling transit system and ever-spiraling housing crisis. He drew longtime friends and colleagues to his side; he became the linchpin in a public-private partnership that he promised would deliver a new model for the Olympics, one that wouldn't produce catastrophic civic debt or sprawl out of control. He courted the city's and state's top executives, rallied the MACP's corporate soldiers, and invested millions in a dazzling presentation that he was sure would sell the public on the dream of an Olympic City.
At first, Fish's Olympic hopes had an air of inevitability. As chairman of Boston 2024, he'd spent nearly all of 2014 building support for the city's bid, convincing dozens of business executives to pitch in hundreds of thousands of dollars to support the cause. Both the mayor and the governor climbed onboard. Salt Lake City savior and former Governor Mitt Romney endorsed the idea, and premier local architect David Manfredi took charge of the design plans, showcasing Boston as the perfect city to host an Olympics. In contrast to the profane excesses of the 2014 Winter Games in Sochi, Russia, Boston would be privately funded, without having to rely heavily on expensive new stadiums that would languish once the athletes rolled out of town like tumbleweed.
Initially, there was knee-jerk opposition, but how could anyone dispute the bid? Hardly anybody had even seen it yet. From his office in Roxbury, though, Fish's vision for the future was clear: an Olympic stadium in Widett Circle to the left, an athlete's village in Columbia Point to the right. Boston was going to be the brightest jewel in America's crown, bring international attention to the city, and firmly place John Fish, a construction man from Hingham, in the international spotlight.
Later that day, at 6:30 p.m. on January 8, a call came into Fish's office at Suffolk. The U.S. Olympic Committee chairman was on the other end and had great news: Boston had been selected to represent the United States as host to the 2024 games over Los Angeles, San Francisco, and Washington, DC. Champagne corks popped and Suffolk employees ran through the halls crying with joy.
On the spur of the moment, much as Fish does when he chases a construction job, he made an assertive, unexpected gesture to impress the decision makers. He went to Logan Airport at 11:30 p.m., welcomed USOC officials on the tarmac, and thanked them for picking Boston. There were still months of work ahead—Boston would need to compete with the likes of Paris, Rome, and Hamburg. But Boston was now headed directly for the world's stage. And the person who had brought it to the brink was a man for whom the city had never cast a single vote.
Six weeks later, on February 23, Benjamin Jackson, a tall, lean man with dark hair, stepped up to the microphone at a public meeting in Roxbury. He had been listening to Fish's Olympic pitch and was frustrated by the lack of information and clarity. "I'm hearing a lot of empty speech," Jackson complained, asking what Fish meant when he claimed the Olympics would bring good-paying jobs to the middle class. How many? Jackson wanted to know. Are they union jobs? Will they bring prosperity to the neighborhood?
Sitting onstage with several other Boston 2024 executives, Fish wore a suit with a lavender tie, his gray hair brushed back Valentino-style. He held his chin high as he listened, a pose that can seem arrogant one moment, self-disciplined the next. "You're addressing this in a very, very direct way," Fish told Jackson. "You want answers.… You don't want me to be feeding you a lot of bull." Then Fish gave it his best shot. He mentioned Suffolk's 25 years in Roxbury and his support of youth sports. He repeated a pledge he's made in the past that Suffolk would recuse itself from all Olympic construction, then took it further than he ever had before. "My company is not going to be involved in any economic gain with these Olympics whatsoever," Fish said. "We will not build anything. We will not be involved with anything. I want this for the future, the next generation."
None of it impressed Jackson. "You do realize," he replied, "that by telling me what you have done, and what you are doing with your organization, that doesn't answer my question."
"We're at the beginning of the conversation," Fish finally admitted. "We don't have specific answers."
Over and over, Fish's prominent role at this winter's community meetings backfired. What works when he talks to elites doesn't work with the public. His assertions of noble purpose, his bona fides as a Roxbury businessman who helps urban kids, his lofty calls for a vision of "where the city of Boston and the commonwealth of Massachusetts want to be in 2030, 2040, and beyond"—it all may convince millionaires to write checks, but among people who don't know his reputation, he comes off like a mediocre politician. At another meeting, in Southie, when Fish asserted that the Olympics would improve Boston for future generations, he declared, "It is all about the kids"—a sure sign in any debate that it is not all about the kids.
What's more, the community meetings took place on a bedrock of public distrust, thanks to a secretive Olympic bid process that had unfolded over the previous months. With no public input, the 2024 committee's decision to go for gold was the antithesis of the classic New England town meeting. From Dorchester to Jamaica Plain, Bostonians learned the Olympics might come to their part of town only when neighborhood newspapers were eventually let in on it. "I think the biggest mistake," Fish later told me, was "that we underestimated the degree of transparency that people really were desirous of."
Two weeks after the Roxbury meeting, Boston 2024 hired former Governor Deval Patrick as an overseas ambassador, the start of a disastrous string of public bungling.
Initially, Patrick's hiring—a decision Fish made at the suggestion of U.S. Olympic officials—seemed like a coup for the effort. The state's most recent chief executive had extensive overseas contacts and credibility, thanks to numerous international trade missions. A big part of Patrick's legacy was the introduction of direct flights to destinations such as Beijing and Dubai. Now, he was set to be the public face of Boston's bid to the world.
Locally, however, the hire smacked of cronyism: Patrick had left new Governor Charlie Baker with a $765 million budget deficit and a crumbling public transportation system. Now, he was walking around the corner to become figurehead of an effort meant to fix the very problems he'd struggled with as governor. What's more, Patrick's arrival underlined how much of his administration had migrated to Boston 2024: CEO Rich Davey, strategist Doug Rubin. It began to look like a government in exile.
The Herald erupted in a flurry of headlines, demanding to know Patrick's undisclosed salary and slamming Boston 2024 for its lack of transparency, despite the organization's repeated vows to keep its efforts in plain view. Patrick's enemies were now Boston 2024's enemies. The following day, a spokesman for Charlie Baker said the governor learned of Patrick's involvement from the media—a violation of unspoken political etiquette, and one that cost Fish dearly. He was forced to make a rare public apology, but the damage was already done.
Walsh publicly urged Fish's Olympic team to release Patrick's salary and the salaries of all Boston 2024 employees. On March 9, the organization announced that Patrick was raking in a whopping $7,500 a day. Once again, the Herald pounced, not just on Patrick but also on Davey, who had doubled his salary as a state official to $300,000 with Boston 2024. More than anything, though, the revelation of these platinum salaries inflamed public contempt for the bid.
The Patrick episode coincided with the worst winter in Boston history—and a total collapse of the city's public transportation system. Once, the sorry state of Boston's public infrastructure had been a selling point of the bid. The Olympics, the thinking went, would spur the city and state to make the massive investment politicians had not been able to sell to constituents for the past 20 years. But now, as the snow continued to fall and the trains stopped running, the public's frustration with the MBTA spilled over into skepticism about the Olympics. "If we can't find a place for snow," Barney Frank told this magazine over the winter, "where are we going to find a place for the Olympics?"
Since Boston won the U.S. bid on January 8, almost nothing has gone right. Everyone, it seems, from two anti-Olympics groups to the Globe and Herald, has savaged Boston 2024 as an unelected shadow government funded by millionaires who are planning to build on land they don't own. Critics have accused the organization of masterminding an ambiguous, high-wire act that might leave Boston crippled by billions of dollars in Olympic debt. They have argued that Boston 2024's secret process has led to a flawed proposal, with key venues plopped onto a map—like in a virtual-reality game—without the consent of landowners or the community. Opponents weren't just criticizing the Olympics' confidentiality rules, but also Fish's way of doing business, with private handshakes among power elites. And the more Fish and his allies pushed forward, the more the public pushed back: Opponents began dominating meetings about the bid, and in February a WBUR poll showed 46 percent of voters were opposed to a Boston Olympics.
Even supporters of Fish thought his initial plans left a lot to be desired. Somerville Mayor Joe Curtatone was excited about the Partners HealthCare complex Suffolk is constructing at Assembly Square and was grateful for Fish's help with finding snow-moving equipment this past winter, but when it came to Boston 2024's grand plan to erect a 5,000-seat Olympic cycling track in his city, Curtatone tried to discourage his friend, telling Fish directly, "That won't work."
Fish, however, is not a man inclined to look inward for answers to explain this year's Olympic disasters. He grows testy when asked to describe his decision making and won't even discuss which days were his worst. Admitting to a low point would clash with his self-image. "We have made some mistakes," Fish conceded in a March 30 interview. "We had a tough winter—I acknowledge that. But I don't want to make any excuses at all." And believe me, he won't.
If you think John Fish is a tough bastard, you should've met his dad. The longtime owner of Braintree-based Peabody Construction, Ed Fish could be hard on his sons. "If [John] got a B-minus on a test and his brother came home with an 88," says Dick Duffy, Fish's high school baseball coach and economics teacher, "[he'd say,] 'John, you're a piece of shit—look at your brother.'" (Fish disputes that characterization but says that there was "healthy competition" in his family.)
Ted Fish, a year older than John, attended Milton Academy and Princeton, while John went to Tabor Academy, in Marion, and Bowdoin. After graduation, their father continued pitting them against each other, but on a much larger stage: He put Ted in charge of Peabody, the family business, and installed John as the head of a new company, Suffolk, that chased nonunion jobs in the outer suburbs. "Teddy was always the shining star, the big star at Peabody," says Duffy. But "I think John resolved in his mind that he was going to beat him, and [he] buried him." John and Ted stopped talking in 1987, and battled for 20 years over construction jobs until Peabody shut its doors in 2007. Ed Fish died in 2010, and the two brothers have reconciled.
Fish references his competitive childhood in his Olympic pitch, attributing his relentless drive to "the power of sport." Severely dyslexic, Fish says playing high school football, hockey, and baseball gave him the confidence to succeed in the classroom. At the February meeting in Southie, Fish said, "I knew through sport and people coaching me that I wasn't dumb."
His hyperaggressive intensity built Suffolk. "I have to build your building," he'd tell the developers he called relentlessly for work. Early on, Fish battled unions and squeezed money out of subcontractors. But in the '90s, he realized that long-term success required lasting partnerships and relationships, and he cultivated them as aggressively as he'd once fought for new business. Since reaching a peace deal with the carpenters union in 1992, Suffolk has used union labor, and it even built the carpenters' new Dorchester headquarters in 2010. Fish, once brusque, became slick and ingratiating. He pursued charity fundraising with the same relentlessness he brought to chasing projects. Like his mentor, Hill Holliday's Jack Connors, he made himself Boston's business titan, the guy other executives call to raise money and get things done.
Indeed, Fish was no fool. Knowing full well that to do business with the city he had to be on then-Mayor Menino's good side, he threw cash at Menino's favorite charities and causes, gaining entry to the mayor's trusted inner circle. "When Menino needed money, whether for toys for kids or anything else," says David D'Alessandro, former chairman, president, and CEO of John Hancock Financial Services, "Fish was first in line. One could be cynical and say they only did it for development purposes, but they did it."
In 2002, as Fish was landing a long series of high-dollar construction jobs, he hired Menino's chief policy adviser, Peter Welsh, as Suffolk's executive vice president for work acquisition. Reportedly, much of Welsh's job was convincing City Hall to approve projects by developers who'd hired Suffolk. Meanwhile, Menino's brother worked as a laborer for Suffolk.
By 2010, Fish was expanding his horizons. That year, he cofounded the Massachusetts Competitive Partnership, resurrecting the idea behind "the Vault"—the elite group of corporate tycoons who plotted Boston's future from inside an actual vault at the Boston Safe Deposit & Trust Company, on Franklin Street, from the 1960s through the 1990s. The old Vault called it quits in 1997, its power diminished and its CEO membership depleted by mergers and acquisitions. "We believe there's been a dilution in the business voice in the commonwealth," Fish said when he cofounded the MACP, nicknamed the New Vault. The partnership has lobbied for easier business permitting and public school reform while opposing plans for Cape Wind in Nantucket Sound.
As Fish got older, he began to think more about his legacy. Some years ago, Menino asked D'Alessandro, who retired from John Hancock in 2004, to have dinner with Fish, who'd run Suffolk since the early 1980s and was thinking about his next big move. "We were talking about the afterlife of being a retired CEO," says D'Alessandro. "In some ways, [the Olympics] is a second life for Fish."
Before Fish was in favor of a Boston Olympics, he was against it. Back in March 2013, when the idea was floated to Tom Menino, the mayor eschewed it as "far-fetched." So it was hardly shocking when Fish, his longtime ally, publicly dismissed the notion that same day. Three weeks later, however, Menino announced that he wouldn't run for reelection, and soon after Fish began to whistle an altogether different tune.
After listening to the Olympic pitch of a couple of young professionals who were selling their idea at the State House, Fish started working behind the scenes. He called Peter Ueberroth, who led the 1984 Summer Olympics in Los Angeles, and he reached out to Mitt Romney to learn about captaining the 2002 Winter Olympics in Salt Lake City. By May 2013, Fish had convinced his fellow members of the Massachusetts Competitive Partnership to go along, and its president and CEO, Dan O'Connell, testified at the State House that he believed the Games would bring significant job growth.
From there, things moved quickly. On Halloween 2013, then-Governor Patrick created an Olympics study panel, and he later named Fish a member. On November 10—five days after voters elected Marty Walsh to succeed Menino—Fish and his newly formed Boston 2024 went public with their plans. At the same time, the study panel, which had elected Fish chairman, managed to hold seven poorly attended public meetings while nobody seemed to be paying attention, and in February 2014 declared that a Boston Olympics was feasible.
Boston 2024 arrived at a moment when the city was in the midst of a power vacuum, during the transition between mayors and in the lame-duck year of a governor and a Senate president—when no single elected leader had the power to make or break the bid. But eventually, Fish knew he'd have to win over the new mayor.
Fish and Marty Walsh did not know each other well, though they'd met a handful of times throughout the years at charity parties and at labor and construction events. When Walsh arrived at City Hall, he and Fish started slowly, talking to each other once or twice a month. Since summer 2014, however, when Walsh began to study the Olympic effort in earnest, he and Fish have talked about twice a week—as often as Fish used to talk to Menino. In a grand gesture, displaying a nose for realpolitik, Fish split with longtime employee and former Menino aide Peter Welsh, who had made the fatal error of backing Walsh's opponents in the mayoral election. Though both Fish and Welsh claimed the decision to part ways last June was mutual, the Globe reported that Fish sacrificed Welsh after learning he'd become persona non grata at City Hall.
By early fall, the mayor agreed to play ball with Boston 2024, and in December he flew to California to help woo the U.S. Olympic Committee. But Walsh also had a front-row seat when public opinion began to slide.
As each blunder unfolded, Walsh grew more skeptical. During an interview in late March, the mayor voiced support for Fish and the Olympic effort, but he also rattled off an alarmingly long list of lingering questions about the need to prevent the use of taxpayer money and cost overages. "I'm watching him learning," Walsh said of Fish. "I'm watching him as he starts to put the pieces together. I think he understands that there's a little bit of politics here as well. I think he's learning that, just like I'm learning how to put a business together."
On March 19, as the public's anger over Patrick's $7,500 per diem reached a fevered pitch, Walsh stepped into the spotlight to stop the bleeding—which Fish had been unable to do—by suggesting that the former governor should work for free. Patrick agreed to it that day, and then disappeared publicly from the Olympic effort altogether. That night, as Fish, Walsh, and the rest of Boston 2024 were still reeling, a WBUR poll showed statewide support for the Olympic bid had dropped to a new low of 36 percent.
John Fish found himself in an unfamiliar position: crisis mode. Publicly, he seemed to be struggling to understand the nature of the opposition. Baffled that anyone would doubt his sincerity, he complained when critics questioned his intentions. He stubbornly doubled down on his scripted message about the "power of sport" and his record as a philanthropist, but eventually, Fish seemed to realize that he had to answer the charge that he had made himself an unaccountable czar. He had to genuflect before democracy.
Fond of sports metaphors, Fish called an audible. He still believed he had the key to saving the bid: He would make a major concession and support a public vote on whether to host the Olympics. The mayor, while not directly opposing a referendum, had said he didn't think one was necessary. Now, Fish decided, a statewide referendum could provide relief from the unceasing criticism of the bid—much of it centered on a lack of details, and the public's contempt for what they'd seen of the few details that had been released. Most important, though, the referendum meant essentially kicking the can down the road: It would buy time. Time to present more details. Time to convince the public. Time to get the bid back on track. "By hosting this referendum, it gave us a 20-month period of time to meet with the community, to meet with the different political officials," Fish told me in mid-April. "We felt that the referendum could be a very good, powerful tool to ensure that we had the support that we needed."
But Fish was misreading the political wind, failing to realize that the situation was even more dire: He thought he had many months, while others invested in the bid were quietly looking for a speedier turnaround. Within weeks, it became clear that Fish's referendum hadn't stopped the bid's freefall. On March 27, Scot Lehigh, of the Globe, wrote a mocking poem in the style of Edgar Allan Poe's "The Raven" about Fish's poor performance, while Howie Carr, in the Herald, called Fish a "jocksniffer" and part of a "clown posse" with a "demented scheme to beggar the taxpayers of Massachusetts." On March 30, U.S. Senator Elizabeth Warren told WBUR she was "really concerned" about the Olympic bid, and behind the scenes, rumors circulated that Fish might be forced to step back from the effort. Those rumors immediately appeared in the pages of the Globe when Joan Vennochi published a blistering column urging Fish to exit the public stage.
At the time, the unflattering press coverage seemed like a minor embarrassment, but it helped ignite a report that the USOC was so concerned about a Boston meltdown that it was considering yanking Boston's bid and going with Los Angeles. On March 31, Scott Blackmun, CEO of the USOC, told the Wall Street Journal that "Local support is critical to the success of any bid," in a story that reported the committee was "unlikely to move forward with the plan if residents continue to reject it." Suddenly, it looked like Fish had only until September—when the USOC has to file the American bid—to turn the Olympic effort around.
The next morning, April Fools' Day, Fish appeared at a Northeastern University breakfast to peddle the bid. This time, though, he added a new wrinkle, decrying the decline of patriotism in America and the need for an Olympic-sized booster shot. Afterward, a reporter for Channel 5 claimed Fish had questioned the patriotism of Boston 2024 opponents, igniting a social-media wildfire. Fish never said that, but his brand of patriotism went over poorly in a town where patriotic pride is expressed as much through public dissent as public display. It was Fish's last Boston appearance on behalf of the Olympic bid.
Still, Fish couldn't catch a break. On April 2, a Herald headline screamed that Mayor Walsh wanted the former athlete to take a diminished role as a so-called ambassador to cheerlead from the sidelines (a report Walsh denied). Fish bailed out of scheduled talks at a builders' convention in April and then again at a hotels conference later that month. By the end of April, a consensus had formed: Someone needed to hit the reset button on Boston 2024 and take the reins.
Finally, Fish had to confront the idea that the bid was failing. On April 22, Boston 2024 announced its expanded all-star board of directors, including fan favorites Larry Bird, David Ortiz, and Meb Keflezighi. Fish also brought in the big guns, retaining crisis-management conglomerate Weber Shandwick both for himself at Suffolk and for Boston 2024. The firm's top consultant, New England division president Micho Spring, was brought in to stop the bleeding.
In truth, Fish had already begun damage control. On March 27, he met with the governor and his cabinet at the State House, one of several private meetings between Boston 2024 and the state's elected decision makers. When they emerged, all were tight-lipped about what they'd talked about, and Baker, who had maintained a steely skepticism of the bid in his public statements, softened to say he "thought it was helpful" and that the effort was "further along than the previous stuff I've seen." Though no one would admit it at the time, Fish had shown them an expanded detail of the bid (it later became public thanks to an open-records request from former gubernatorial candidate Evan Falchuk).
The move to retain Weber Shandwick, however, came at a significant cost—in both optics and capital. The Globe whacked Fish again by suggesting there was a conflict of interest, since Weber Shandwick was now representing both the man and the bid. And Spring's services don't come cheap. Boston 2024 had already pledged to release its employees' salaries, and now the Globe was demanding to know how much was being spent on the PR company. To date, they have not released the amount.
Boston 2024's problems, however, may run deeper than any PR firm can fix. The two opposition groups—No Boston Olympics, headed by former Patrick administration transportation official Chris Dempsey, and No Boston 2024, headed by progressive activists—have driven the conversation around the bid. They've pointed out that the city will be required to cover any Olympics cost overruns Boston 2024 might incur. And they've questioned the feasibility of key venue sites, from the Olympic stadium and athletes' village to the Somerville velodrome and equestrian events in Franklin Park. The more Fish and company respond that the bid is just a "proof of concept" that's subject to change, the more critics warn that Fish is asking Boston to take a huge financial risk based on too many unknowns. Those arguments have been bolstered by major editorials in the Globe and Herald, as well as in CommonWealth magazine, and the op-eds of Smith College economics professor Andrew Zimbalist, who has practically become the state's naysayer in chief. Now, Boston 2024 is pinning its hopes on a revised venue plan it promises to deliver by later this summer.
As the USOC nervously eyed the polls and pressed for a new strategy, Boston 2024 also enlisted two agencies—Teneo Sports and JTA—that specialize in advising Olympic bids. "Check your egos at the door," Teneo copresident Terrence Burns warned Fish and other Boston 2024 executives shortly after being hired. The message was clear: They'd have to work together and not worry who got the credit.
Meanwhile, Boston 2024 needed fresh blood—and it needed someone who could stand up to Fish. The pressure finally culminated during a May 8 conference call, when Boston 2024 execs presented a reorganization plan. In his most humbling moment yet, Fish agreed to step aside as chairman, four months to the day after the U.S. Olympic Committee chose Boston. That plan, which was not yet final as Boston went to press, stands as his career's most significant public defeat. Boston 2024 plans to tap two of the biggest names in Boston sports to step in. Steve Pagliuca, a Celtics co-owner and a managing director at Bain Capital, would move up from vice chairman to chairman. Larry Lucchino, the Red Sox president and CEO, would serve as a strategic adviser, as would Fish's longtime mentor Jack Connors.
Pagliuca's ambitions are as vast as Fish's—he ran for the U.S. Senate in 2009, and came in last in the Democratic primary. But he's a very different type of leader. Fish is a salesman. Pagliuca is a skeptic, a numbers guy. Now Pagliuca's job will be to solidify the speculative Olympic venue budgets and plans into a more trustworthy bid.
Still, Fish hasn't been forced out entirely—he plans to remain with Boston 2024 as a vice chair. Though he has not helped the Olympic effort when he pontificates in public, the privately funded bid needs his fundraising mojo. If he goes, so likely do many donors who trust him. On May 12, after months as the public leader of the Boston Olympic effort, Fish accepted the potential diminishment of his role with a one-sentence statement: "I am committed to doing all I can to bring the Olympic and Paralympic Games to Boston in 2024; and I will continue to work tirelessly to achieve that goal in whatever role is most appropriate."
In spite of everything that's happened, Fish continues to show up at his office at 4:30 a.m., look out at Boston's skyline, and hope his Olympic dreams will come true. He knows that winning isn't normal, that it takes extraordinary effort. So he'll keep striving to make his vision a reality—but in private, where he works best.
---
Olympian Clout
Our highly subjective chart of the meteoric rise and sudden fall of Boston's Olympic dream.
---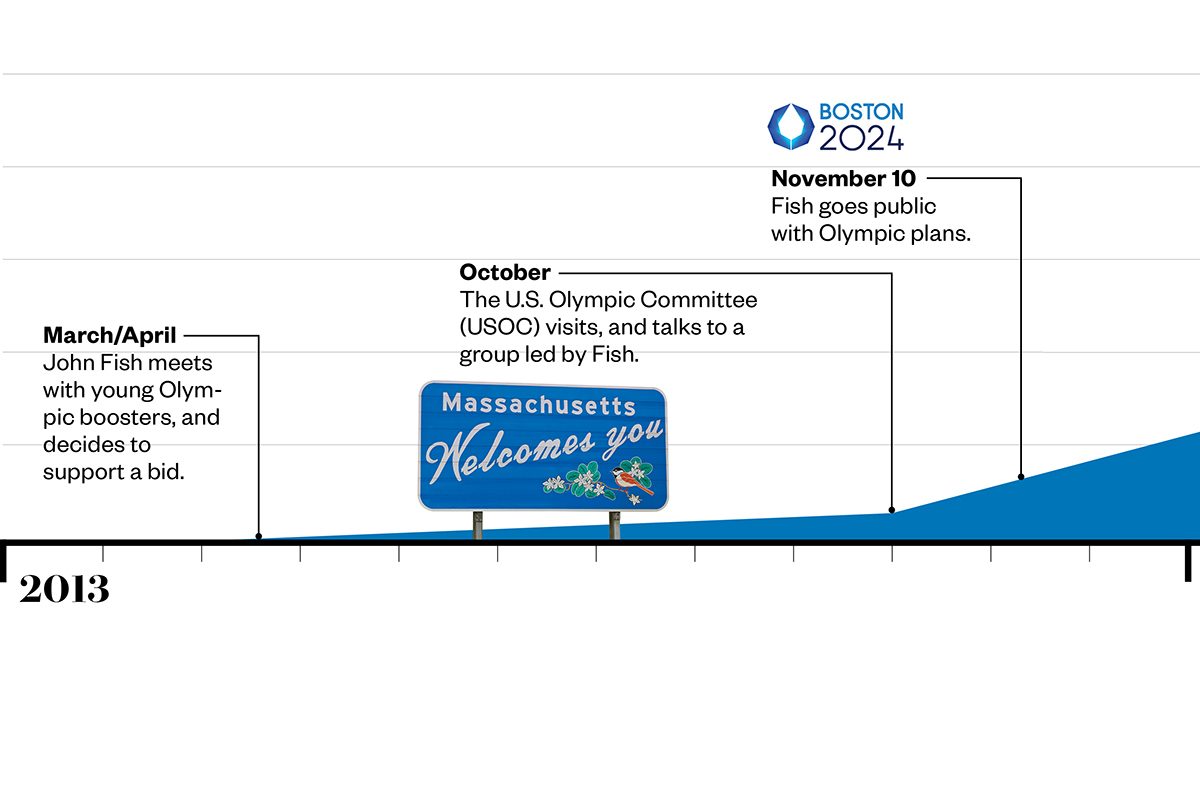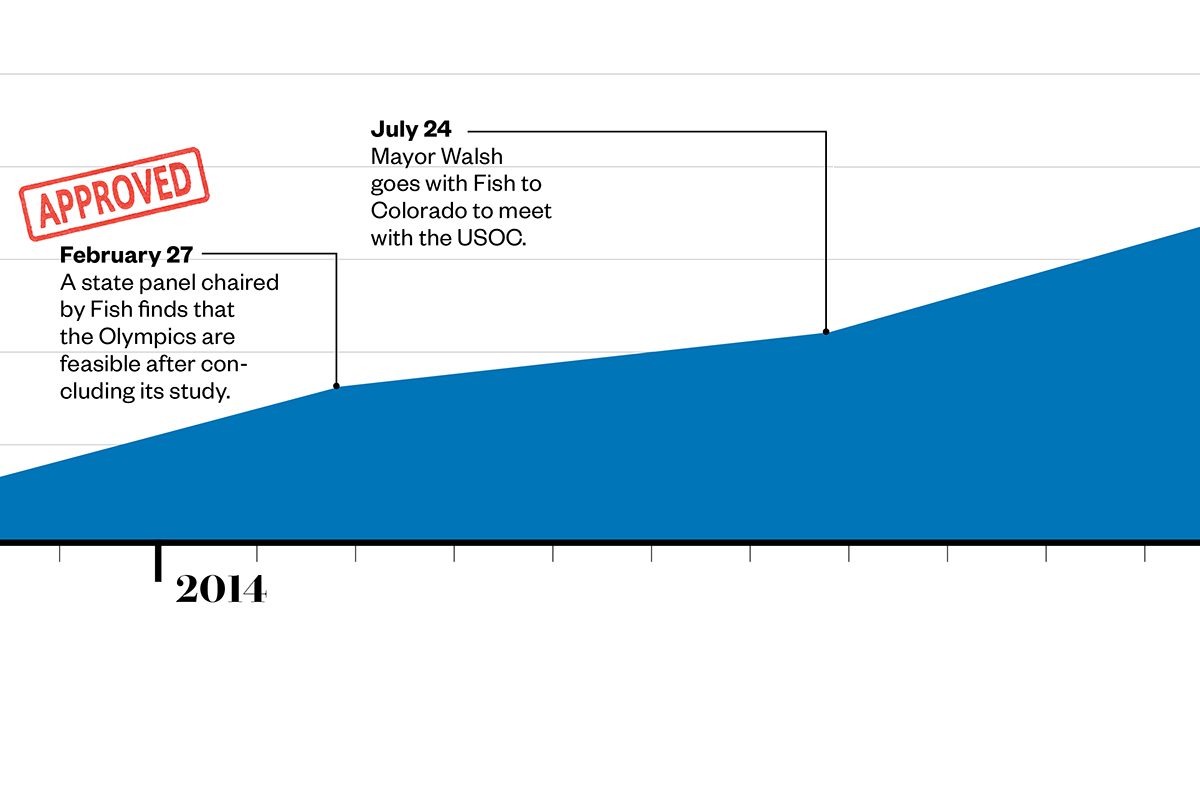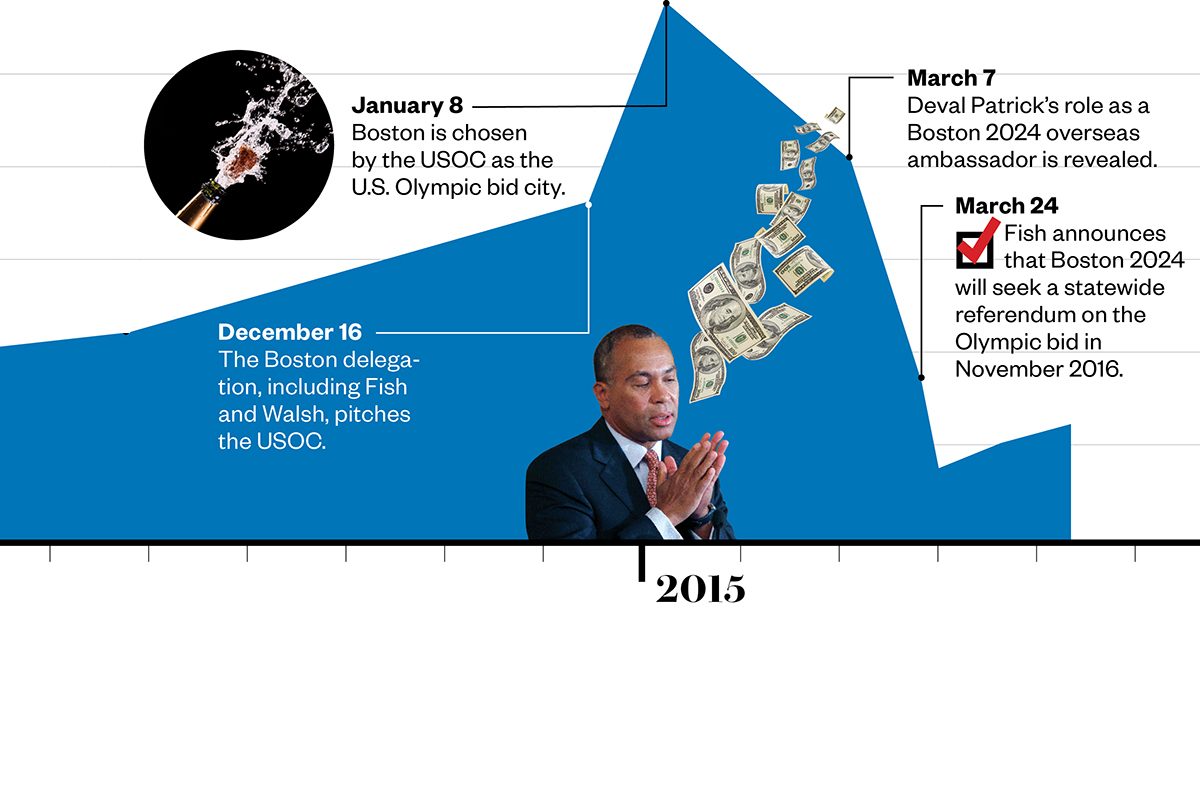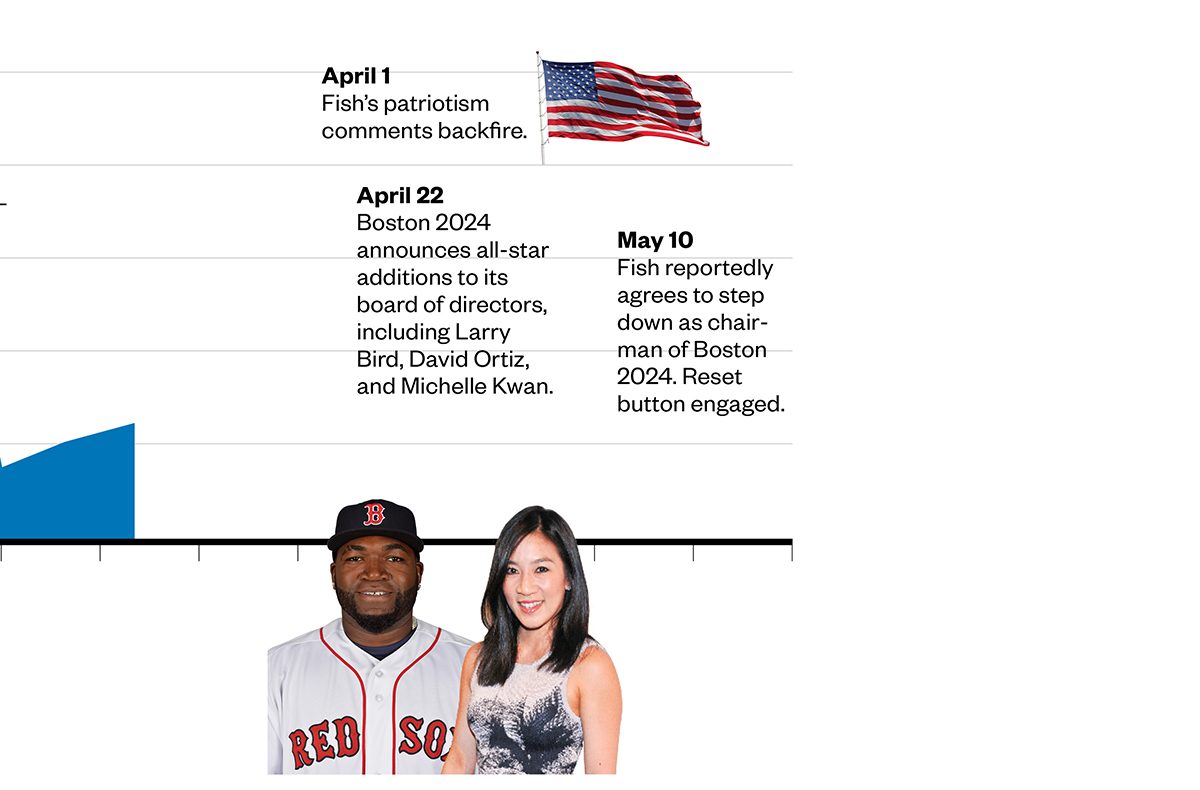 photographs by AP photo/elise Amendola (patrick); jenny anderson/wireimage (kwan); Ron Hoskins/NBAE via Getty Images (bird); istockphoto (sign, stamp, champagne, money); Steven A. Miller/flickr; courtesy of boston red sox (ortiz)
Source URL: https://www.bostonmagazine.com/news/2015/05/21/john-fish-olympics/
---