The People Behind the "West Mass" Video Would Like to Explain
They say the much-discussed video was taken out of context.
---
Earlier this week, we wrote about the unusual, fast-paced video at the center of new campaign to rebrand the Pioneer Valley as "West Mass." The video, which featured long-dead "modern mavericks" with ties to the region and a gratuitous amount of Michael Jordan, left us with a few questions.
Well, now we have some answers. DJ Steve Porter, of PorterHouse Media, the firm that made the much-discussed video, spoke with us over the phone on Thursday, and he wants to clear a few things up.
First, he says, the video was never designed to play well online. In fact, he never thought it would leave a function room in Holyoke, where it was played on a projector screen at a public launch party for the new brand.
Second, he says, the "West Mass" moniker was not his idea. Although much of the backlash hurled at the rebranding effort has been directed at him, it seems some people were not aware the name was cooked up by the Greater Springfield Convention & Visitors Bureau and the Economic Development Council of Western Massachusetts, along with an Oklahoma-based branding firm. He was only doing what his client asked him to, he says.
Michele Goldberg, director of marketing for the Greater Springfield Convention and Visitors Bureau, can corroborate Porter's story. They didn't expect critics across the state to be exposed to, and then pounce on, the video.
"We wanted to have a little bit of fun with it. When we wanted to use video for other purposes, obviously we would approach that differently," she says. "But for this purpose, we needed a video mash-up. We wanted it to be fast-paced, we wanted it to show a lot of different venues and attractions, and some of the scenic beauty."
This certainly wasn't how anyone wanted a nearly year-long, $80,000 plan to bring new vitality to the Connecticut River Valley to make its debut.
How it happened
About two weeks before the "West Mass" campaign was set to launch publicly in early February, the people leading the rebranding effort contacted Porter's firm—which is known for making auto-tuned mash-ups—and asked him to put together a fun, flashy video to be played for a live audience. He was given a whole bunch of pictures and video footage, a logo, a planning document that was more than 100 pages long, and very specific instructions.
"If I were to sum up what this video is, it's a PowerPoint presentation with music," Porter says.
There were plans to produce slicker ads for TV and the web at a later date. But then, after the video was posted online on the official Visit West Mass Twitter and Facebook accounts, and provided to the media outlet MassLive, things took a turn.
Thanks to its break-neck pace and unusual wording (including an emphasis on the region's "fertility"), the video appeared awfully strange to the average internet viewer. It was posted to Reddit (where it was called "the most cringe-worthy video you'll watch today"), covered in the Globe, and scrutinized here, and critiques came pouring in. For Porter, who feels like his brand is getting needlessly dragged through the mud, the ridicule has been "devastating."
A longtime advocate for the region, Porter wouldn't say whether he personally thinks "West Mass" is a good name. According to accounts in local media, the debate over it appears far from over. In time, he says, it might catch on. But if people don't like it, they shouldn't blame him.
"I was the postman," Porter says. "I was just delivering the package to the door, and now I'm getting absolutely throttled."
Out of context
Part of the problem, says Goldberg, the marketing director, is that the video is being taken out of context.

"If you don't really understand the purpose of it, or the context under which it was produced, it didn't make sense," she says. "I think if you were at our event and heard the lead-in to it and saw some of the presentation materials, it would absolutely make sense."
The words that appear on the screen in the video—like "assertive," "free spirit," and "fertility"—are "brand characteristics," she says. In other words, they're aspects of life in the area that one might want to emphasize in an ad campaign or promotional materials. The phrase "modern maverick," for example, is meant to be an updated version of "pioneer."
Why are some of the "modern mavericks" featured in the video deceased historical figures from the 1800s? Because the region's modern-day trailblazers (businesses, artists, adventurers, thinkers) are following in their footsteps, Goldberg says.
And why are there so many clips of Michael Jordan, who appears four times in the two-minute video? Well, Goldberg says, how better to emphasize Springfield's Basketball Hall of Fame than with MJ, one of the best-known athletes of all time?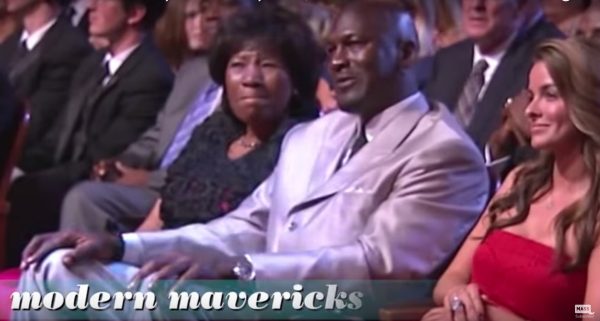 She says, by the way, that people are still free to call the region the "Pioneer Valley" if they want to, and many of the local businesses with that title in their name are likely to do just that. For now, Goldberg says the plan is to stick with "West Mass," and to roll out new video and other marketing content later this year. And she encourages people to have an open mind about the new brand. It's more clear than the old name, she says, it tested well in focus groups and surveys, and it's more likely to resonate with people than one that conjures up images of far-away prairies.
"[Pioneer Valley] reminds them of someplace out in the Midwest," she says. "We want to make sure that when we're out of this market talking about all the great reasons why people should come here, they know exactly where we are."
---
---