Here Are the Noisiest Parts of Boston
Surprise! Logan is loud.
---
Contrary to what you may believe, the apartment below yours that still inexplicably blasts Avicii's "Levels" at 3 a.m. isn't the noisiest place in Boston. That would be Logan International Airport.
The U.S. Department of Transportation—now headed by Harvard Business School alum Elaine Chao—released its nationwide "noise map" this week, detailing which areas are most exposed to aviation and highway noise. Residents of East Boston will hardly be surprised that Logan causes quite a ruckus.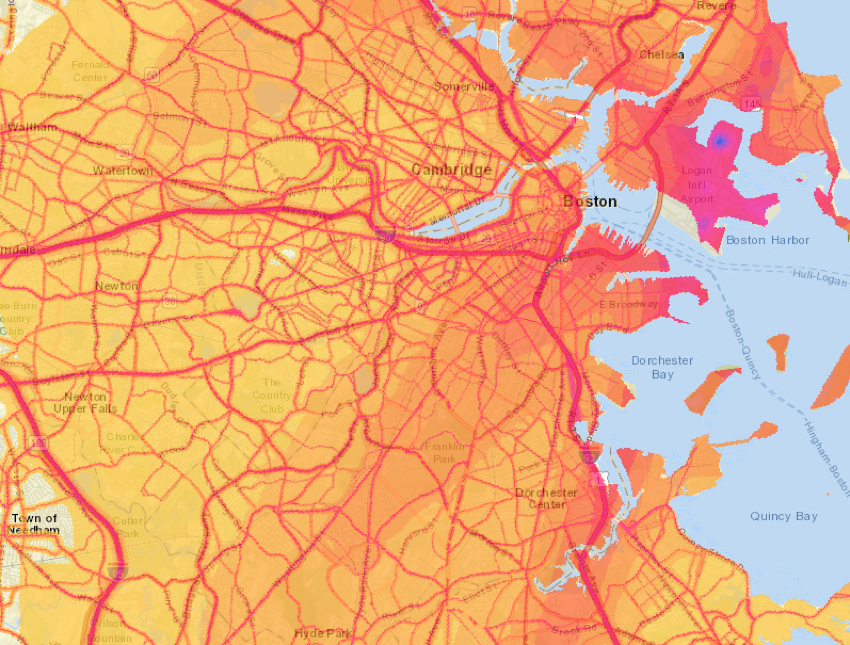 Each color represents a different average sound level for the day. The long swaths of yellow encompassing Brookline, Newton, Watertown, and much of Cambridge represents 40 decibels, comparable to the hum of refrigerator. Roxbury and Fenway average 50 decibels, which similar to a quiet office.
In much of South Boston, the noise grows to 70 decibels—the same as a vacuum cleaner. Only near the runways at Logan does the average sound level reach that of a garbage disposal.
Upon zooming out, it becomes apparent just how noisy Boston is compared to the rest of the state.
Future versions of the map will include other transportation noise sources, such as rail and maritime. So expect our beloved wail of the Green Line at Boylston to be reflected in that.
You can play around with the map here.
---