Boston Marathon Live Blog 2017
We're gathering notable moments big and small from Hopkinton to Boylston Street. Check back throughout Marathon Monday for updates, and don't forget to follow us on
Facebook
,
Twitter
,
Instagram
, and
Snapchat
.
---
With reporting by Madeline Bilis, Spencer Buell, Kyle Clauss, Jamie Ducharme, Will Norris, Christy Osler, Hallie Smith, Alyssa Vaughn, and Lisa Weidenfeld
---
5:15 p.m.: We're ending the live blog with these inspiring photos of Kathrine Switzer. She completed a historic race today, on the 50th anniversary of her groundbreaking run in 1967 that made her the first woman ever to officially run Boston.
Plus, check out these triumphant photos from the finish line, and even more Boston Marathon coverage.
---
Kathrine Switzer Runs Again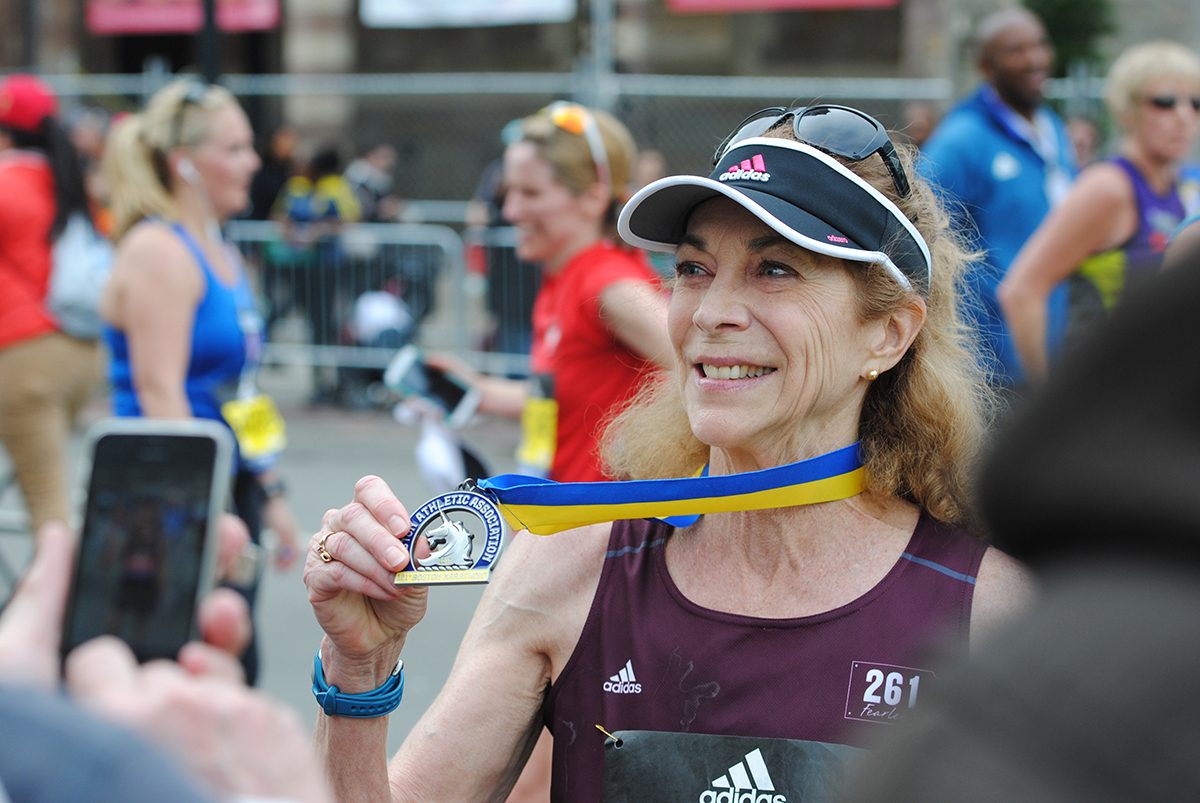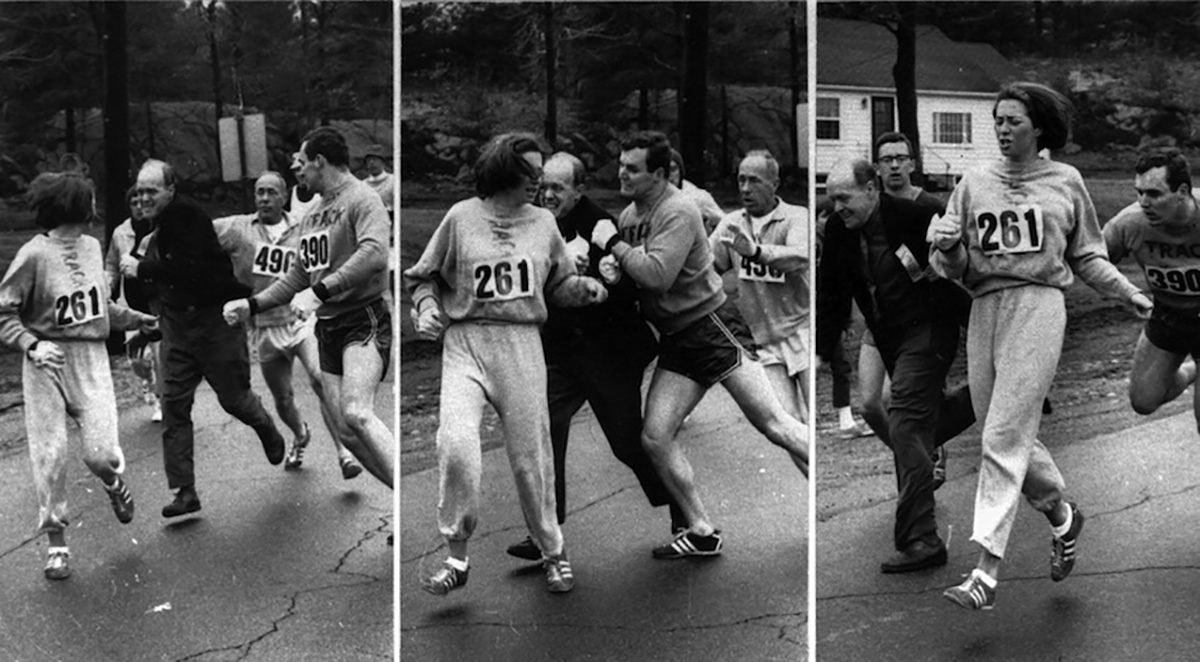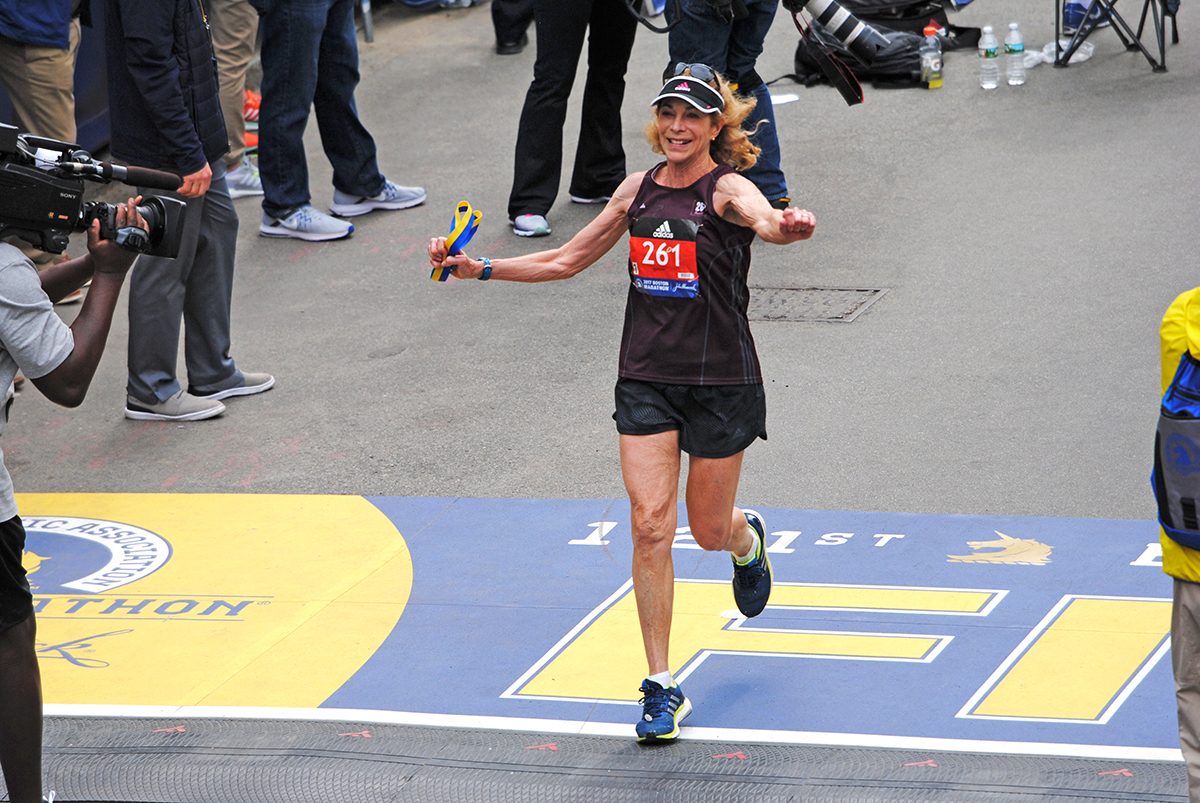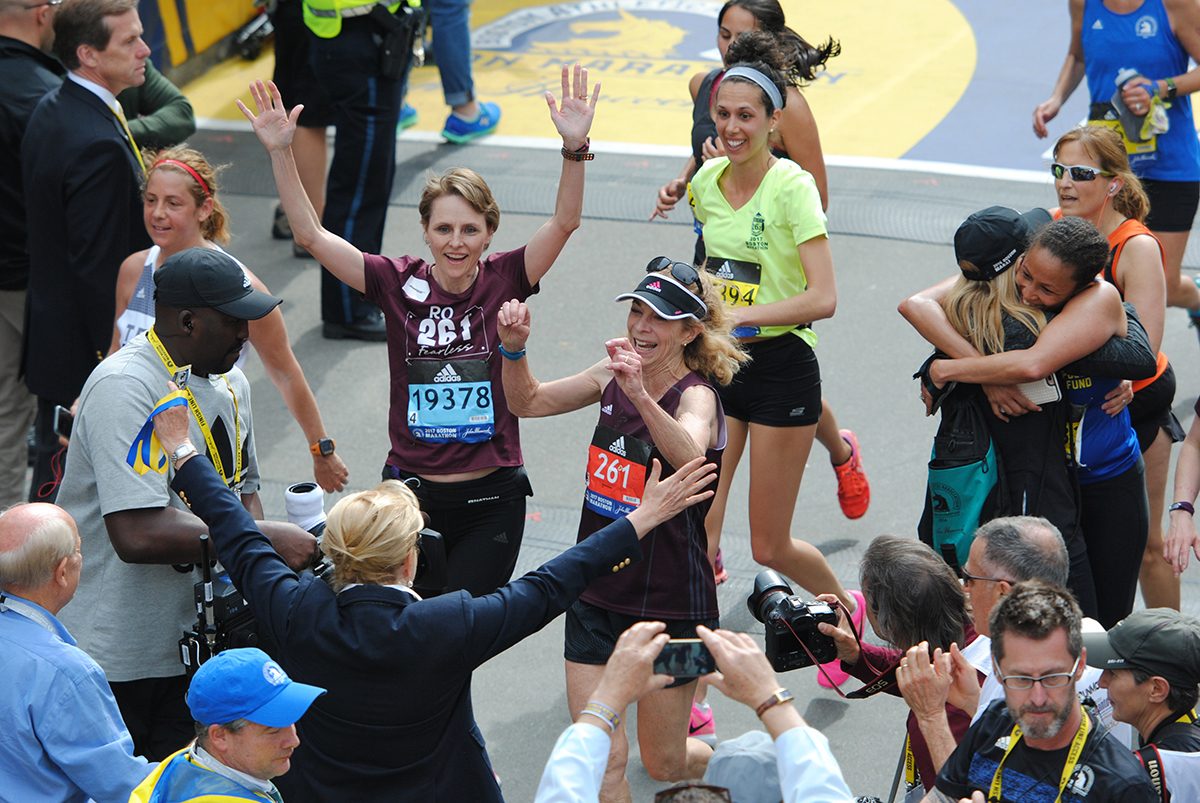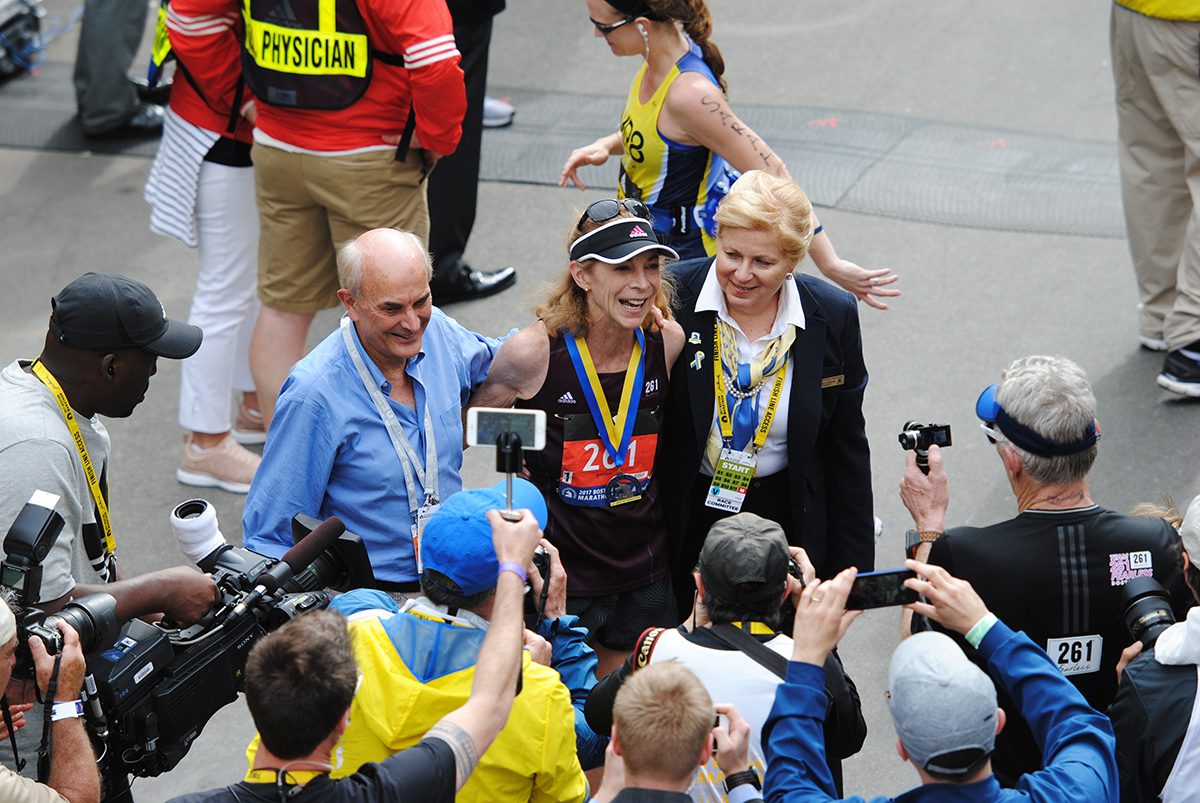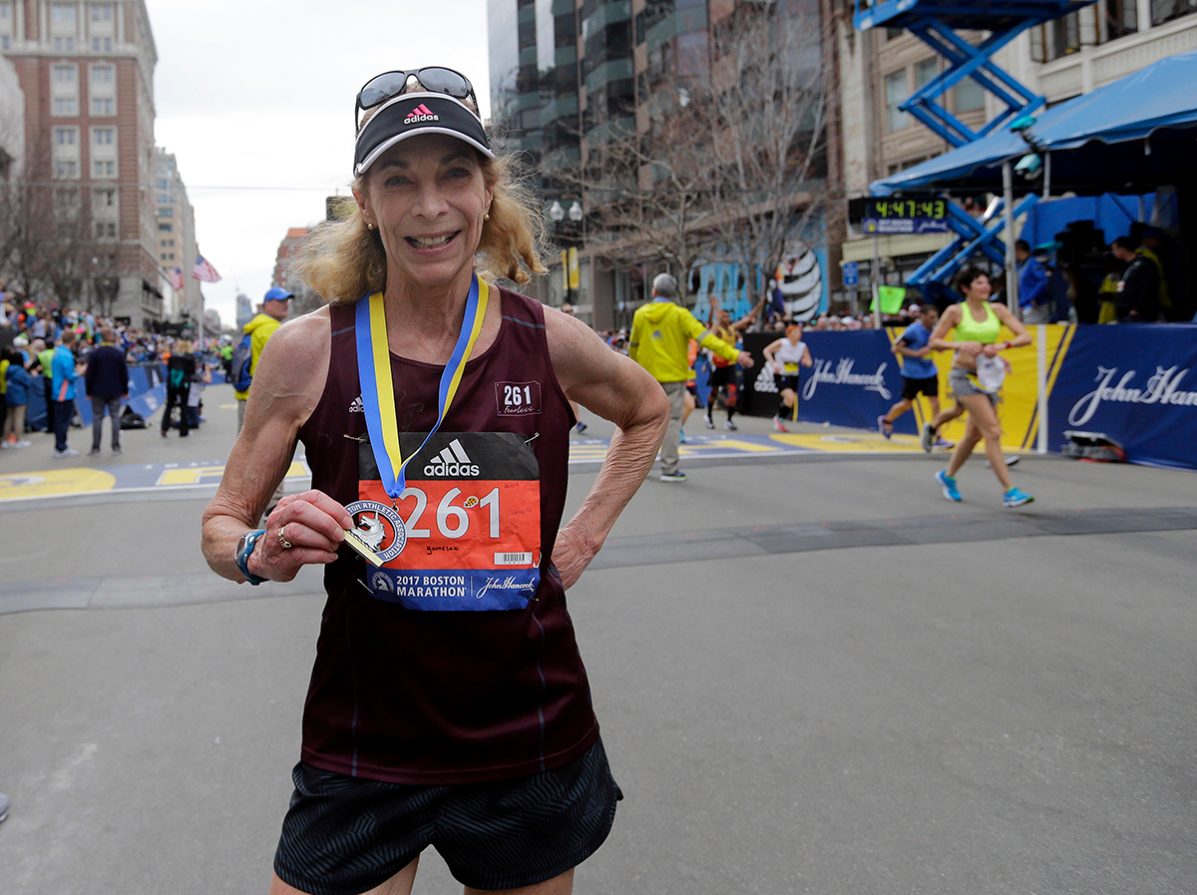 ---
5:09 p.m.: Andrew Frates, Pete Frates' brother, spoke to the media after crossing the finish line. "It was hard but nothing compares to what he goes through every day dealing with ALS," he said, "and I just hope I made him proud and my family proud."
.@PeteFrates3, his brother, Andrew and father talk to @STEVEBURTONWBZ after finishing @bostonmarathon #StrikeOutALS pic.twitter.com/E3dtkthNtE

— AndreaWBZ (@AndreaWBZ) April 17, 2017
5:02 p.m.: Among those celebrating 26.2 miles worth of accomplishments today was Doug Flutie, who told WBZ he felt just fine after making it to Boylston Street.
He broke 5 hours! @DougFlutie feels great after his 3rd #BostonMarathon! #WeAreBC @BostonCollege #WBZ pic.twitter.com/UwewFy7no9

— Paula Ebben (@PaulaEbbenWBZ) April 17, 2017
4:55 p.m.: Cambridge native and TV star Mindy Kaling sent some love to marathoners and Brigham and Women's today, tweeting a picture of herself in a Stepping Strong T-shirt.
Love to the #steppingstrongrunners #brighamandwomens pic.twitter.com/3xcgAzzJAW

— Mindy Kaling (@mindykaling) April 17, 2017
4:50 p.m.: Could this be the best sign of the race?
Best sign at the #BostonMarathon! Why I only fly @Delta #unitedsucks pic.twitter.com/R0berqMT2n

— Bridgette Darling (@BCDarling) April 17, 2017
4:30 p.m.: Jose Luis Sanchez, an injured Marine from San Antonio who carried an American flag the length of the marathon route, has become an instant icon of this year's race. Sanchez lost part of his left leg in Afghanistan, and has since made it his mission to inspire others.
"I want to lead by example," he told the site GrindTV ahead of the marathon. "I'm not going to go up to other amputees and be like, 'You can do it!' Instead, I hope that some people see what I've done and it invokes that fire within them to get over whatever is holding them back."
He also runs an inspiring, and intense, Instagram where he documented his rigorous training process.
4:23 p.m.: Fifty years ago, she became the first woman to run the Boston Marathon. A half-century later, Kathrine Switzer returned to cross the finish line one more time, clocking in this afternoon at 04:44:31.
50 years after her first #BostonMarathon – Katherine Switzer with @STEVEBURTONWBZ. Women run marathons because of her persistence #WBZ pic.twitter.com/1kyiVruh4n

— Paula Ebben (@PaulaEbbenWBZ) April 17, 2017
3:40 p.m.: Sir, whoever you are, take a bow.
this guy is at the #BostonMarathon right now motivating the runners. i love boston. pic.twitter.com/jOT6kmRJhK

— abdul 🚀 (@Advil) April 17, 2017
3:00 p.m.: After the Red Sox beat the Rays 4-3 for the annual Patriots Day showdown at Fenway Park, some exceptionally well-dressed fans streamed out of the stadium.
Our favorites included this crew, dressed up in traditional garb:
And this guy, in an extremely patriotic suit complete with an American flag jacket and bow tie, and red-white-and-blue shoes and shades:
2:22 p.m.: Intern Alyssa Vaughn captured this showdown between jogging marathoners and the Green Line. They're not the first ones to go toe-to-toe with the MBTA on foot.
Showdown between @MBTA's B line and the #BostonMarathon runners at Mile 21 pic.twitter.com/ZXmo4rqLFK

— Alyssa Vaughn (@alyssacvaughn) April 17, 2017
2:14 p.m.: Boston Police Commissioner William Evans has completed his 52nd marathon, his 19th in Boston. It was his first time running the race since 2013. He wrapped up in 03:50:30.
It's official #BPD's top cop just finished his 52nd marathon. @marty_walsh at the finish to say congrats. #BostonMarathon pic.twitter.com/fimzzCWGvS

— Boston Police Dept. (@bostonpolice) April 17, 2017
1:55 p.m.: A heartfelt message from a fourth-place finisher is being shared widely in Boston. Two-time Olympian Des Linden shared a tweet this afternoon that seems to sum the spirit of the marathon pretty nicely. "All you got, is all you got," she wrote. "That was everything. Thanks for all the love leading up to this, you can't top the running community."
All you got, is all you got. That was everything. Thanks for all the love leading up to this, you can't top the running community.

— des_linden (@des_linden) April 17, 2017
She very nearly won in the 2011 marathon, when she came just two seconds short of first place. And after a seventh overall finish at the Olympics in Rio, Linden had been considered a contender for the top spot today. She finished with an unofficial time of 02:25:06, three minutes behind the winner, Edna Kiplagat.
1:37 p.m.: At the finish line, Meb Keflezighi could be seen visiting the Richard family in the stands and planting a kiss on the hand of Bill Richard, Martin Richard's dad. Keflezhighi won the marathon in 2014—the year after the Richard family lost their son—and says he is running his last race this year.
1:28 p.m.: Run or run not. There is no try.
Nora and Alana Buckner cheering on Nora's husband, a @starwars fan, who is running in the @bostonmarathon pic.twitter.com/54yjC3ZrIE

— Emma R. Murphy (@MurphReports) April 17, 2017
1:20 p.m.: Some serious vintage threads spotted in Kenmore Square.
Throwback marathon jacket! @BostonMagazine pic.twitter.com/GRD7S0vhIv

— Hallie Smith (@hallieasmith) April 17, 2017
At Fenway Park, the Red Sox are wearing their "Boston Strong" jerseys—the same David Ortiz wore during his famous "This Is Our F—ing City" speech—for their afternoon matchup against the Tampa Bay Rays.
Boston #RedSox wearing their "Boston Strong" jerseys today vs the #Rays for their annual Patriot's Day game pic.twitter.com/FJ4j1GSbez

— Chris Creamer (@sportslogosnet) April 17, 2017
12:36 p.m.: What are the chances this guy is playing a Jack Johnson song?
Meanwhile, Meb cools down after finishing his final Boston Marathon.
A man playing a saxophone serenades runners.
And then there's this guy. Nothing like a full-body gorilla costume on a hot spring day.
12:29 p.m.: A few words of encouragement (and nightmares) at Heartbreak Hill.
12:25 p.m.: Geoffrey Kirui, of Kenya, won the men's division with an unofficial time of 02:09:37. He pulled away from American Galen Rupp in the final stretch of the race for his first-ever win at the Boston Marathon. You can check out our full list of winners and their times here.
12:23 p.m.: Fan favorite and one-time Boston Marathon winner Meb Keflezighi makes his way down Boylston Street. This is the last time that Keflezighi, who famously gave his 2014 medal back to the city, will run Boston.
12:16 p.m.: Who's having the best Marathon Monday? This waterboy is making a strong case for himself.
Quality – What's better than winning the #BostonMarathon? Having the guy leading it take water from you #winning #waterboygoals pic.twitter.com/V4VpeybLOU

— Aidan Buckley (@AidanBuckley) April 17, 2017
12:14: p.m.: Edna Kiplagat, of Kenya, won the women's division with a time of 02:21:52. She won by a wide margin, besting the second-place finisher Rose Chelimo, of Bahrain, by nearly a minute. You can check out our full list of winners and their times here.
12:12 p.m.: The family of Martin Richard, the youngest victim of the 2013 bombing, joins Mayor Walsh at the finish line. The Martin Richard Foundation is currently raising money for Martin's Park, a new green space and playground near the Boston Children's Museum in Fort Point, due open in 2018.
11:42 a.m.: With elite runners on their way, the finish line is packed.
Pretty sure there's not an inch of sidewalk left on Boylston #BostonMarathon pic.twitter.com/L08nbKWHjX

— Jamie Ducharme (@Jamie_Ducharme) April 17, 2017
11:33 a.m.: You think running the marathon is hard? Try doing it uniform, like these two seen jogging down Comm. Ave. this morning.
Looks like they were greeted with huge cheers on Boylston.
A couple of soldiers jog up Boylston Street to a huge ovation #BostonMarathon pic.twitter.com/9pHueg0inG

— Chris Villani (@ChrisVillani44) April 17, 2017
11:22 a.m.: Looks like Liz has a few friends in high places.
People show support from their balcony in mile 24. Runners have not yet passed this area right now. #BostonMarathon @BUNewsService pic.twitter.com/tbwggmgU6s

— Valdya Baraputri (@valdyabara) April 17, 2017
11:06 a.m.: Boston police appear to have broken up a rollicking soiree in Allston, near Packard's Corner. C'est la vie. Thanks to reader Kristen Ryan for the before and after pics.
10:50 p.m.: Please: keep the puns coming.
Kelsey Renner, of Boston, with a choice inspirational sign pic.twitter.com/LpXWc2JrCr

— Bill Shaner (@bill_shaner) April 17, 2017
10:48 a.m.: Ethiopia's Atsade Baysa, winner of the 2016 Boston Marathon, has dropped out of the race. Last year, Baysa became the first Ethiopian woman to win since 2010, despite finding herself behind by a whopping 37 seconds at mile 21.7.
Meanwhile, it appears a North End resident is blocking traffic, shouting about lanterns, or something.
Paul Revere riding down Main St Charlestown for Patriots Day. #marathonmonday @universalhub pic.twitter.com/5j1FpVPcNP

— Garry Waldeck (@Garrywaldeck) April 17, 2017
10:37 a.m.: The marathon cerberus has taken its place along the route, as is tradition.
Meet Lexington, Concord and Quincy, a couple labs who like the #BostonMarathon very much. pic.twitter.com/ffIS4cOQiA

— Bill Shaner (@bill_shaner) April 17, 2017
10:30 a.m.: An artist has been selected for the markers to be placed on Boylston Street to honor the victims of the 2013 Boston Marathon bombings, Mayor Marty Walsh's office announced Monday morning.
"We will never forget the events of April 15, 2013," Walsh said in a statement. "Together, these memorials will create a place for people to connect with each other, and to reflect. The result will be a testament to the spirit and resiliency of the people of Boston, and a way to honor those we have lost, and those who are still healing."
The victims' families unanimously picked homegrown sculptor Pablo Eduardo from a field of world-renowned artists to design the two markers at the bombing locations, ahead of the installation of a "larger monument signifying the resilience of the city" to be designed by another artist yet to be selected. A graduate of Tufts and The School of the Museum of Fine Arts, Eduardo will work with the families, City Hall, and the Boston Art Commission throughout the creative process.
"It is humbling to have been chosen to create a work of art that will honor the victims of the 2013 Boston Marathon attack," Eduardo said. "Art is a powerful vehicle for remembrance and healing, and my goal is for this art to embody the spirit of those we lost and the spirit of the city they loved."
The markers will be unveiled April 2018, while City Hall will issue a request for proposals to conduct a four-month public engagement process to plan the monument, expected by April 2020.
10:25 a.m.: The first of the men's hand cyclists has crossed the finish line. Behind him, 30,000 more participants are still chugging away to complete the 26.2 mile trek.
The hand cycle division winner!! We'll have him on live in moments! #wbz #bostonmarathon pic.twitter.com/0iXPN6glJN

— David Wade (@davidwade) April 17, 2017
10:12 a.m.: Tough luck for this dino. Only in Boston reports that the T-Rex at the Museum of Science has been disqualified because his bib number, 65,000,000 is a fake. Meanwhile, according to Runner's World, 15 human contestants have been barred from the race this year for cheating in past events, based on evidence from the infamous race watchdog Derek Murphy.
BREAKING: The @BAA has disqualified the @MuseumofScience dinosaur for trying to run with a fake #BostonMarathon race bib. pic.twitter.com/v8I5t08PJC

— Only In Boston (@OnlyInBOS) April 17, 2017
10:03 a.m.: The elite men were spotted high-fiving Wave 1 runners as they prepared to take the starting line. Their race is now underway.
9:51 a.m.: In case you missed it, the Lexington Minuteman has coverage of the annual early morning Patriots Day reenactment of the start of the Revolution, including interviews with those playing the parts of Minute Men on that fateful morning.
In the moments ahead of the Battle of Lexington, the start of the American Revolution, it's easy to imagine how tense it might have been when Massachusetts militiamen first got a glimpse of hundreds of British soldiers marching towards them.

On that historic day in 1775, there were between 40 and 100 spectators who watched the battle from along the side of the road. Standing on the Lexington town common as fingers of pink dawn pierced the inky black skies, thousand of spectators on April 17, 2017 were able to see the exact moments in which America first fought for its freedom 242 years ago.

In the early morning, dozens of reenactors in period British military garb march up Massachusetts Avenue, as a handful of reenactors portraying Lexington's militia company pour out of the Buckman Tavern, joining a few others standing in ranks on the Battle Green waiting for the redcoats.
The Minuteman spoke to one participant playing a militia member named Issac Muzzey, who praised his fellow patriots in an interview. "There all very good citizens, and they feel strongly about freedom and their rights," he said. "The parliament and the king see it fit not to see it our way. That's what courage is about, you have to stand and speak for yourself and for what you believe in."
Regulars' commander shouts at his men:"who gave you order to fire?" Has men cheer before marching down road to Concord #lexandcon242 pic.twitter.com/qdZJmXnqXn

— WickedLocalLex (@WickedLocalLex) April 17, 2017
9:41 a.m.: The elite women have departed Hopkinton! See you in 26.2.
9:36 a.m.: Of course, the creative signs are one of the best parts of the marathon—like these by Jill Rabadan, of New Jersey, cheering on her sister Chrissy. See a punny sign along the route today? Tweet it at us and you could see it here.
Jill Rabadan of New Jersey is here to cheer on her sister Chrissy Rabadan @BostonMagazine pic.twitter.com/tarMq8OQB9

— Hallie Smith (@hallieasmith) April 17, 2017
9:26 a.m.: Marathoners were wished luck from "the resident long distance swimmers" of the Stellwagen Bank National Marine Sanctuary, courtesy of Boston Harbor Cruises, which runs the New England Aquarium Whale Watch.
Good luck to all the runners today from the resident long distance swimmers of Stellwagen Bank! #BostonMarathon #DailyWhale @NEAQ pic.twitter.com/w5ZLALkbj3

— BostonHarborCruises (@cruiseBHC) April 17, 2017
9:19 a.m.: And they're off! The men's and women's wheelchair competitors began their journey in Hopkinton, spectators cheered on Boylston Street.
Crowd on Boylston Street gives the wheelchair racers a nice hand #BostonMarathonpic.twitter.com/cOBAO5dTPH

— Zachary Comeau (@ZComeau_MDN) April 17, 2017
Said the Boston Marathon's official Twitter account: "Good luck ladies!"
The women's push-rim race just left the starting line! Good luck ladies!

— Boston Marathon (@bostonmarathon) April 17, 2017
9:00 a.m.: Andrew Frates, whose brother Pete Frates was diagnosed with ALS five years ago this march, tells WBZ he's a "little nervous" before running the race today but says, "I hope to make my brother proud." The Frates family helped raise awareness for the condition via the Ice Bucket Challenge, which also brought in millions for ALS research (the money is already paying dividends). "We changed the course of the disease," Andrew Frates, says. "When they find a cure, hopefully they'll name it after Pete Frates."
Good luck to @AndrewFrates_ and everyone running the #BostonMarathon today #WBZ pic.twitter.com/6KdSbaNKgY

— Joe Giza (@JoeGiza) April 17, 2017
8:44 a.m.: Spotted: Kathrine Switzer looking calm and collected at the starting line.
.@KVSwitzer looks pretty darn relaxed ahead of her 50th anniversary run today #BostonMarathon pic.twitter.com/LKLPpUdcCI

— Jamie Ducharme (@Jamie_Ducharme) April 17, 2017
"I'm nervous, like anybody is. I've still got 26.2 miles ahead of me," she tells Boston. "Fifty years ago I was an unknown. Nobody was expecting anything of me. Everybody wanted me to quit, so the fact that I finished was all bonus. Today, I put it out there a long time ago that I was going to do this, and now I have to do it. It's just about completion."
Says Marty Walsh: She's running "to celebrate how far we've come."
Switzer made history when she first ran the #BostonMarathon. She's running it again to celebrate how far we've come. https://t.co/dkheIMy93o

— Marty Walsh (@MartyForBoston) April 17, 2017
8:38 a.m.: As the countdown to start time continues, Attorney General Maura Healey offered a few words of encouragement to runners. "Safe, happy running Marathoners! In awe of all your work and all you will accomplish today," she tweeted.
Safe, happy running Marathoners! In awe of all your work and all you will accomplish today. #BostonMarathon https://t.co/9t6rFjNEdn

— Maura Healey (@maura_healey) April 17, 2017
8:27 a.m.: Nothing to see here, just a Jordan Hasay superfan wearing a Giant Gonzalez bodysuit and a fanny pack. Move along. Fresh off winning the USATF 15K championship last month, the 25-year-old makes her marathon debut today.
Just met Jordan Hasay's #1 fan #BostonMarathon pic.twitter.com/EBwGF1Xns8

— FloTrack (@FloTrack) April 17, 2017
8:21 a.m.: Kathrine Switzer, the woman who broke the Boston Marathon's gender barrier in 1967, is all set to run her final marathon, 50 years later. The BAA will also retire her bib number, 261, marking the second time this honor has been bestowed upon a runner.
In 1967, Kathrine Switzer was the first woman to run #BostonMarathon as a registered entrant. Today, she's all smiles before her last 26.2 pic.twitter.com/cqFiWfNEu8

— Chris Chavez (@ChrisChavez) April 17, 2017
7:45 a.m.: Looking for even more inspiration today? Peep this month's cover feature:
There are more, but we kept it to 10. 😉
6:30 a.m.: In case you missed it, here are some scenes from Boston Marathon weekend. The city was abuzz with marathon fever, especially on Saturday for One Boston Day. Various races included the 5K, invitational mile, and kids' races, where Brookline, Natick, Newton, and Wellesley emerged victorious.
6:15 a.m.: Well, here's one way to keep warm before shipping out to Hopkinton. Our health editor spotted three runners in hotel bathrobes.
Spotted: Three runners in Colonnade Hotel bathrobes #BostonMarathon pic.twitter.com/q5T6A8GeVy

— Jamie Ducharme (@Jamie_Ducharme) April 17, 2017
6 a.m.: Here we go—good luck runners!
It begins! Buses and runners far as the eye can see on Charles Street #BostonMarathon pic.twitter.com/lancx9uqlz

— Jamie Ducharme (@Jamie_Ducharme) April 17, 2017
And a steady stream coming up Boylston pic.twitter.com/yuWgoucE77

— Jamie Ducharme (@Jamie_Ducharme) April 17, 2017
5:45 a.m.: As runners convene on Boston Common and everyone else hits snooze three more times, check out our guide for runners and spectators alike:
5:30 a.m.: No, really, Mother Nature is generally playing nice today. Per Weather.com, we can expect a mix of clouds and sun, a high of 72, and winds west/northwest at 15 to 25 mph. Not a raindrop in sight.
---
Welcome! It's a beautiful day to run a marathon. Join us as we bring you updates all day long from the 2017 Boston Marathon, and don't forget to follow us on Facebook, Twitter, Instagram, and Snapchat.
---