Adidas Apologizes After Congratulating Marathon Runners for "Surviving" the Race
A marketing message gone bad provoked a swift response.
---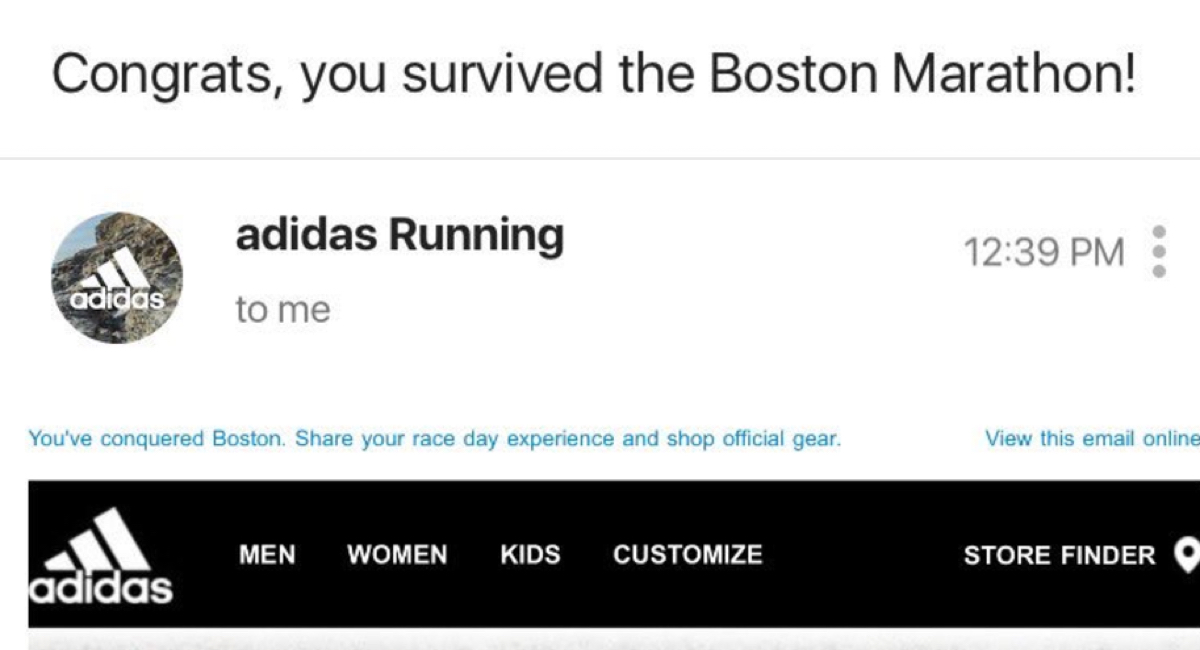 Adidas is apologizing today after the brand sent out a severely ill-advised marketing email to marathoners, congratulating them for "surviving" the race.
The unfortunate phrasing of the email—which in full read, "Congrats, you survived the Boston Marathon!" and came with an invitation to buy marathon-branded outerwear—prompted a swift response online from those who thought the wording invoked memories of the 2013 Boston Marathon bombings. The email also included the phrase, "You're Boston Strong, what's next?"
.@adidas you may want to rethink the subject line pic.twitter.com/curUb8FieO

— Mike Denison (@mikd33) April 18, 2017
The response to the fiasco from Adidas, a longtime sponsor of the Boston Marathon, came quickly. In a written statement to media, the company said it was "incredibly sorry" and that it apologized "deeply" for the subject line's wording.
We are incredibly sorry. Clearly, there was no thought given to the insensitive email subject line we sent Tuesday. We deeply apologize for our mistake. The Boston Marathon is one of the most inspirational sporting events in the world. Every year we're reminded of the hope and resiliency of the running community at this event.
That hasn't stopped the tidal wave of criticism online, even prompting comparisons to Pepsi's self awareness-lacking TV ad, and the PR team at United Airlines, which infamously flubbed the response to a viral video this month.
@mikd33 @adidas Holy shit. Did you hire the @united pr team?

— Pete Stegemeyer (@itspeterj) April 18, 2017
Apology from Adidas coming in 3..2..1.. pic.twitter.com/4U5As0BdKV

— Barstool Sports (@barstoolsports) April 18, 2017
---
---