TD Garden Has Agreed to Pay $1.65 Million After Teens' Discovery
The sleuths, meanwhile, say it's not enough.
---
In a stunning turn in the saga of the TD Garden and its teen sleuth investigators, the home of the Bruins and Celtics has reached an agreement with the state to pay $1.65 million to help build a youth recreational facility in Jamaica Plain. The Department of Conservation and Recreation will also contribute $1 million.
The move comes after teenagers working with the Hyde Square Youth Task force uncovered an agreement in a 1993 law compelling the Garden to host three fundraisers a year to support neighborhood recreational centers. But, as is now widely known, it didn't.
Now, decades later, the Garden has responded to the pressure drummed up by the teens and agreed to pay up. "We have worked diligently with the DCR and state officials on a fair and equitable approach to this issue," says TD Garden president Amy Latimer in a statement. "Thanks to the hard work of the Hyde Square Task Force, the DCR can move ahead to fulfill a decades old statute enacted to enrich the area parks system while increasing the total amount of state funds for the students' project," DCR spokesman Troy Wall says in a statement. "While the statute requires any funds raised to be directed to the DCR, we are thrilled to agree to direct this funding to the Jackson Square project in recognition of the students' hard work."
But the teenagers—who boldly declared in a press conference last week that Boston was owed $13.8 million, including interest and fees—say the combined $2.65 million is not enough. They and their task force gathered at noon outside the stadium to make the announcement and to call for the full amount of money they've requested. "I am embarrassed, embarrassed, that the Commonwealth is willing to agree to 1.6 million dollars," says Celina Miranda, the task force's executive director. "The Commonwealth is willing to settle for less than 10% of that figure. That is an embarrassment, we should all be enraged, and we should ask for justice."
"They probably think that we're just a bunch of teens," says Edeliad Peguero, a task force youth leader, "that we're just a bunch of teens and that we're just gonna go off, but we're not. Today we come to their house to remind them of their legal obligations."
The teens also read a letter sent by city and state officials urging TD Garden leadership to meet with the youth and reach some kind of resolution, and applauding the teenagers for their efforts. It did not specify a dollar amount it thought the city should be paid.
"We view their work as a service to the entire state," reads the letter, which was signed by City Councilors Annissa Essaibi George, Michelle Wu, Matt O'Malley, Ayanna Pressley, and Michael Flaherty, as well as state Sen. Sonia Chang-Diaz and state Rep. Elizabeth Malia.
It was their diligence … that helped to shed light on a long-overlooked, legal responsibility TD Garden has, as the Commonwealth's premier sports and entertainment arena, to be a good partner to our state in the development and expansion of our public recreation facilities. , and one that provides an opportunity—an assist—for TD Garden to make good on a decades old agreement to help develop state facilities, and thereby the health and talents of the youth utilizing them.
Eliza Sullivan contributed to this story.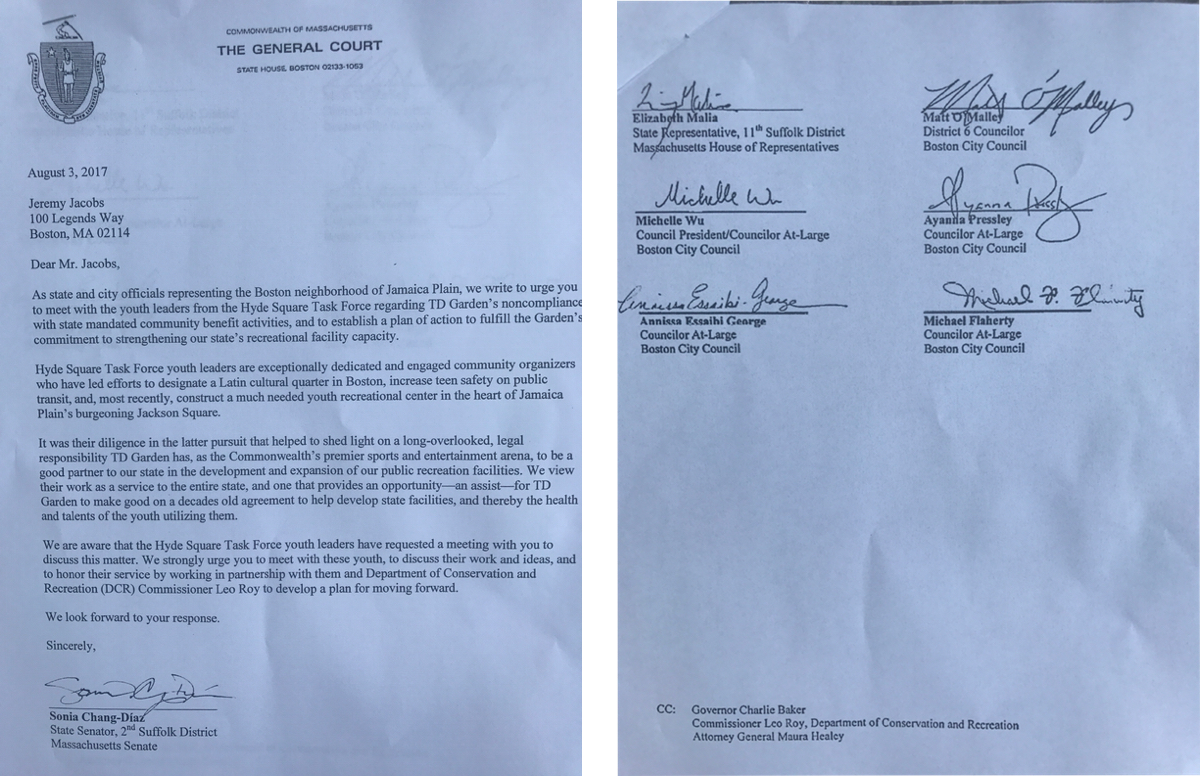 ---
---