News
Boston's Holocaust Memorial Has Been Smashed for a Second Time
Amid vigils after violence in Charlottesville, it happened again.
---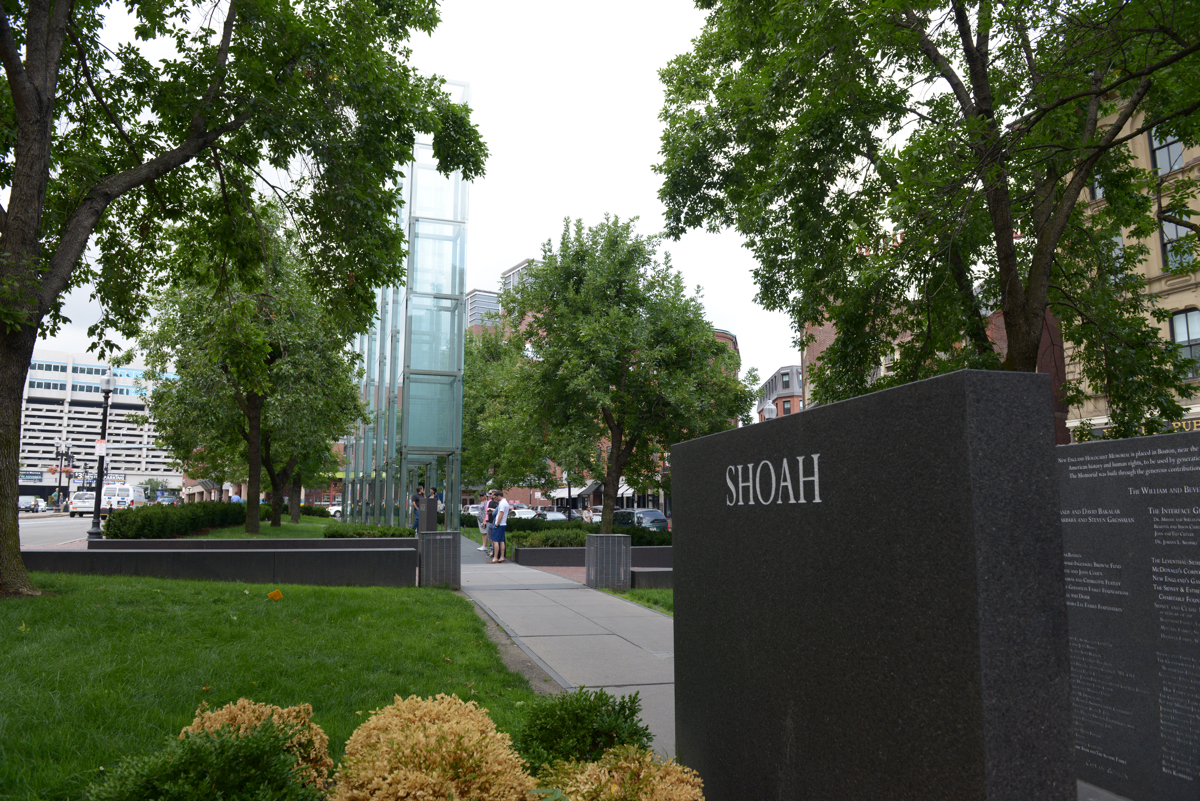 Update, Tuesday, August 15, 3:30 p.m.: Leaders in government and the Jewish community gathered again at Boston's Holocaust memorial Tuesday afternoon to condemn hatred, and vow never to forget the lessons of the past, after a panel in the monument was smashed for the second time this summer.
"As Boston we stand together in solidarity with our diverse community and our diverse nation," Boston Mayor Marty Walsh said in a news conference. "We give that same message today as we pick up the broken pieces of glass and rebuild that panel together."
He was joined by Malden Mayor Gary Christenson, who says he was "completely disheartened" to learn that the suspected vandal, a 17-year-old boy, was from his city.
"I was completely disheartened for the city of Malden," he said, "but not defeated."
Holocaust memorial presser underway lots of community and religious leader present #wbz pic.twitter.com/vfSfdrFPVO

— Paul Burton (@PaulWBZ) August 15, 2017
Also at the gathering was Israel "Izzy" Arbeiter, a Holocaust survivor whose family members were killed by Nazis in 1942, and who also spoke at the memorial after the act of vandalism earlier this summer. "Yesterday evening when I heard the news that the memorial has been damaged again for the second time," he said, "the pain in me yesterday and today was increased. It hurt. It hurt me … just as if I would have lost a member of my family."
The teenaged suspect in the case was released at an arraignment in juvenile court Tuesday. He was ordered to stay away from the memorial and undergo mental health treatment, the Globe reports. In a separate case, 37-year-old Said Bouzit was charged today with disorderly conduct and vandalizing a grave, after police say he kicked flowers placed at the site of the vandalized memorial.
In a speech at the site, Rev. Liz Walker, of Roxbury Presbyterian Church, said the hatred of the past few days has been difficult to process.
"I'm still not sure exactly what is happening and what it all means," Walker said. "But I know that our increasing capacity to hurt each other breaks my heart."
But she vowed not to be discouraged, and to continue speaking up. "Wherever there is injustice, wherever there is hatred, wherever there is wrongdoing, as best as I can, whenever I can, I will show up and love."
Earlier: It happened again.
Amid a day marked by vigils for the victims of violence in Charlottesville, which saw white supremacist demonstrators descend on its community over the weekend, someone has smashed part of Boston's Holocaust memorial.
The Boston Globe's Adam Vaccaro shared a photo of the scene, which shows police standing around a pile of smashed glass, on Twitter.
Damage to Holocaust Memorial in Boston. Second time this summer. pic.twitter.com/ND44F24lUD

— Adam Vaccaro (@adamtvaccaro) August 14, 2017
Police say witnesses intervened when they saw a 17-year-old Malden boy throw a rock at one of the memorial's glass panes, which memorialize the millions killed in the Holocaust. The bystanders reportedly tackled him to the ground. Boston Police Commissioner William Evans thanked those bystanders in a statement. "I'm grateful for the quick response and the community help which led to the swift arrest of the suspect responsible for the damage done to the Holocaust Memorial," he said. "Clearly, this type of behavior will not be tolerated in our city. And, in light of the recent events and unrest in Charlottesville, it's sad to see a young person choose to engage in such senseless and shameful behavior."
Boston Mayor Marty Walsh condemned the incident and said he was "saddened" by the teenager's "despicable action."
Today & every day Boston stands up against hate. I'm saddened to see such a despicable action in this great city. (1/2)

— Mayor Marty Walsh (@marty_walsh) August 15, 2017
The boy, who will not be identified because he is a juvenile, will be charged with willful and malicious destruction of property. Police are also considering a possible civil rights charge.
This comes just six weeks after a similar act of vandalism, when 21-year-old James Isaac allegedly smashed one of the memorial's glass panes, also with a rock. City and state officials, as well as leaders in the Jewish community, condemned the incident, and the panel was replaced and rededicated two weeks later. Isaac, whose lawyer says has a history of mental health issues, was charged with destruction of property and civil rights violations.
As it turns out, spare panels had been kept in storage in case someone decided to damage one of them. But in more than 20 years, officials had never had to use one. At least, until earlier this summer.
And then, now.
---
---